Savory Cottage Cheese Breakfast Bowl
Need a change of pace for your morning meal? Try this Savory Cottage Cheese Breakfast Bowl for a protein packed jump start to your day.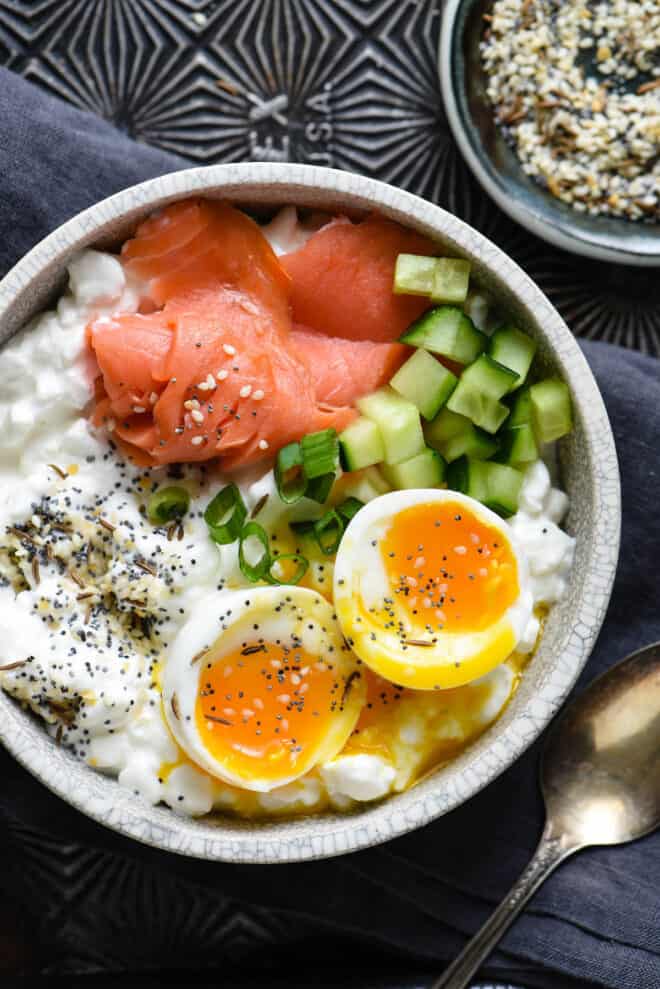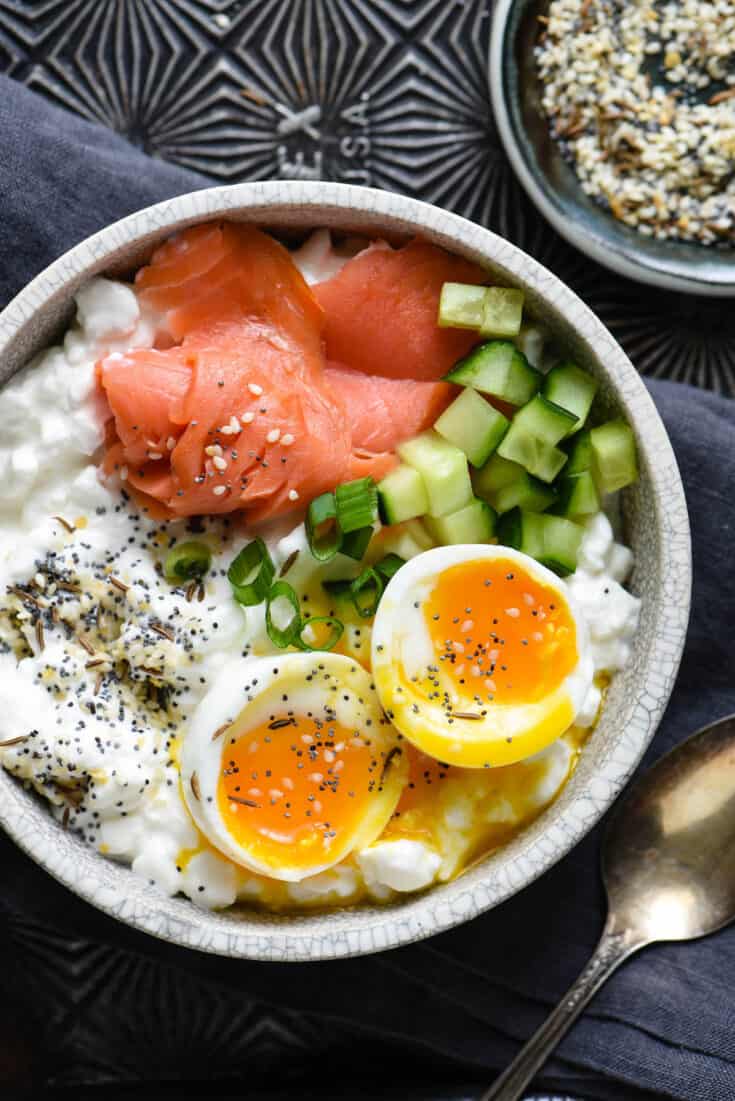 Lately, I've been put through the ringer coming up with new ideas for soft foods for a very grumpy teething toddler.
It turns out that applesauce, savory yogurt, and waffles and ice cream can only be used for so many meals.
For some reason, it took me a long time to realize that cottage cheese would be perfect for her (and luckily, she loved it!).
Of course, I ended up buying two HUGE containers of it, and now I need to start eating it too, or it's going to expire.
I plan to make lasagna with cottage cheese with some of it, and the rest of it will be eaten for breakfast.
I had some smoked salmon left over from a small smoked salmon platter I made for brunch last weekend and paired it with a few things I had in my fridge to create this Savory Cottage Cheese Breakfast Bowl.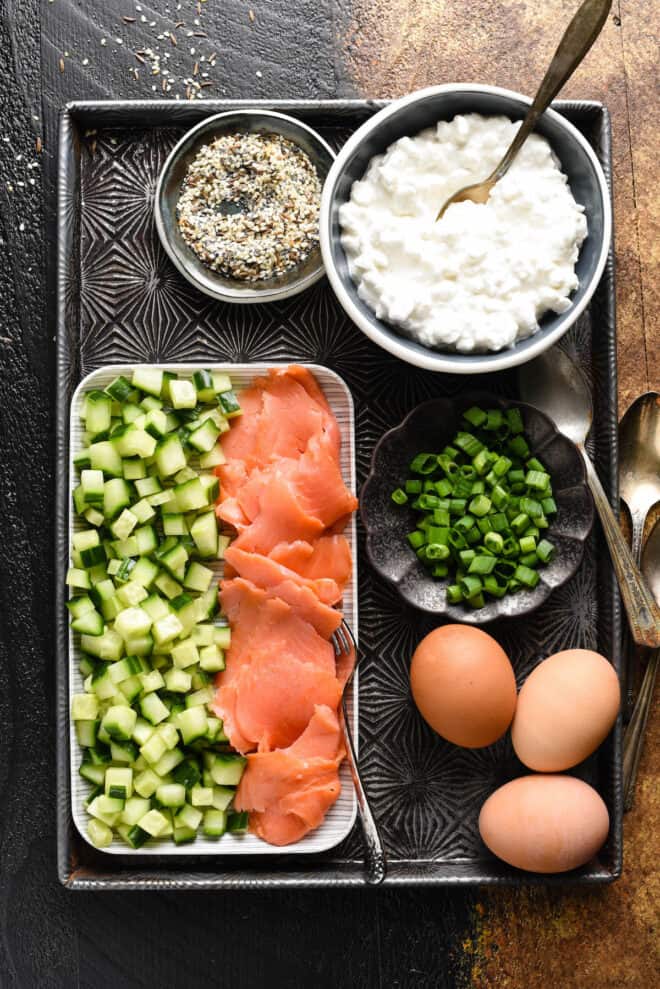 Is it good to eat cottage cheese for breakfast?
Cottage cheese is a GREAT breakfast food, because it is so high in protein.
The nutrition label of a popular national brand of cottage cheese shows that a 1 cup serving contains a whopping 26 grams of protein!
This protein boost gives your metabolism a jump start for the day, and keeps you feeling full throughout the morning. It will also decrease levels of the hunger hormone ghrelin.
In short, cottage cheese for breakfast is a fantastic choice, and I'm not sure why it's not more popular! I even use it to make a sweetened, whipped dip for my Easter fruit salad.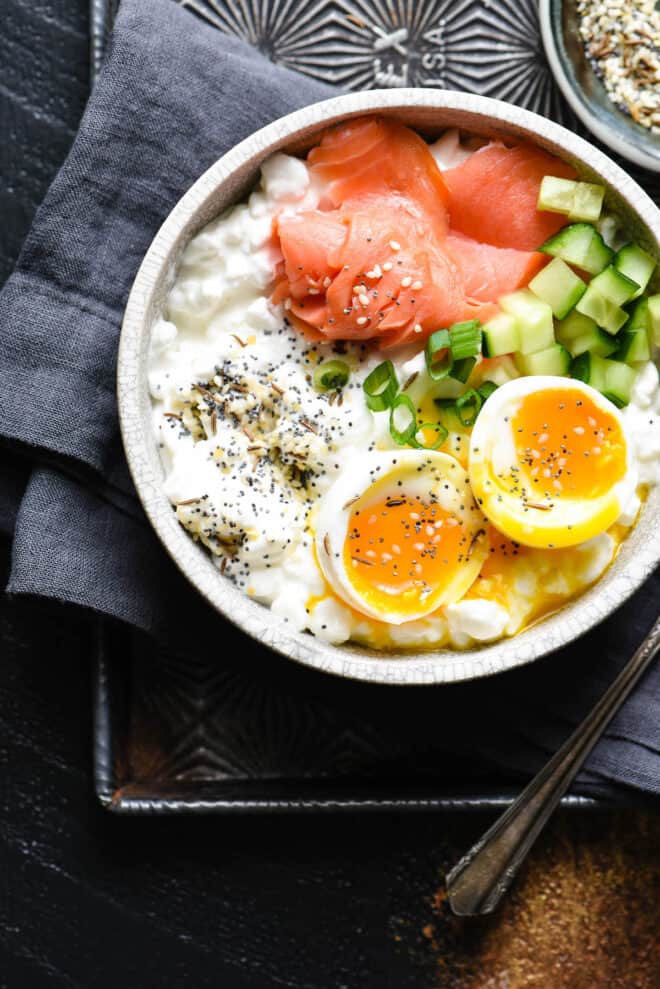 What goes with cottage cheese for breakfast?
I think that in general, Americans tend to think of cottage cheese as something to eat plain, or paired with something sweet, like fruit or fruit preserves.
I've never done this. I grew up eating cottage cheese as basically a vehicle for salt and a LOT of black pepper.
Because the cottage cheese itself has just a neutral, creamy flavor, it will pair with just about any savory topping or mix-in you can dream up!
The ingredients for this cottage cheese breakfast bowl are simple:
cottage cheese
smoked salmon or lox
cucumber
green onion
egg
Psst – don't sleep on making extra bagel seasoning and using it for a round of bloody marys with everything bagel bloody mary rim salt. Don't forget an epic garnish for a bloody mary, too.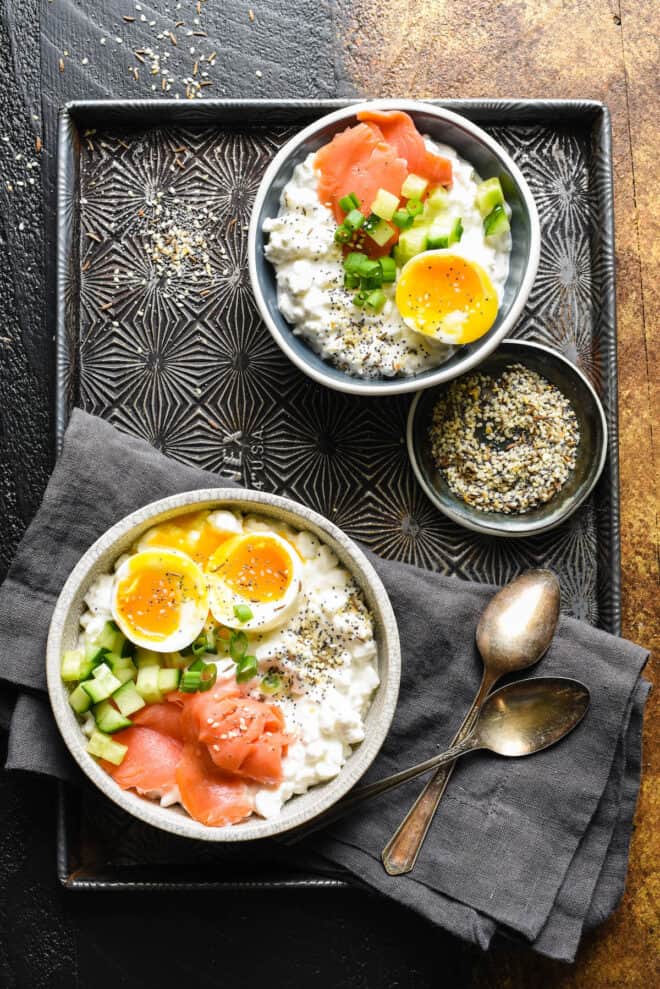 How to make this savory brunch bowl:
Start with a pretty cereal bowl, and load it up with a full cup of cottage cheese for a filling breakfast, or a half cup for a lighter appetite.
Top with thinly sliced smoked salmon (or even leftover grilled sockeye salmon from a salmon sandwich or salmon with pasta). Other meat options are chopped crispy bacon or sliced, cooked breakfast sausage (like in my leftover cornbread breakfast casserole). Or, keep it vegetarian by skipping the meat altogether.
For freshness, I like finely diced cucumber (smoked salmon and cucumber are a match made in heaven – see also smoked salmon cucumber cups) and sliced green onions (finely chopped red onion is also yummy).
And for an EXTRA extra protein boost, I add a soft cooked egg. Then I finish everything off with that bagel seasoning sprinkle.
Sometimes I'll also add roasted pumpkin or squash seeds, especially if I've recently made sweet dumpling squash soup and roasted the seeds.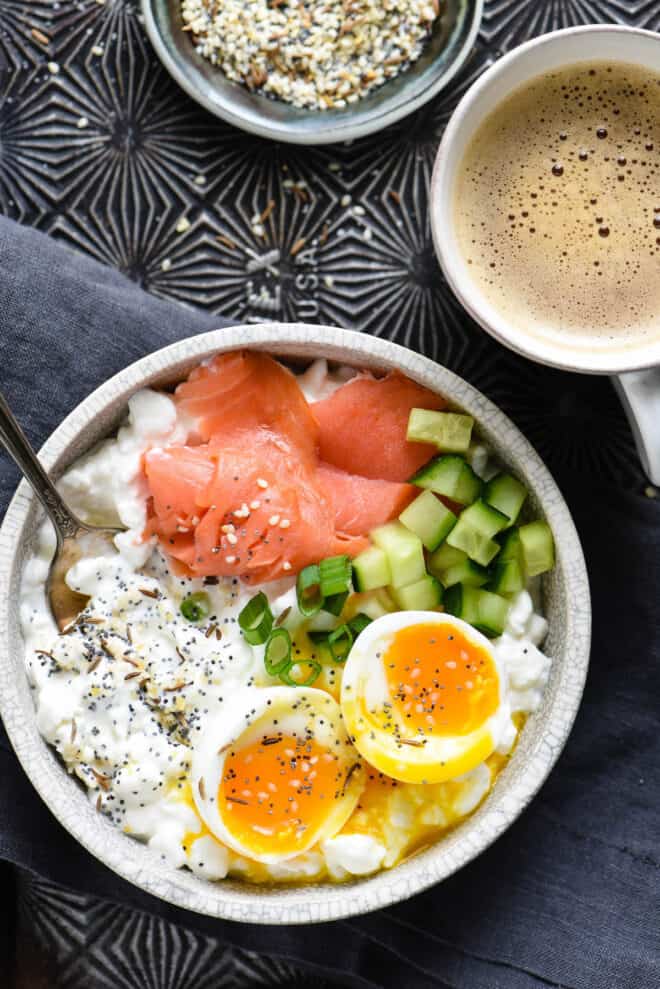 Tips for making this cottage cheese breakfast into a meal prep recipe:
This is just about the easiest meal prepped breakfast ever.
Buy a container of cottage cheese and a package of smoked salmon (ideally a BIG package, so you can make a smoked salmon pizza, too), and keep them in the fridge.
Chop up the cucumbers and onions, and keep those in separate containers in the fridge.
Make sure your everything bagel seasoning is mixed up if you're making homemade, or you've bought some from the store. That stays at room temperature.
Now, while I like a soft cooked egg if I'm eating this right away, I don't really enjoy a COLD soft cooked egg.
Something about cold runny yolk just isn't for me. If you like it, go for it. But when I'm meal prepping, I go with either a hard boiled or medium boiled egg.
I make all of my eggs at the beginning of the week and keep them in the fridge, in their shells.
When I'm ready to eat, I assemble the bowl, take the shell off the egg and cut it, and eat!
This recipe is also great to prep and set out as part of a brunch buffet, maybe with some shrimp deviled eggs as well!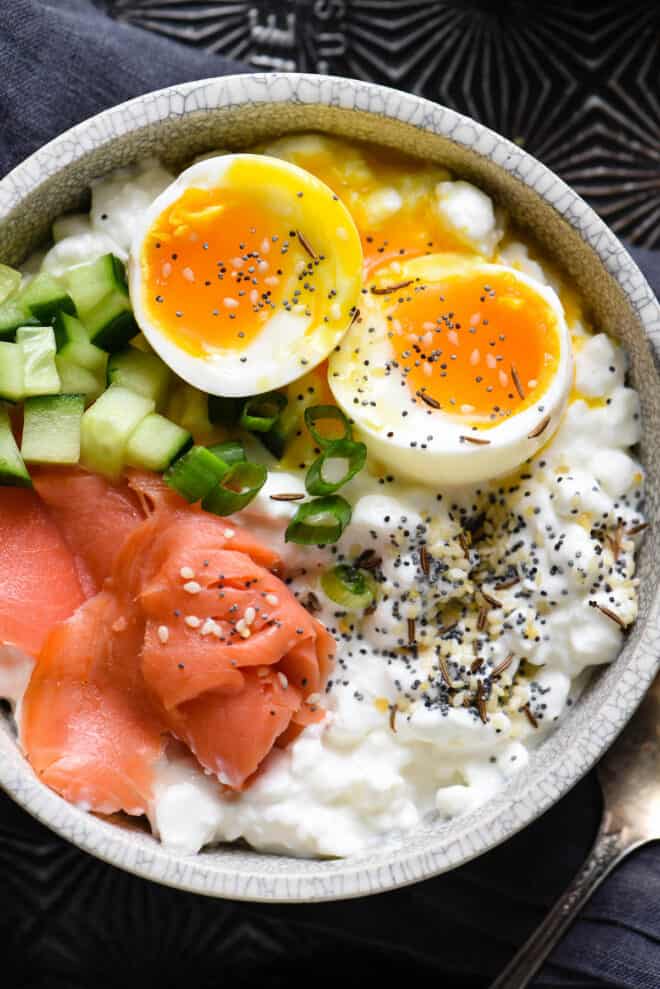 Other great savory breakfast recipes:
Sweet things like waffles and pancakes have their fans, but I almost always choose a savory breakfast, like one of these recipes below.
Savory Cottage Cheese Breakfast Bowl
Need a change of pace for your morning meal? Try this Savory Cottage Cheese Breakfast Bowl for a protein packed jump start to your day.
Ingredients
1 cup cottage cheese
1 egg (soft- or medium-cooked, or hard boiled), halved
1 ounce thinly sliced smoked salmon
1/4 cup diced English cucumber
1 tablespoon thinly sliced green onion
1 teaspoon Everything Bagel Seasoning with Caraway
Instructions
Place cottage cheese in cereal or soup bowl. Top with egg, salmon, cucumber and onion. Sprinkle with seasoning and serve immediately.
Recommended Products
Foxes Love Lemons, LLC is a participant in the Amazon Services LLC Associates Program, an affiliate advertising program designed to provide a means for sites to earn advertising fees by advertising and links to Amazon.com. There is no additional cost to you.
Nutrition Information:
Yield:

1
Serving Size:

1
Amount Per Serving:
Calories:

337
Total Fat:

15g
Saturated Fat:

6g
Trans Fat:

0g
Unsaturated Fat:

6g
Cholesterol:

230mg
Sodium:

1831mg
Carbohydrates:

12g
Fiber:

0g
Sugar:

7g
Protein:

36g