Antipasto Salad Endive Boats
Have you tried cooking with endive at home? It's a leafy green that, believe it or not, belongs to the daisy family. I see it occasionally in restaurants, but don't often see home cooks using it. Belgian endive can be found in most larger grocery stores. It kind of looks like a very small, very tight, white and yellow head of Romaine lettuce. While it can certainly be chopped up to add a bitter accent to a mixed green salad, the boat shape of the leaves practically screams "throw a party!" and "fill me with something fun and colorful!"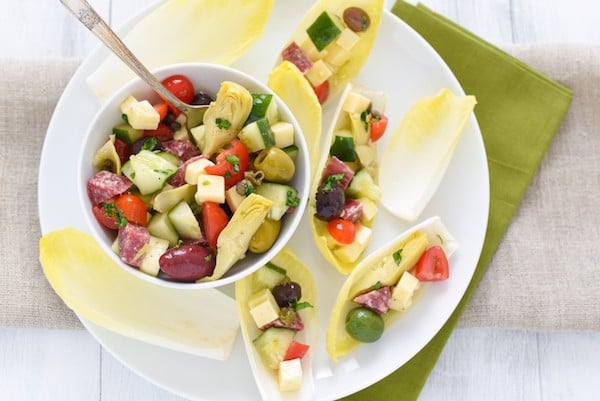 Being the Italian-grandma-at-heart that I am, no party is complete without antipasto (a selection of cured meats, cheese, olives and complementary vegetables). Here, instead of a formally arranged antipasto platter, I've tossed it all together to use as a filling for endive leaves.
You can use whatever types of antipasto elements you like best for this appetizer. I included salami, marinated artichoke hearts, colorful olives, and lots of other goodies. Choosing a great cheese is important for these Antipasto Salad Endive Boats, so I went with Stella Fontinella® cheese, which is delicately sweet and creamy smooth, with just a hint of sharpness (Fontinella is also my cheese of choice for my Corn Casserole with Cheese.
Antipasto Salad Endive Boats
Yield:
Serves 8 as an appetizer
Ingredients
1 package (5 ounces) Stella Fontinella cheese, cut into ½-inch cubes
1/2 medium cucumber, cut into ½-inch pieces
4 ounces hard salami, cut into ½-inch pieces
4 ounces quartered and marinated artichoke hearts, drained
1/2 cup assorted pitted olives
1/2 cup grape tomatoes, halved
2 tablespoons capers, drained
2 tablespoons chopped fresh basil leaves
2 tablespoons extra virgin olive oil
1/4 teaspoon ground black pepper
3 heads Belgian endive
Instructions
In medium bowl, toss cheese, cucumber, salami, artichoke hearts, olives, tomatoes, capers, basil, oil and pepper until well combined.
Wash and separate leaves from core of each endive head. Serve endive leaves alongside antipasto mixture.
Disclosure: This post is part of a relationship I have with Saputo Specialty Cheese for recipe development. Posts like this help me pay for the costs associated with this blog (groceries…lots of groceries), and help support me as I pursue a career in recipe development and food photography. All opinions are 100% my own.