Blueberry Lemon Smoothie
This Blueberry Lemon Smoothie is just five ingredients and so flavorful. It's perfect for when you have blueberries that need to be used up!
While I've been purposely trying to give my air fryer and instant pot some more love, I must admit there's an everyday appliance that I neglect.
I have a ridiculously expensive blender that I hardly ever use. I saved up gift cards to purchase it years ago because I guess I thought my kitchen SHOULD have a fancy blender.
Turns out, I just don't use it much. Aside from making a batch of sweet dumpling squash soup each fall, and the occasional lemon margarita, it sadly collects dust.
But I have a feeling that YOUR blender may not be as neglected as mine. So many of you are fans of my lemon smoothie and carrot cake smoothie (thank you!).
So today, I'm bringing you a twist on that favorite, with added antioxidants! Bonus: who doesn't love drinking something as BRIGHT PURPLE as a Muppet?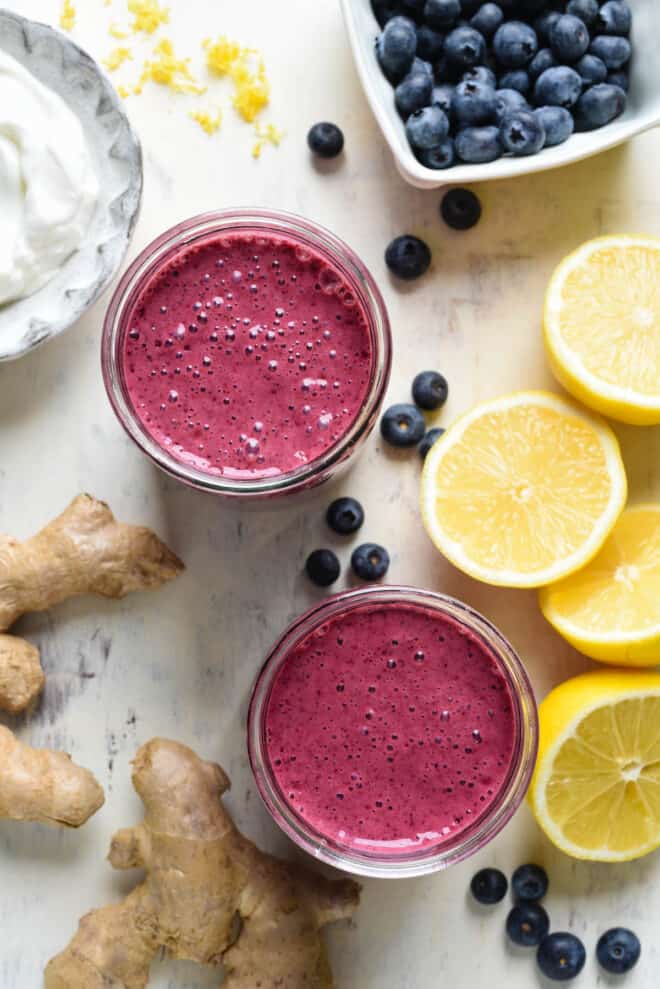 The best thing about this blueberry lemon smoothie recipe:
I don't know about you, but there are ALWAYS past-their-prime blueberries in my fridge.
I could blame it on a toddler who one day LOVES a certain type of berry and then the next day, changes her mind. Or maybe I thought I was going to make blueberry muffins with buttermilk, but then changed MY mind and just made bacon in the oven and eggs for breakfast instead.
But the truth is, they're just something I usually buy without a plan for the full carton.
Also, it seems like most stores around me only sell the BIG cartons these days, and I can't get the little ones anymore.
Whatever the case, the best thing about this blueberry lemon smoothie is that it will willingly accept old, wrinkly berries.
Or berries you froze months ago (also perfect to stir into lemon pancakes and blueberry cheesecake ice cream). As long as there isn't mold on your berries and they still smell fine, throw them in the blender!
Once they're pulverized, nobody will suspect they were past their prime once they're made into this smoothie.
You can also use blackberries for this smoothie, or use those to make blackberry muffins, instead.
How do you add flavor to a fruit smoothie?
You can add flavor to a fruit smoothie by adding grated fresh ginger.
Fruit smoothies should, of course, always taste fresh and fruity. But I find by the time the fruit is blended up with ice (I like ice to make a thicker smoothie), the flavor can become somewhat dilluted.
So, when I want a bigger punch of flavor, I almost always turn to fresh ginger (and I often already have this in fridge for making orange ginger chicken and strawberry ginger lemonade).
Can you make this lemon berry smoothie with ground dry ginger instead of fresh?
While the flavor won't be quite as bright and fresh without fresh ginger, ground dry ginger can be used in place of fresh ginger in this recipe.
1/4 teaspoon ground ginger will do the trick.
The ingredients for this lemon berry smoothie are at your grocery store:
lemon
vanilla yogurt
blueberries
fresh ginger root
honey
How to make a lemon blueberry smoothie:
Make sure you have an entire fresh lemon on hand. If you've already zested your lemon to make lemon salmon pasta or lemon curd cake, you won't have quite enough zest for this smoothie.
And unlike the berries, you don't want to use an old, soft lemon here (the zest won't be as flavorful and may be bitter).
So, make sure you have a fresh new lemon. Zest the entire lemon and put the zest in the blender, along with the juice of half the lemon.
Add yogurt, blueberries, grated fresh ginger and honey and blend it until it's totally smooth. Serve right away.
Can you make this blueberry lemon smoothie without yogurt?
Since I always have at least plain yogurt in my fridge for when a savory yogurt or healthy buffalo chicken dip craving strikes, I always add yogurt (either vanilla or plain) to my smoothies.
Personally, I wouldn't recommend this smoothie without ANY yogurt.
Without the yogurt, you're basically going to be left with a blended juice drink, not a smoothie. The yogurt is what gives the smoothie body and makes it filling.
However, it is easy to get rid of the dairy by simply using a non-dairy yogurt alternative (such as yogurt made with almond milk or soy milk) in place of the yogurt.
What can I use instead of honey?
I sometimes have agave in my cabinet in order to make agave lemonade, and it's a great substitute for honey in this smoothie as well.
Maple syrup also works great here, and adds an interesting flavor.
Psst – Use any extra blueberries to top a frozen yogurt pie for dessert later on!
Other great smoothie recipes:
A smoothie a day keeps the breakfast boredom away, right?
Blueberry Lemon Smoothie
This Blueberry Lemon Smoothie is just five ingredients and so flavorful. It's perfect for when you have blueberries that need to be used up!
Ingredients
1-1/2 cups blueberries (fresh or frozen)
1 cup ice cubes
1 cup vanilla yogurt
2 tablespoons honey
2 tablespoons lemon zest
2 tablespoons lemon juice
1-1/2 tablespoons grated fresh ginger
Instructions
In blender, combine all ingredients; blend until smooth. Serve immediately.
Recommended Products
Foxes Love Lemons, LLC is a participant in the Amazon Services LLC Associates Program, an affiliate advertising program designed to provide a means for sites to earn advertising fees by advertising and links to Amazon.com. There is no additional cost to you.
Nutrition Information:
Yield:

2
Serving Size:

1
Amount Per Serving:
Calories:

256
Total Fat:

2g
Saturated Fat:

1g
Trans Fat:

0g
Unsaturated Fat:

1g
Cholesterol:

6mg
Sodium:

83mg
Carbohydrates:

58g
Fiber:

4g
Sugar:

48g
Protein:

7g