Avocado & Sausage Egg Muffin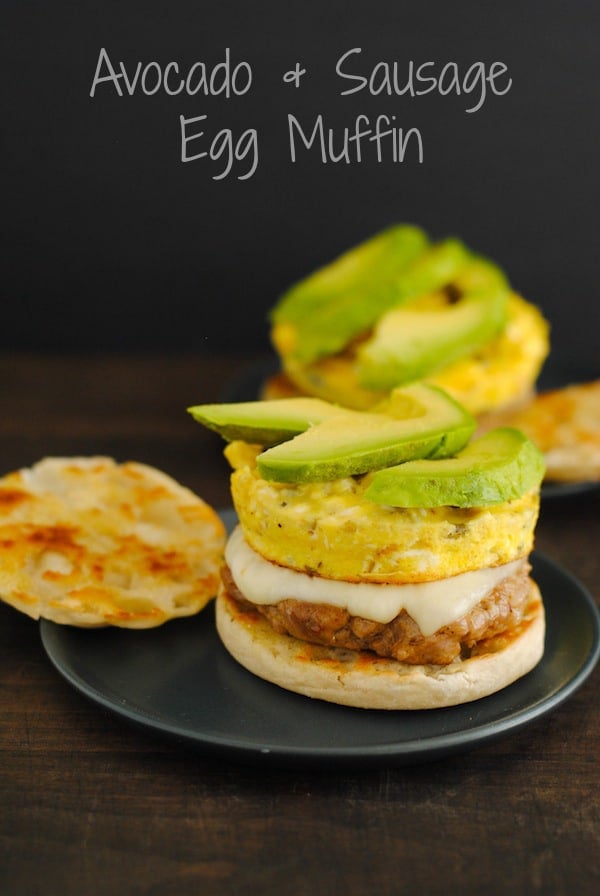 OK, don't get jealous now. Not only does my husband know how to cook a great pizza, but he makes me one, if not two, homemade breakfasts every weekend. At most, I might have to make a pot of coffee, but sometimes he does that, too. I try to completely stay out of his way and let him do whatever the heck he wants. Most of the time, it's just a classic breakfast of eggs, an English muffin (everything, always) and maybe some bacon in the oven or sausage if we have it. A few weeks ago, my only request was that he make something involving a few of the California Avocados I had around.
Little did I know he would go all Joey Tribbiani and make a breakfast SANDWICH. Seriously though, I will always remember that Joey Tribbiani's favorite food was sandwiches. They're definitely up there for me as well. This breakfast egg muffin sandwich rivals anything from a fast food joint. Although personally, I find fast food breakfasts super disgusting, so it's no contest.
Our grocery store sells loose breakfast sausage, so Jeff used that to form the patties, although you could buy links and just take them out of the casings for the same effect. The trick to perfectly round eggs is a simple ring mold/biscuit cutter/cookie cutter. You place that on the griddle, pour the whisked egg mixture in and leave the mold on until the egg is a firm shape. Combined with a little bit of cheese, a touch of pickled jalapeño in the eggs, and some luscious slices of avocado, this sandwich belongs in the Homemade Breakfast Hall of Fame!
Avocado & Sausage Egg Muffins
Yield: 2 servings
Prep Time: 10 minutes
Cook Time: 10 minutes
Ingredients
1/3 pound loose breakfast sausage (or links, removed from casings)
2 slices provolone cheese
2 eggs
1 tablespoon minced pickled jalapeño pepper
Nonstick cooking spray
2 English muffins, split and toasted
1/2 avocado, peeled, pitted and sliced
Instructions
Preheat griddle over medium heat. Form sausage into two patties roughly the same size as the English muffins. Transfer patties to griddle and cook 8 to 10 minutes or until almost cooked through, turning occasionally. Place one slice of cheese (broken into pieces, so there's not a bunch of overhang) on each patty and cook 1 to 2 minutes longer.
Meanwhile, in medium bowl, whisk eggs until light and fluffy. Whisk in jalapenos. Place two ring molds or cookie/biscuit cutters on griddle. Spray griddle surface inside molds with cooking spray. Divide egg mixture between molds. Cook eggs until firm.
Assemble sandwiches by placing sausage patties, eggs and avocado slices between English muffin halves.
Disclaimer: California Avocados provided me with a case of avocados for recipe development. I was not compensated for writing this post, and all opinions are 100% my own.