Pumpkin & Kale Lasagna
How do you help others who are struggling and in need? I'll admit that this is something that I need to do more. Sometimes, social giving seems daunting to me, as though I don't have enough money, time or talent to do anything that will really make a difference. That's where
Project 7
comes in.
"If people are going to buy things. Lots of things. Then let's use those things they purchase to help change the world around us. Let's make everyday products for everyday people to solve everyday problems around the globe."
Project 7 is a company whose goal is to ensure everyone around the globe has access to fundamental human needs for a healthy life. They make "Products For Good" – everyday products like bottled water, gum, mints and coffee – and for every purchase of a Project 7 product, good is done in seven areas of need.
Turns out, giving back in small ways can have a large impact, too. Giving back doesn't have to be an overwhelming task, but can be something as small as purchasing Project 7 products at stores where you already shop. While buying a pack of gum may seem like a tiny contribution, the impact is huge for those whose needs are being met through that one purchase.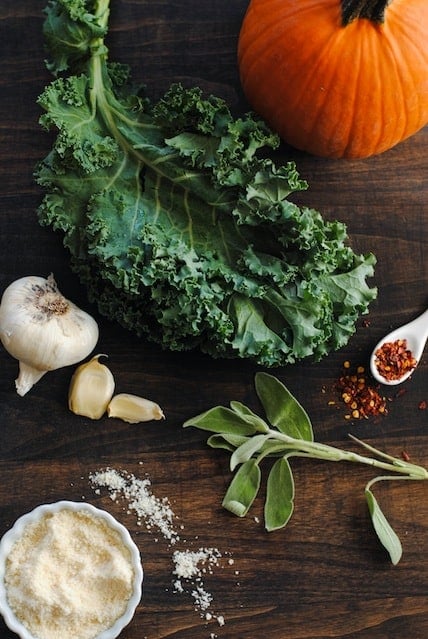 Inspired by the mission of Project 7, I wanted to do my part giving back. I headed to my (brand spankin' new, sparkly beautiful) Meijer store on 8 Mile Road in Detroit (can I just tell you how excited I am to have a Meijer 5 minutes from my house now? Woohoooo!). While I was there, not only did I pick up a bunch of Project 7 gum, but I got all the makins' for a fall-themed meal.
I went home and made a HUGE Pumpkin & Kale Lasagna. I discovered that it is nearly impossible to take a glamour shot of
lasagna
. No matter, I wrapped that bad boy up and toted it on across the street to share a meal with my neighbor Anna. And by "toted it," I mean grunted and moaned as I carried a 20-pound pumpkin & kale lasagna 50 yards. Then kicked her front door with my foot until Anna let me in. But no matter, she was excited to see me.
She's jokingly told me many times that she generally has cereal for dinner. Disheartened at this thought, I wanted to share a homemade meal with her, with the promise of leftovers for yet another meal. She provided the wine, and we had a great time eating a non-cereal dinner and
gossiping about the neighborhood
chit-chatting.
I also wanted to pass along the inspiration I gained from Project 7 by handing out the packs of gum and explaining to others how Project 7 works. Immediately upon purchase, I gave one pack to the Meijer cashier who helpfully turned a blind eye to the fact that I had chosen to go through the U-Scan checkout with more than 12 items. More like a multiple of 12, at best. Oops. I also handed out a bunch of gum to my adult kickball team and spread the word to them.
Discovering Project 7 has certainly helped remind me that giving back doesn't have to be so daunting. Small acts of kindness add up in a big way, and I've resolved to make it my mission to complete more of these acts, more often. I hope that you can find a way to do the same.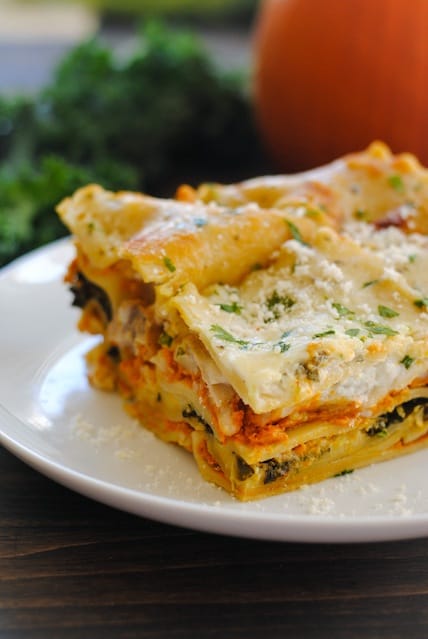 Pumpkin & Kale Lasagna
Ingredients
2 cans (15 ounces each) 100% pure pumpkin puree
2 eggs
1/4 teaspoon cayenne
3/4 teaspoon salt
1/2 teaspoon ground black pepper
1 box (16 ounces) lasagna noodles
3 tablespoon extras virgin olive oil
4 garlic cloves, minced
1/2 large bunch of kale (stems removed), leaves coarsely chopped
1/2 teaspoon red pepper flakes
3 tablespoons unsalted butter
3 tablespoons all-purpose flour
3 cups whole milk
1 tablespoon finely chopped fresh sage
Pinch of ground nutmeg
Nonstick cooking spray
1/4 cup dry, uncooked couscous
10 ounces mozzarella cheese slices
1/2 cup grated Parmesan cheese
1 package (12 ounces) fully cooked chicken & apple sausage links, sliced crosswise into 1/4" pieces (optional)
Chopped fresh parsley, for garnish (optional)
Instructions
In medium bowl, whisk together pumpkin, eggs, cayenne, and 1/4 teaspoon each salt and black pepper. Set aside.
Heat large pot of salted water to boiling over high heat. Add pasta and 1 tablespoon oil and cook as label directs. Drain pasta; set aside.
Return same large pot to stove. Add remaining 2 tablespoons oil, garlic, kale (in batches, if necessary) and red pepper flakes. Cook 2 to 3 minutes or until all kale is slightly wilted. Remove from heat and set aside.
In medium saucepot, melt butter over medium heat. Add flour; cook 1 minute, whisking constantly. While whisking, slowly add milk. Cook 6 to 8 minutes or until slightly thickened, whisking constantly. Remove from heat; stir in sage, nutmeg, and remaining 1/2 teaspoon salt and 1/4 teaspoon black pepper. Set aside.
Preheat oven to 350 degrees F. Spray lasagna pan or large baking dish with nonstick spray. Pour about half of cream sauce in bottom of dish. Add layer of noodles, then spread noodles with half of pumpkin mixture. Add another layer of noodles, followed by half each of the mozzarella and Parmesan. Add all of the sauteed kale. Sprinkle kale with all of the couscous. Add layer of noodles. Spread noodles with remaining pumpkin mixture. Spread all of the sausage slices (if using) over pumpkin. Top sausage with remaining mozzarella. Add one last layer of noodles. Pour remaining cream sauce over everything. Sprinkle with remaining Parmesan.
Cover with foil and bake 30 minutes. Remove foil, bake 15 minutes longer or until edges are bubbly. Let rest 15 minutes before serving topped with parsley, if desired.
This shop is part of a social shopper marketing insight campaign with Pollinate Media Group™ and Project 7 but all my opinions are my own.
MORE GREAT HALLOWEEN FOOD: