Korean Meatballs
These award-winning Korean Meatballs are sweet, spicy and so flavorful! Serve them over rice for dinner, or as an irresistible appetizer.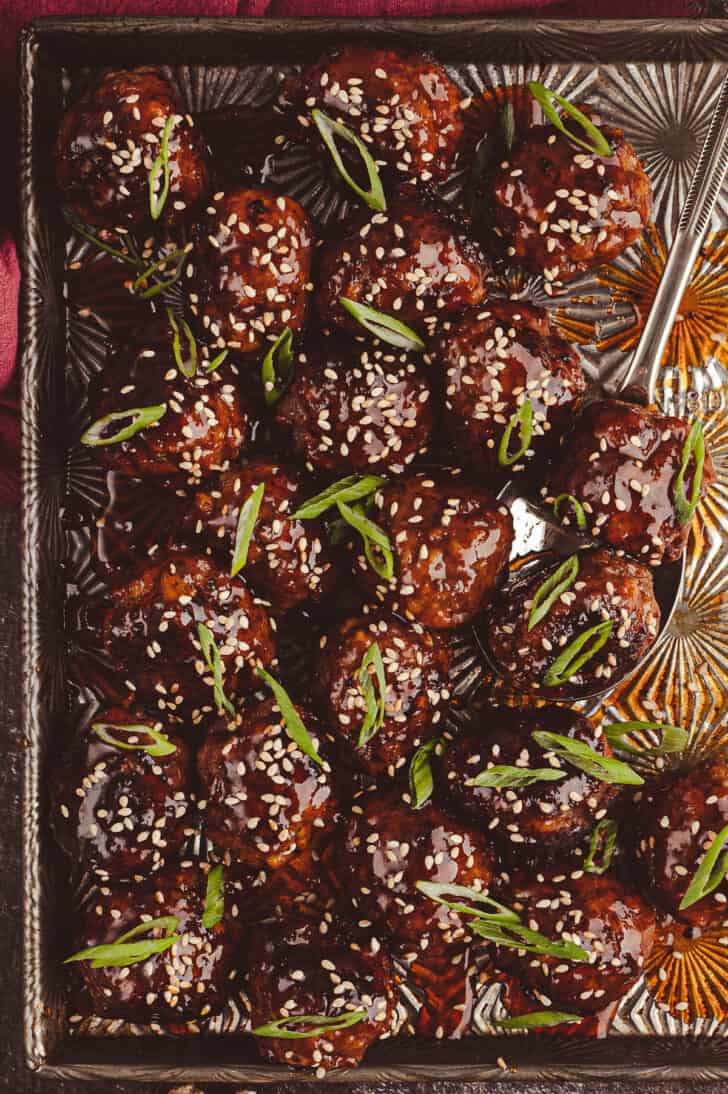 I'm pretty uptight about food waste. I cringe every time I find a half full but expired condiment in the door of the fridge that needs to be thrown away.
I try to keep a list on my phone that lists the ingredients I have in the fridge, and the date that they will expire, so that when I am meal planning, I can be sure to incorporate them.
Right now, the two things staring at me begging to be used are miso and gochujang (Korean chili paste).
The miso I'm getting through pretty efficiently by making a fresh batch of miso ginger dressing almost every week.
And the gochujang I actually bought to make salad dressing for an Asian shrimp salad. But of course, the 1-1/2 tablespoons needed barely put a dent in the gocjujang tub.
One of my kitchen mottos seems to be "when in doubt, make meatballs." I love everything from General Tso's meatballs to Greek chicken meatballs, but the Korean meatballs I'm sharing today are my current favorite.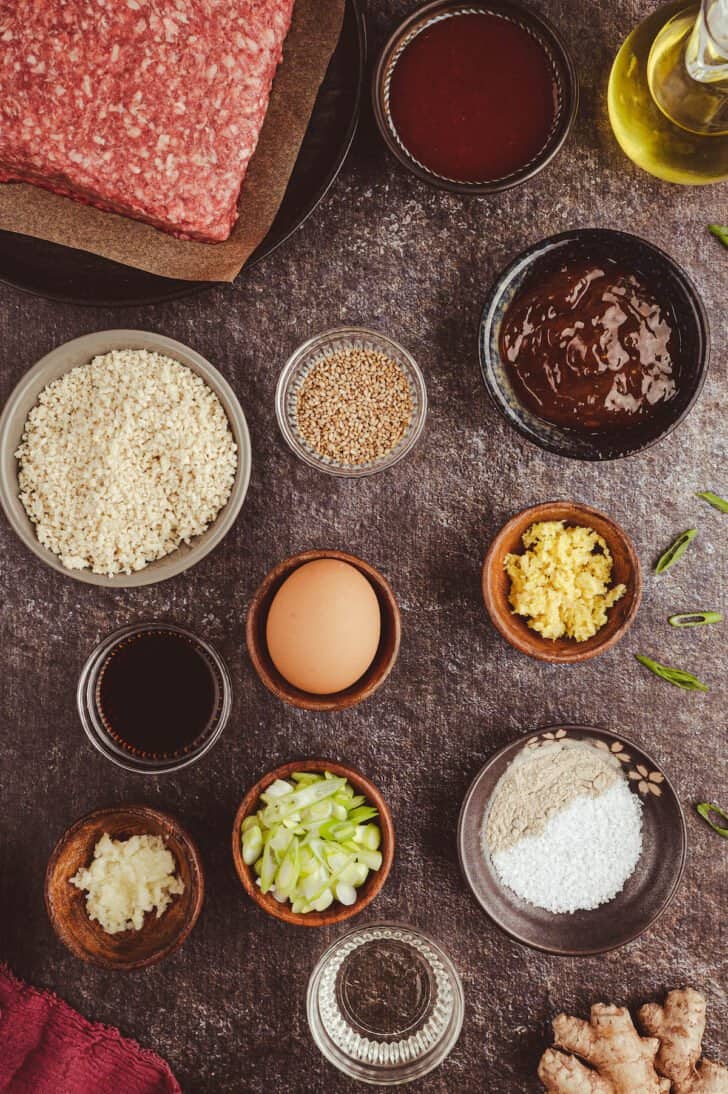 What you'll need for Korean meatballs:
ground beef – you will need 1 pound of ground meat. I used beef, but I talk about alternatives below! Feel free to save your beef for taco mac and cheese and make these meatballs with turkey instead.
green onions – you will need thinly sliced green onions both for the meatball mixture and a garnish. If it's game day, make a batch of healthy buffalo chicken dip and use the extra onions on top of that, too!
garlic – I'm incapable of making a meatball without garlic. Garlic lovers – don't miss my garlic dip recipe!
ginger – minced fresh ginger (not the dried kind) is essential for any Asian meatball, and my orange ginger chicken.
egg – you need 1 egg to act as a binder for the meatball mixture.
breadcrumbs – I use panko breadcrumbs, which also serve as a binder.
gochjuang – this Korean chili paste is the star of this recipe, appearing in both the meatball mixture and the glaze.
salt and pepper – for seasoning the Korean BBQ meatballs. I used ground white pepper because I like it's flavor for Asian dishes, but ground black pepper works fine, too.
canola oil – you'll need this for pan-frying the Korean meatballs. Vegetable oil also works.
apricot preserves – for sweetening the glaze. I talk about alternatives below.
rice vinegar – this adds a kick of acid to the glaze for this Korean meatball recipe. White vinegar works fine, too.
soy sauce – this seasons the glaze, because we aren't using salt in it. Soy sauce is also the secret ingredient in my homemade gravy.
toasted sesame seeds – optional, but I love them as a garnish.
What is gochujang, and why do I need it for Korean BBQ meatballs?
Gochujang is a fermented red chili paste that is used often in Korean cooking. It's made from chili powder, rice, soybean powder and other ingredients. It is savory, sweet and spicy all at the same time.
It is can be quite thick and kind of have the consistency of tomato paste, although some brands are a little thinner.
In my opinion, it is actually pretty versatile, and has a nice spicy and smoky flavor. A little bit goes a long way toward giving an otherwise boring dish a little Korean flair.
Can I use a different type of meat for this Korean meatball recipe?
Absolutely. You are not required to make these Korean BBQ meatballs with beef.
Feel free to use to make this Korean meatball recipe with ground pork, chicken, or turkey. You could actually just make my air fryer turkey meatballs (omit the oregano) and change up the sauce if you wanted.
Heck, you could even use my black bean meatball recipe with this glaze!
You could even use a combination of several different types of meat in this Korean BBQ meatball recipe. Whatever you prefer is what you should use for these meatballs.
Try Korean meatballs on top of tomato ramen or over kimchi fried rice for a fun dinner, or serve them alongside phyllo cup appetizers as part of a party snack spread.
What if I don't have apricot preserves for these Korean style meatballs?
You don't need to buy a jar of apricot preserves just for these gochujang meatballs, especially if you don't plan to use it again (after all, that's just more food waste!).
You can use just about any kind of jam, jelly or preserves that you might have on hand in place of the apricot preserves in these Korean style meatballs.
People have told me they've made these Korean meatballs with peach, grape and even strawberry jam/jelly/preserves, and they turn out great every time.
If you have strawberry preserves, you can make strawberry mules to go with your Korean BBQ meatballs! Try some heart jam cookies for dessert, too!
In the end, you probably won't be able to tell what flavor of preserves you use for this Korean meatball recipe (since the gochujang takes a front seat in the flavor department). The preserves just add sweetness and texture to the sauce.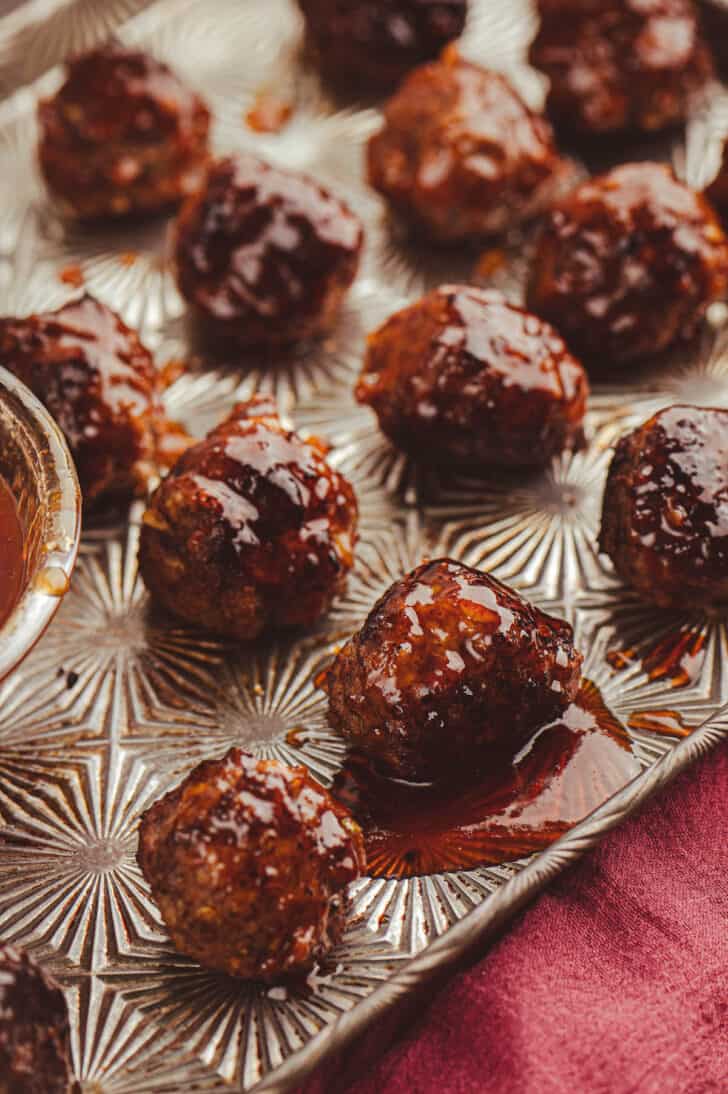 These gochujang meatballs are award winning!
Back when I wrote this Korean meatball recipe in 2013, it was chosen as the winner of Food 52's "Best Spicy Recipe" contest. Pretty cool, right?
Korean Meatballs
Yield:
About 20 meatballs
These award-winning Korean Meatballs are sweet, spicy and so flavorful! Serve them over rice for dinner, or as an irresistible appetizer.
Ingredients
For the Meatballs:
3 green onions, very thinly sliced
2 garlic cloves, minced
1 egg, lightly beaten
1/2 cup panko breadcrumbs
2 tablespoons gochujang (Korean chili paste)
1 tablespoon minced fresh ginger
1 teaspoon kosher salt
1/2 teaspoon ground white pepper
1 pound ground beef
2 tablespoons canola oil, for pan-frying
For the Glaze:
1/3 cup apricot preserves
2 tablespoons gochujang (Korean chili paste)
1-1/2 tablespoons rice vinegar
1 tablespoon soy sauce
For the Garnish:
Sliced green onion
Toasted sesame seeds
Instructions
Make the Meatballs: Preheat oven to 350 degrees F. In large bowl, stir together onions, garlic, egg, breadcrumbs, gochujang, ginger, salt and pepper. Add beef and stir (or mix with hands) until just combined. Do not overmix. Using hands, gently form into golf ball-sized meatballs.
Heat oil in large skillet over medium-high heat. In batches, transfer meatballs to skillet and cook 3 to 4 minutes or until browned on all sides, turning occasionally. Transfer meatballs to rimmed baking pan and transfer to oven. Bake 10 minutes or until internal temperature reaches 160 degrees F.
Meanwhile, make the Glaze: In small saucepot, whisk together preserves, gochujang, vinegar and soy sauce. Cook over medium heat 5 minutes or until mixture is slightly thickened, stirring frequently.
To serve, brush meatballs with glaze and sprinkle with green onion and sesame seeds.
Recommended Products
Foxes Love Lemons, LLC is a participant in the Amazon Services LLC Associates Program, an affiliate advertising program designed to provide a means for sites to earn advertising fees by advertising and links to Amazon.com. There is no additional cost to you.
Nutrition Information:
Yield:

4
Serving Size:

5 meatballs
Amount Per Serving:
Calories:

571
Total Fat:

29g
Saturated Fat:

9g
Trans Fat:

1g
Unsaturated Fat:

17g
Cholesterol:

147mg
Sodium:

1661mg
Carbohydrates:

42g
Fiber:

1g
Sugar:

22g
Protein:

36g
This website provides estimated nutrition information as a courtesy only. You should calculate the nutritional information with the actual ingredients used in your recipe using your preferred nutrition calculator.