Balsamic Marinade for Steak
This Balsamic Steak Marinade can be made using simple ingredients you probably already have in your kitchen. No need to measure anything precisely, so it couldn't be easier!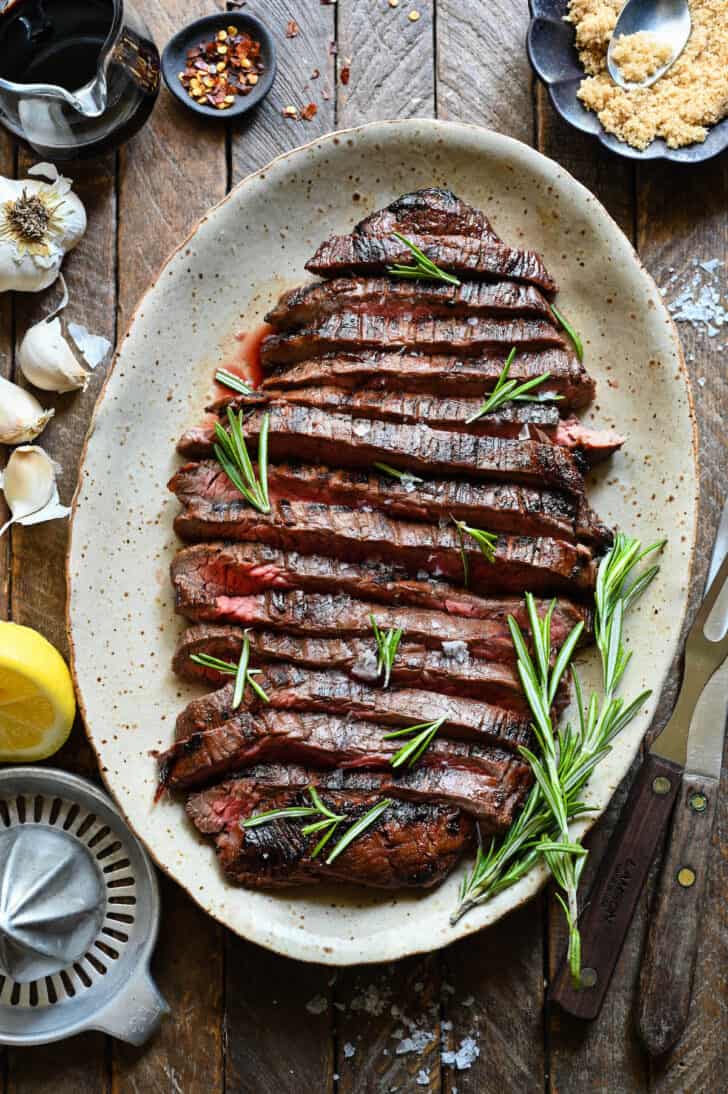 You will love this Marinade for Steak
It's probably a Midwest thing, but I grew up eating flank steak marinated in bottled Italian salad dressing. And honestly, it was so so good. 10/10 would eat again.
Recently I wanted to make steak lettuce wraps with flank steak and wanted to marinate the steaks first. I was kind of craving something along the lines of that Italian dressing, but didn't want to run to the store for a bottle of dressing.
I did have a bottle of balsamic vinegar on hand after making my balsamic glaze recipe, so I started there. Using that, along with some other things I had around, I was able to whip this marinade up in just a few minutes.
Use this Balsamic Steak Marinade for flank steak, skirt steak, or any other cut of beef you would like to marinate before cooking.
Why this Balsamic Steak Marinade is the best
Balsamic vinegar is perfect as a marinade for steak, for many reasons.
Its natural acidity helps tenderize meat, meaning the finished product will be succulent and tender.
The flavor of the vinegar will also add complexity and a touch of sweetness, enhancing the flavor of the steak itself.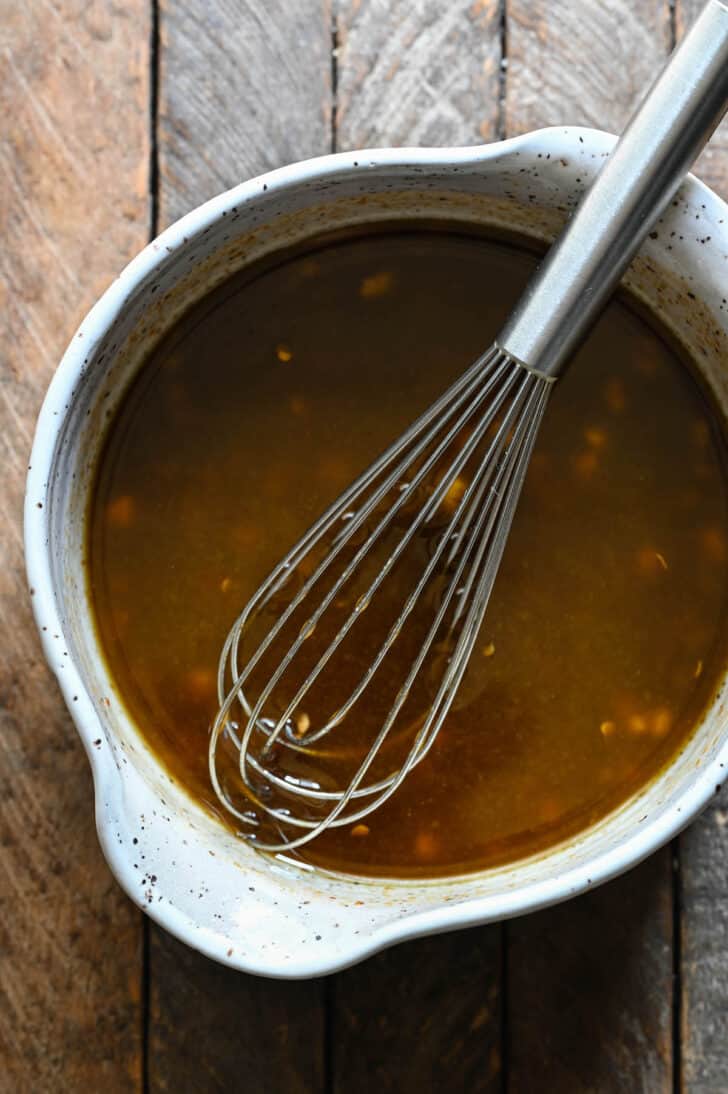 What cuts of beef work with this Steak Marinade Sauce?
I usually use this balsamic marinade for flank steak (as shown in these photos), skirt steak or hanger steak. Any cut of meat that has nice marbling works well in a marinade. Feel free to experiment!
While they don't necessarily NEED to be marinated, ribeye, New York Strip and tenderloin steaks all work well in this balsamic vinegar steak marinade also, to add extra flavor to the meat.
Flat iron steak is another cut suitable for this balsamic marinade for steak. I also have a separate flat iron steak marinade recipe that highlights orange juice and cumin, for perfect steak that is perfect to tuck into tortillas with some fajita toppings.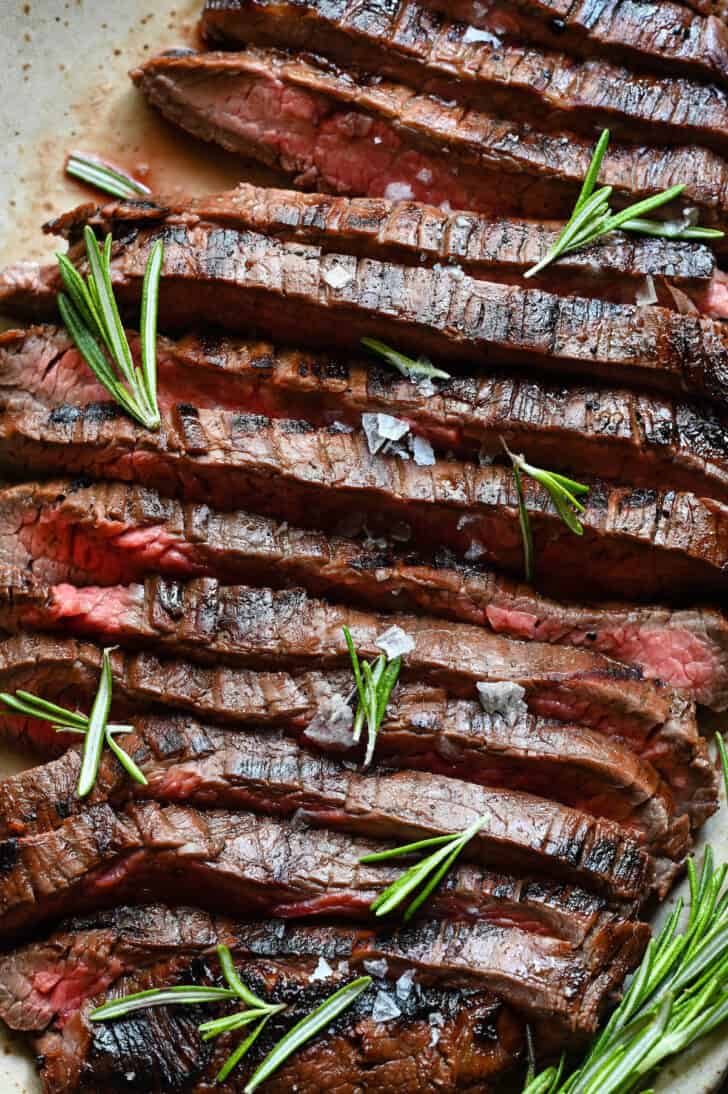 Balsamic Marinade for Steak Ingredients
olive oil – I like the flavor of olive oil paired with balsamic vinegar, but you could also use vegetable oil for a cheaper alternative.
garlic – you will need 3 cloves of garlic for this balsamic marinade for steak. Use the rest of your garlic to make honey glazed carrots to go with your steak, or my roasted garlic dip for snacking!
balsamic vinegar – the superstar of this marinade! Just 1/4 of this pungent vinegar adds a ton of flavor.
soy sauce – there's no salt in this balsamic vinegar steak marinade, as all of the salt comes from the soy sauce. Don't skip it! Soy sauce is also a secret ingredient in my homemade gravy and miso ginger dressing.
lemon juice – you can actually use ANY citrus juice here. I had a lemon, but if you have limes already on hand for bourbon mules, use those! If you use oranges, zest them first and make a orange bundt cake for dessert.
light brown sugar – this adds sweetness to the marinade. If you have dark brown sugar, you can use that instead (it can also be used in my microwave caramel sauce).
Dijon mustard – this adds a little bit of heat to the marinade.
red pepper flakes – another little bit of heat!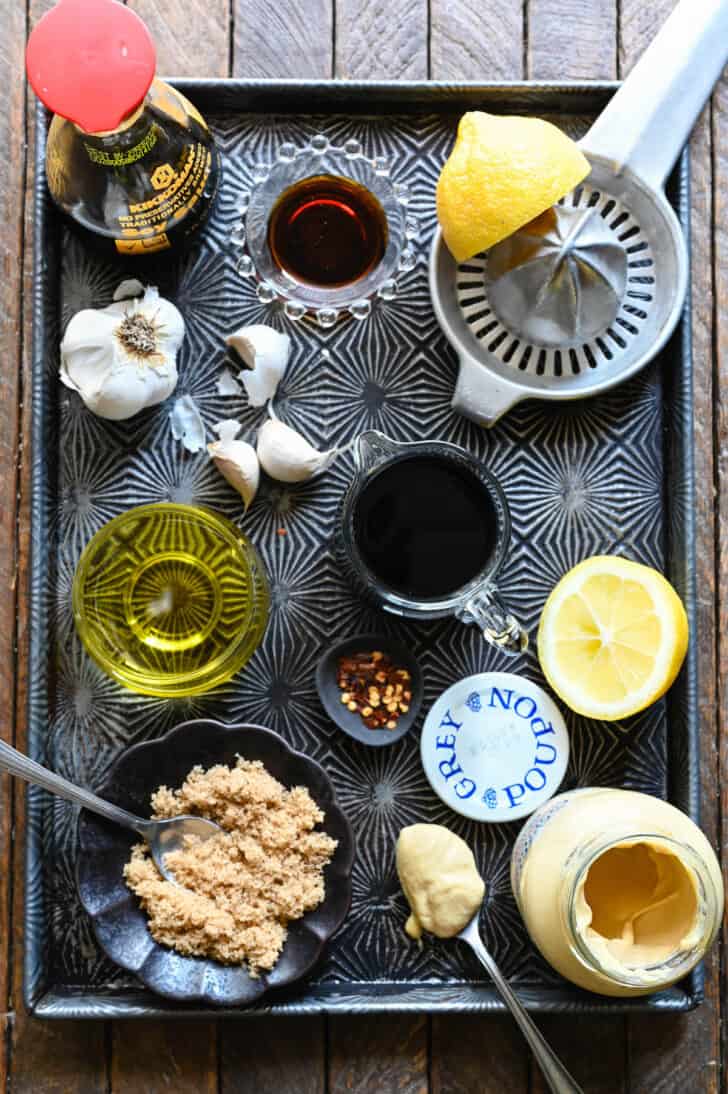 A little secret about this Marinade for Steak
My little secret is that I don't measure anything when making this balsamic marinade for steak (or my buttermilk chicken marinade, for that matter). Well, except the one time I measured so that I could include measurements in the recipe card below.
But every other time, I literally just eyeball every ingredient. Life is too short to have to clean a bunch of measuring cups and spoons for a marinade. Precision measurements are just not necessary here.
So save those measuring utensils for a baked good like Baileys brownies or chocolate cake with cream cheese frosting.
The exact ingredient amounts aren't important for. As long as the general proportions are correct, the end result will be delicious.
So, go ahead, use a glug of oil, a few squeezes of lemon, and a spoonful of brown sugar. Becoming a skilled home cook is all about trusting your instincts.
How long should I marinate steak in this Steak Marinade Sauce?
Just like with root beer ribs, it's best to marinate steak for at least four hours so that the flavors can start to soak into the meat, and the acidity in the balsamic vinegar steak marinade can tenderize the steak.
For a more pronounced taste, you can also marinate overnight! However, try not to marinate longer than 24 hours if you can help it.
After TOO long, the acid in this balsamic steak marinade recipe will start to "cook" the beef (like how lime juice "cooks" the shrimp in shrimp ceviche), and the steak will be a little tough once you grill it.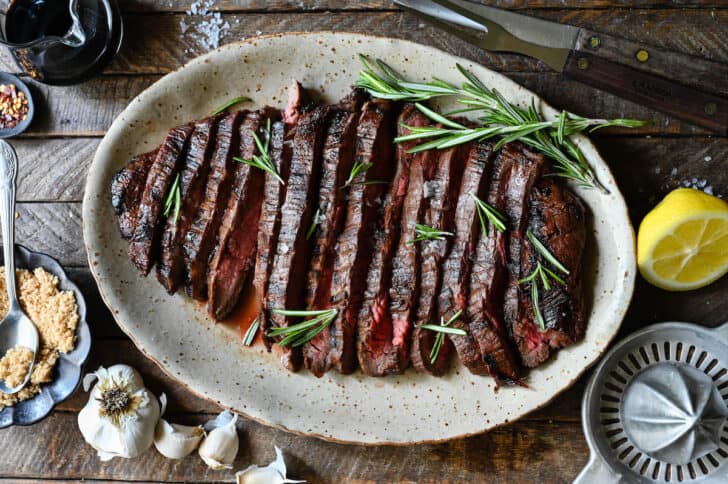 Other ways to use Balsamic Vinegar Steak Marinade
This steak marinade is a versatile and flavorful concoction that can be used for much more than steak. Make a double batch (never re-use marinade that has touched raw meat) and use it in a variety of ways throughout the week:
GRILLED VEGGIES – Give your favorite veggies like bell peppers, zucchini, onions and mushrooms a quick marinade before grilling.
CHICKEN AND PORK – While it's called a "steak marinade," the balsamic flavor here works just as well with chicken breasts or pork chops, too.
SALAD DRESSING – This is a ready-to-go salad sweet and savory salad dressing! Serve it over a caprese or mixed greens salad.
Balsamic Steak Marinade Sauce
This Balsamic Steak Marinade can be made using simple ingredients you probably already have in your kitchen. No need to measure anything precisely, so it couldn't be easier!
Ingredients
3 garlic cloves, minced
1/2 cup olive oil
1/4 cup balsamic vinegar
1/4 cup soy sauce
2 tablespoons fresh lemon juice
2 tablespoons light brown sugar
1 tablespoon Dijon mustard
1/2 teaspoon red pepper flakes
Instructions
Place all ingredients in medium bowl and whisk until smooth. Makes about 1-1/2 cups marinade, enough for about 1-1/2 pounds of meat. Place steak in shallow baking dish or zip-top bag and pour marinade over steak. Cover and refrigerate at least 4 hours or up to overnight, turning once if possible.
Recommended Products
Foxes Love Lemons, LLC is a participant in the Amazon Services LLC Associates Program, an affiliate advertising program designed to provide a means for sites to earn advertising fees by advertising and links to Amazon.com. There is no additional cost to you.
Nutrition Information:
Yield:

6
Serving Size:

1
Amount Per Serving:
Calories:

193
Total Fat:

18g
Saturated Fat:

3g
Trans Fat:

0g
Unsaturated Fat:

15g
Cholesterol:

0mg
Sodium:

656mg
Carbohydrates:

7g
Fiber:

0g
Sugar:

5g
Protein:

1g
This website provides estimated nutrition information as a courtesy only. Nutrition information does not include any optional ingredients or toppings. You should calculate the nutrition information with the actual ingredients used in your recipe using your preferred nutrition calculator.