Lemon Smoothie (Sunshine in a Bottle!)
This Lemon Smoothie is like sunshine in a bottle! Yogurt, lemon, honey, ginger and turmeric will wake you up on a sleepy morning.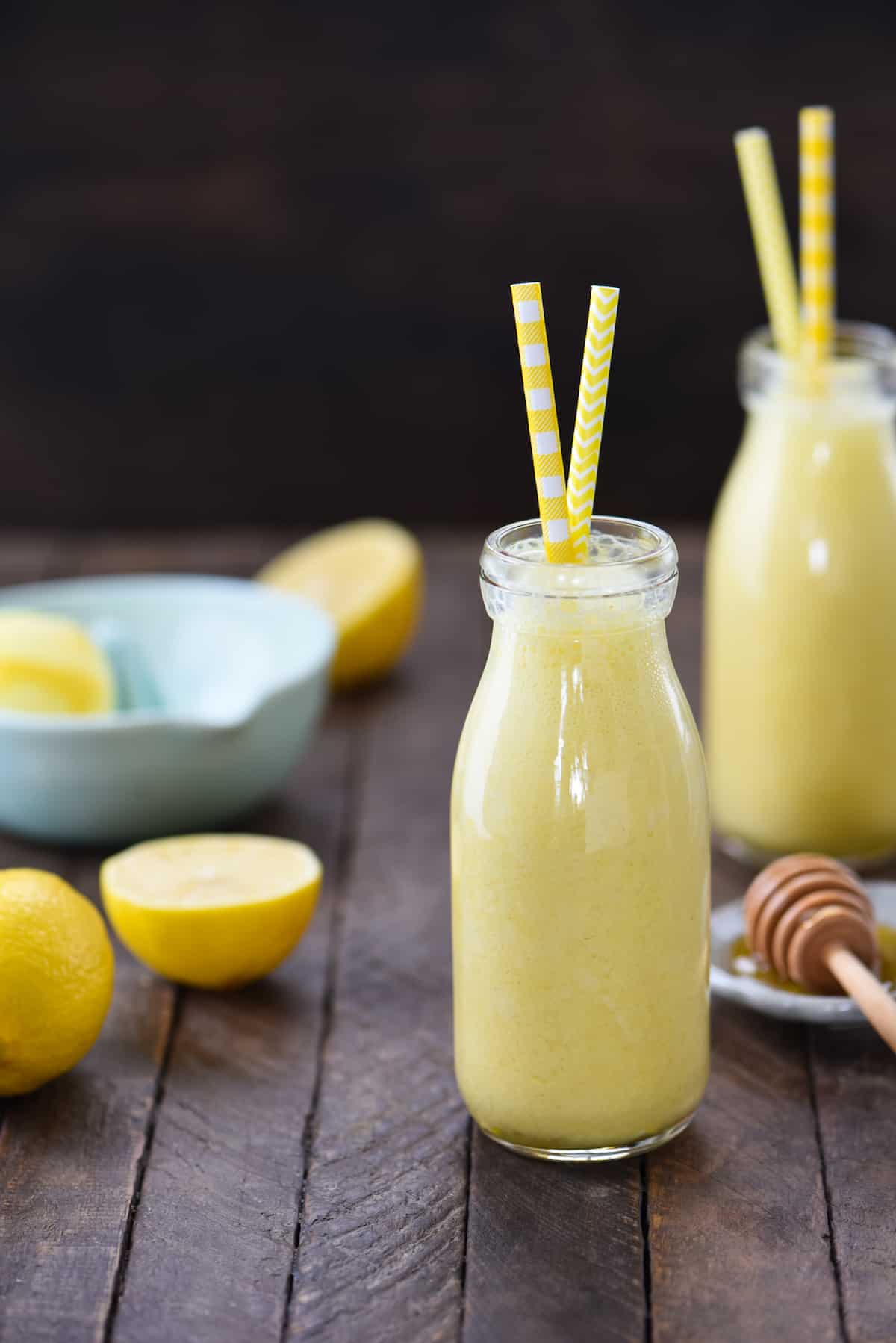 Winter, man. It's dragging on, isn't it? At least here in Michigan, February seems to be the hardest month in terms of feeling like Spring will never come again.
The only thing getting me out of bed lately is knowing that this Sunshine in a Bottle Lemon Smoothie is only a few minutes away once I get downstairs.
I even set my blender up on the counter the night before, so I'm all ready to go.
And as you know, lemon is my favorite flavor (I make a mean lemon margarita and lemon creme brulee), so it's kind of like I'm waking up to my favorite food.
Every single ingredient in this smoothie (well, except the ice) is engineered for maximal bright, zingy flavor and health benefits.
That's right, I engineered this smoothie. My husband is a mechanical engineer, and I'm a food engineer.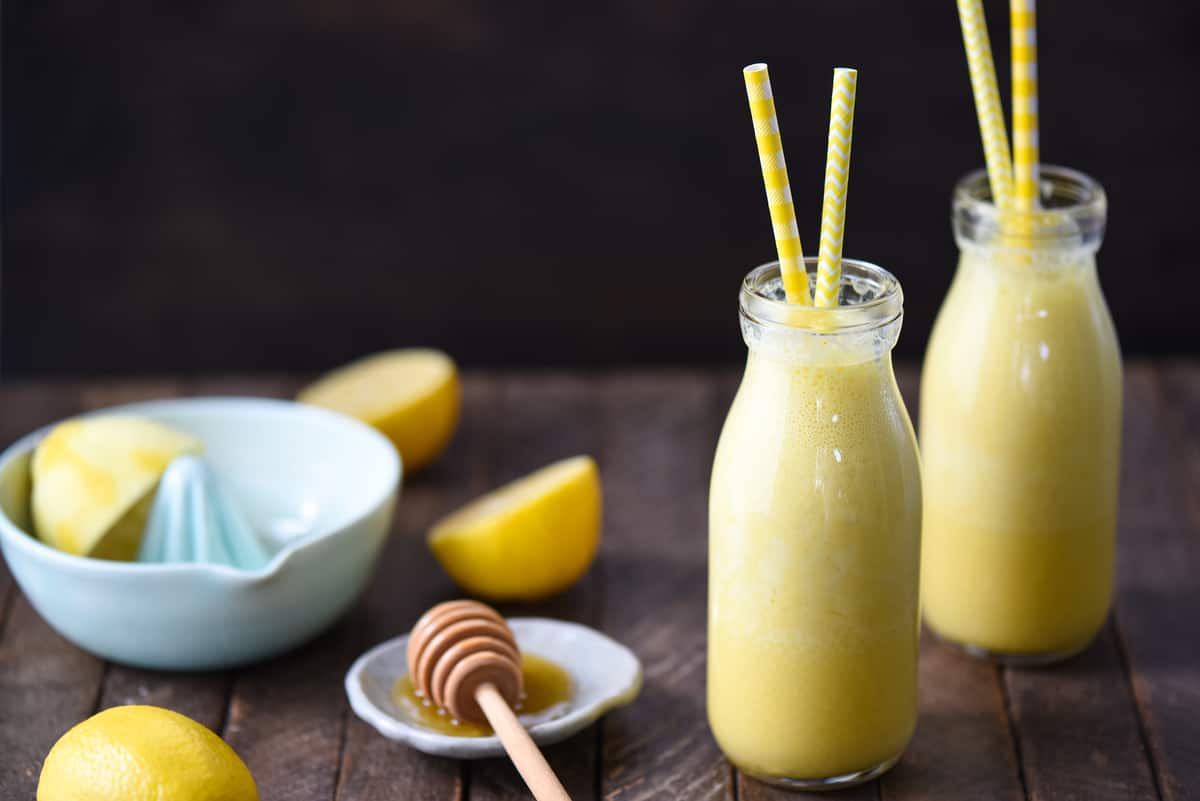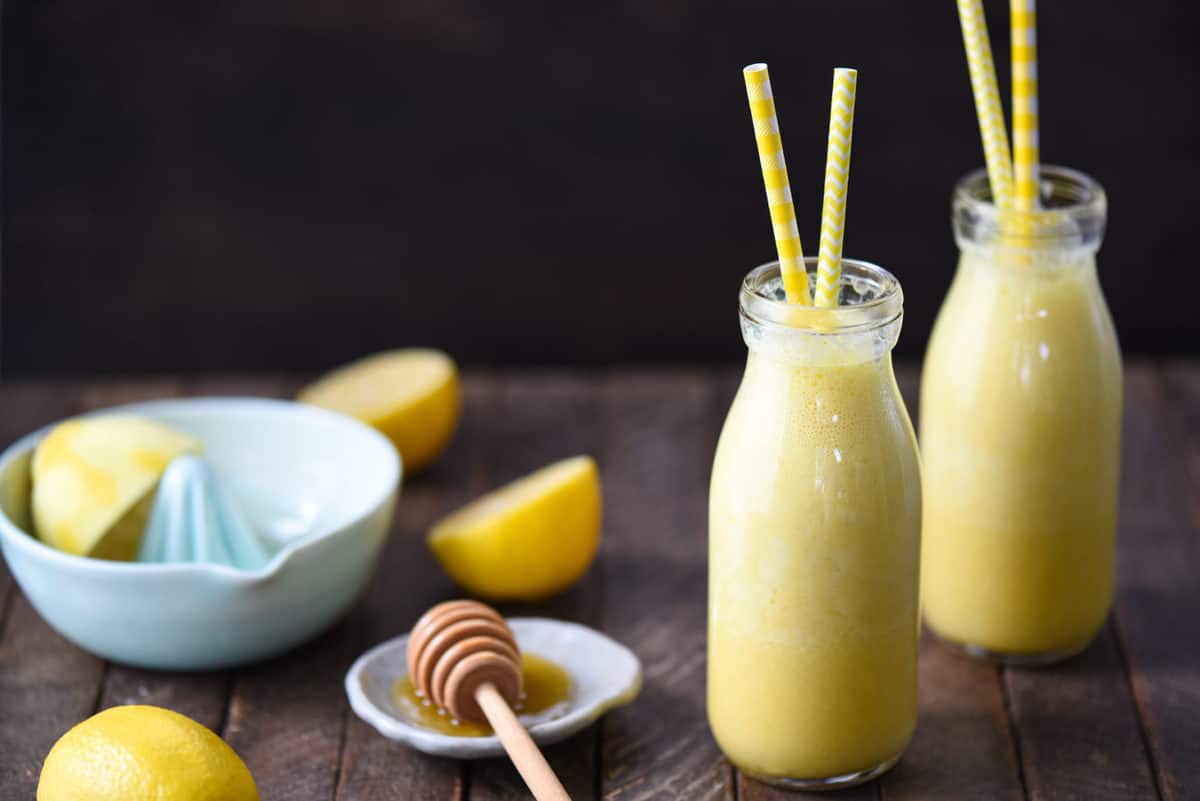 About this Lemon Smoothie recipe:
Start with a scoop of French vanilla yogurt or vanilla flavored Greek yogurt to get your probiotics for the day, and create a subtly sweet, creamy base for this smoothie.
Next, grab a big ol' lemon and zest it into your blender, then squeeze in the juice of the lemon.
Add a spoonful of honey (agave nectar and maple syrup are also great choices here) for further sweetness that will counteract the bright acidic nature of the lemon. Honey will also give you a natural energy boost in the morning.
Have some sore muscles from your workout yesterday? Shoot, I have a sore neck just from sleeping on it wrong. That's what the fresh ginger is for. Ginger can be used as a natural pain reliever for muscle soreness.
Finally we have a pinch of ground turmeric, which could help fight off a cold if needed!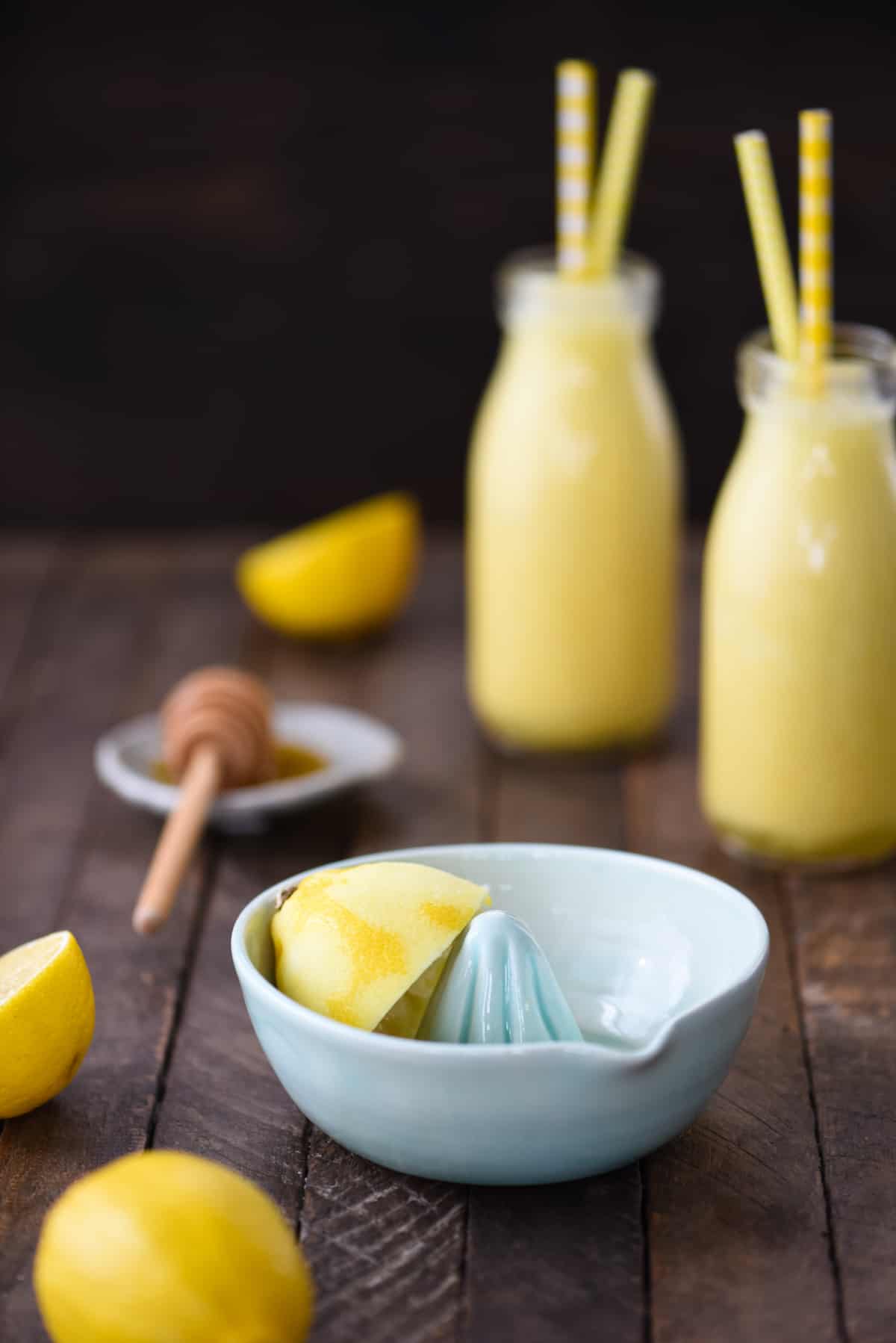 Can I make this Lemon Smoothie vegan?
Sure, this lemon smoothie is so easy to make vegan! Get rid of the dairy by simply using a non-dairy yogurt alternative (such as yogurt made with almond milk or soy milk) in place of the yogurt, and substitute maple syrup or agave nectar for the honey.
Can I make a Lemon Smoothie without yogurt at all?
Personally, I wouldn't recommend it. Without the yogurt, you're basically going to be left with a blended lemonade 🙂 The yogurt is what gives the smoothie body and makes it filling.
What if I can't find fresh ginger for this lemon smoothie?
While the flavor won't be quite as bright and fresh without fresh ginger, ground dry ginger can be used in place of fresh ginger in this recipe. 1/4 teaspoon ground ginger will do the trick.
Can I make a lemon smoothie with spinach?
This is one of my favorite tricks to get more veggies into my diet! I'm willing to add a handful spinach to just about any kind of smoothie I make, and I've added spinach to this lemon smoothie quite often.
Of course, the smoothie will become a vibrant green color, but personally, I don't find that the taste changes all that much. The bright flavors of the lemon and the ginger cover up the spinach flavor, in my opinion.
Can I make one serving of this smoothie?
Sure! The recipe is written for two servings because my husband and I will usually each have one smoothie when I make this recipe. You can also double or triple this recipe and include it as part of a brunch food buffet (don't forget to put some bacon in the oven)!
But I also make a single serving just for me on occasion. If you want to make one serving, simply halve the ingredients like this:
1/2 cup yogurt
1/2 cup ice cubes
1 tablespoon fresh lemon juice
1 tablespoon honey
1-1/2 teaspoons grated fresh ginger
1 teaspoon grated lemon zest
pinch of ground turmeric
Lemon Smoothie
This Lemon Smoothie is like sunshine in a bottle! Yogurt, lemon, honey, ginger and turmeric will wake you up on a sleepy morning.
Ingredients
1 cup low fat French vanilla yogurt
1 cup ice cubes
2 tablespoons fresh lemon juice
2 tablespoons honey
1 tablespoon grated fresh ginger
2 teaspoons grated lemon zest
1/8 teaspoon ground turmeric
Instructions
In blender, combine all ingredients; blend until smooth. Serve immediately.
Recommended Products
Foxes Love Lemons, LLC is a participant in the Amazon Services LLC Associates Program, an affiliate advertising program designed to provide a means for sites to earn advertising fees by advertising and links to Amazon.com. There is no additional cost to you.
Nutrition Information:
Yield:

2
Serving Size:

1
Amount Per Serving:
Calories:

168
Total Fat:

2g
Saturated Fat:

1g
Trans Fat:

0g
Unsaturated Fat:

0g
Cholesterol:

6mg
Sodium:

78mg
Carbohydrates:

35g
Fiber:

0g
Sugar:

34g
Protein:

6g
Other great smoothie recipes: