Spicy Pork & Mustard Green Soup
In this monthly series, I commit to cooking whatever is on the cover of Bon Appetit, Saveur or maybe some other food magazine. There's a reason these particular dishes are on the cover – they're usually the best recipes in the magazine.
Well, it's time to Cook The Cover again. As expected, the January issues of all of the food mags focused on healthy eating, and Bon Appetit had the most appetizing (pun intended) recipe on the cover.
I'm a sucker for a good Asian soup, especially if it includes noodles. Especially if it claims to be spicy.
This particular soup includes lovely mustard greens, a vegetable I hadn't used in many years. They truly do have a mustard-like flavor, so it breaks up the typical spinach-or-kale-all-the-time dinner routine.
The sharp, tangy mustard flavor is a great pairing for pork, like the ground pork in this soup (I also use ground pork to make my General Tso's meatballs).
My very favorite thing about this soup was the depth of flavor of the broth. It was akin to really good wonton soup broth at a Chinese takeout. And I say that in the nicest possible way, because I love wonton soup!
I adapted the broth a little bit from Bon Appetit's version, as I couldn't find Sichuan peppercorns in my area. However, the broth still has a ton of rich flavor from garlic, ginger, red pepper flakes, cumin, soy sauce and fish sauce.
I would have never thought to add cumin to an Asian soup, but it really worked. You couldn't really detect a cumin flavor in the end result, but all of the ingredients worked in perfect harmony to make the broth one of the most delicious substances ever.
And while I love a long simmered crockpot soup, this one comes together pretty quickly right on the stovetop.
Do try out this recipe on a cold winter day and let me know what you think of it.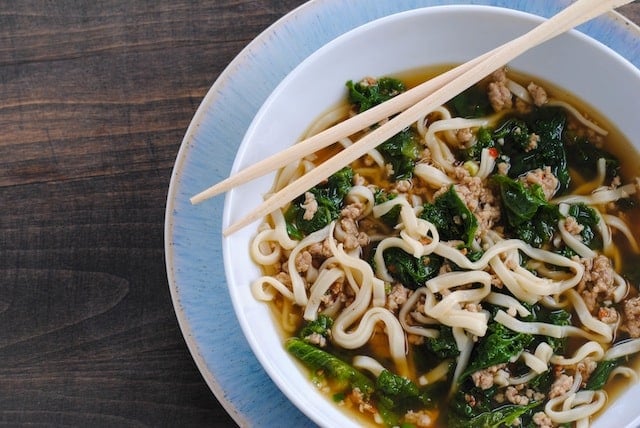 Spicy Pork & Mustard Green Soup
Ingredients
1 tablespoon olive oil
3 garlic cloves, minced
1/2 pound ground pork
2 teaspoons grated fresh ginger
3/4 teaspoon red pepper flakes
1/2 teaspoon ground cumin
1/4 teaspoon kosher salt
1/4 teaspoon ground black pepper
4 cups less-sodium chicken broth
1/2 bunch mustard greens (stems removed), torn into large pieces
4 green onions, thinly sliced
2 tablespoons soy sauce
1 teaspoon fish sauce
8 ounces wide rice noodles
Instructions
In large saucepot, heat oil over medium heat. Add garlic, pork, ginger, red pepper flakes, cumin, salt and pepper. Cook 6 to 8 minutes or until pork is browned and cooked through, breaking up pork with side of spoon and stirring occasionally.
Add broth and heat to boiling. Reduce heat to medium-low; simmer 8 minutes.
Add mustard greens, onions, soy sauce and fish sauce. Simmer 5 minutes or until greens are tender; stirring occasionally.
Meanwhile, cook noodles according to package directions; drain.
Divide noodles between 4 bowls and ladle soup over.