Balsamic Vinegar Reduction Glaze Recipe
Love the delicious balsamic glaze drizzled over your food at restaurants? You can make it at home with 4 ingredients, in 10 minutes. Adds a special touch to chicken, steak or vegetables.
What is balsamic glaze?
I spent a lot of my time in culinary school making balsamic glaze. The restaurant that the school ran used it to finish a variety of dishes.
We would drizzle it over everything from chicken pizza to braised short ribs to add a special finishing touch to the dish.
There's nothing like the smell of a big pot of vinegar boiling away on the stove to wake you up at 5 in the morning (which is when I had to report to some classes).
Over the past few years, I've noticed various brands of pre-made balsamic glazes make their way onto grocery store shelves.
Brands must have figured out that home chefs wanted to use this ingredient, but were perhaps too intimidated to make it themselves.
I admit, I've even bought the pre-made stuff myself from time to time, when I want to make balsamic asparagus or balsamic green beans super quickly.
But, just like my creamy feta dressing and balsamic steak marinade, if you have a few extra minutes and a few simple ingredients, it really is so easy to make it yourself at home.
Today, I'm taking the intimidation factor out of the equation with this simple balsamic glaze recipe.
Balsamic Glaze Ingredients
balsamic vinegar – it goes without saying that this is the key ingredient! Because you'll be reducing the vinegar to half of its original volume, that means the flavor will concentrate, too. Which means you'll want to start with a nice mid-range vinegar. Doesn't need to be super high end, but it's also not the time to use the really cheap bargain stuff, either. Eataly has a lot of good information on how to buy balsamic vinegar.
light brown sugar – this balances the acidity of the vinegar and adds to the syrupy consistency of the final product.
soy sauce – this isn't traditional in most balsamic glaze recipes, but it is in mine. It's not just for breakfast fried rice and orange ginger chicken! Rather than salt, I use soy sauce to season the glaze, because it also adds a punch of umami, too. It's also not traditional in homemade gravy, but I also use it there for the same reasons.
unsalted butter – I like to swirl in a pat of butter at the end of the cooking process, to enhance the mouthfeel and flavor of the glaze.
How to make balsamic glaze:
Place the vinegar, brown sugar and soy sauce in a medium saucepot and bring it to a boil over high heat. Once it's at a full rolling boil, reduce the heat to medium.
Cook it over medium heat for about 6 to 10 minutes (exact timing will depend on your stove and what type of saucepot you are using) or until the mixture is reduced by half and coats the back of a wooden spoon like you see in the photo below.
While the balsamic glaze recipe is cooking, you don't need to stir it, but you should swirl the pan around occasionally. Just like with my caramel syrup recipe and microwave caramel sauce, you will need to watch the mixture very very carefully so that it does not burn.
It's very easy to go from perfectly reduced to burnt in less than a minute, so don't wander away from the kitchen while the mixture is reducing. Keep a close eye on it!
Once the mixture is reduced by half, stir in the butter until it melts.
Allow the glaze to cool to room temperature before using. The glaze will thicken considerably as it cools, so if the mixture seems too thin after you add the butter, give it a chance to cool down.
How to use Balsamic Glaze
Use this recipe to make balsamic glazed chicken or balsamic glazed salmon!
This balsamic glaze recipe is so good when served over a variety of protein. It's so good on lamb lollipops. I love drizzling it over thinly sliced, rare steak like grilling flat iron steak and steak lettuce wraps.
It's also delicious served over roasted or grilled chicken, even when it has been marinated in buttermilk chicken marinade first!
It also adds a special finishing touch to my sockeye salmon recipe, shrimp or almost any other type of seafood you can think of.
It's also perfect for vegetables: balsamic glazed carrots or Brussels sprouts!
This balsamic glaze recipe also really shines when it's served with vegetables. I love balsamic roasted carrots and asparagus, and roasted radicchio and mini Hasselback potatoes drizzled with balsamic glaze.
And when I'm not making maple Brussels sprouts, I absolutely adore Brussels sprouts with balsamic glaze.
Balsamic Glaze Storage
How long does Balsamic Glaze last?
Homemade balsamic glaze lasts about 7 to 10 days in an airtight container.
Does Balsamic Glaze need to be refrigerated?
Because my balsamic glaze recipe contains butter, it does need to be refrigerated. Because it sets up and gets very thick under refrigeration, remove it from the fridge about an hour before serving to allow it to come to room temperature and return to it's drizzly consistency.
Balsamic Vinegar Glaze FAQs
Is balsamic glaze the same as balsamic vinegar?
Balsamic glaze and balsamic vinegar may seem similar, but they're not quite the same.

Balsamic vinegar is a dark, concentrated grape vinegar used in salad dressings and marinades.

Balsamic glaze, also known as balsamic reduction, is a syrupy sauce made by simmering balsamic vinegar and often adding sweeteners like sugar or honey. It is thicker, sweeter, and more syrup-like compared to regular vinegar.

Is balsamic reduction the same as balsamic glaze?
The terms "balsamic reduction" and "balsamic glaze" are often used interchangeably, but there can be slight variations.

"Balsamic reduction" is a broader term that simply refers to the process of simmering balsamic vinegar until it thickens. It may or may not include additional sweeteners.

"Balsamic glaze" is a type of balsamic reduction that typically includes sweeteners, so it has a sweeter taste compared to a basic balsamic reduction. It is often used as a finishing drizzle for dishes to add flavor and visual appeal.
What do you put balsamic glaze on?
Balsamic glaze is a very versatile condiment that can elevate a wide range of dishes, including salads, grilled meats, cheese, roasted vegetables, fruit, pizza, sandwiches and desserts.

Does balsamic glaze keep in the fridge?
Balsamic glaze should be stored in the refrigerator to prolong its shelf life.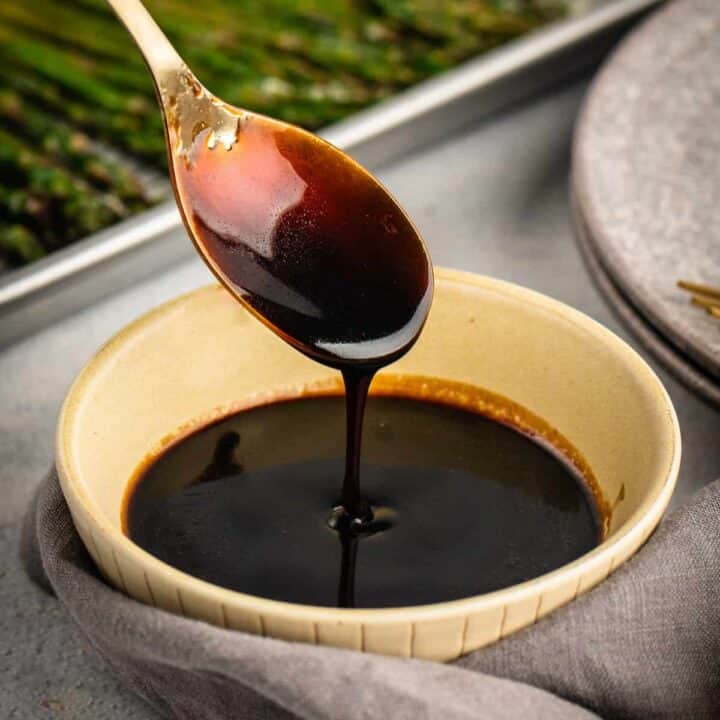 Balsamic Reduction Glaze (Balsamic Vinegar Reduction)
Love the delicious balsamic glaze drizzled over your food at restaurants? You can make it at home with 4 ingredients, in 10 minutes. Adds a special touch to chicken, steak or roasted vegetables.
Ingredients
1 cup balsamic vinegar
2 tablespoons light brown sugar
2 teaspoons soy sauce
2 tablespoons unsalted butter
Instructions
Place vinegar, brown sugar and soy sauce in medium saucepot. Heat to boiling over high heat, then reduce heat to medium.
Simmer 8 to 12 minutes or until mixture is reduced by half, swirling occasionally, watching very carefully so it does not burn.
Remove glaze from heat and stir in butter. Let cool before using. Glaze will thicken considerably as it cools.
Recommended Products
Foxes Love Lemons, LLC is a participant in the Amazon Services LLC Associates Program, an affiliate advertising program designed to provide a means for sites to earn advertising fees by advertising and links to Amazon.com. There is no additional cost to you.
Nutrition Information:
Yield:

8
Serving Size:

1 tablespoon
Amount Per Serving:
Calories:

65
Total Fat:

3g
Saturated Fat:

2g
Trans Fat:

0g
Unsaturated Fat:

1g
Cholesterol:

8mg
Sodium:

81mg
Carbohydrates:

8g
Fiber:

0g
Sugar:

7g
Protein:

0g
This website provides estimated nutrition information as a courtesy only. You should calculate the nutritional information with the actual ingredients used in your recipe using your preferred nutrition calculator.