Balsamic Green Beans
Balsamic Green Beans are a bright and tangy side dish that go well with just about anything. With just a few ingredients, you can make a special addition to a holiday dinner or any weeknight.
It's a pretty unpopular opinion here in the Midwest, but green bean casserole just isn't my thing. Never has been!
I did develop a crock pot green bean casserole recipe, from scratch, with no canned ingredients. But honestly, that was primarily out of early pandemic boredom, just to see if I could do it.
I usually prefer my green beans to be quite acidic at Thanksgiving, because that way they really balance the other heavy flavors on the plate.
One of my favorite recipes was an oldie from Eating Well magazine (back when it was still in print) – green beans with pickled shallots and mustard seeds.
Sadly, I've misplaced my copy of the recipe and I can't find it anywhere online, so I'm a bit heartbroken. It was similar to these blistered green beans, but also totally different.
To mend my broken heart over my lost recipe, I thought I'd just come up with something new. Earthy, crisp green beans are natural pairing for tart, tangy balsamic glaze. If you like balsamic asparagus and my balsamic steak marinade, you'll probably love these beans.
This balsamic green bean recipe will add a tangy side dish option to your rich Thanksgiving plate. It's also one of my very favorite side dishes for ribs.
And it's the perfect side dish for things like honey mustard pork chops, lamb bolognese and salmon pasta.
About this balsamic green bean recipe:
If you include making the glaze, this recipe has just five ingredients (plus salt and olive oil), making this balsamic green bean recipe so so easy to pull together.
There is a link to a homemade balsamic glaze recipe in the recipe card below, or you can buy pre-made balsamic glaze at the grocery store.
You will need a half batch (a generous 1/4 cup) of homemade balsamic glaze for 1 pound of green beans. I have ideas on what to do with the other half of the batch below!
Simply cook the green beans using your favorite preparation method – roasting, grilling, sautéing, broiling, boiling – whatever you like!
For the balsamic glazed green beans seen here, I chose to quickly saute the green beans, which allowed them to become slightly tender, but still maintained their bright green color and crisp bite as well.
These light and fresh green beans with balsamic glaze pairs really well with something rich like slow cooker beef stroganoff or fettuccine bolognese.
What you'll need to make green beans with balsamic vinegar:
green beans – you will need 1 pound of fresh green beans for this green bean with balsamic glaze recipe. Trim the stem end of each bean (no need to trim the "tail" end unless you want to).
balsamic vinegar – it goes without saying that this is the key ingredient in the glaze! Because you'll be reducing the vinegar to half of its original volume, that means the flavor will concentrate, too. Which means you'll want to start with a nice mid-range vinegar for balsamic green beans. Doesn't need to be super high end, but it's also not the time to use the really cheap bargain stuff, either. Eataly has a lot of good information on how to buy balsamic vinegar.
light brown sugar – this balances the acidity of the vinegar and adds to the syrupy consistency of the glaze for these balsamic green beans.
soy sauce – this isn't traditional in most balsamic glazed green beans, but it is in mine! Rather than salt, I use soy sauce to season the glaze, because it also adds a punch of umami, too. It's also not traditional in homemade gravy, but I also use it there for the same reasons.
unsalted butter – I like to swirl a pat of butter into the glaze at the end of the cooking process, to enhance the mouthfeel and flavor of the glaze. Also key in my salmon piccata!
Other uses for this balsamic glaze for green beans:
As mentioned above, you'll only need half a batch of homemade balsamic glaze for 1 pound of green beans with balsamic (4 servings).
You can simply halve the ingredients of the glaze and make just a half batch for this balsamic green bean recipe, or, as I prefer, you can make a full batch and use the remaining glaze to spruce up other meals throughout the week!
Balsamic glaze is so good when served over a variety of protein. I love drizzling it over thinly sliced, rare grilling flat iron steak and steak lettuce wraps.
It's also delicious served over roasted or grilled chicken, even when it has been marinated in buttermilk chicken marinade first!
It also adds a special finishing touch to my sockeye salmon recipe, shrimp or almost any other type of seafood you can think of.
I think balsamic glaze really shines when it's served with vegetables, and not just green beans. I love balsamic roasted carrots, parsnips and Brussels sprouts, too! I'll even drizzle it over roasted acorn squash slices.
More Foxes Love Lemons Favorites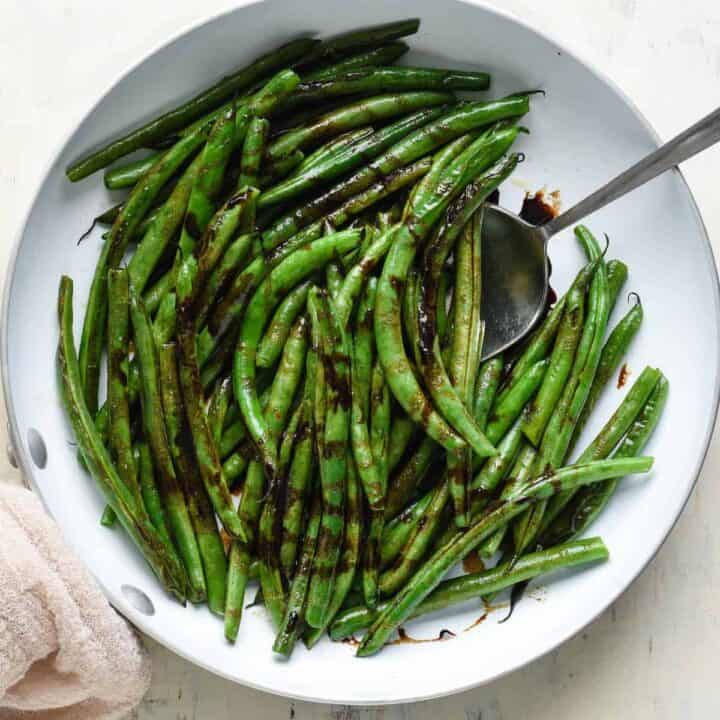 Balsamic Green Beans
Balsamic Green Beans are a bright and tangy side dish that go well with just about anything. With just a few ingredients, you can make a special addition to a holiday dinner or any weeknight.
Ingredients
1 tablespoon olive oil
1 pound fresh green beans, stem ends trimmed
1/4 teaspoon kosher salt
1/2 batch (1/4 cup) Balsamic Glaze
Instructions
Heat oil in large skillet over medium-high heat. Add beans and cook 4 to 6 minutes or until light golden brown, stirring frequently.
Add salt and 1/4 cup water to skillet and cook 2 to 4 minutes longer or until water is evaporated, stirring frequently.
Remove from heat. Add 1/2 of Balsamic Glaze to skillet and toss until beans are coated in glaze. Transfer green beans to serving platter and serve remaining glaze on the side, to pass at the table.
Recommended Products
Foxes Love Lemons, LLC is a participant in the Amazon Services LLC Associates Program, an affiliate advertising program designed to provide a means for sites to earn advertising fees by advertising and links to Amazon.com. There is no additional cost to you.
Nutrition Information:
Yield:

4
Serving Size:

1
Amount Per Serving:
Calories:

134
Total Fat:

7g
Saturated Fat:

2g
Trans Fat:

0g
Unsaturated Fat:

4g
Cholesterol:

8mg
Sodium:

161mg
Carbohydrates:

17g
Fiber:

4g
Sugar:

12g
Protein:

2g
This website provides estimated nutrition information as a courtesy only. You should calculate the nutritional information with the actual ingredients used in your recipe using your preferred nutrition calculator.