Cranberry Curd Tart (Easy Cranberry Tart Recipe)
This Cranberry Curd Tart will make a striking addition to your holiday dessert table. Made with fresh cranberries and orange juice, and a graham cracker crust. Can also be made gluten free with an almond or hazelnut crust.
I wanted to make sure I had enough cranberries so that I could make my mom some cider cranberry sauce, like I do every year, to go alongside the roasted turkey with maple bourbon glaze, old fashioned turkey stuffing, gravy from scratch, and Thanksgiving salad.
Before I knew it, oops, I accidentally overbought fresh cranberries this year. I was a little worried about grocery availability and the supply chain, as I'm sure you can understand.
I also wanted to make cranberry sauce muffins for my daughter to eat for breakfast.
But after making the muffins, and allocating enough berries for the sauce and a cranberry appetizer, I was still left with an extra bag.
One of my very favorite, soothing kitchen activities is making curd (the most common being lemon curd, like in my lemon curd cake).
Sure, it's not a sexy word. You won't be getting any second dates when you ramble on about your love of curds on the first.
But, there's something about whisking a slowly thickening custard and then pressing it through a sieve that I enjoy, and find relaxing (just like making roses for my apple rose tart).
So, I'm pleased to introduce you to this cranberry curd tart.
The ingredients for this cranberry curd tart are easy to find:
graham crackers – these form the crust for this cranberry tart recipe.
sugar – regular old white granulated sugar is what we're using.
cinnamon – this adds a warming fall flavor to the crust.
salt – it's important to add a pinch of salt to desserts to balance the sweetness.
butter – we'll need almost 2 whole sticks of butter. Almost a full stick for the crust, and one full stick for the curd. Be sure you still have enough butter on hand for Thanksgiving Rice Krispies treats, too!
orange juice and zest – the flavor pairs so well with cranberries (and is also a crucial flavor component of melomakarona (Greek Christmas cookies)
fresh cranberries – or frozen cranberries work, too! Just thaw them and pat them dry. Any extra can be used to garnish a cranberry rosemary cocktail.
eggs – you can't make a curd without eggs! We'll be using 2 whole eggs plus 2 egg yolks for a rich, luscious curd.
vanilla – high quality vanilla extra adds big flavor to the curd. Vanilla lovers should also check out my vanilla bean creme brulee.
whipped cream – for serving.
This cranberry curd tart recipe starts with a homemade crust, and fresh cranberries and oranges:
This cranberry curd tart recipe starts with a classic graham cracker crust with some cinnamon added for extra flavor (make blueberry cheesecake ice cream with any extra grahams). There are also gluten free crust options, which I discuss below.
Then, fresh cranberries, orange juice, orange peel and sugar come together on the stove in very much the same way you'd make a traditional cranberry sauce for Thanksgiving (except you'll be blending it smooth).
Save the dried cranberries for Thanksgiving rice. Use any extra fresh cranberries to garnish your Cajun turkey or in place of the cherries in chorizo stuffing.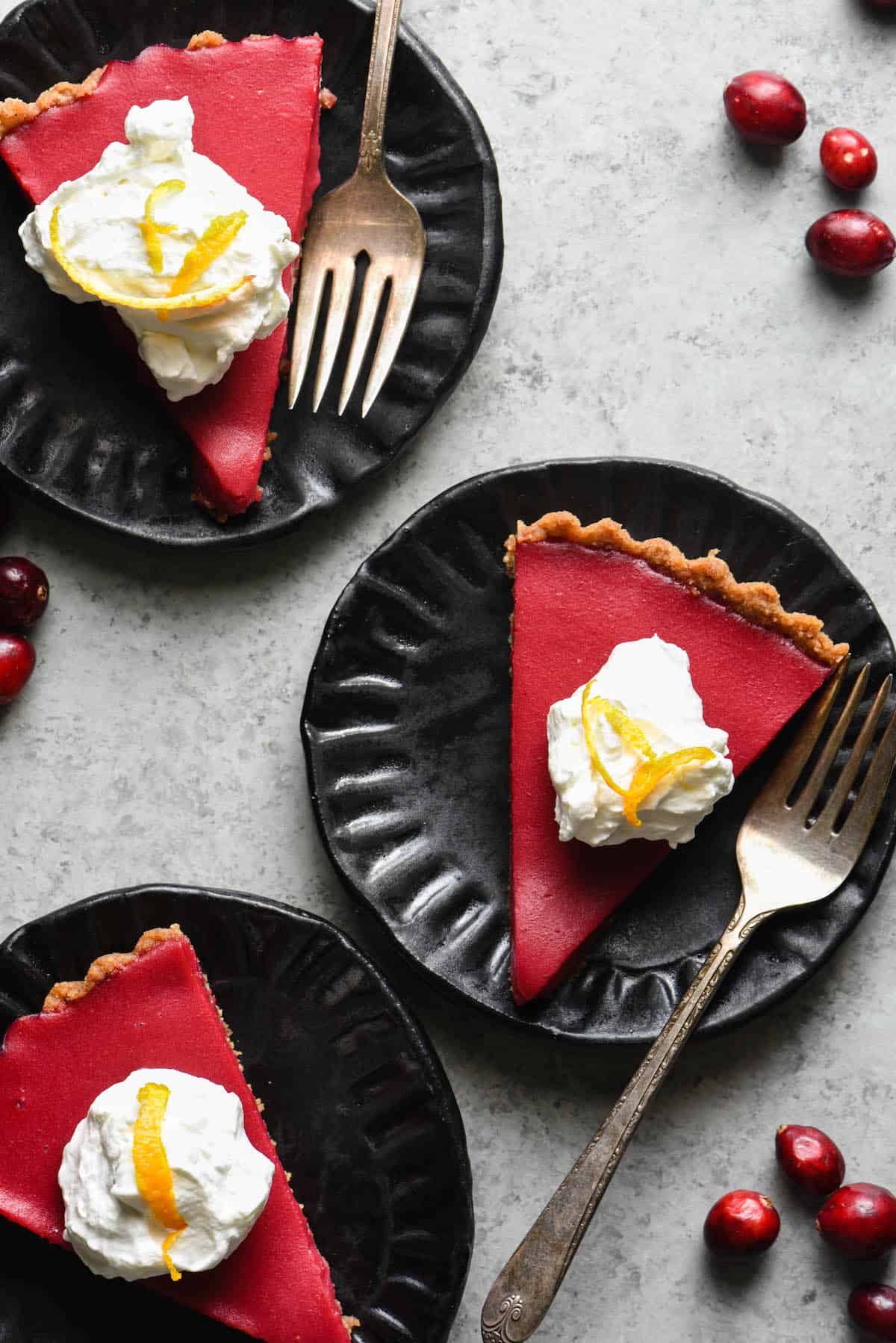 Be sure to temper your eggs for best results:
That's where the curd method starts. You'll have some whole eggs plus some egg yolks whisked in a bowl, and you'll slowly add a ladleful of the hot cranberry mixture to temper the eggs.
Tempering is the process of gradually adding a hot ingredient to a cold one so that both ingredients slowly come to the same temperature.
It's important to do this, because if you were to just add all of your cold eggs to the hot cranberries at one time, the eggs would cook, and you'd have scrambled eggs mixed with cranberry sauce. Gross.
Finishing the tart is just a quick trip to the oven:
After the eggs are tempered with some hot cranberries, you'll add that mixture back to the pot of the rest of the cranberry mixture on the stove, along with a stick of butter and vanilla.
You'll cook the curd until it thickens, then strain it through a fine mesh sieve (very important, more on that below) and pour it into the crust.
From there, the cranberry curd tart needs to be baked for just 10 minutes to firm up a bit! Then, the cranberry tart just needs to cool and be refrigerated before serving.
Why you must strain the cranberry curd:
In my opinion, straining the curd through a fine mesh sieve is non-negotiable.
Even with the very best tempering effort, it's still possible that a small amount of the eggs will cook, and you'll want to strain those bits out (we're NOT going for quiche vibes here).
And particularly with this cranberry tart recipe, you need to strain out the cranberry seeds and skin!
So, before pouring your curd into the crust, pour it through a fine mesh sieve in a large liquid measuring cup.
You'll need to use a spatula to sort of press on it in the sieve to help it along. You'll be left with a pretty substantial amount of solids in the sieve when you're finished – discard these. It's all cranberry skins and seeds!
One more note about this curd – it would be great in place of jam in my Valentine's dessert shooters!
Can I make this cranberry curd tart gluten free?
I used graham crackers for the crust of my cranberry curd tart, and gingersnaps would be another delicious option.
But, a gluten free cranberry tart is super easy, and you'll probably want to turn to either hazelnut flour or almond flour.
Bob's Red Mill has a great recipe for gluten free hazenut pie crust. I'd obviously make the sweet version of the crust for this tart, and I'd still add 1/2 teaspoon cinnamon to the mixture.
Another source that I trust is King Arthur Flour. They have a recipe for almond flour lemon bars. You can grab the crust recipe from that and use it to make a cranberry curd tart with almond crust. Again, add 1/2 teaspoon cinnamon.
These gluten free crust options are also perfect for my frozen yogurt pie.
More recipes with fresh cranberries:
Fresh cranberries are only in season for a short time of each year, so be sure to take advantage of them while you can!
Cranberry Curd Tart (Easy Cranberry Tart Recipe)
This Cranberry Curd Tart will make a striking addition to your holiday dessert table. Made with fresh cranberries and orange juice, and a graham cracker crust. Can also be made gluten free with an almond or hazelnut crust.
Ingredients
For The Graham Cracker Crust:
10 graham cracker sheets, crushed into crumbs in food processor (1-1/2 cups crumbs)
2 tablespoons granulated sugar
1/2 teaspoon ground cinnamon
Pinch of kosher salt
7 tablespoons butter, melted
For the Cranberry Curd:
Peel of one orange
12 ounces fresh cranberries
3/4 cup granulated sugar
1/2 cup fresh orange juice
2 whole large eggs
2 egg yolks
1 stick (8 tablespoons) unsalted butter, cut into 8 pieces
1 teaspoon vanilla extract
For Serving:
Whipped Cream (store bought or homemade)
Thinly sliced orange peel (optional)
Instructions
Make the Graham Cracker Crust: Preheat oven to 350 degrees F. In medium bowl, stir together graham cracker crumbs, sugar, cinnamon and salt.
Add melted butter and stir with fork until combined. Press crust into bottom and up sides of 9-inch tart pan.
Place tart pan on rimmed baking sheet and transfer to oven. Bake 18 to 20 minutes or until golden brown. Transfer to cooling rack and allow to cool completely before filling. Leave oven on.
Meanwhile, make the Cranberry Curd: Stir together orange peel, cranberries, sugar and orange juice in a medium saucepot. Cook over medium heat 8 to 10 minutes or until cranberries are very soft and most have burst, stirring frequently.
Remove and discard orange peel. Using an immersion blender, puree cranberry mixture until smooth (or transfer to a blender and blend until smooth).
Place eggs and egg yolks in medium bowl and whisk until smooth. Slowly add 1 ladleful of warm cranberry mixture to eggs while whisking constantly. Add egg mixture back to pot with cranberry mixture.
Add butter and vanilla to pot and cook over medium-low heat 8 to 10 minutes or until mixture is thickened, stirring constantly. Immediately strain mixture through fine mesh sieve into large liquid measuring cup. Discard solids left in sieve.
Pour custard into prepared tart crust and smooth top with spatula. Transfer to oven (tart pan should still be on rimmed baking pan) and bake 10 minutes or until curd is set (it should be slightly jiggly but not sloshy).
Transfer tart to cooling rack and let cool at room temperature 1 hour. Then, cover tightly with plastic wrap and transfer to refrigerator at least 4 hours or up to 3 days.
To serve, cut tart into 8 pieces and serve topped with whipped cream and garnished with orange peel, if desired.
Recommended Products
Foxes Love Lemons, LLC is a participant in the Amazon Services LLC Associates Program, an affiliate advertising program designed to provide a means for sites to earn advertising fees by advertising and links to Amazon.com. There is no additional cost to you.
Nutrition Information:
Yield:

8
Serving Size:

1
Amount Per Serving:
Calories:

337
Total Fat:

16g
Saturated Fat:

8g
Trans Fat:

0g
Unsaturated Fat:

6g
Cholesterol:

123mg
Sodium:

215mg
Carbohydrates:

46g
Fiber:

3g
Sugar:

31g
Protein:

4g