Vegetarian Quiche Recipe (Vegetable Quiche)
Vegetarian Quiche can be simple and perfect. Use this easy-to-follow recipe with culinary school tips to make the best vegetable quiche you've ever had!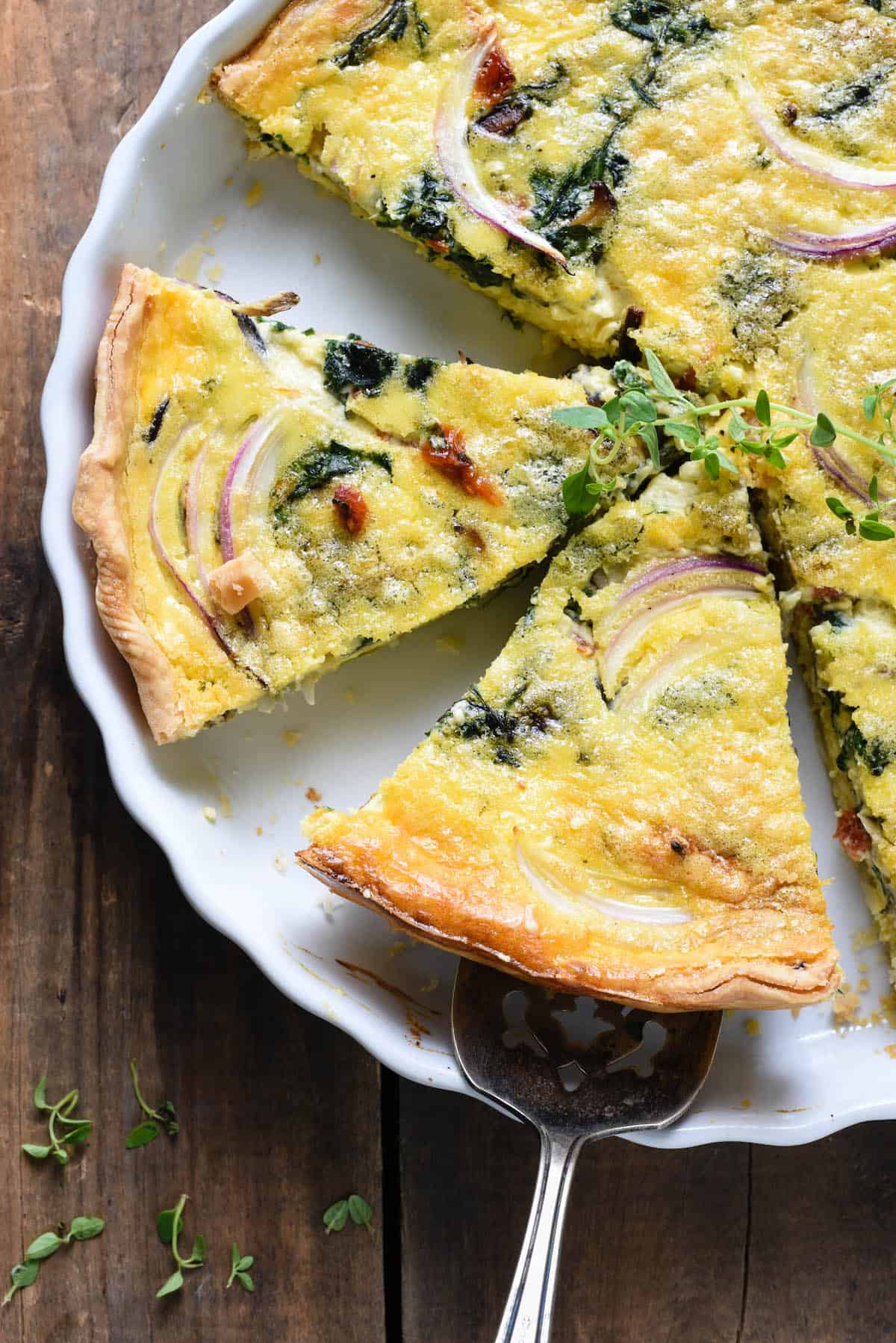 When it comes to brunch menu ideas for my mom's Mother's Day celebration, she really isn't picky.
She ALWAYS wants quiche, so I always make it for her. My dad will also usually spoil her with something like brioche French toast or lemon pancakes, and easy bacon in the oven, too.
We didn't get to have our usual Mother's Day gathering this year (my husband made me malted waffles instead), and it turns out, I kind of missed the veg quiche.
That, coupled with the fact that I apparently have not ever published a quiche recipe on this blog (I can't believe it!) makes this long overdue.
This vegetable quiche recipe is right up there with Greek yogurt pasta and vegan lentil curry as one of my favorite vegetarian meals ever.
Culinary school tips make this the best vegetarian quiche recipe!
I was taught to make a proper quiche in my "Breakfast and Pantry" class in culinary school (along with breakfast fried rice, believe it or not). The chef instructors were VERY particular about what constituted a good veg quiche, so we had lots of practice.
Below, I will share a few tips that translate to home cooks to make this vegetarian quiche recipe the best it can possibly be.
Beat the egg custard for this vegetable quiche recipe with a stand mixer or hand mixer.
Instead of using just a mixing bowl and hand whisk to whisk the egg custard mixture for this vegetable quiche recipe, use a stand mixer or a handheld electric mixer, if you have one.
You're already dirtying a bowl and a whisk for this vegetarian quiche recipe anyway, so it won't add any more dishes to your sink at the end of the project.
But, using an electric mixture will ENSURE a silky smooth custard by FULLY incorporating all of the eggs into the cream in a way that is much harder to achieve through whisking by hand.
Blind bake veg quiche pastry for a crispy crust.
I think it's very important to "blind bake" the pie crust for quiche before adding the vegetables, cheese and custard for this vegetable quiche recipe. It doesn't take very long, and you can enjoy a mimosa while you're waiting for the oven timer to go off.
Blind baking simply means to bake the pie crust for a little bit, before you add the filling. This allows the crust to get a head start on crisping up. I use the blind baking method for pizzas, too, to ensure a crispy crust on recipes like my cheeseburger pizza.
Nobody likes a soggy bottom crust on their quiche, but that's what you'll be left with if you don't blind bake, unfortunately.
To blind bake, I recommend arranging the crust in your quiche dish, then covering the crust with a piece of parchment paper.
On top of the parchment, place some pie weights or even a handful of dried beans (I had some dried navy beans left over from making ham and bean soup, so I used those). This will weigh the crust down so it doesn't puff up during the blind baking.
After the blind bake, remove the weights and parchment and fill your quiche.
Psst – if you bought a box of two refrigerated pie crusts for this vegetarian quiche recipe, you'll have an extra one to use for mini shepherd's pie or a beautiful apple rose tart!
Make it easier to transfer the vegetarian quiche in and out of the oven.
A little tip that might change your life: place your filled quiche pan on a rimmed baking pan before putting it in the oven.
We always did this in culinary school, because this just makes it WAY easier and safer to transfer to and from the oven, rather than trying to grab a thin, circular dish with oven mitts on (or, in culinary school, the flimsy kitchen towels we'd always use).
I don't know about you, but I'm quite clumsy with oven mitts on, and I've been known to drop a dish if I can't get an good grasp on it.
The sheet pan is SO much easier to safely grab and transfer in and out of the oven. Not only do I use this technique for this vegetarian quiche recipe, I use it for my cranberry curd tart, too!
How to choose vegetables for quiche:
Just about any vegetable you love is perfect for this vegetable quiche recipe. However, keep in mind that most vegetables need to be pre-cooked a little bit before putting them in a meatless quiche.
Otherwise, they may not cook all the way through, and you'll end up with half-raw veggies in your finished veg quiche.
If there are any doubts about whether a vegetable will cook all the way through, go ahead and par-cook it a little bit, just to be safe.
Depending on what vegetables for quiche you choose, you should be able to roast (even make roasted broccoli with lemon, perhaps), sauté or steam them first. Cook them until they are just tender-crisp before going into the quiche.
For this particular vegetarian quiche, I've used shitake mushrooms (button mushrooms also work great if you have extra after making my beef stroganoff recipe), spinach (which I also pack into my salmon pasta recipe), sundried tomatoes, and a bit of red onion. I par-cooked all of these things by sautéing them before they went into the quiche.
About the sun dried tomatoes in this veggie quiche recipe:
My personal preference for sun dried tomatoes is almost always the kind packed in oil. I love them in pesto pasta with veggies, and I use them make the most delicious sun dried tomato dressing for my turkey burger salad.
When I use tomatoes packed in oil for this vegetarian quiche recipe, I use a fork to fish them out of the oil, and sometimes pat them dry with a bit of paper towel to get the excess oil off.
Dry packed sun dried tomatoes are another option you may find at your store. I've used these for gemelli pasta salad, and they work great in this veggie quiche recipe, too!
My only issue with the dry packed ones is that they can be pretty hard to chop. You'll either need a very sharp knife and some arm strength, or you can plump them up a little bit in warm water before you chop them for use in this vegetable quiche recipe, which will make things easier.
What type of cheese should I use for meatless quiche?
My favorite cheese for this vegetarian quiche recipe is Gouda! It's earthy flavor and supreme melt-ability works just as well for meatless quiche as it does for my phyllo cup appetizers.
Don't like Gouda? No problem. Classic Swiss cheese is also perfect for this veggie quiche recipe. And French onion chicken sandwiches. Just sayin'.
Mozzarella is also great for this vegetable quiche recipe. Not the really soft, fresh kind (save that for chicken pizza), but the low-moisture kind sold in bars that you can shred. I also love mozz in breakfast muffins.
Can you freeze a vegetarian quiche?
Yes! This vegetable quiche recipe freezes beautifully, and along with cottage cheese lasagna, was one of our favorite freezer meals when my husband and I were on parental leave.
Simply bake the meatless quiche per the instructions below, and then allow it to cool completely.
Wrap well and freeze for up to 2 months. You can either wrap the whole quiche, or wrap individual slices before freezing.
To serve, place frozen quiche in a 350 degree oven and heat until warmed through.
I even like small slices of this veggie quiche recipe as part of my New Year's Eve snack spread!
More delicious brunch recipes:
Whether it's sweet or savory or somewhere in between, a leisurely weekend morning meal is my favorite!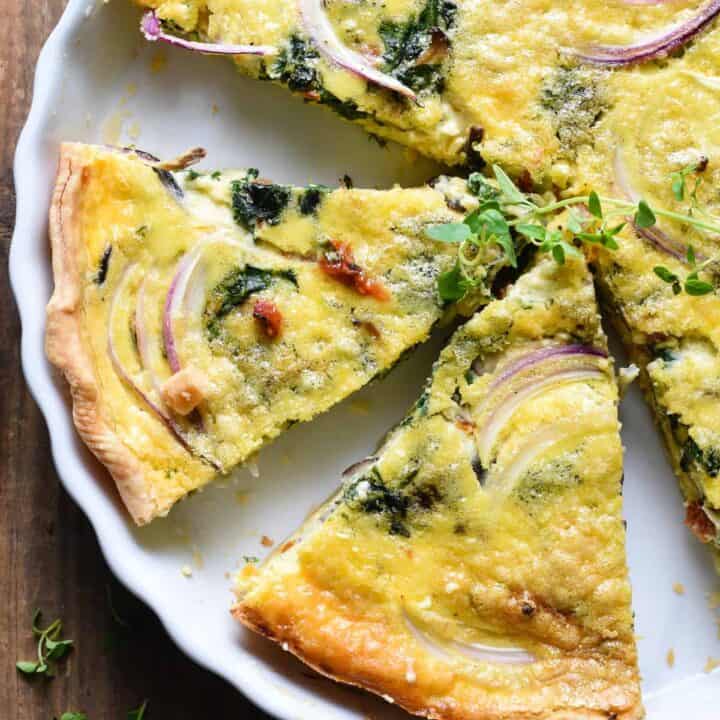 Vegetarian Quiche Recipe (Vegetable Quiche)
Total Time:
1 hour
30 minutes
Vegetarian Quiche can be simple and perfect. Use this easy-to-follow recipe with culinary school tips to make the best vegetable quiche you've ever had!
Ingredients
4 large eggs
1 cup heavy cream
1/2 cup whole milk
Pinch cayenne
Pinch nutmeg
Pinch salt and ground black pepper
1 refrigerated pie crust
2 tablespoons unsalted butter
1/4 small red onion, thinly sliced
4 ounces shitake mushrooms, sliced
2 cups baby spinach
1/2 cup sliced sundried tomatoes
1 teaspoon fresh thyme leaves
6 ounces shredded Gouda cheese
Instructions
Preheat oven to 350 degrees F. In bowl of stand mixer fitted with whisk attachment, beat eggs, cream, milk, cayenne, nutmeg, salt and pepper until smooth.
Press pie crust into 9-inch quiche dish. Place parchment paper over crust and spread dried beans or pie weights across crust to weigh it down. Place quiche dish on rimmed baking pan and transfer to oven. Bake 13 to 15 minutes or until light golden brown. Remove pie weights and parchment paper.
Meanwhile, heat butter in large skillet over medium-high heat. Add onion and mushrooms. Cook 4 to 6 minutes or until mushrooms are golden brown, stirring occasionally. Stir in spinach, sundried tomatoes and thyme. Cook 1 to 2 minutes longer, while stirring, or until spinach is slightly wilted.
Sprinkle cheese in even layer across bottom of pie crust. Spread vegetable mixture in even layer over cheese. Evenly pour egg mixture over vegetables.
Transfer to oven and bake 45 to 55 minutes or until center of quiche is set. Transfer to wire rack; let stand 10 minutes. Slice and serve warm or at room temperature.
Recommended Products
Foxes Love Lemons, LLC is a participant in the Amazon Services LLC Associates Program, an affiliate advertising program designed to provide a means for sites to earn advertising fees by advertising and links to Amazon.com. There is no additional cost to you.
Nutrition Information:
Yield:

8
Serving Size:

1
Amount Per Serving:
Calories:

361
Total Fat:

28g
Saturated Fat:

15g
Trans Fat:

0g
Unsaturated Fat:

11g
Cholesterol:

160mg
Sodium:

341mg
Carbohydrates:

16g
Fiber:

2g
Sugar:

5g
Protein:

12g