Cranberry Sauce Muffins
These Cranberry Sauce Muffins are the most delicious way to use up leftover cranberry sauce after Thanksgiving. You can whip these up in just a few minutes!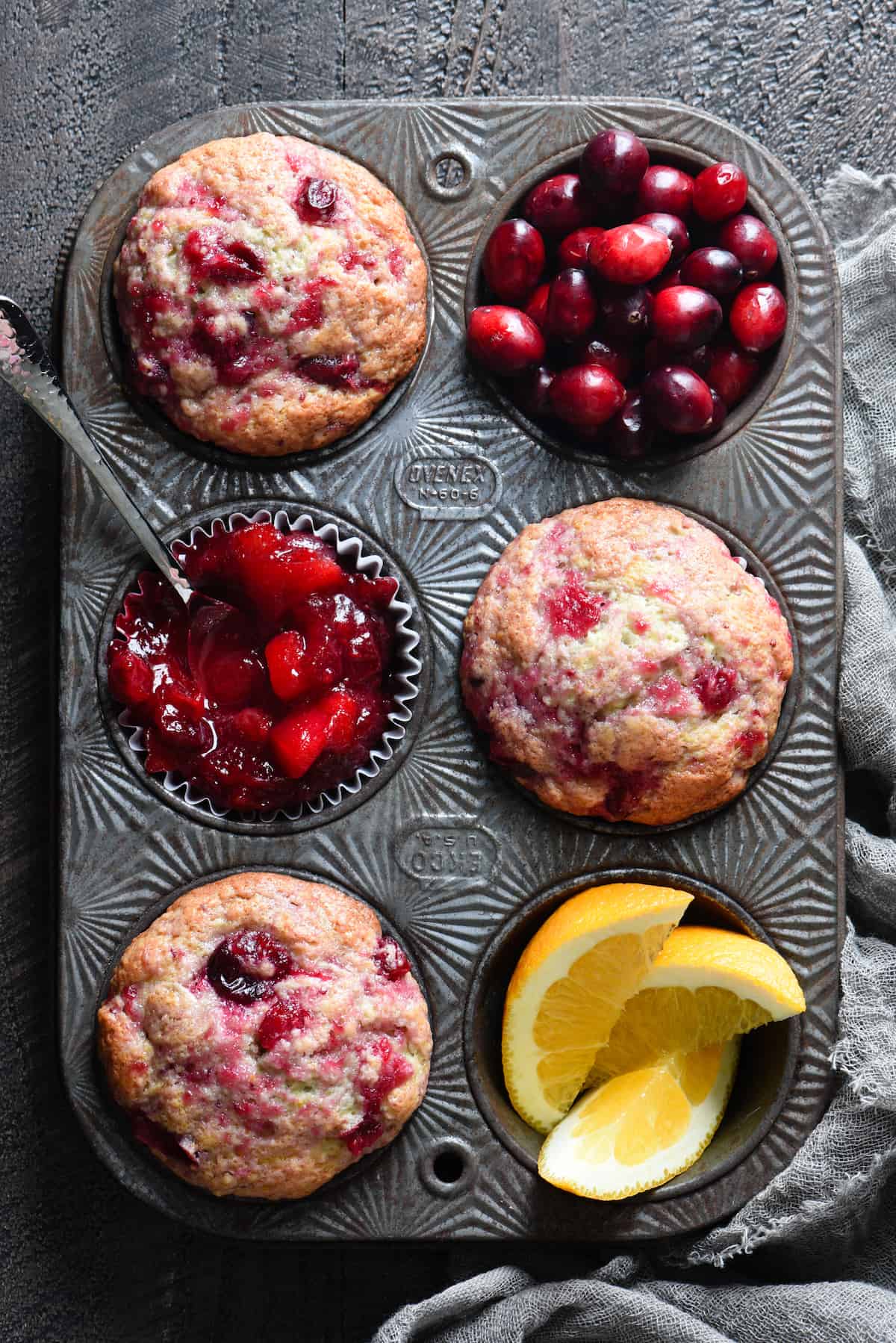 When I told you last week that I had overbought cranberries, I really wasn't kidding! I used a bunch to make my cranberry curd tart, some to make a cranberry appetizer, and then I ended up using the last of them to make a BIG batch of cranberry sauce.
I have plenty of sauce for Thanksgiving, spreading on turkey leftover sandwiches (also with a smear of homemade gravy), and for my mom to just eat with a spoon, like she likes to do.
But still, we're going to have some extra cranberry sauce. I've already made a batch of these Cranberry Sauce Muffins to use some of it up (enjoyed alongside a salted caramel cream cold brew).
And, with such a small Thanksgiving this year (definitely will need to make a loaded mashed potato casserole with leftover potatoes), I might be making another batch after Thanksgiving, too! Or maybe I'll want pear muffins instead. Tough decision!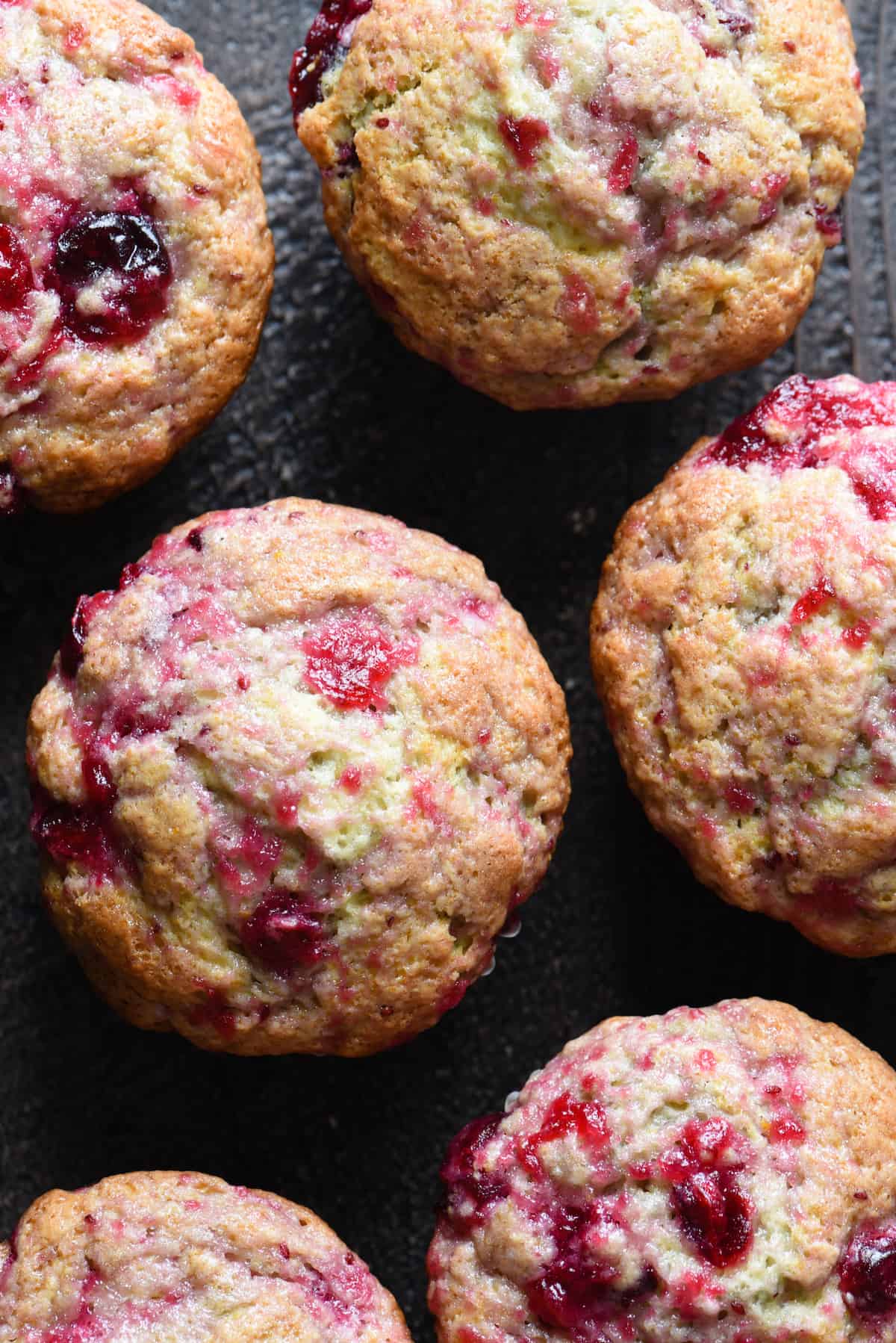 The ingredients for these muffins are easy to find:
flour
baking powder
baking soda
salt
sugar
butter
orange zest (save the rest of the orange for my citrus vinaigrette recipe)
egg
sour cream
vanilla extract
cranberry sauce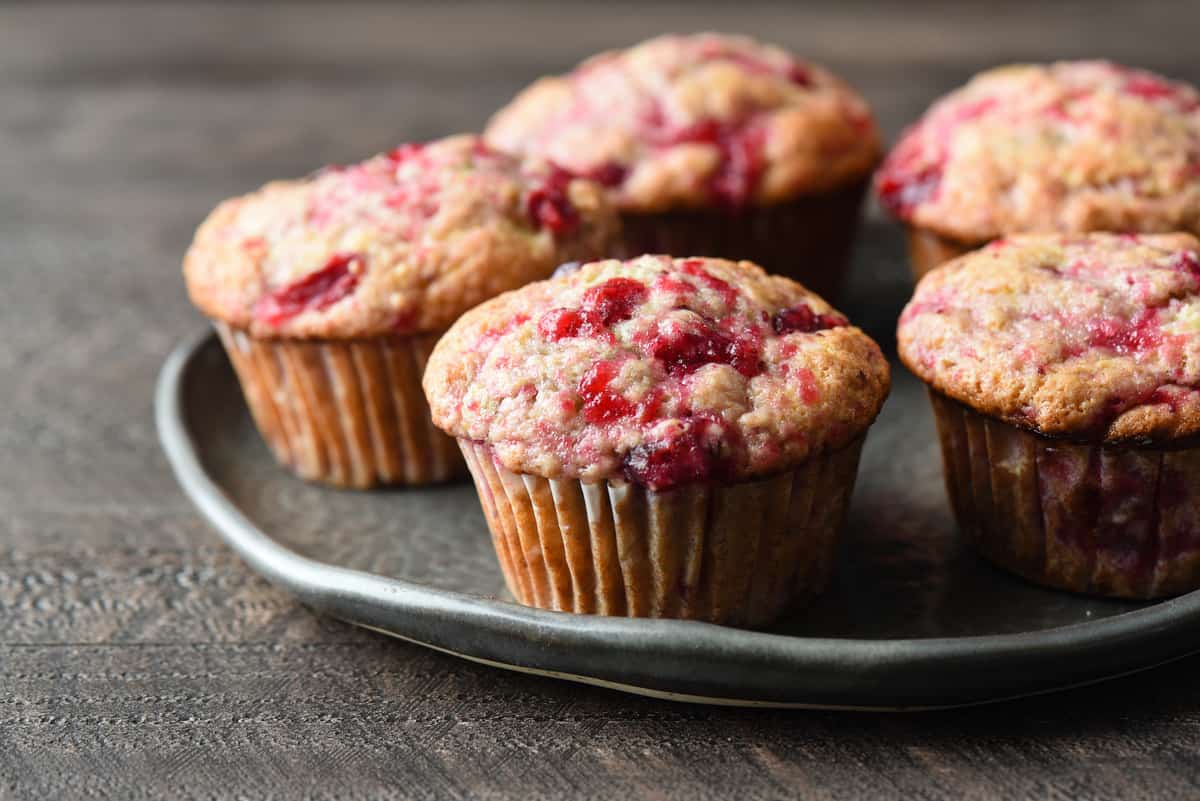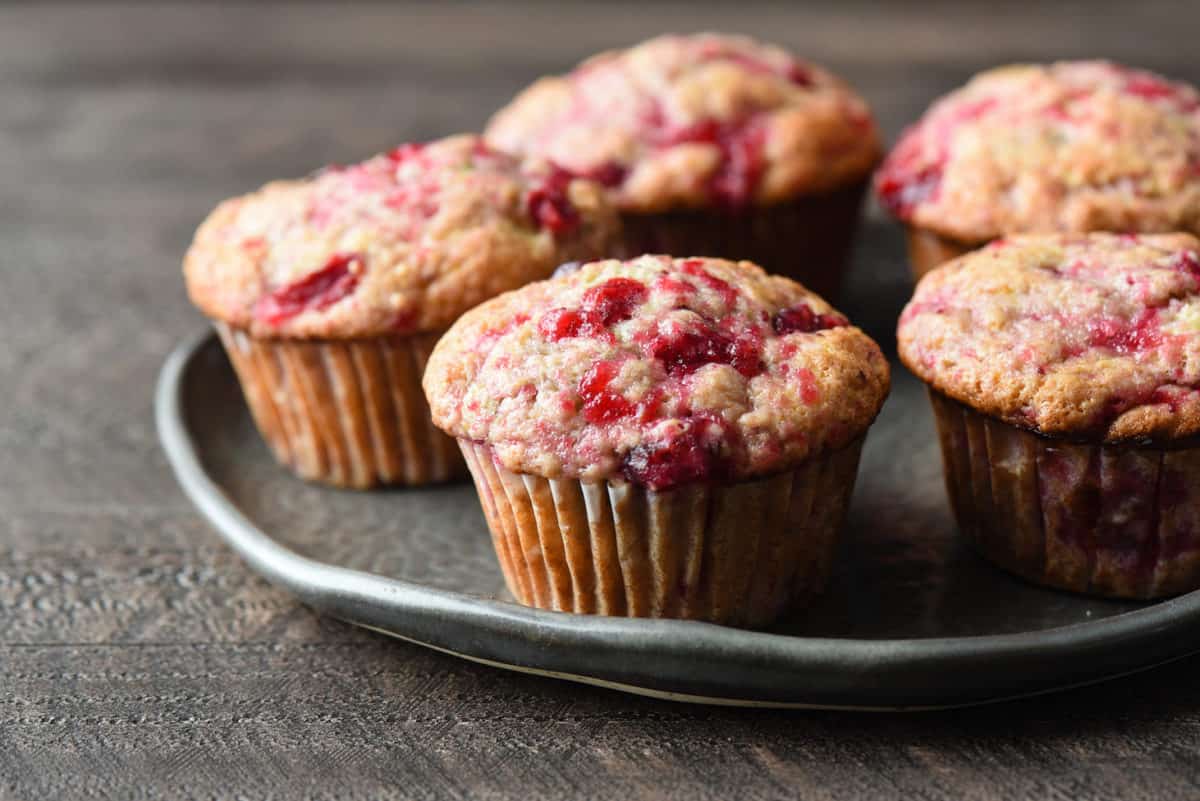 These cranberry sauce muffins are made with leftover cranberry sauce – either canned or homemade.
I made these muffins with 3/4 cup of my homemade hard cider cranberry sauce. Any variety of homemade cranberry sauce made with whole berries will be great in this muffin recipe.
Save the dried cranberries for Thanksgiving rice. Any extra fresh cranberries can be used in place of cherries in chorizo stuffing.
You just want to be sure you're using a chunkier sauce, and not a super smooth one.
This recipe is also great when made with canned cranberries (meaning, you can make these muffins all year 'round, even when fresh cranberries aren't available).
If you're using canned cranberry sauce, be sure to look for the words "whole berry" on the label. You don't want the "jellied" kind, because that will be too thin and smooth to make good muffins.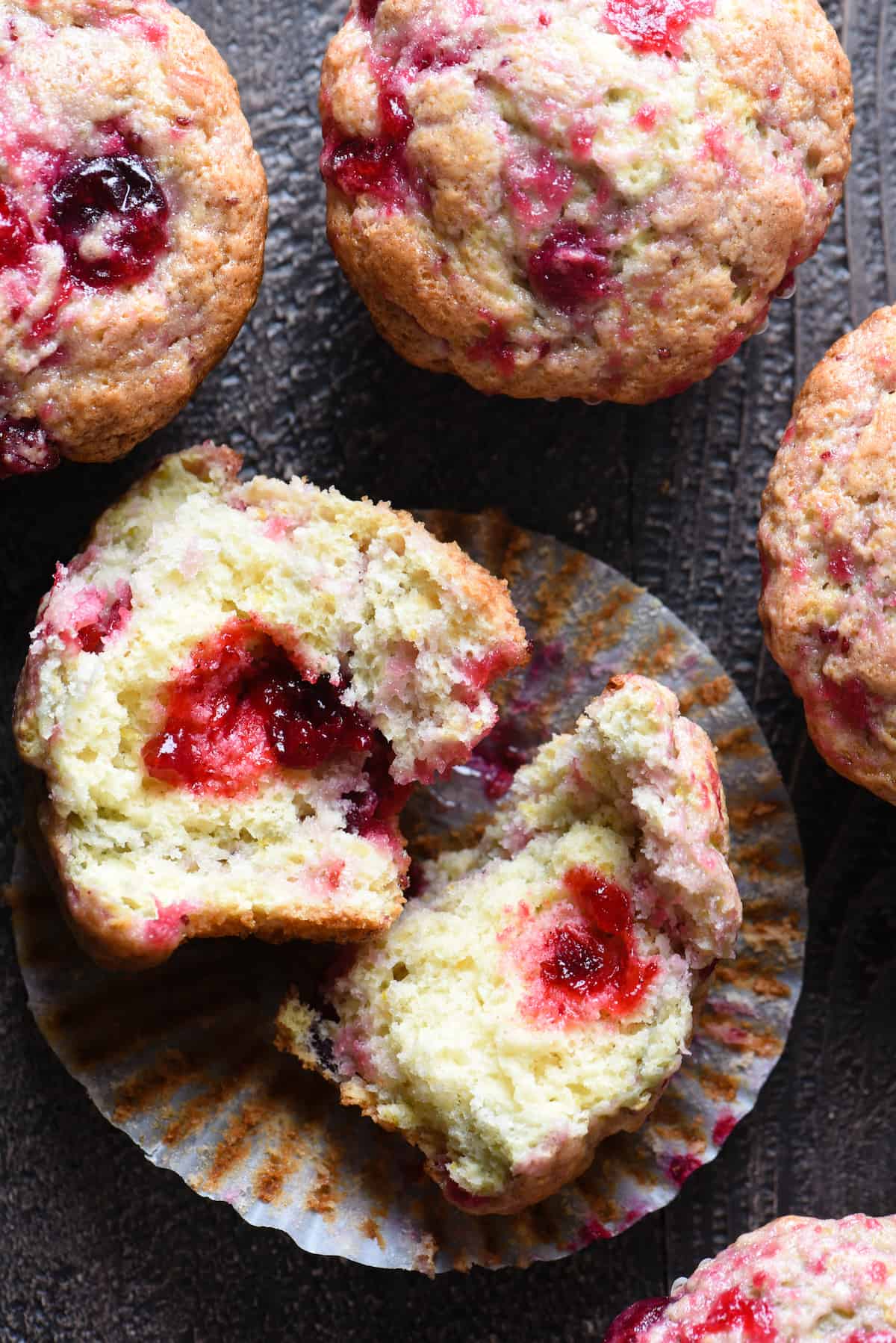 I make these cranberry sauce muffins with sour cream, my secret ingredient!
Just like in my family's sour cream nutmeg cookies for Christmas, sour cream is the secret ingredient here!
Why is sour cream so good in baked goods? The fat in it contributes to richness and moistness, and the subtle tang of sour cream adds flavor. Make sure to use full fat sour cream for best results.
Psst – buttermilk is another great ingredient for baking. Try it in my buttermilk blueberry muffins or blackberry muffins, too!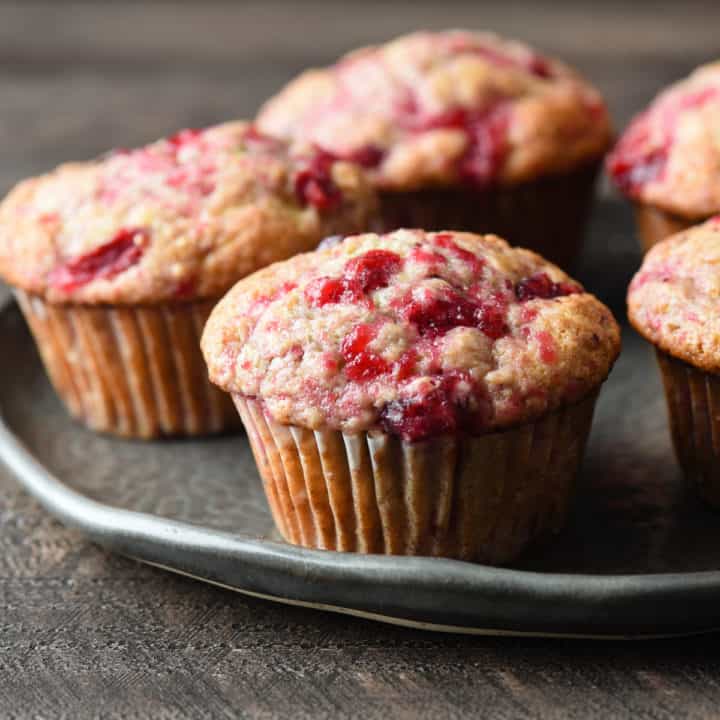 Cranberry Sauce Muffins
These Cranberry Sauce Muffins are the most delicious way to use up leftover cranberry sauce after Thanksgiving. You can whip these up in just a few minutes!
Ingredients
1 cup plus 2 tablespoons all-purpose flour
1 teaspoon baking powder
1/4 teaspoon baking soda
1/4 teaspoon kosher salt
6 tablespoons granulated sugar
2 tablespoons room temperature unsalted butter
1 teaspoon grated orange zest
1 large egg
1/4 cup full fat sour cream
1 teaspoon vanilla extract
3/4 cup prepared cranberry sauce (see Home Chef tip)
Instructions
Preheat oven to 375 degrees F. In small bowl, whisk together flour, baking powder, baking soda and salt.
In standing mixer fitted with paddle attachment, cream sugar, butter and orange zest 2 minutes or until light and fluffy. Add egg, sour cream and vanilla and beat until well combined.
Add flour mixture and mix on low until just combined. Gently fold in cranberry sauce.
Line 6 muffin cups with paper liners. Divide batter evenly between muffin cups. Bake 20 to 22 minutes or until toothpick inserted in center of muffins comes out clean. Cool muffins in pan on wire rack 10 minutes. Remove muffins from pan and transfer to wire rack to cool completely.
Notes
Home Chef Tip: This recipe is best with a chunky homemade cranberry sauce, or "whole berry" canned cranberry sauce (not "jellied").
Recommended Products
Foxes Love Lemons, LLC is a participant in the Amazon Services LLC Associates Program, an affiliate advertising program designed to provide a means for sites to earn advertising fees by advertising and links to Amazon.com. There is no additional cost to you.
Nutrition Information:
Yield:

6
Serving Size:

1
Amount Per Serving:
Calories:

181
Total Fat:

7g
Saturated Fat:

4g
Trans Fat:

0g
Unsaturated Fat:

2g
Cholesterol:

47mg
Sodium:

239mg
Carbohydrates:

29g
Fiber:

0g
Sugar:

24g
Protein:

2g
MORE YUMMY MUFFIN RECIPES: