Easy Valentine Dessert Shooters
Looking for a light, easy Valentine dessert after a decadent meal? These five minute shooters are a simple, fresh and sweet treat!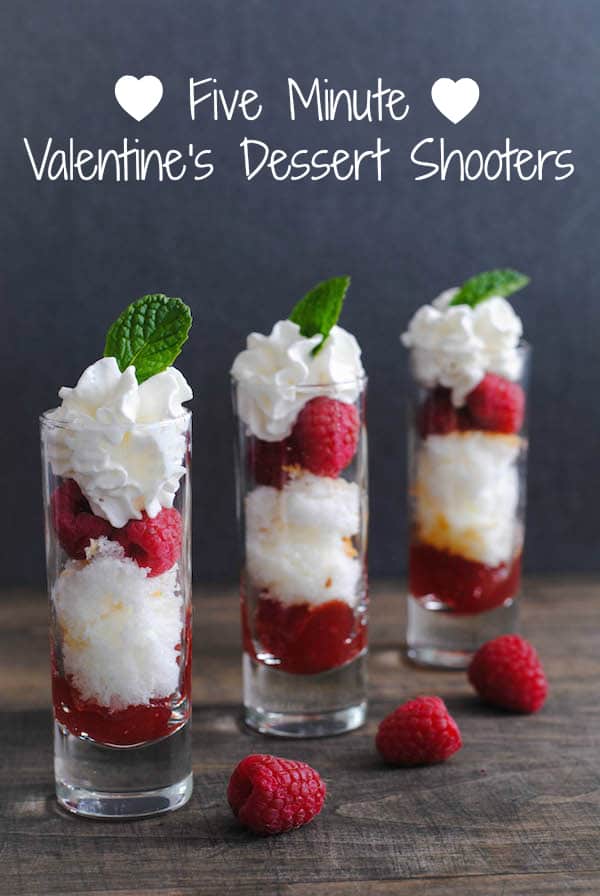 When it comes to Valentine's Day, Jeff and I don't take it too seriously. We *maybe* get each other cards, if we remember. But if somebody forgets, there's no hard feelings.
I can't remember the last time we got each other gifts, although one time Jeff did stop at a flower shop and buy me discounted flowers that WERE LEFT OVER FROM A FUNERAL (true story). Ah, romance.
So it should come as no surprise that we also usually avoid restaurant meals, figuring we can go out to eat (and get better service and not a stupid prix fixe menu) any other day of the year.
We usually just consider the day an excuse to cook something more delicious for dinner than usual, like chilean sea bass, sockeye salmon, salmon pasta or lasagna with cottage cheese.
Or sometimes even just a board filled with Valentine's Day party food ideas and a couple of rosemary cocktails.
The ingredients for this quick valentine dessert recipe are available at any grocery store:
raspberry or strawberry jam
angel food cake
fresh raspberries
whipped cream
fresh mint leaves
These light dessert shooters are perfect for two or two dozen.
While I'll always make something at least a little special for dinner, I like to keep dessert stupidly simple.
Something that takes five minutes or less is right in my wheelhouse. Something that mostly involves store bought ingredients is even better.
These cute and festive Five Minute Valentine Dessert Shooters are perfect for a party of two, or two dozen. Just make as many as you need, and you're all set.
The dessert for Valentine's dinner doesn't have to be complicated or time consuming.
Start by putting a spoonful of jam into the bottom of each glass. When I say "jam," I mean raspberry or strawberry jam, jelly or preserves. Whatever!
Or, swap the jam out with lemon curd for a little tartness if you're into that sort of thing.
Then, you'll be putting some crumbles of angel food cake over the jam. I just buy the angel food cake at the grocery store.
It's almost always out near the berries, or at the bakery. Or, iff you want to make homemade angel food cake, go for it.
Then, grab a handful of fresh raspberries (wash them first!) and divide between the glasses. You can also use chopped fresh strawberries.
Now it's time to top everything off with whipped cream. Make your own, or just squirt in the stuff from the can! Like I said, the focus is on E-A-S-Y.
That's it! You're done. If you want to garnish each glass with a fresh mint leaf for color, go for it. If not, skip it!
This is my favorite easy Valentine dessert, but you'll need some small spoons.
Unlike doing tequila shots, you can't just tip these glasses back and have everything fall into your mouth.
And the giant spoon you use for cereal each morning sadly may not cut it here.
If you're anything like me, you have a random set of teeny tiny spoons in your kitchen that you have no idea where you got or why (Ikea, maybe?).
But if not, you'll want to look for something called an "iced tea spoon" or "demitasse espresso spoon."
Or, simply make this easy V Day dessert in larger glasses!
Honestly, who doesn't want a larger portion of something sweet? Especially when it's light and fruity like this.
If you don't have shooter glasses or don't want to mess around with finding tiny spoons (I get it), go ahead and make this dessert in any small glasses you have around the house.
You can easily double or triple the recipe so that you have more of each ingredient to fill the larger glasses.
Or, use the same recipe below, but divide it between just two glasses instead of four.
P.S. Want a slightly-more-complicated but totally-worth-it dessert to impress your Valentine? Try these Valentine's Cookie Ice Cream Sandwiches.
I also have even more interesting dessert ideas in my sangria dessert pairings post.
More Valentine's Day Recipes:
Why bother with an overpriced and underwhelming restaurant meal on this special day? Cooking at home together is bound to be more fun and delicious.
Valentine's Dessert Shooters
Looking for a light, easy Valentine's dessert after a decadent meal? These five minute shooters are a simple, fresh and sweet treat!
Ingredients
2 tablespoons raspberry or strawberry jam
1 slice vanilla angel food cake, crumbled
1/2 cup fresh raspberries
1/4 cup whipped cream
4 mint leaves, for garnish (optional)
Instructions
1. In four (2-ounce) shooter glasses, layer jam, cake, raspberries and whipped cream. Garnish with mint leaves, if desired, and serve immediately.
Recommended Products
Foxes Love Lemons, LLC is a participant in the Amazon Services LLC Associates Program, an affiliate advertising program designed to provide a means for sites to earn advertising fees by advertising and links to Amazon.com. There is no additional cost to you.
Nutrition Information:
Yield:

4
Serving Size:

1
Amount Per Serving:
Calories:

60
Total Fat:

1g
Saturated Fat:

1g
Trans Fat:

0g
Unsaturated Fat:

0g
Cholesterol:

3mg
Sodium:

58mg
Carbohydrates:

11g
Fiber:

2g
Sugar:

4g
Protein:

1g
This website provides estimated nutrition information as a courtesy only. You should calculate the nutritional information with the actual ingredients used in your recipe using your preferred nutrition calculator.