Pistachio-Crusted Chicken Tortas
My husband and I like to vacation by choosing a random city and going there for a long weekend or more. We might make very loose plans about what we want to see and do, but for the most part, we just show up and wander around. Boston was our destination a few years ago. Aside from Fenway Park and the Sam Adams factory tour, we wandered the city by foot, bike and train for the better part of a week.
We learned so much about the city, it's role in the early history of our country, and it's beautiful architecture. We ate more than a few cannolis. While I brought home many lifelong memories, I'll always dream about one thing in particular: the torta sandwich at Mike & Patty's. This place is a teeny, tiny, corner closet of a restaurant in the Bay Village neighborhood. We came across it during a long morning walk around town. I quickly looked up reviews, and discovered it had 4.5/5 stars on multiple restaurant review sites. We immediately got in line and ordered some sandwiches.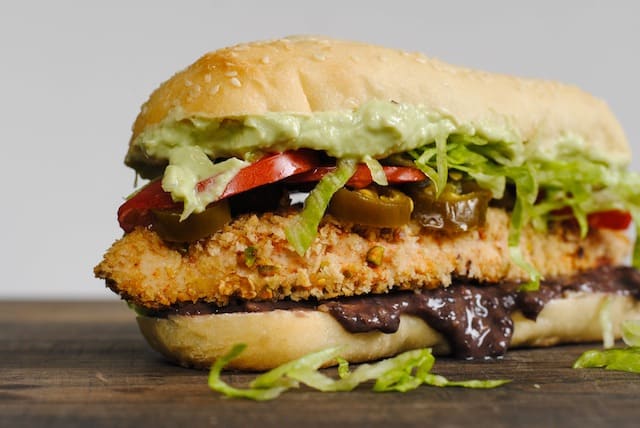 I couldn't tell you what Jeff had. It doesn't event matter. All that mattered was that torta. I can honestly say it was one of the best things I've ever eaten. It had pulled chicken, avocado, refried beans, jicama slaw and goat cheese, on a chewy torta roll. We ate our sandwiches perched on a ledge at a nearby park, and realized far too late that we had far too few napkins. I made a huge mess eating this thing, and I didn't even care. Hands can always be washed, jeans can be scrubbed. But no morsel of this torta could go undevoured. All of the flavors worked in such harmony together, I wanted to cry at the beauty. OK, I sound insane. I'll stop now.
These chicken tortas are my ode to and adaption of that memorable sandwich. Instead of pulled chicken, I used pistachios to crust a thin piece of chicken breast, and then baked it until golden brown and crunchy. Combined with black beans, pickled jalapeños, lettuce, tomato and a creamy avocado sauce, this is a full, flavor-packed meal between two pieces of bread.
Update: On 2/27/14, this recipe was chosen as a Community Pick in Food52′s "Your Best Chicken" contest and professionally photographed by James Ransom:
Pistachio-Crusted Chicken Tortas
Ingredients
For the Chicken:
1 teaspoon cumin
1/2 teaspoon kosher salt
1/2 teaspoon paprika
1/4 teaspoon cayenne
1/4 teaspoon cinnamon
2 large boneless, skinless chicken breasts, cut in half lengthwise then pounded to 1/2-inch thickness
3/4 cup whole wheat flour
2 eggs
3/4 cup panko breadcrumbs
1/4 cup shelled Naturebox Chili Lime Pistachios, pulsed in food processor until finely chopped
Nonstick cooking spray
For the Avocado Sauce:
1 ripe avocado, peeled, pitted and mashed
Juice of 1 lime
2 tablespoons sour cream
For the Tortas:
4 hoagie buns
1 can (15 ounces) black beans, roughly mashed with their liquid
1/3 cup pickled jalapeños
2 Roma tomatoes, thinly sliced
2 cups lettuce, shredded
Instructions
Prepare Chicken: Preheat oven to 425 degrees F. In small bowl, stir together cumin, salt, paprika, cayenne and cinnamon. Sprinkle both sides of chicken pieces with spice mixture. Place flour in shallow dish. In second shallow dish, lightly whisk eggs. In third shallow dish, combine breadcrumbs and chopped pistachios.
Spray rimmed baking pan with cooking spray. Working with one piece at a time, dip chicken in flour, shaking off excess, then egg and breadcrumb mixture. Place on prepared baking pan. Bake 15 minutes or until lightly browned and internal temperature reaches 165 degrees F, turning once.
Meanwhile, prepare Avocado Sauce: In small bowl, stir together all ingredients.
Make the Tortas: Spread one side of hoagie buns with mashed black beans. Over beans, place chicken, jalapeños, tomatoes, lettuce and Avocado Sauce. Place hoagie bun tops over tortas.
Disclaimer: This post is part of an ongoing relationship I have with NatureBox for recipe development. Posts like this help me pay for the costs associated with this blog (groceries…lots of groceries), and help support me as I pursue a career in recipe development and food photography. All opinions are 100% my own.