Buttermilk Chicken Tenders
These Buttermilk Chicken Tenders are bursting with flavor, thanks to the garlic, mustard, hot sauce and paprika in their marinade. Frying them up is easier than you think!
These buttermilk chicken tenders are so flavorful!
Buttermilk chicken tenders present an opportunity to add a lot of flavor, but not everybody takes advantage of it.
Instead of simply coating chicken tenders in buttermilk, breading them and frying them, let's add some more flavor to the buttermilk marinade so that the end result is a chicken tender that is not only golden brown and crispy, but hugely flavorful and savory.
Just like with my buttermilk chicken marinade, the garlic, mustard, hot sauce and paprika in the marinade for these buttermilk fried chicken tenders make them flavorful enough to just eat on their own. Your family will be begging you to make these crispy, flavor-packed tenders every single week!
They can also be served with dipping sauces, or added to a Spring salad or piled onto a sandwich for a larger meal.
Why you will love these buttermilk chicken tenders
They have a ton of flavor. The marinade includes garlic, ground mustard, sriracha and paprika to season the chicken.
It's a great way to use up leftover buttermilk. If you have a half a bottle of buttermilk lingering in the fridge after making blackberry muffins, this is the way to use it up.
Versatility. They can be eaten on their own, chopped into a salad, or rolled into a wrap sandwich.
Buttermilk fried chicken tenders ingredients
buttermilk – the star ingredient! This tangy, creamy ingredient shouldn't be substituted for anything else.
garlic – just one clove, minced, will add a lot of flavor to the buttermilk chicken tenders marinade.
ground mustard seed – this is actually one of my favorite kitchen ingredients. It really adds a nice kick of flavor to marinades and sauces (you'll love it in pimento mac and cheese, too).
sriracha – this is my favorite hot sauce for adding a little heat to this marinade, but any type of hot sauce works here!
paprika – I like to use regular paprika (not smoked) but you could use smoked paprika if you want that smoky flavor in your buttermilk fried chicken tenders.
chicken tenderloins – a chicken tenderloin is a thin muscle found loosely attached to a chicken breast. Many grocery stores will sell packages of just chicken tenderloins. If not, see "Home Chef Tips" below for an alternative option.
panko breadcrumbs – while you CAN use a different type of breadcrumb, I highly recommend panko for its unique crunch factor. It's a great binder in Greek chicken meatballs as well.
flour – this will be combined with the panko to complete the breading mixture.
salt and pepper – the key to any good chicken tender is proper seasoning.
vegetable oil – this is my oil of choice for frying. You can also use peanut or canola oil.
How to make buttermilk chicken tenders
Whisk the marinade together, and then marinate the chicken at least 2 hours or overnight.
Remove the chicken from the marinade and coat it in a mixture of breadcrumbs and flour.
In batches, fry the chicken tenders in oil until they get deep golden brown and crispy.
Salt the buttermilk chicken tenders as soon as they come out of the oil! Grab a lemon shandy, and enjoy!
What temperature should the oil be for frying?
Deep frying is usually done with the oil between 325 and 375 degrees F, so I like to shoot for right in the middle at 350 degrees F.
I keep an eye on the oil temperature using an instant read thermometer, and when it reaches 350 degrees F, I drop my first batch of tenders into the oil.
And just like with my fried goat cheese balls, I also monitor the oil temperature for each additional batch, ensuring that the oil temperature is at least 350 degrees F before adding more chicken.
How to serve this buttermilk fried chicken tenders recipe
CLASSIC – Serve buttermilk chicken strips on their own, with one or more dipping sauces, like ranch dressing, honey mustard or barbecue sauce.
SALAD – Chop them up and add them to a bright green salad for a satisfying and protein-packed meal.
SANDWICH – Pile them onto a hamburger bun or into a wrap, and top with lettuce, tomato and ranch dressing or mayonnaise for a delicious chicken sandwich. My creamy feta dressing also makes a great sandwich condiment.
What pairs best with buttermilk chicken tenders
My favorite side dishes for buttermilk chicken tenders include celery seed coleslaw, sweet potato fries, and Dr. Pepper baked beans.
However, the options are just about limitless. For a ton of great ideas, see my list of the best side dishes for ribs. All of these will pair well with this buttermilk chicken tenders recipe, too!
Home Chef Tips
If you can't find a package of chicken tenderloins at your store, you can buy a package of boneless, skinless chicken breasts and cut them into strips about 1-inch wide.
Avoid overcrowding the frying pan, as it can lead to uneven cooking and soggy tenders. Fry them up in batches, allowing enough space for each tender to crisp up nicely.
Invest in an instant read thermometer. The internal temperature of the chicken needs to reach 165 degrees F for food safety. An instant read thermometer will also help you check for the proper oil temperature, too! And it will be invaluable for when you're trying to cook a turkey or a flat iron steak on grill to the proper temperature.
Buttermilk fried chicken tenders storage
To store leftovers or use this recipe as a meal prep idea, allow fried buttermilk chicken tenders to cool completely.
Place the buttermilk chicken strips in an airtight container and refrigerate up to 3 days.
To reheat, place in an air fryer or 350 degree F oven and cook until warmed through.
Buttermilk chicken tenders FAQ
Does buttermilk tenderize chicken?
Yes. The acidity of the buttermilk helps break down the proteins in the meat, resulting in more tender and juicy chicken.
Can I use lowfat buttermilk?
Yes. Regular or lowfat buttermilk are both fine for this recipe.

Can I bake buttermilk chicken tenders instead of frying them?
You can, but they won't be quite as golden brown and crispy. Bake them at 425 degrees F for about 18 to 20 minutes or until the internal temperature of the chicken reaches 165 degrees F.
Can I use a different type of flour?
Yes! Whole wheat flour, gluten free flour, or a nut flour like almond flour all work fine here. Almond flour can also be used to make gluten free rum balls.
More Foxes Love Lemons Favorites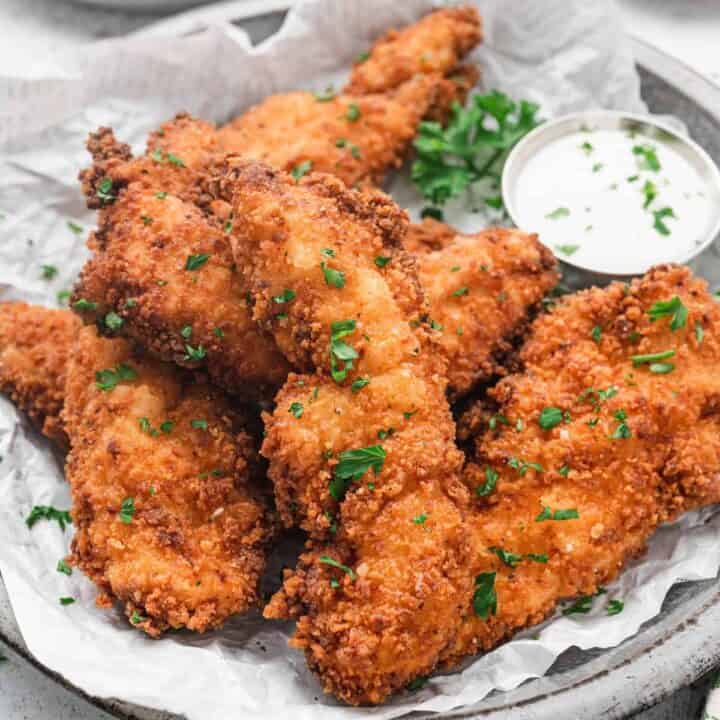 Buttermilk Chicken Tenders Recipe
These Buttermilk Chicken Tenders are bursting with flavor, thanks to the garlic, mustard, hot sauce and paprika in their marinade. Frying them up is easier than you think!
Ingredients
3/4 cups buttermilk
1 garlic clove, minced
1-1/2 teaspoons ground mustard seed
1-1/2 teaspoons sriracha or other hot sauce
1 teaspoon paprika
1-1/4 pounds chicken tenderloins
1 cup panko breadcrumbs
3/4 cup all-purpose flour
1 teaspoon kosher salt, plus additional for sprinkling on chicken
1/2 teaspoon ground black pepper
Vegetable oil, for frying
Instructions
In medium bowl, whisk buttermilk, garlic, ground mustard, sriracha and paprika until smooth.
Place chicken in large zip-top bag; pour buttermilk mixture over chicken. Seal bag, massage so that all chicken is covered in marinade, and refrigerate 2 hours or up to overnight.
In shallow bowl, stir breadcrumbs, flour, salt and pepper until well combined.
Two at a time, remove chicken tenders from buttermilk mixture and shake off any excess buttermilk. Roll tenders in breadcrumb mixture, gently pressing so that crumbs adhere to chicken (I use two forks for this process so that my hands stay clean!). Place breaded tenders on large plate.
In large Dutch oven, heat 1-1/2 inches of vegetable oil to 350 degrees F over medium heat. Line 2 large plates with paper towel. Working in two batches, transfer chicken to oil and fry 4 to 6 minutes or until deep golden brown and internal temperature of chicken reaches 165 degrees F, turning frequently. You may have to remove smaller and thinner tenders from the oil as they reach 165 degrees F before the larger tenders. Transfer chicken to paper-towel lined plates and immediately sprinkle with salt. Be sure to allow oil to again reach 350 degrees F between batches.
Recommended Products
Foxes Love Lemons, LLC is a participant in the Amazon Services LLC Associates Program, an affiliate advertising program designed to provide a means for sites to earn advertising fees by advertising and links to Amazon.com. There is no additional cost to you.
Nutrition Information:
Yield:

4
Serving Size:

1
Amount Per Serving:
Calories:

574
Total Fat:

21g
Saturated Fat:

3g
Trans Fat:

0g
Unsaturated Fat:

16g
Cholesterol:

122mg
Sodium:

915mg
Carbohydrates:

41g
Fiber:

2g
Sugar:

4g
Protein:

52g
This website provides estimated nutrition information as a courtesy only. Nutrition information does not include any optional ingredients or toppings. You should calculate the nutrition information with the actual ingredients used in your recipe using your preferred nutrition calculator.