Valentine's Day Snacks – Easy & Fun!
Grab a heart-shaped cookie cutter and put together these easy and fun Valentine's Day Snacks for your kids, friends, or sweetheart.
Hey Guys! Popping in super fast today to share this fun little Valentine's Day Snack Board.
I actually created this for a client last year, but never had a chance to share it here with you, my favorite people.
Valentine's Day Snacks are a must!
As you all know, I'm not the biggest fan of dessert or chocolates, almost always opting for a savory dish instead of sweet (a Halloween charcuterie board instead of candy for Halloween, always!).
Sometimes I'll make a special Valentine's Day dinner of lasagna or chilean sea bass, but other years, I'll just feel like snacking with a unique charcuterie board idea.
Whether you're hosting a girlfriend's V-day party or having a cozy night in with your sweetie, why not just grab a heart-shaped cookie cutter and heart-shape all the things?
As you can see, I've just cut up some veggies, cheese, toasted bread, salami, etc.
I also included a small dish of Lemon Herb Vinaigrette (simple recipe below!) for dipping the bread and veggies into (this vinaigrette is also good served over lox on a smoked salmon platter).
Happy Valentine's Day!
The ingredients for these Valentine snacks are easy to find at any store:
cheese
salami
bread
bell peppers (if you have extra, make a batch of fajita veggies tomorrow!)
cucumber
carrots
blueberries
cashews
dried cranberries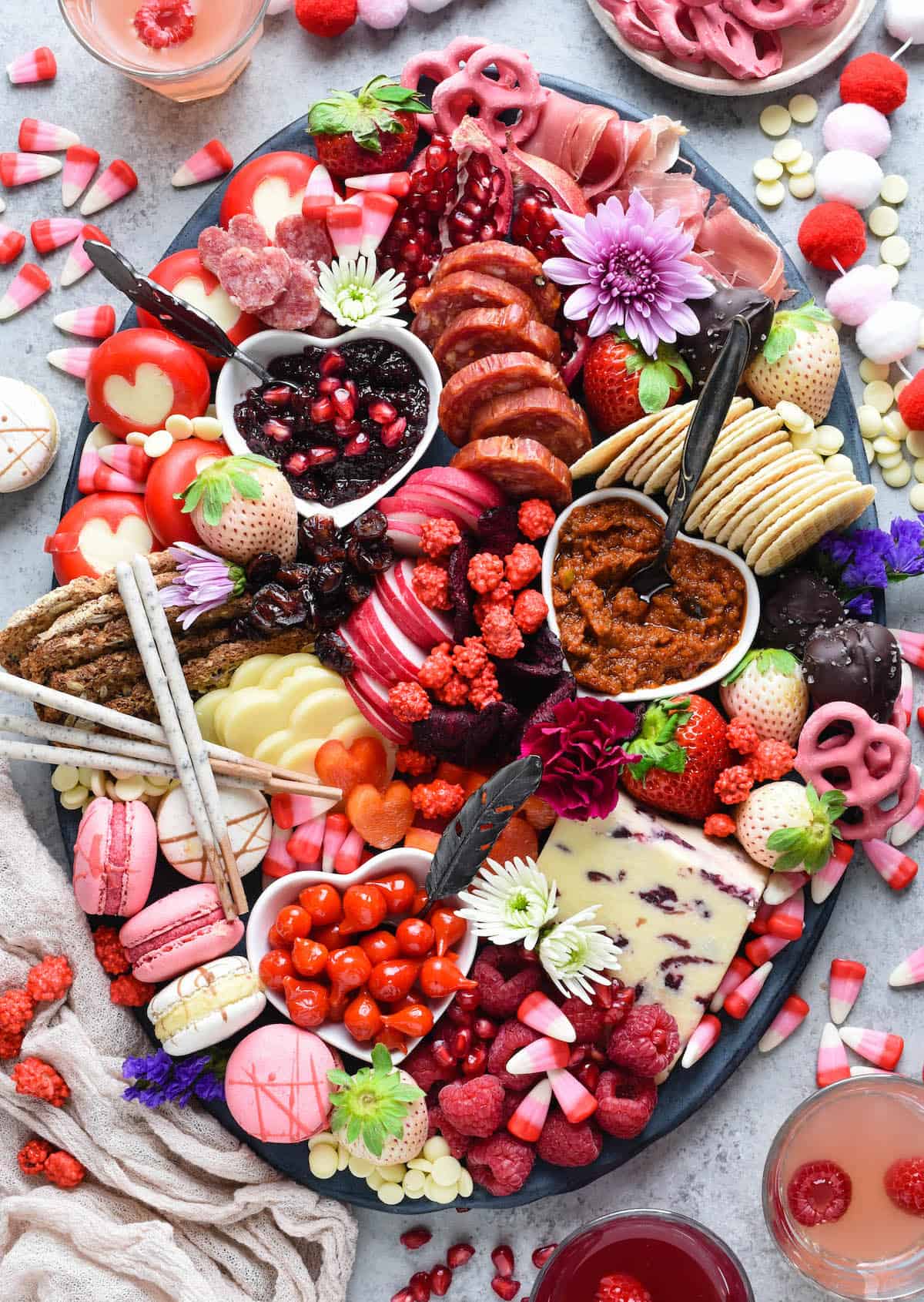 Valentine's Day Snacks (& Heart Shaped Food)
Grab everything pink, red and white that you can find, and a heart-shaped cookie cutter, and put together these easy and fun Valentine's Day Snacks for your kids, friends, or sweetheart.
Ingredients
Red bell peppers
Cracker-cut sharp Cheddar cheese slices
Hard salami and/or sopressata, sliced
Babybel cheese
Raspberry jam
Sundried tomato pesto
Pepper drops
Strawberries
Raspberries
Pomegranate sections or seeds
Radishes, thinly sliced
Dried beet chips
Dried cranberries or cherries
Prosciutto
Crimson Wensleydale cheese or cranberry cinnamon goat cheese
Crispy French crackers
Artisan crisps with dried cherries or cranberries
French burnt peanuts
Cherry flavored yogurt pretzels
Dark chocolate caramel hearts
White chocolate buttons or chips
Pink and white macarons
Pocky
Small flowers, to garnish
Instructions
Use heart-shaped cookie cutters to cut bell peppers and sharp Cheddar slices into small hearts. Use an even smaller mini vegetable cutter to cut salami and/or sopressata into small hearts. Use vegetable cutter to cut and remove hearts from the wax wrapping of each Babybel cheese.
Place raspberry jam, sundried tomato pesto and pepper drops into heart-shaped ramekins or regular ramekins.
Arrange ramekins and heart-shaped food on a large platter, and then arrange the rest of the ingredients on the platter as well.
Recommended Products
Foxes Love Lemons, LLC is a participant in the Amazon Services LLC Associates Program, an affiliate advertising program designed to provide a means for sites to earn advertising fees by advertising and links to Amazon.com. There is no additional cost to you.
Nutrition Information:
Amount Per Serving:
More Valentine's Day Ideas: