Valentine's Day Snacks (& Heart Shaped Food)
Grab everything pink, red and white that you can find, and a heart-shaped cookie cutter, and put together these easy and fun Valentine's Day snacks for your kids, friends, or sweetheart.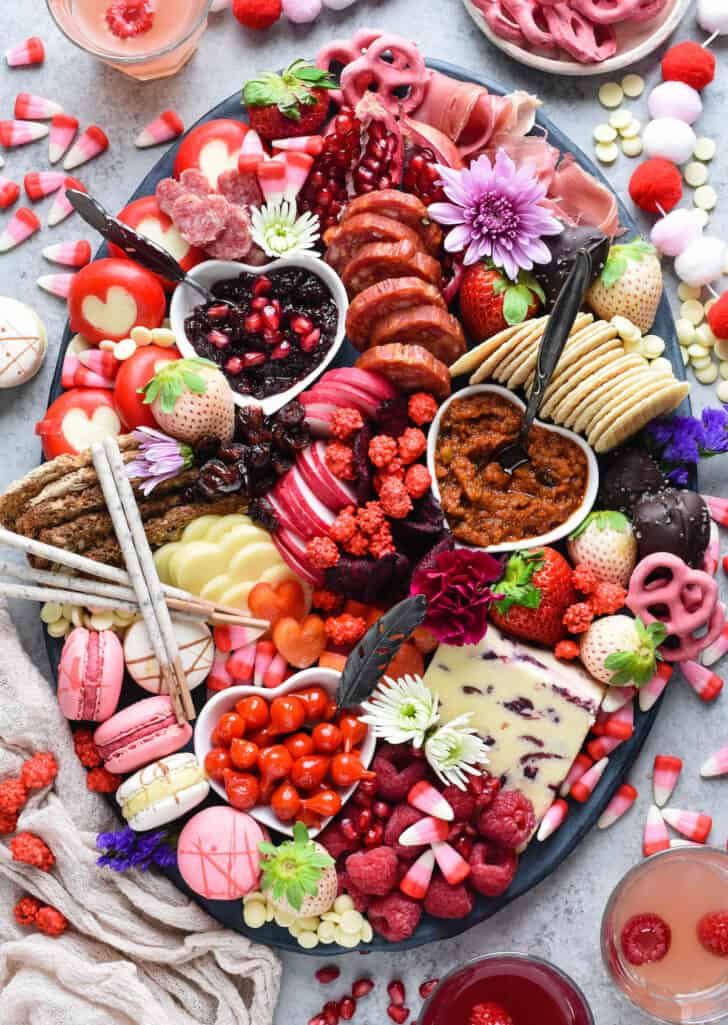 While you generally won't find me going out to a fancy restaurant for a pre fixe dinner on Valentine's Day, I still like to mark the occasion in some way at home.
Sometimes I'll make a special Valentine's Day dinner of lasagna cottage cheese or crab stuffed salmon but other years, it's just easy Valentine's dessert shooters after a takeout pizza.
And sometimes I'll just feel like snacking with a unique charcuterie board idea and following it up with some chocolate creme brulee.
You all know I love an epic snack board, as I've already shared everything from my wine and cheese board to a spooky Halloween charcuterie board to a fall-themed Thanksgiving charcuterie board.
Whether you're hosting a Galentine's party for the girls, or having a cozy night in with your sweetie, why not put together a Valentine's Day snack platter of your own this year? I'll explain it all, including the best way to make heart shaped food, below.
My favorite ideas for red, pink and white Valentine's snacks:
PRODUCE & SUCH
Strawberries – of course the classic red ones, always. But I was at a fancy grocery store, and was able to also pick up a package of "Pineberries," which are white strawberries! Roasted grapes are another great fruit idea.
Raspberries – feel free to stick a chocolate chip in the hole of each one – that's always fun for Valentine's snacks, and kids love it.
Pomegranate – either pick up a package of just the arils (seeds), or buy a whole fruit and pull it apart in sections. Extra seeds can be used to garnish vegan lentil curry or my lamb lollipop recipe later in the week.
Radishes – thinly slice them or quarter them for easy snacking. Extra radishes can be used to topped curry potato soup another time.
Dried beet chips – I bought them, but you can also make your own oven-baked beet chips to add to your Valentine's Day snacks.
Dried cranberries – or cherries. These are one of my favorite Valentine snack ideas.
Pepper drops – these are teardrop-shaped Peruvian peppers. They're great as part of an antipasto board or salad, or on a pizza. Delallo brand "sweet and tangy pepper drops" are what I buy. They're in a glass jar near the olives.
SPREADS
Raspberry jam – or any sort of red jam or jelly. Cherry or strawberry are also great for Valentine's snacks.
Sun dried tomato pesto – this red spread is delicious on crackers. Maybe in a heart-shaped ramekin?
CHARCUTERIE & CHEESE
Hard salami or sopressata – the kind that is sold in a log, that you slice yourself, is best. I also love this on a football charcuterie board. You can even use it to make heart shaped food (more on that below).
Prosciutto – it's a pink and delicious Valentine snack idea. Also welcome on a breakfast charcuterie board.
Babybel cheese – more on this below!
Cheese with cranberries – the goat cheese logs rolled in dried cranberries are always a good option (especially in Christmas salad), but this time around I chose Crimson Wensleydale cheese, which is a crumbly white cheese with dried cranberries running through it.
CRACKERS
Crispy French crackers – these look like little round waffles, almost, but they're crispy crackers that pair well with everything. The brand I typically buy is Tresor's.
Artisan Crisps – these rectangle crispy crunchy delights are kind of a hybrid between very crisp flatbread and a cracker. This time around I used Rustic Bakery brand, and the flavor was Tart Cherry, Cacao Nib & Almond. Raincoast Crisps and Kii Naturals are other brands I usually see of this type of cracker. These are perfect for an Easter charcuterie board, too.
SWEETS, etc.
Cupid corn – this is like candy corn, but Valentine colored! I just randomly stumbled across this in the bulk section of a local store, but cupid corn is also available online.
French burnt peanuts – they add a bright pop of red to the Valentine's Day snacks.
Cherry flavored yogurt pretzels – they're pink, adorable and delicious Valentine's snacks.
Dark chocolate caramel hearts – Any heart-shaped "box of chocolate" kind of chocolates work here.
White chocolate – I picked up some round baking "buttons" but white chocolate chips are also great.
Macarons – head to a local bakery and buy whatever pink and red ones they have! Or, if you're in a baking mood, you could make a batch of my heart jam cookies in place of macarons.
Pocky – I picked up a box of the cookies and cream version of this stick-shaped sweet Japanese snack.
Flowers – Pick up a bouquet with small red, pink and purple blooms. Enjoy most of them in a vase, but snip a few blossoms to garnish your snack plate.
Heart shaped food makes the cutest Valentine's Day snacks!
With a selection of all of the red, white and pink snack ideas above, it should be very clear to anybody who sees this snack board that it has a Valentine theme!
But, if you want to really get extra about your Valentine's Day snacks, grab a heart shaped cookie cutter and cut some heart shaped food out of some of the items!
One of my favorite things to do this with is red bell pepper. Cut the pepper into quarters and remove all the seeds and membranes, and then use the cookie cutter to cut as many hearts as you can. Use the pepper scraps to make a batch of fajita veggies tomorrow!
Another thing that's super easy to cut hearts out of for Valentine's snacks is cheese! For this board, I bought sharp cheddar cracker-cut cheese slices, and then cut hearts out of the slices.
It requires a little forearm strength, but you can also cut hearts out of salami and sopressata slices! I buy the kind sold in logs and slice it myself, then cut hearts out of the slices.
And finally, since my daughter and I love Babybel cheese (I probably ate hundreds of those little cheeses when I was pregnant with her), I used a super tiny mini vegetable cutter to cut hearts in the red wax of some Babybel cheeses and included those in my list of Valentine snack ideas, too. You could also use an exacto blade or sharp paring knife to cut freeform hearts.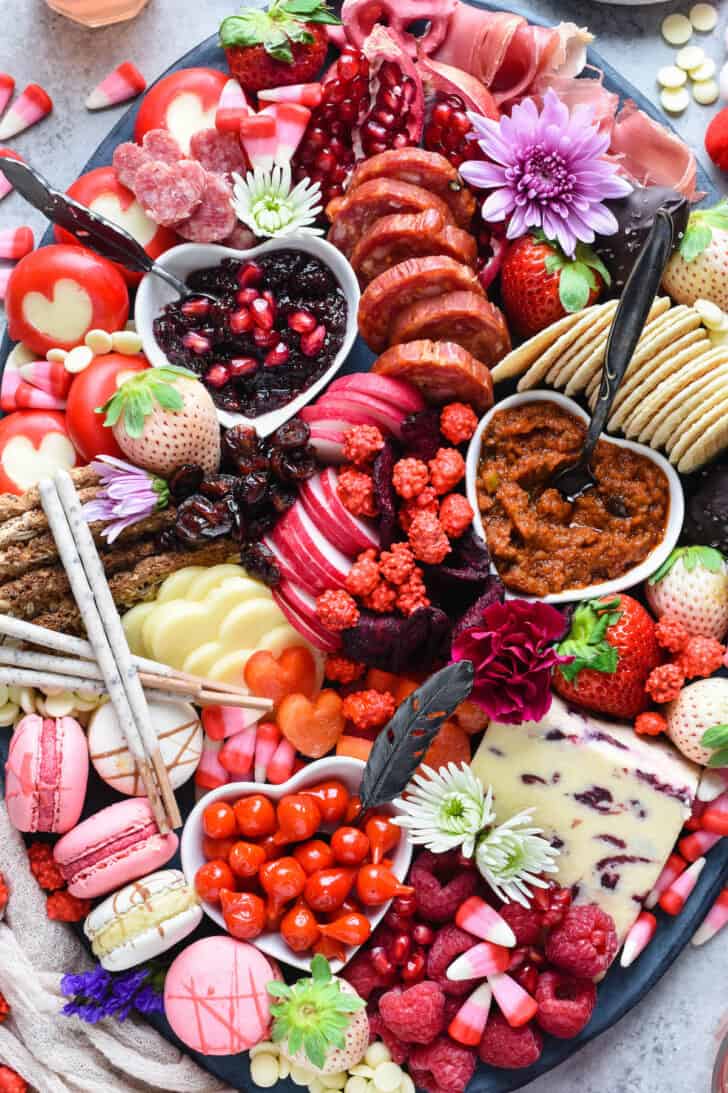 Serve a cocktail with these Valentine's Day snacks!
How about a red or pink cocktail to go along with all of these Valentine's Day snacks? Since winter is also the time of year that grapefruit and blood oranges are in season, a grapefruit vodka cocktail or blood orange margarita are always appropriate for Valentine's Day.
Strawberry Moscow mules are usually more a summer drink, but you can't deny that they're the perfect color, especially if you bought strawberries for your Valentine's snacks.
A tequila mojito is another nice fruity, pink cocktail option to go along with this heart shaped food!
More Foxes Love Lemons Favorites
Valentine's Day Snacks (& Heart Shaped Food)
Grab everything pink, red and white that you can find, and a heart-shaped cookie cutter, and put together these easy and fun Valentine's Day Snacks for your kids, friends, or sweetheart.
Ingredients
Red bell peppers
Cracker-cut sharp Cheddar cheese slices
Hard salami and/or sopressata, sliced
Babybel cheese
Raspberry jam
Sundried tomato pesto
Pepper drops
Strawberries
Raspberries
Pomegranate sections or seeds
Radishes, thinly sliced
Dried beet chips
Dried cranberries or cherries
Prosciutto
Crimson Wensleydale cheese or cranberry cinnamon goat cheese
Crispy French crackers
Artisan crisps with dried cherries or cranberries
French burnt peanuts
Cherry flavored yogurt pretzels
Dark chocolate caramel hearts
White chocolate buttons or chips
Pink and white macarons
Pocky
Small flowers, to garnish
Instructions
Use heart-shaped cookie cutters to cut bell peppers and sharp Cheddar slices into small hearts. Use an even smaller mini vegetable cutter to cut salami and/or sopressata into small hearts. Use vegetable cutter to cut and remove hearts from the wax wrapping of each Babybel cheese.
Place raspberry jam, sundried tomato pesto and pepper drops into heart-shaped ramekins or regular ramekins.
Arrange ramekins and heart-shaped food on a large platter, and then arrange the rest of the ingredients on the platter as well.
Recommended Products
Foxes Love Lemons, LLC is a participant in the Amazon Services LLC Associates Program, an affiliate advertising program designed to provide a means for sites to earn advertising fees by advertising and links to Amazon.com. There is no additional cost to you.
Note: This Valentine's Day snack board was originally published in 2016. The post was updated in 2022 to be more informational and the photos were reshot. The original photos appear below.