French Onion Cheese Fondue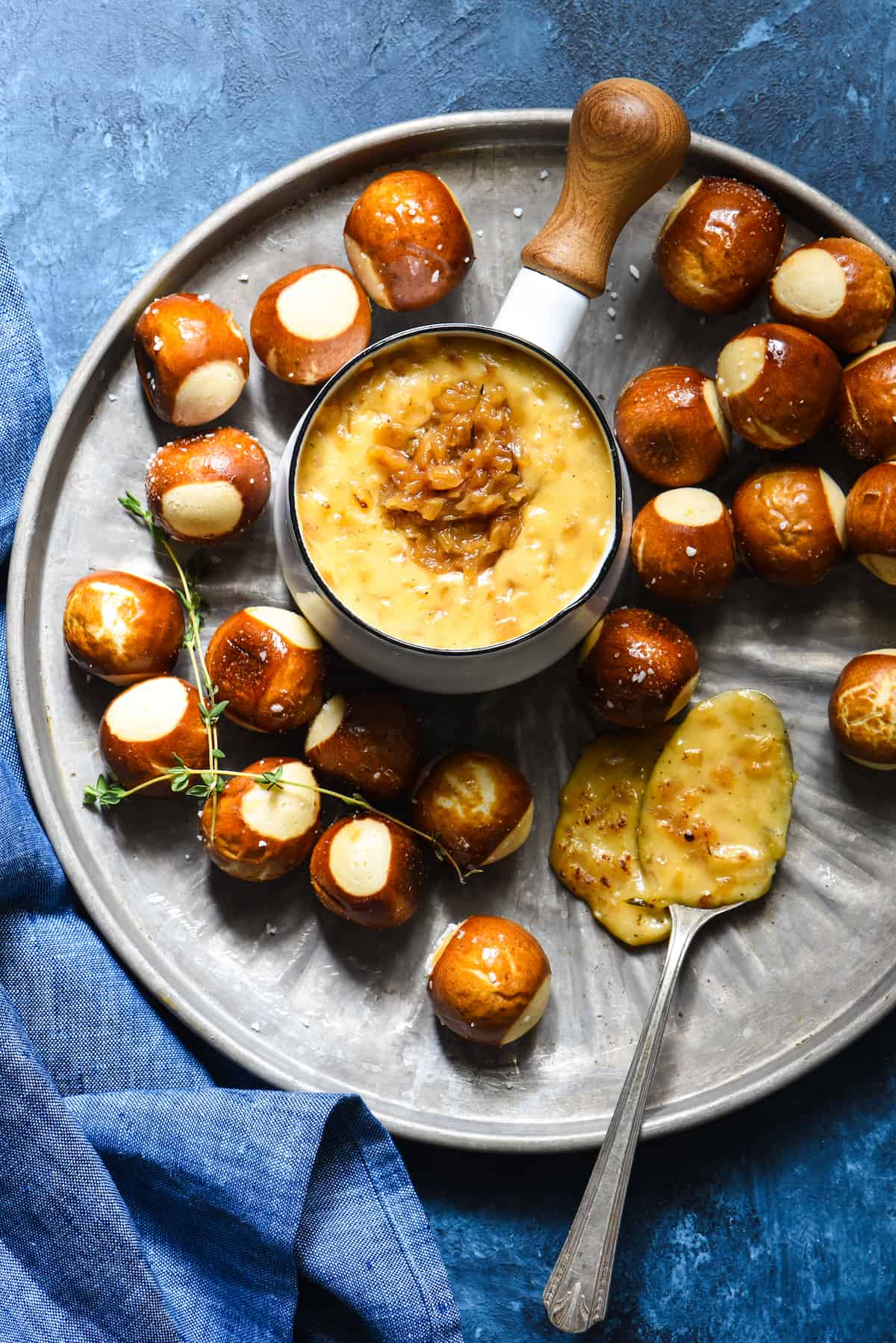 You guys, it's the last Epic Game Day recipe. I'm sort of sad it's all over. I've had so much fun sharing all of my "home chef" party food recipes with you guys. But, the game is this weekend, and all good things must come to an end.
Don't worry . . . we're going out with a bang. What's a party without a supremely gooey cheese dip? And this French Onion Cheese Fondue, oh man. It's a blend of three of the tastiest and best melting cheeses in the world.
Why have one cheese when you can have three? And then, it's kicked up a notch with a big batch of deeply caramelized onions.
This French Onion Cheese Fondue comes together really quickly on game day if you caramelize the onions in advance and just keep them in the fridge (make extra if you also want to make some pretzel bun sliders).
Then, on game day, you'll be stirring the cheeses into a bit of white wine until they're nice and melted, and then adding those amazing caramelized onions.
I'm not sure about you, but when I think of good cheese, I think of Wisconsin. So, all of the cheeses used in this fondue are straight from the Badger state. Here's the run-down on the cheese situation I have going on here. Equal parts:
Fontina – Considered one of the most versatile cheeses in the world because it is excellent as both a table cheese and a cooking cheese. Fontina is often used as the cheesy layer served atop French onion soup.
Butterkase –  Its name literally means "butter cheese." Although it contains no butter, it has a butter-like texture and is very mild and creamy.
Shredded Grand Cru Original – A rich, nutty Alpine-style cheese. Robust and full-bodied, this award-winning cheese melts beautifully.
When you see the Wisconsin Cheese logo, you know you've found the world's best cheese. Take a taste and experience 175 years of dedication to the art of cheesemaking. For more information, please visit EatWisconsinCheese.com and follow Wisconsin Cheese on Facebook, Instagram, Twitter, and Pinterest.
French Onion Cheese Fondue
Ingredients
4 tablespoons (1/2 stick) unsalted butter
2 large white onions, finely chopped
4 sprigs thyme
4 ounces Wisconsin Fontina cheese, shredded
4 ounces Wisconsin Butterkase cheese, shredded
4 ounces Wisconsin Shredded Grand Cru Orignal cheese or Alpine-style cheese
5 teaspoons cornstarch
1 teaspoon garlic paste
3/4 cup white wine
1/2 teaspoon kosher salt
1/4 teaspoon freshly ground black pepper
Pretzel bites, for serving
Instructions
Heat butter in large skillet over medium-low heat. Add onions and thyme sprigs; cook 30 to 45 minutes or until dark golden brown, stirring frequently. Remove from heat. Remove and discard thyme sprigs.
Place cheeses and cornstarch in large zip-top bag and shake to combine.
In medium saucepan, heat garlic and wine to a bare simmer over medium-low heat. Add the cheese mixture, a small handful at a time, stirring constantly, until all cheese is incorporated and mixture is smooth. Stir in caramelized onions. Season with salt and pepper, and serve immediately with pretzel bites.
Notes
Home Chef Tip: Onions can be caramelized up to 3 days in advance. After cooking, let stand at room temperature until completely cool. Transfer to covered container and refrigerate. To finish recipe, reheat onions in microwave or small skillet until warm, then proceed with Step 2.
Epic Game Day Recipe Schedule:
Other Game Day Ideas:
Making one of these recipes? Please let me know by sharing a photo on social media with the hashtag #FLLEpicGameDay!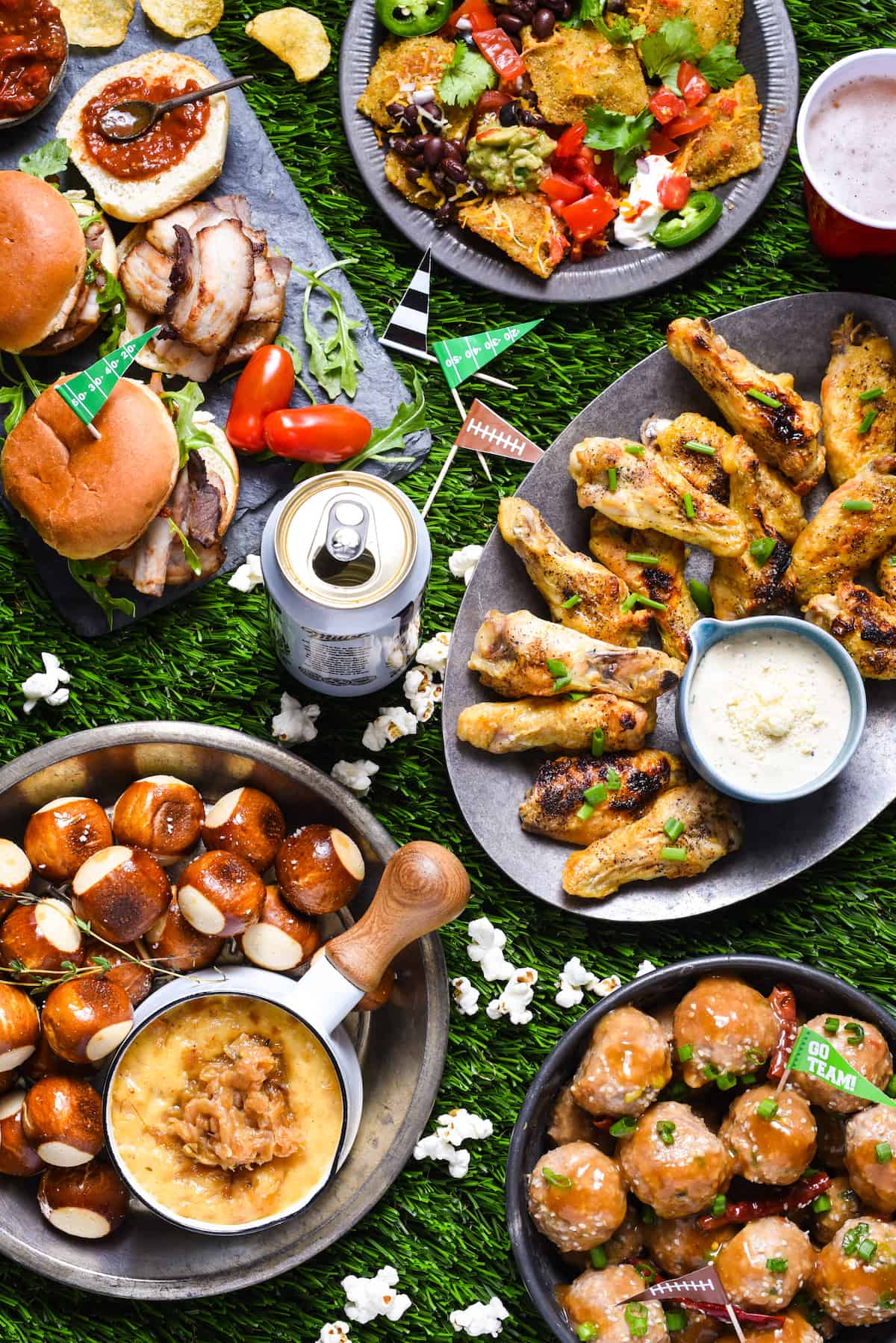 Disclosure: This was a sponsored post written by me on behalf of the Wisconsin Milk Marketing Board. Sponsored posts help me pay for the costs associated with this blog (groceries…lots of groceries), and help support me as I pursue a career in recipe development and food photography. All opinions are 100% my own.