Slow Cooker Sausage, Apples & Fennel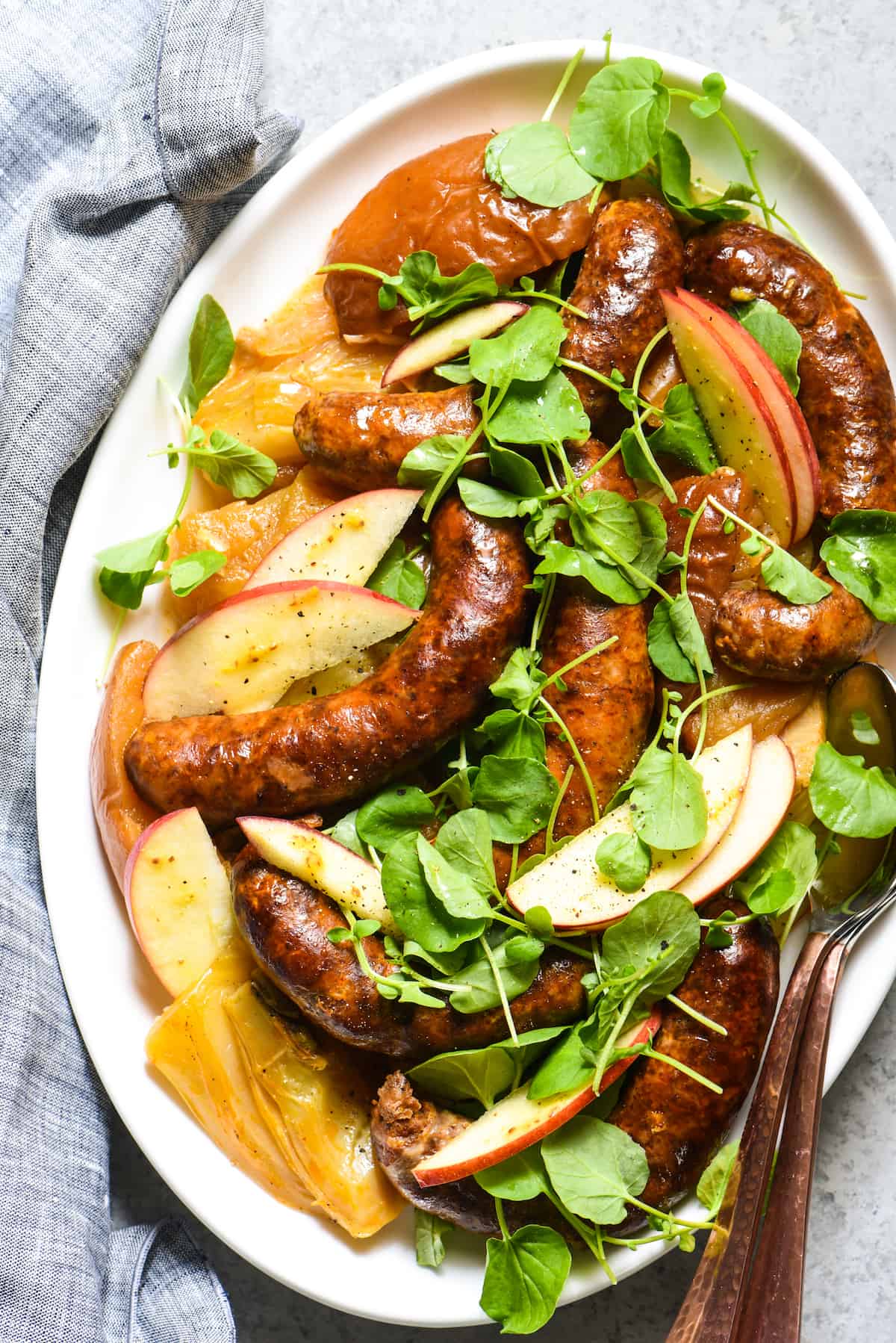 It's been a hot minute since I've done a slow cooker recipe here on the blog. But behind the scenes, I've been using this versatile appliance for meals as often as I can (usually making crockpot soups like my chicken parmesan soup).
I like being able to get the minimal prep work for dinner out of the way in the morning (I work on it while my coffee brews), and then being able to sit down to dinner after a hard day's work without much additional effort at all.
For this easy Slow Cooker Sausage, Apples & Fennel recipe, I really recommend quickly broiling the sausages before you put them in the slow cooker. I know that many people don't like slow cooker recipes where you have to "pre-cook," but I find that browning meat is absolutely essential to developing flavors and having a "home chef" final product.
Besides, browning the sausages under the broiler can be done in just 8 minutes, and you can do it while you're gathering the rest of the ingredients for the slow cooker, anyway.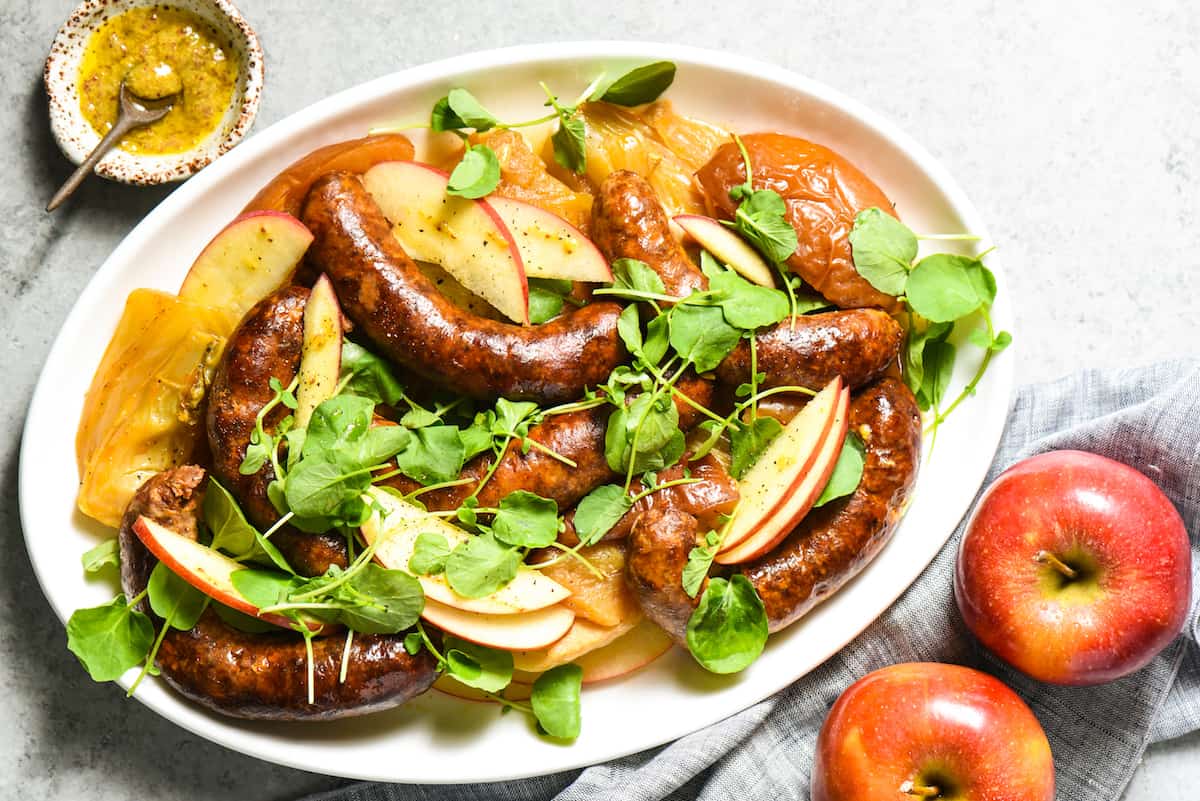 You'll add onions, fennel, apples, garlic, and a little stock and vinegar to your slow cooker pot before nestling the sausages on top. I recommend Michigan Braeburn apples for this recipe. These apples are rich, spicy-flavored, very firm and have a crisp bite.
The slow cooker will break the apples down to have an almost deconstructed applesauce-like texture, so I also put some fresh apple slices in the finishing salad for extra bite. The salad adds a bit of freshness and dynamic flavor to the proceedings.
Feel free to prepare the simple mustard dressing in the morning when you're prepping everything else, and then just toss some watercress and sliced apples with the dressing. Then, put the sausage, apples and fennel on a big platter, sprinkle the salad over the top, and dig in!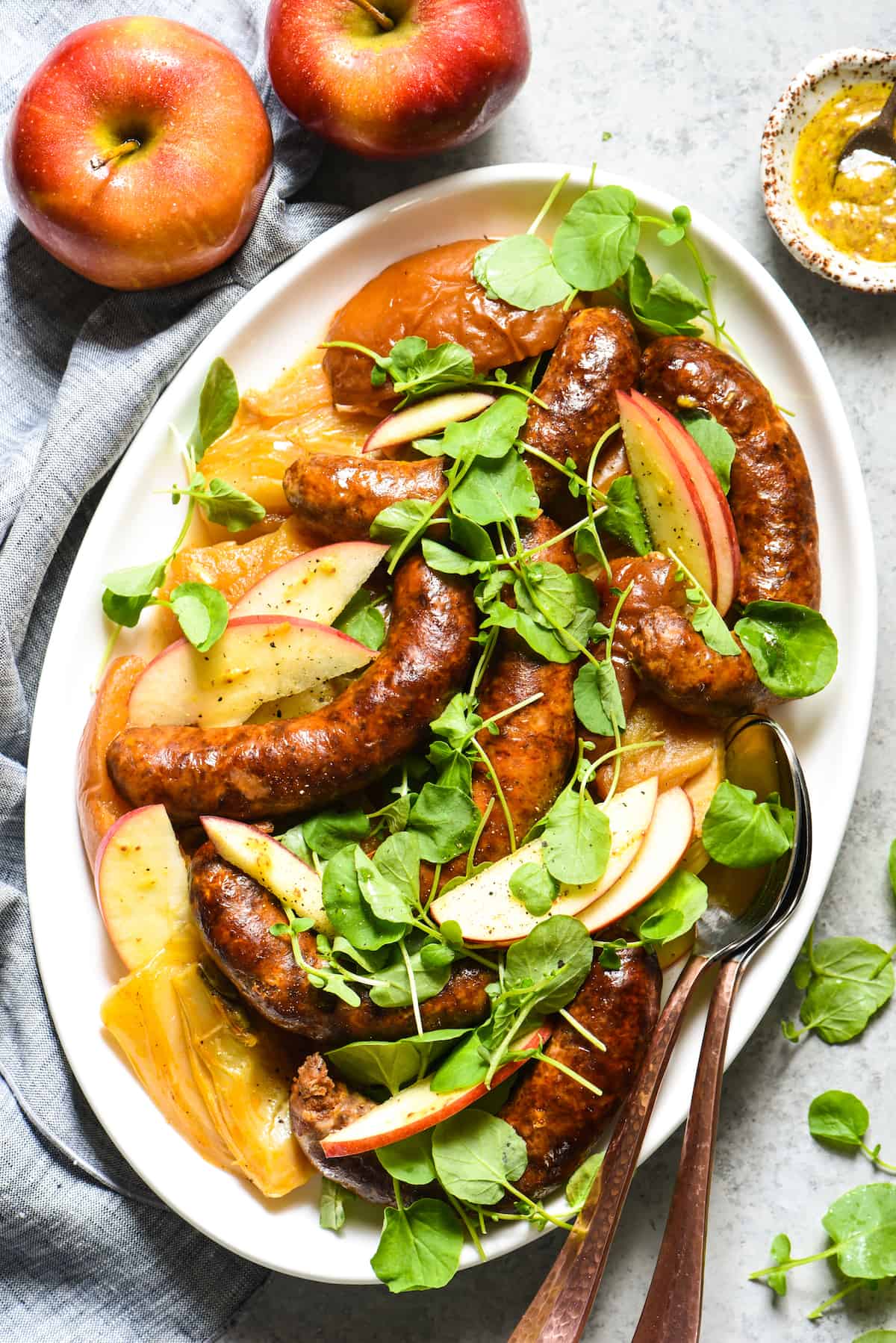 To find out more about Michigan Apples, be sure to connect with them on Facebook, Twitter, Pinterest and Instagram.
Slow Cooker Sausage, Apples & Fennel
Ingredients
For the Slow Cooker Braised Sausage, Apples & Fennel:
1-1/2 pounds fresh chorizo links
4 garlic cloves, roughly chopped
2 Braeburn apples, cored and quartered
2 fennel bulbs, cored and quartered
1/2 large yellow onion, chopped
2/3 cup chicken stock
3 tablespoons cider vinegar
1/2 teaspoon kosher salt
1/4 teaspoon ground pepper
For the Apple & Watercress Salad:
2 tablespoons cider vinegar
1 teaspoon whole grain mustard
1/4 teaspoon kosher salt
Pinch of ground pepper
1/4 cup extra virgin olive oil
2 cups watercress
1 Braeburn apple, cored and thinly sliced
Instructions
Make the Slow Cooker Braised Sausage, Apples & Fennel: Preheat broiler to high. Arrange chorizo links in single layer on rimmed baking pan. Transfer to oven and broil 8 minutes or until golden brown, turning once halfway through cooking.
Meanwhile, add garlic, apples, fennel, onion, stock, vinegar, salt and pepper to bowl of 4- or 5-quart slow cooker. Place sausages over apple mixture. Cook, covered, on low 6 to 8 hours or on high 3 to 4 hours.
Just before sausage is finished cooking, make the Apple & Watercress Salad: In medium bowl, whisk together vinegar, mustard, salt and pepper. While whisking, slowly drizzle in oil until all oil is incorporated. Add watercress and apple to bowl; toss until well combined.
Arrange sausage, apples and fennel on large platter. Sprinkle platter with Apple & Watercress Salad and serve immediately.
Notes
Home Chef Tip: Salad dressing can be made in the morning when you're prepping the slow cooker ingredients. Dressing can be kept covered at room temperature until you're ready to finish the salad.
MORE GREAT SLOW COOKER RECIPES:
Disclosure: This was a sponsored post written by me on behalf of the Michigan Apple Committee. Sponsored posts help me pay for the costs associated with this blog (groceries…lots of groceries), and help support me as I pursue a career in recipe development and food photography. All opinions are 100% my own.