Pork Belly & Tomato Jam Sliders
Big news – my town finally has a butcher shop! This was all kinds of exciting to me, because being able to call them up and order exactly the cut of meat I'd like is ever so much more exciting than relying on the local grocery store to just sell me whatever happens to be available.
One of my very first special orders at the new butcher shop was five pounds of pork belly. That big ol' hunk of beautiful meat was destined for these Pork Belly & Tomato Jam Sliders.
I placed my order and then anxiously awaited the pick-up date. Not even a little snowstorm could keep me from the butcher shop that morning.
I brought the lovingly-wrapped pork belly home and roasted it low and slow for hours, until it was super tender and just begging to be sliced up for sandwiches. Because why have just turkey and ham sliders when you can have TWO types of sliders?
While the pork belly was roasting away in the oven, I used my stovetop space to whip up a tomato jam The jam is as simple as combining a few pounds of tomatoes with some brown sugar, sherry vinegar, ginger, cumin, allspice and red pepper flakes, and then letting it simmer for an hour or so until it . . . looks like jam.
The irony of this story is, of course, that the sweet and savory, intensely tomato-flavored jam was so heavenly that IT ended up being the star of the show. Heck, that tomato jam could make a piece of cardboard taste as decadent as pork belly.
So, after years and years of waiting for a butcher shop, it turns out that a few bags of tomatoes were the star of the day. Life's funny like that, isn't it?
P.S. If you have any leftover jam, dunk a grilled cheese sandwich into it. Trust me.
Pork Belly & Tomato Jam Sliders
Cook Time:
3 hours
30 minutes
Ingredients
For the Pork Belly:
3 pounds pork belly
Kosher salt and ground black pepper
For the Tomato Jam:
2 pounds Village Farms heavenly villagio marzano® tomatoes, quartered
3/4 cup light brown sugar
2 tablespoons sherry vinegar
1 tablespoon dried ground ginger
1 teaspoon ground cumin
1 teaspoon kosher salt
1/2 teaspoon ground allspice
1/2 teaspoon red pepper flakes
For the Sliders
12 slider buns, split
3 cups baby arugula
Instructions
Make the Pork Belly: Preheat oven to 250 degrees F. Remove skin from meat. Use sharp knife to score fat cap into a criss cross pattern (or ask your butcher to do this for you). Place meat in roasting pan and generously season all over with salt and pepper. Transfer to oven and cook 3 hours.
Raise oven temperature to 400 degrees and cook 30 minutes longer or until top of meat is caramelized and crisp, basting meat with accumulated juices every 10 minutes. Transfer meat to cutting board and let stand 30 minutes before slicing.
Meanwhile, make the Tomato Jam: In medium saucepot, heat tomatoes, sugar, vinegar, ginger, cumin, salt, allspice and red pepper flakes to boiling over medium-high heat, stirring occasionally. Reduce heat to low and simmer for 1 hour or until mixture has the consistency of jam, stirring occasionally.
Assemble the Sliders: Slice pork belly into ¼-inch pieces. If pork belly has been prepared in advance and refrigerated, gently reheat sliced pieces in nonstick skillet until warmed through.
Divide sliced pork belly among bottom buns. Top pork belly with a spoonful of Tomato Jam and a small handful of arugula. Covers with tops of buns and serve immediately.
Notes
Home Chef Tip: The pork belly can be roasted up to 2 days in advance. After roasting, transfer whole pork belly to large plate or container and transfer to refrigerator, uncovered, for 2 hours or until completely cool, then cover until ready to slice, reheat, and assemble sandwiches. Tomato jam can be made up to 5 days in advance. After making tomato jam, let stand at room temperature until completely cool. Transfer to jar or covered container and refrigerate.
Epic Game Day Recipe Schedule:
Other Game Day Ideas:
Making one of these recipes? Please let me know by sharing a photo on social media with the hashtag #FLLEpicGameDay!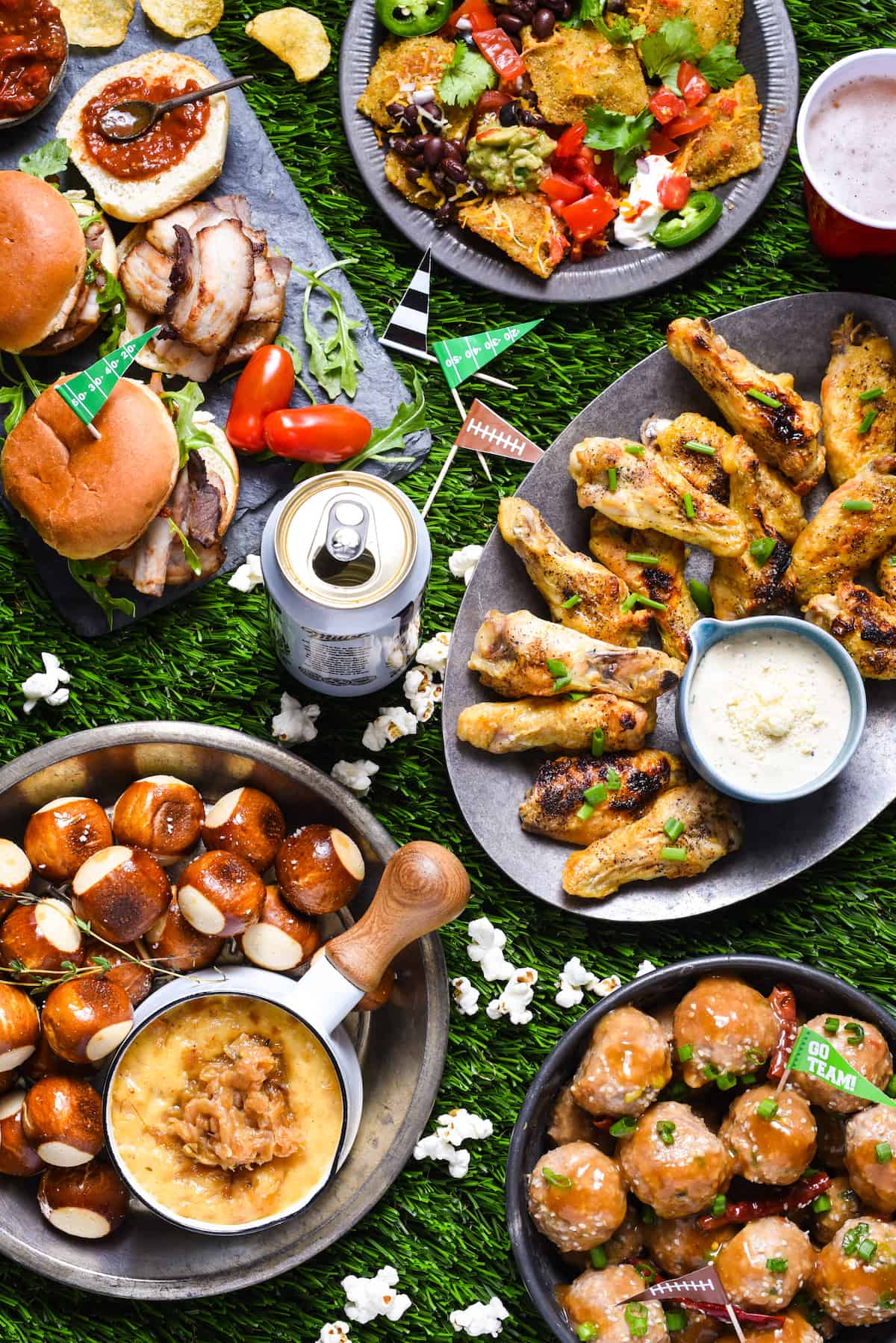 Disclosure: This was a sponsored post written by me on behalf of Village Farms. Sponsored posts help me pay for the costs associated with this blog (groceries…lots of groceries), and help support me as I pursue a career in recipe development and food photography. All opinions are 100% my own.