Sambal Chicken Skewers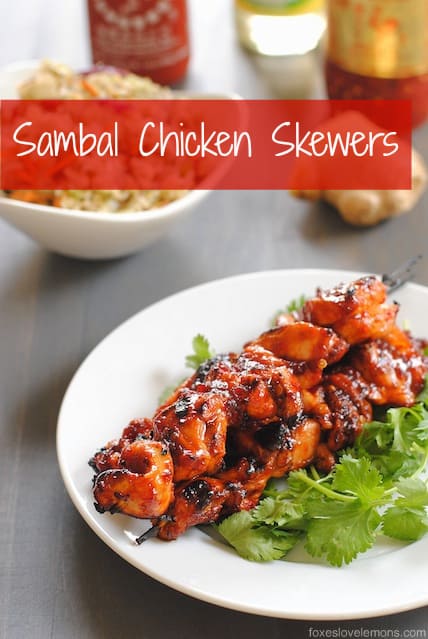 In this monthly series, I commit to cooking whatever is on the cover of Bon Appetit, Saveur or maybe some other food magazine. There's a reason these particular dishes are on the cover – they're usually the best recipes in the magazine.
Naturally, the July issue of Bon Appetit is The Grilling Issue. Grilled chicken skewers, you say? Well, that's something I'd be making for dinner anyway, so bring it on.
Additionally, I was looking forward to making these because they include sriracha and sambal oelek, the dynamic duo of spicy Asian condiments that are stocked in my fridge at all times.
Usually, I feel like I should make a choice between one or the other, but here, I didn't have to choose between two of my best friends – they both came along to the party.
I had to make a few substitutions when making the marinade/sauce. I ran out of brown sugar, so I used a little less than what was called for. Also, I haven't been able to find a brand of fish sauce that doesn't make me totally gag.
I've heard Red Boat brand is very good, but I haven't been able to locate that in a store in my area yet (I need to go on a fish sauce-hunting mission). So, instead of fish sauce, I substituted soy sauce to add some saltiness.
Even though I ran low on brown sugar, I still used the amounts called for of sriracha and sambal.
This led me to have a minor meltdown while grilling, because as I was brushing the sauce onto the chicken, all I could think was "This is going to be so spicy. Too spicy to eat. Why am I brushing all of this sauce on? Stop saucing, Lori. No, I can't. It'll be good. Spicy, but good. Do we have any milk in the fridge? Your mouth is going to be on fire."
I'm happy to report that this recipe, even with my substitutions, was absolutely out of this world. It was the perfect balance of super spicy and kind of sweet.
It certainly wasn't as sweet as my orange glazed chicken, but by no means, was it too spicy to eat (as long as you like spicy Asian food, I guess).
In fact, as with many of Bon Appetit's cover recipes, it was so good that it was kind of hard to stop eating. Sure, I needed several tall glasses of ice water while eating it, but on a hot day, I probably needed the hydration anyway.
Sambal Chicken Skewers
Ingredients
8 bamboo skewers
1/2 cup rice vinegar
1/3 cup packed light brown sugar
1/3 cup sambal oelek
1/4 cup soy sauce
1/4 cup sriracha
1 tablespoon grated fresh ginger
1-1/2 pounds boneless, skinless chicken thighs, cut into 2-inch pieces
Instructions
Place skewers in large dish and cover with water. Let stand 15 minutes.
Meanwhile, preheat grill for direct grilling over medium-high heat. In a large bowl, whisk together vinegar, brown sugar, sambal oelek, soy sauce, sriracha and ginger. Add chicken and toss to coat. Thread chicken pieces onto skewers.
Transfer marinade to small saucepan. Heat to boiling over high heat. Reduce heat to medium; simmer 6 to 8 minutes or until reduced by half.
Transfer chicken skewers to grill. Cook, turning and basting with reduced marinade frequently, 8 to 10 minutes, or until internal temperature of chicken reaches 165 degrees F.