These Asian Noodle Salad Jars are a portable, colorful and healthful lunch that will get you through the work week, deliciously.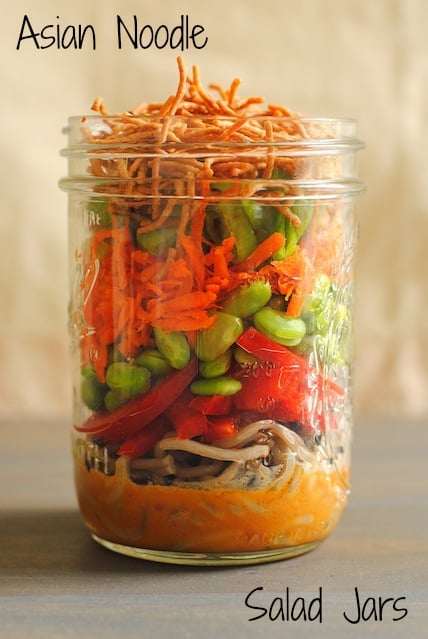 Can I tell you guys how much I loved these Asian noodle salad jars? I was so glad the recipe made four salads, because I totally ate these for lunch all week and never got tired of them! It's something different than the typical lunchtime salad. All of the veggies stay nice and crunchy since the salad dressing is contained in the bottom of the jar. All of the colors make it a feast for the eyes, too.
I frequently use peanut butter as an emulsifier in salad dressings. This works especially well in Asian-style salads. The peanut butter allows the oil and vinegar (or other acid) to come together into one harmonious substance.
When you build salad jars, the dressing goes in the bottom. For these, I put the noodles in right above the dressing. That means the noodles basically marinate in the dressing as the jars sit in your fridge, making them super flavorful when you finally un-cap that jar and dump it into a bowl. Give these a try if you want quick, portable lunches for almost a full work week!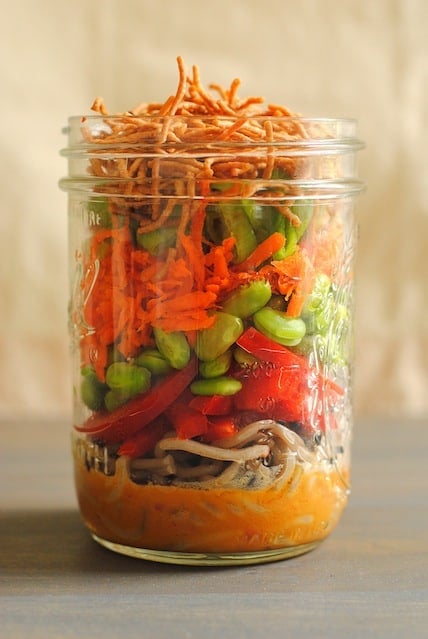 Asian Noodle Salad Jars
Ingredients:
Directions:
Making one of my recipes?
Please let me know by sharing a photo on
my Facebook page
, or uploading to
Instagram
or
Twitter
with the tag
#foxeslovelemons
. It would make my day!
Want more salad jar ideas? Check out these other portable, fun lunch recipes!
Chopped Salad Jars with White Balsamic-Dijon Vinaigrette
Marinated White Bean Salad Jars
Chicken & Spinach Salad Jars
Sonoma Chicken Pasta Salad Jars