These Asian Noodle Salad Jars are a portable, colorful and healthful lunch that will get you through the work week, deliciously.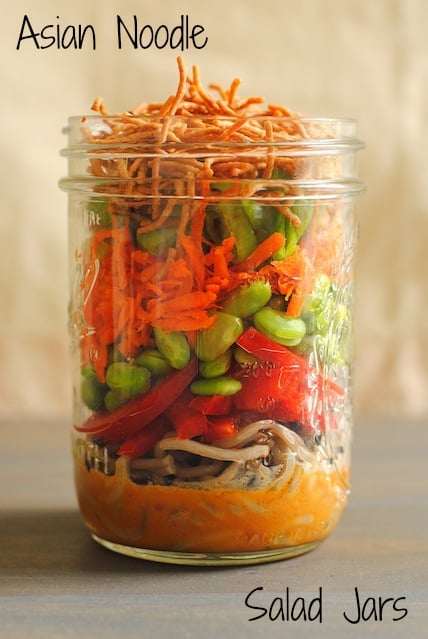 Can I tell you guys how much I loved these Asian noodle salad jars? I was so glad the recipe made four salads, because I totally ate these for lunch all week and never got tired of them! It's something different than the typical lunchtime salad. All of the veggies stay nice and crunchy since the salad dressing is contained in the bottom of the jar. All of the colors make it a feast for the eyes, too.
I frequently use peanut butter as an emulsifier in salad dressings. This works especially well in Asian-style salads. The peanut butter allows the oil and vinegar (or other acid) to come together into one harmonious substance.
When you build salad jars, the dressing goes in the bottom. For these, I put the noodles in right above the dressing. That means the noodles basically marinate in the dressing as the jars sit in your fridge, making them super flavorful when you finally un-cap that jar and dump it into a bowl. Give these a try if you want quick, portable lunches for almost a full work week!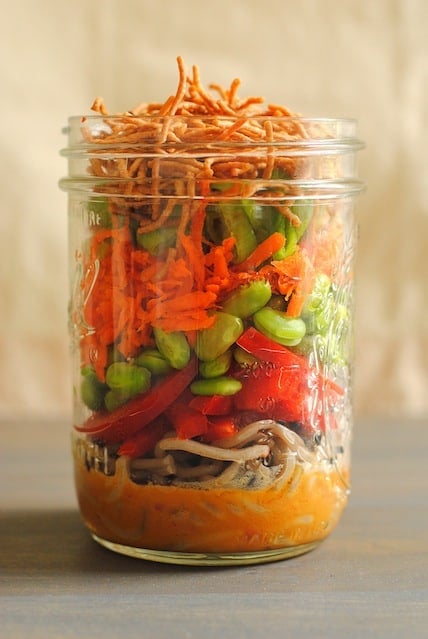 Yield: 4 servings
Asian Noodle Salad Jars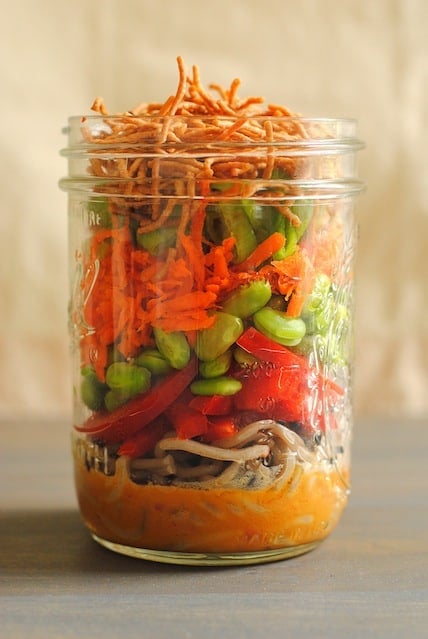 These Asian Noodle Salad Jars are a portable, colorful and healthful lunch that will get you through the work week, deliciously.

Prep Time 25 minutes

Total Time 25 minutes
Ingredients
For the Salad:
4 ounces soba noodles
1 red bell pepper, thinly sliced
1 cup shelled edamame, cooked
2 large carrots, peeled and shredded
4 green onions, thinly sliced
1/2 cup crunchy rice noodles
For the Spicy Peanut Dressing:
2 tablespoons peanut butter
4 teaspoons sambal oelek
4 teaspoons rice vinegar
4 teaspoons soy sauce
1/4 cup extra virgin olive oil
1 tablespoon black sesame seeds
Instructions
In large pot of boiling water, cook noodles according to package instructions. Rinse under cold water and drain.
Meanwhile, make Spicy Peanut Dressing: In a small bowl, whisk together peanut butter, sambal oelek, rice vinegar and soy sauce. While whisking, slowly drizzle in oil until all oil is incorporated. Stir in sesame seeds.
Divide Spicy Peanut Dressing equally among 4 pint-sized mason jars. Divide soba noodles over dressing. Layer remaining ingredients, ending with rice noodles. Top with lids and refrigerate up to 5 days. To serve, pour onto plate or bowl, stir and enjoy.
Nutrition Information:
Yield:
4
Serving Size:
1
Amount Per Serving: Calories: 251 Total Fat: 20g Saturated Fat: 3g Trans Fat: 0g Unsaturated Fat: 15g Cholesterol: 0mg Sodium: 455mg Carbohydrates: 15g Fiber: 3g Sugar: 3g Protein: 6g
Want more salad jar ideas? Check out these other portable, fun lunch recipes!
Chopped Salad Jars with White Balsamic-Dijon Vinaigrette
Marinated White Bean Salad Jars
Chicken & Spinach Salad Jars
Sonoma Chicken Pasta Salad Jars