Fajita Veggies (Fajita Vegetables Without A Packet)
These Fajita Veggies have the restaurant flavor you love, made at home without a seasoning packet. Use them for vegetarian fajitas, or add steak, chicken or shrimp to the mix!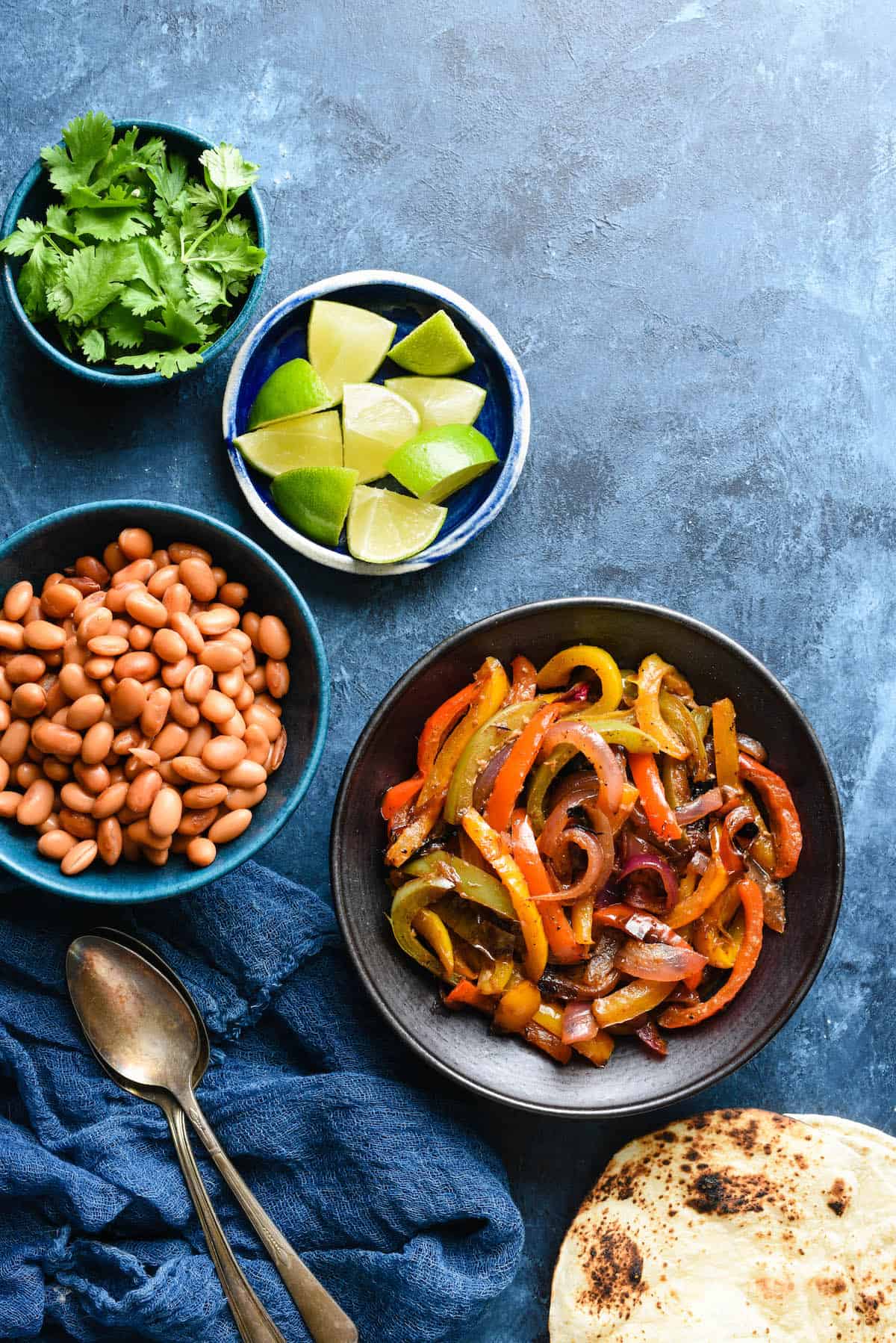 I have a complete recipe post for vegetarian fajitas, which include these fajita veggies, a creamy chipotle sauce and a special bean mixture, but today's post is simply about the vegetables only.
If you also came of age in the 1980's and 90's, maybe you can relate: fajitas were (are!) THE BEST!
When I was a kid, and we went to a restaurant that served chicken or shrimp fajitas, I was definitely ordering them.
The excitement of them coming to the table in a sizzling skillet couldn't be beat! A homemade fajita bar is also pretty exciting.
My family also made them at home quite a bit. And, as was typical for the time, we used a packet of "Fajita Seasoning Mix" to flavor our meal.
It tasted great, but upon closer inspection recently, I've realized the packet contained sketchy ingredients like "corn syrup solids" and "caramel color."
You know what? I'll pass. The good news is that now that I'm a confident cook with a well-stocked spice drawer, I don't need the packet.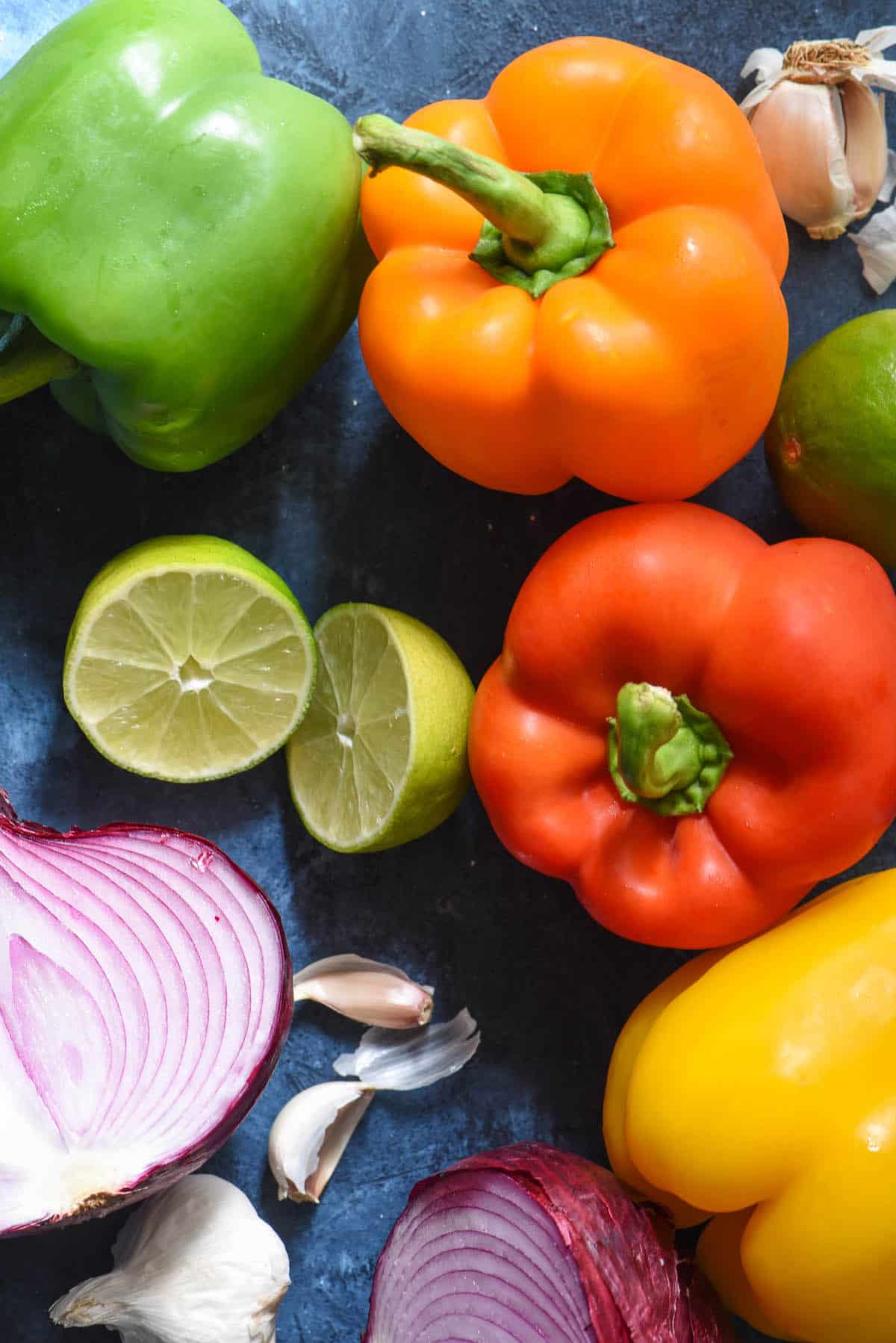 What are fajita veggies?
My preference for fajita veggies are simply bell peppers and onions. I've seen quite a few recipes where people also include mushrooms.
Maybe that is a regional preference, but in the Midwest, we didn't include mushrooms. However, I do like to have a variety of colors of bell pepper.
If I can find green, red, orange and yellow at the grocery store, I'll buy one of each. However, just like with my Instant Pot sweet and sour chicken, a combination of red and green would be perfectly fine.
As far as onion, I'll use red, yellow or white – doesn't matter much to me, it's just whatever is in my fridge.
How to make fajita veggies:
My best tip here is to use a cast iron skillet if at all possible. The hot, even heat the skillet maintains really allows the vegetables to char in some spots (also perfect for blistered shishito peppers and dipping sauce), which is where a lot of that classic fajita flavor comes from. 
Also important  –  DON'T STIR TOO OFTEN. One mistake I see a lot of home cooks making when they saute vegetables (like blistered tomatoes) is that they stand over them and stir them almost constantly.
This isn't risotto – take a chill pill. Make a lemon margarita while you resist the urge to stir.
You want to stir occasionally so that you expose all of the vegetables to the same amount of heat.
But if you stir TOO often, you'll prevent anything from really browning, and you'll basically just steam everything.
So allow your veggies to cook for about 3 to 4 minutes, undisturbed, between stirs. I know it's hard to resist sometimes, but try!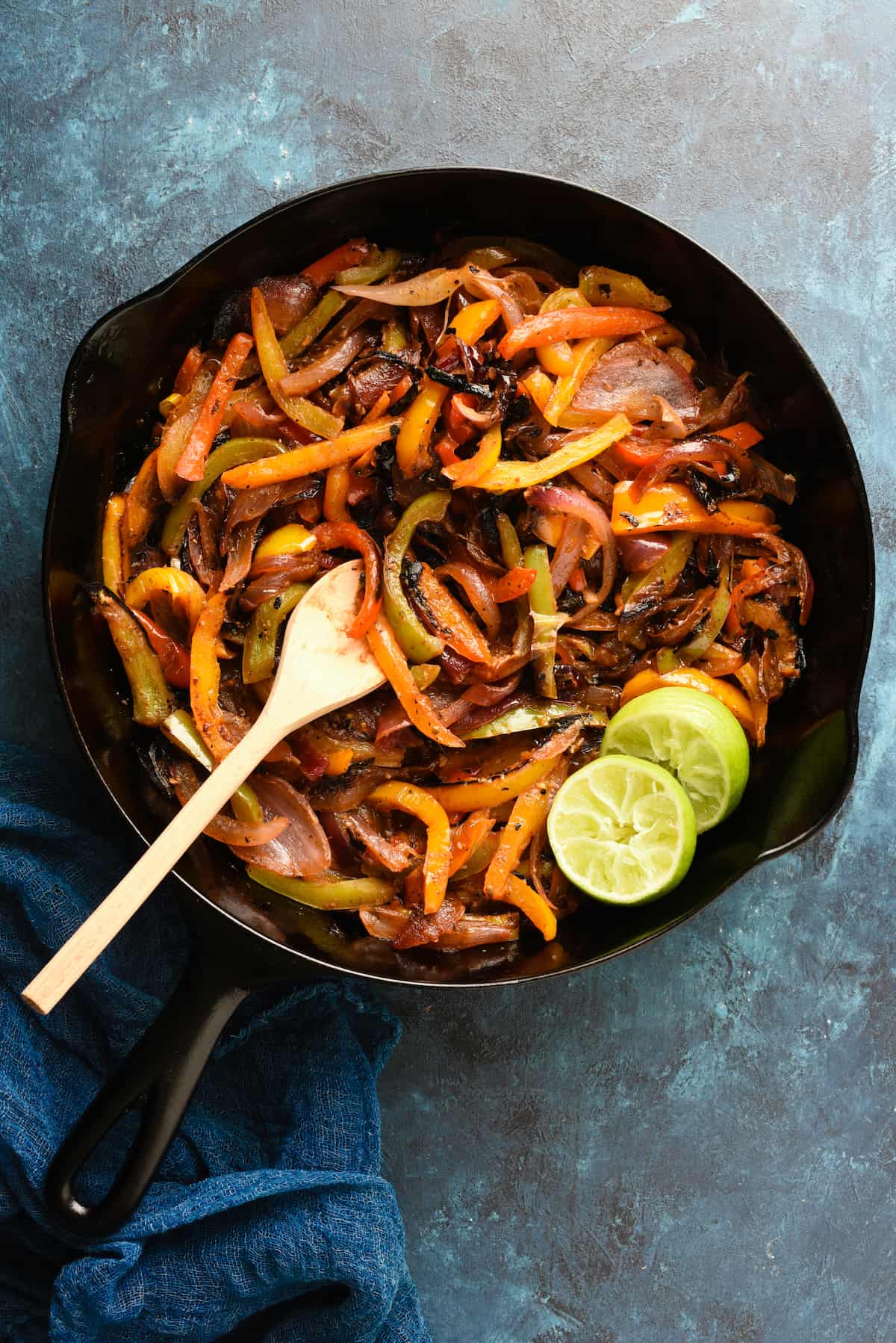 You probably have most of the ingredients for this fajita veggies seasoning already in your kitchen!
Here's where we get to take most of the flavors from that seasoning packet but make it at home in a much healthier way.
The herbs and spices are cumin, chili powder and dried oregano. Or, you mix up a batch of fajita seasoning and keep it in a jar so you have it on hand whenever you need it.
We're skipping any of the corn syrup additives because we don't need added sugar in fajita veggies (trust me, you won't miss it).
Instead of "lime juice solids," we're just going to roll with fresh lime juice. And then there's salt and pepper, because there's always salt and pepper.
What can I make with leftover fajita vegetables?
Of course, the vegetarian fajitas I mention at the top of the post. They're also perfect tucked into mushroom tacos or on top of Sonoran hot dogs.
But if you have some left over after that? Chop them up and put them on top of a grilled chicken pizza or even to add extra pizzazz to a baked potato pizza. Stir them into taco mac and cheese or breakfast muffins.
Make some cheesy nachos with fajita vegetables (unless you're in the mood for something Asian-inspired, and then go with wonton nachos instead!)
They're always a good choice to fold into an omelet. They're so good on top of my umami burger recipe. Or of course, put them on top of queso bratwurst!
More recipes that use bell peppers:
Whether they're green, red, yellow or orange, I love cooking with bell peppers!
Fajita Veggies (Fajita Vegetables Without A Packet)
These Fajita Veggies have the restaurant flavor you love, made at home without a seasoning packet. Use them for vegetarian fajitas, or add steak, chicken or shrimp to the mix!
Ingredients
2 tablespoons vegetable oil
4 bell peppers (red, green, yellow, orange or a combination), sliced
1 large onion (red, yellow or white), sliced
6 garlic cloves, minced
1/2 teaspoon chili powder
1/2 teaspoon dried oregano
1/2 teaspoon ground cumin
1/2 teaspoon kosher salt
1/4 teaspoon ground black pepper
Juice of 1 lime
Instructions
Heat oil over medium heat in large cast iron skillet or other heavy skillet. Add bell peppers and onion and cook 12 to 15 minutes or until vegetables are tender but not mushy and well browned in some spots, stirring occasionally (but not too frequently).
Stir in garlic, chili powder, oregano, cumin and salt and pepper. Cook 1 minute, stirring constantly.
Stir in lime juice. Cook 1 minute, stirring constantly. Serve immediately.
Recommended Products
Foxes Love Lemons, LLC is a participant in the Amazon Services LLC Associates Program, an affiliate advertising program designed to provide a means for sites to earn advertising fees by advertising and links to Amazon.com. There is no additional cost to you.
Nutrition Information:
Yield:

4
Serving Size:

1
Amount Per Serving:
Calories:

117
Total Fat:

7g
Saturated Fat:

1g
Trans Fat:

0g
Unsaturated Fat:

6g
Cholesterol:

0mg
Sodium:

279mg
Carbohydrates:

13g
Fiber:

2g
Sugar:

5g
Protein:

2g