Goat Cheese Pasta Salad
This creamy goat cheese pasta salad is simple to put together and will become a family favorite! Customize with any vegetables you like.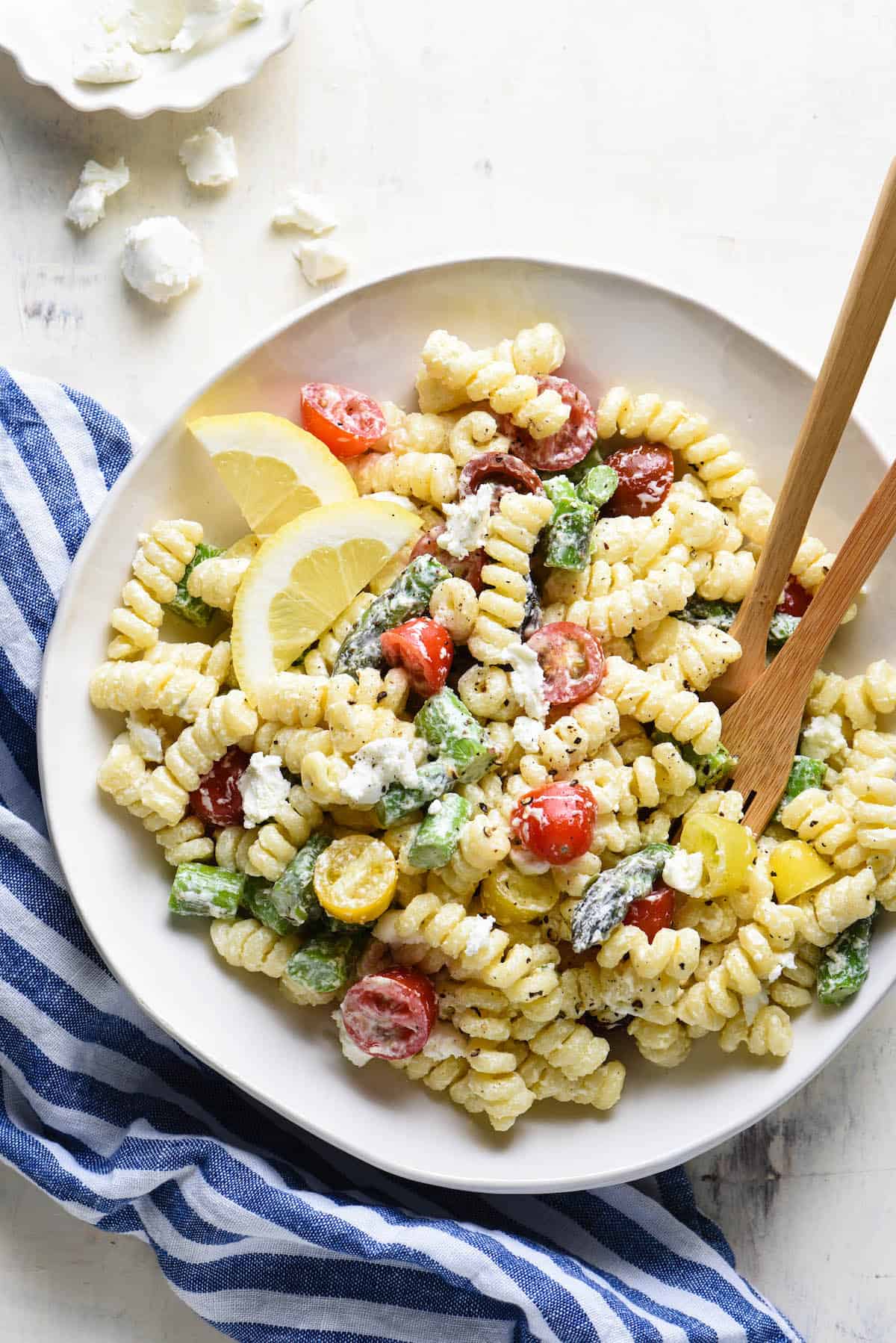 When it comes to pasta salad, the options are endless, and it's almost always good.
Growing up in the 80's in the Midwest, my pasta salad experiences revolved around baby back ribs (hopefully with a dry rub for ribs on them) paired with my mom's classic mustard/mayo/celery/onion macaroni salad (I haven't yet shared that recipe here, but maybe someday), and old school Italian dressing pasta salad.
You know the kind I mean. And it wasn't along the lines of something updated like Asian noodle salad or acini de pepe pasta salad, or fancy like seafood pasta salad.
Today, I'm sharing a gourmet take on a classic: pasta salad with goat cheese dressing. It's perfect alongside steak lettuce wraps, and it's one of my very favorite side dishes for ribs.
I'm also sharing a simple tip to make the best pasta salad ever.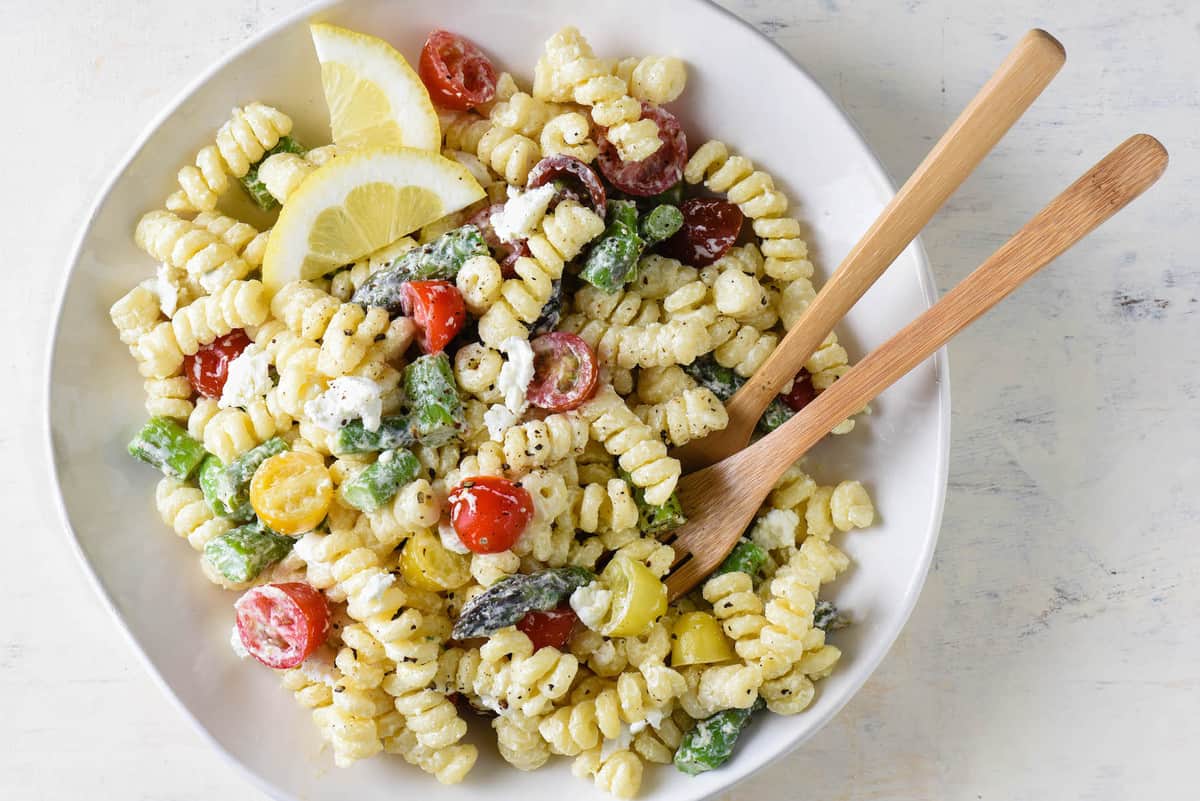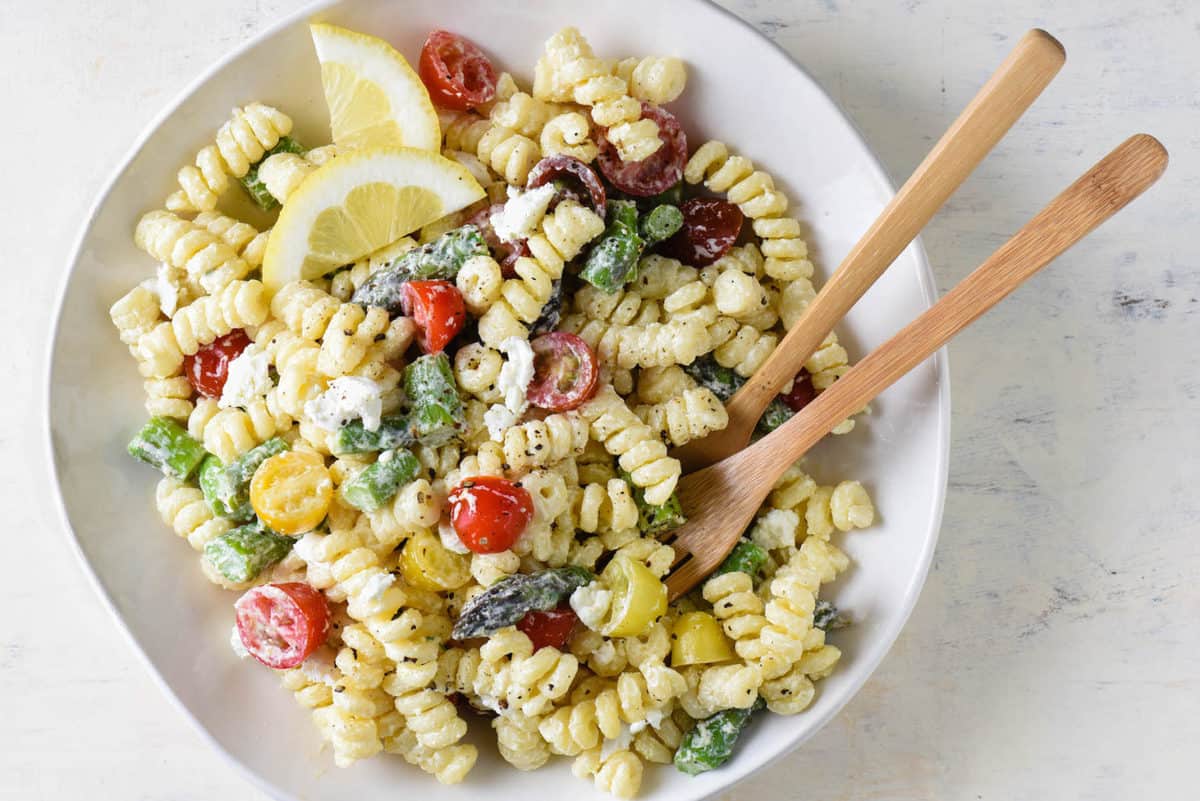 What is in Goat Cheese Pasta Salad?
The noodle and vegetable situation is very flexible. I recommend a short, twirly shape of pasta like fusilli so that the dressing can soak into all the nooks and crannies of the noodles (I like this shape for salmon pesto pasta, also). I used fresh asparagus (when I'm not making balsamic asparagus) and red and yellow grape tomatoes in my salad, but I have more mix-in ideas for you below!
The goat cheese pasta salad dressing is made from a few simple ingredients:

crumbled goat cheese
lemon juice and zest
olive oil
Dijon mustard
kosher salt
pasta cooking water
Why use goat cheese in pasta salad?
Three words: creamy, tangy and smooth. It's pretty amazing that just one ingredient can add so many tasty qualities to your pasta salad dressing.
I also love how easily goat cheese melts to create a smooth dressing. Just a 1/4 cup of hot pasta water will do the trick.
I've been using goat cheese in my recipes like Christmas salad, sweet potato breakfast bake and breakfast egg muffins for years (I've even been known to toss it into elote corn salad when I don't have cotija for feta), so I can promise you it is the perfect ingredient for your next pasta salad.
Goat cheese is made with goat's milk and traditional French cheese making techniques, leading to a rich and smooth texture.
If you haven't tried goat cheese before, I think you'll love it. My fried goat cheese salad is a sure-fire way to introduce yourself to loving goat cheese! Or, bookmark my cranberry appetizer for Thanksgiving!
Just save the blueberry vanilla goat cheese for Easter charcuterie board, OK?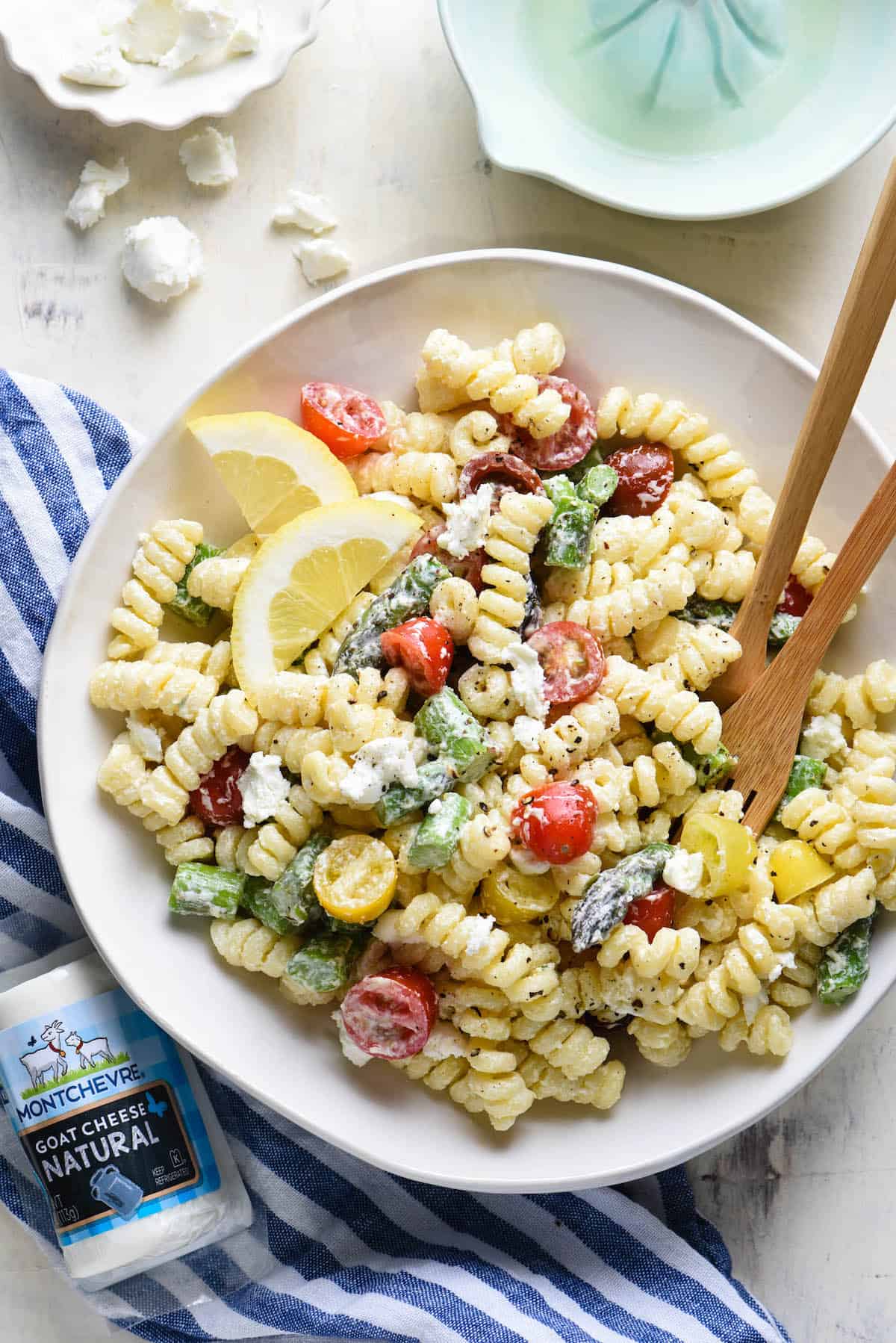 A simple tip for making the best pasta salad ever:
This works with pretty much any pasta salad recipe: when you make the dressing, immediately reserve half of it and set it aside.
While the pasta is still warm, toss it with just the remaining half of the dressing. Then, just before serving alongside a nice grilled flat iron steak, add the reserved half and toss again.
Why do this? Because warm pasta immediately soaks up whatever dressing it is tossed with, not leaving much moisture behind in the finished dish.
Have you ever noticed that when you sneak a warm noodle right after the salad is dressed, it's creamy and delicious, but once it's chilled in the fridge for a few hours, it can be kind of dry?
It almost seems like the dressing disappears sometimes, right? By stirring in the remaining half of the dressing once the noodles are already chilled, you're guaranteed a nicely dressed pasta salad.
Once you make pasta salad this way, you'll never go back.
How long does pasta salad stay good for?
A good rule of thumb for prepared noodle salads is three days in the refrigerator.
What else can I put in goat cheese pasta salad?
Not a fan of tomatoes and asparagus? No worries! I've tested this recipe with lots of different mix-ins, and I can vouch for any of the following:
carrots
spinach
arugula
cannelini beans
More Foxes Love Lemons Favorites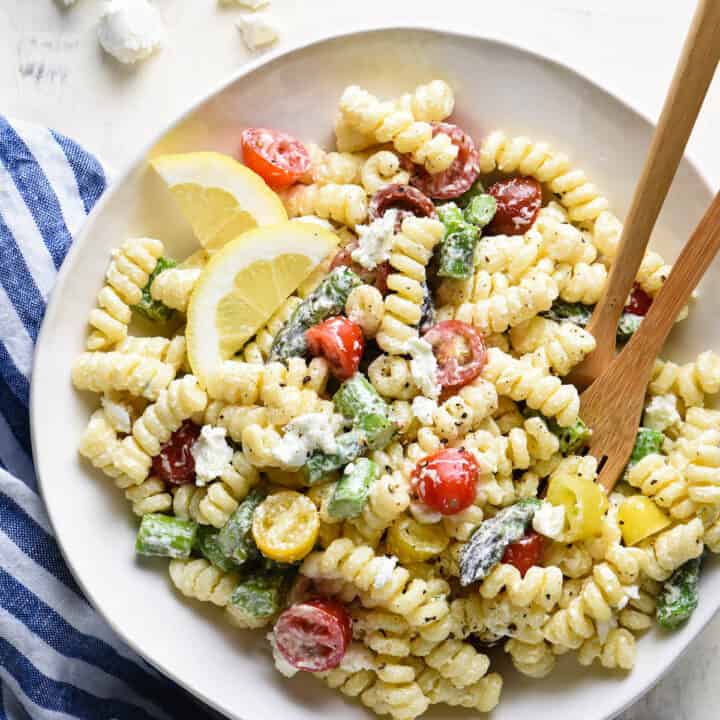 Goat Cheese Pasta Salad
This creamy goat cheese pasta salad is simple to put together and will become a family favorite! Customize with any vegetables you like.
Ingredients
1/2 bunch asparagus (ends trimmed and discarded), cut crosswise into 1-inch pieces
8 ounces dried fusilli or other short pasta
1 log (4 ounces) goat cheese, crumbled, divided
Juice of 1 lemon
1/4 cup olive oil
2 teaspoons Dijon mustard
1 teaspoon grated lemon zest
1/2 teaspoon kosher salt, plus additional for cooking water
1 cup grape tomatoes, halved
Instructions
Heat medium pot of salted water to boiling over high heat. Fill medium bowl with ice water. Add asparagus to boiling water and cook 1 minute, stirring frequently. Drain asparagus and immediately transfer to ice water. Let asparagus fully cool in ice water, then transfer asparagus to small bowl and refrigerate.
Refill medium pot with salted water. Add pasta and cook according to package instructions.
Meanwhile, place 3 ounces goat cheese, lemon juice, oil, mustard, lemon zest and salt in large bowl and whisk until well combined.
At end of pasta cooking time, transfer 1/4 cup pasta cooking water to bowl with goat cheese mixture and whisk until smooth. Transfer half of dressing (about 1/2 cup) to small bowl and refrigerate.
Drain pasta and transfer to bowl with remaining dressing; toss until well combined. Refrigerate one hour or up to 3 days.
Just before serving, remove pasta from refrigerator and stir in tomatoes, asparagus, remaining 1 ounce goat cheese, and reserved dressing. Serve immediately.
Nutrition Information:
Yield:

4
Serving Size:

1-1/2 cups
Amount Per Serving:
Calories:

287
Total Fat:

16g
Saturated Fat:

3g
Trans Fat:

0g
Unsaturated Fat:

12g
Cholesterol:

3mg
Sodium:

370mg
Carbohydrates:

30g
Fiber:

2g
Sugar:

2g
Protein:

7g