Beer Brats with Beer Queso
Disclosure: These Beer Brats with Beer Queso were created by me on behalf Johnsonville® as part of a sponsored post for Socialstars. Sponsored posts help me pay for the costs associated with this blog (groceries…lots of groceries), and help support me as I pursue a career in recipe development and food photography. All opinions are 100% my own. #SausageFamily
I seriously cannot believe August is already here. I feel like I've spent my entire summer house hunting, getting ready to move, moving, getting our old house ready to sell, and selling. Now that we are f-i-n-a-l-l-y offically moved in and unpacked, I'm planning to spend the month of August savoring all of the fun summer things I haven't done enough of yet this year. Bike rides. Dog walks. A picnic. And of course, lots of grilling out and spending time on our new patio.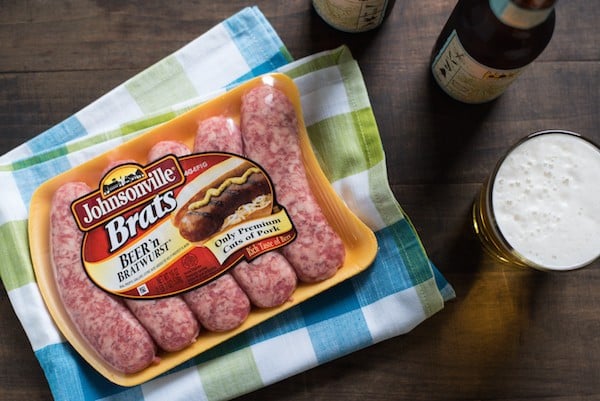 Bratsgiving Day is August 16th – a day to whip up some delicious grilled brat recipes for your friends! I really recommend Johnsonville® Beer n' Bratwurst for your celebration. They are a delicious combination of the classic flavor of Johnsonville® sausage and the rich taste of beer. To add even more beer flavor, I whipped up quick beer queso using sharp cheddar cheese and a local brew. I topped them with thinly sliced fresh jalapeno (homemade pickled jalapenos or fajita veggies would be great toppings here, too) And naturally, I served these brats with . . . beer!
For more information about Johnsonville®, please follow them on Facebook and Twitter.
Beer Brats with Beer Queso
Ingredients
1 package Johnsonville® Beer n' Bratwurst
1/4 cup lager-style beer
1 teaspoon cornstarch
1 teaspoon kosher salt
1/2 teaspoon garlic powder
Pinch of cayenne pepper
1 cup evaporated milk
4 ounces shredded sharp cheddar cheese
5 soft pretzel sausage buns
1 jalapeno pepper, thinly sliced (optional)
Instructions
Grill bratwurst according to package directions.
Meanwhile, in small bowl, whisk together beer, cornstarch, salt, garlic powder and cayenne. In medium saucepot, heat milk over medium-high heat until just before boiling. Reduce heat to medium-low and add cheese and beer mixture; whisk vigorously until smooth.
To serve, place bratwurst in buns and top with queso and sliced jalapenos, if desired.