Superfood Power Lunch Bowl
Between crazy amounts of work and getting settled into our new home, my days have been long lately. I'm working hard from morning to bedtime, and sometimes don't have time for dinner until well into the evening.
I need to make my lunch count as much as possible so I can get through the long afternoon. I've been having a ton of fun using the Friendship Dairies Superfood Generator to create energizing and colorful lunch bowls.
The Superfood Generator starts you off with a base of Friendship Dairies cottage cheese, The Original Superfood. With 15 grams of protein, it's a great source of long-lasting energy. It's also super versatile – you can mix it up with just about anything!
After you choose your cottage cheese, you get to select ingredients from different categories, like crunchy, veggie, and herbs and spices, OR choose mix-ins based on their benefits, like antioxidant, potassium or fiber.
I created my Superfood Power Lunch Bowl by filling a bowl with spinach, then adding a serving of Friendship Dairies 1% Low Fat Cottage Cheese. I finished my bowl with black rice, roasted sweet potato (buy an extra to make a sweet potato breakfast casserole, too), blueberries (I had these on hand after making buttermilk blueberry muffins), pistachios and a lemon wedge for extra flavor.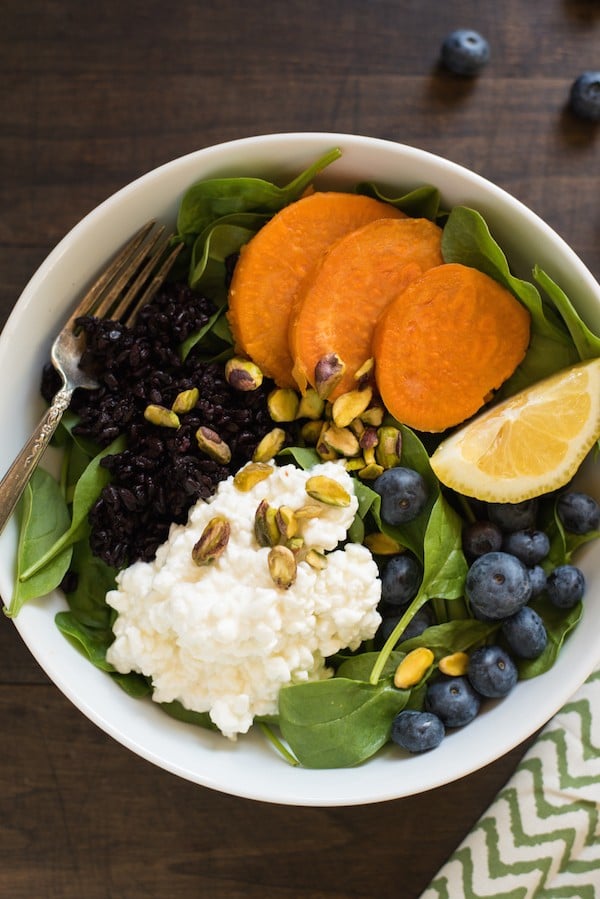 Want to create a power lunch of your own? Go for it, and while you're at it, you can enter the Friendship Dairies Super-Duper Totally Fantastic Superfood Mix-in Sweepstakes! Through August 31, Friendship Dairies is giving away more than $5,000 in weekly prizes, including three $498 Vitamix grand prizes!
Entering is easy (and you can enter once a day!) – just use the Superfood Generator to choose your perfect cottage cheese and mix-ins, get a super summary, and enter the sweepstakes! Plus, when you share the sweeps on your wall, you get a bonus entry for every one of your friends that enters based on your post! NO PURCHASE NECESSARY. For rules, see http://bit.ly/1RJDkOm.
Superfood Power Lunch Bowl
Ingredients
1-1/2 cups baby spinach
1/2 medium roasted sweet potato, sliced
1/2 cup Friendship Dairies cottage cheese
1/4 cup blueberries
1/4 cup prepared black or brown rice
1 tablespoon shelled pistachios
Lemon wedge, for serving
Instructions
Place spinach in large bowl. Top with sweet potato, cottage cheese, blueberries, rice and pistachios. Serve with lemon wedge.
Disclosure: This is a sponsored post written by me on behalf of Friendship Dairies. Sponsored posts help me pay for the costs associated with this blog (groceries…lots of groceries), and help support me as I pursue a career in recipe development and food photography. All opinions are 100% my own.