Blistered Tomatoes
Blistered tomatoes add a special touch to just about any meal. In less than 10 minutes, turn cherry or grape tomatoes into something extra delicious with garlic, shallots and basil.
I only got serious about vegetable gardening a few summers ago, but it's quickly become one of my favorite hobbies.
I don't have a huge garden, but it's amazing what it can yield each year, just from a few packs of seeds.
So far this year, I've enjoyed snap peas (usually served with bourbon glazed salmon) and a ton of salad greens, which I generally just toss with citrus salad dressing for a simple side dish.
Later in July and into August, we can start incorporating grilled zucchini and lots of homegrown tomatoes into our meals. And I'll also be pulling up some carrots for honey roasted carrots and balsamic roasted carrots.
I mostly grow smaller grape and cherry tomato varieties (perfect for beet and tomato salad), and we usually end up with a HUGE harvest, because I grow more tomatoes than we probably need.
Blistered tomatoes are an easy and delicious way to prepare grape and cherry tomatoes. Just like roasted grapes, they can be eaten on their own or incorporated into a variety of dishes.
What you'll need to make blistered tomatoes:
tomatoes – the recipe written below uses 2 pints (4 cups) of cherry and/or grape tomatoes, but you can adjust the recipe for however many tomatoes you want to cook.
olive oil – I like the flavor that olive oil adds to blistered cherry tomatoes, which is why I use it instead of vegetable or canola oil.
garlic – I love the flavor and look of thinly sliced garlic cloves in this recipe.
shallot – one large shallot, thinly sliced, adds a savory note that contrasts with the sweetness of the tomatoes. If you have to buy a whole bag of shallots, use the rest to make fancy toast for a snack.
lemon juice – a little bit of fresh lemon juice adds a brightness to the tomatoes that can't be beat. Lemon lovers should also check out my lemon smoothie!
salt and pepper – to season the sauteed tomatoes to perfection.
basil – hopefully all of you gardeners that are growing tomatoes also have a basil plant. I love the green freshness that chopped fresh basil adds to blistered tomatoes, and my fried goat cheese salad.
What kind of skillet should I use for blistered cherry tomatoes?
If you have a cast iron skillet, making blistered tomatoes is absolutely the time to break it out (I also recommend orange glazed chicken and blistered shishito peppers and dipping sauce in cast iron). The even, intense heat that cast iron provides blisters the tomatoes so, so well.
If you're new to cast iron cooking, be sure to brush up on how to clean and care for cast iron cookware after you're done making sauteed tomatoes.
But if you don't have cast iron, no worries at all. A large, heavy stainless steel skillet will also work quite well for blistering tomatoes.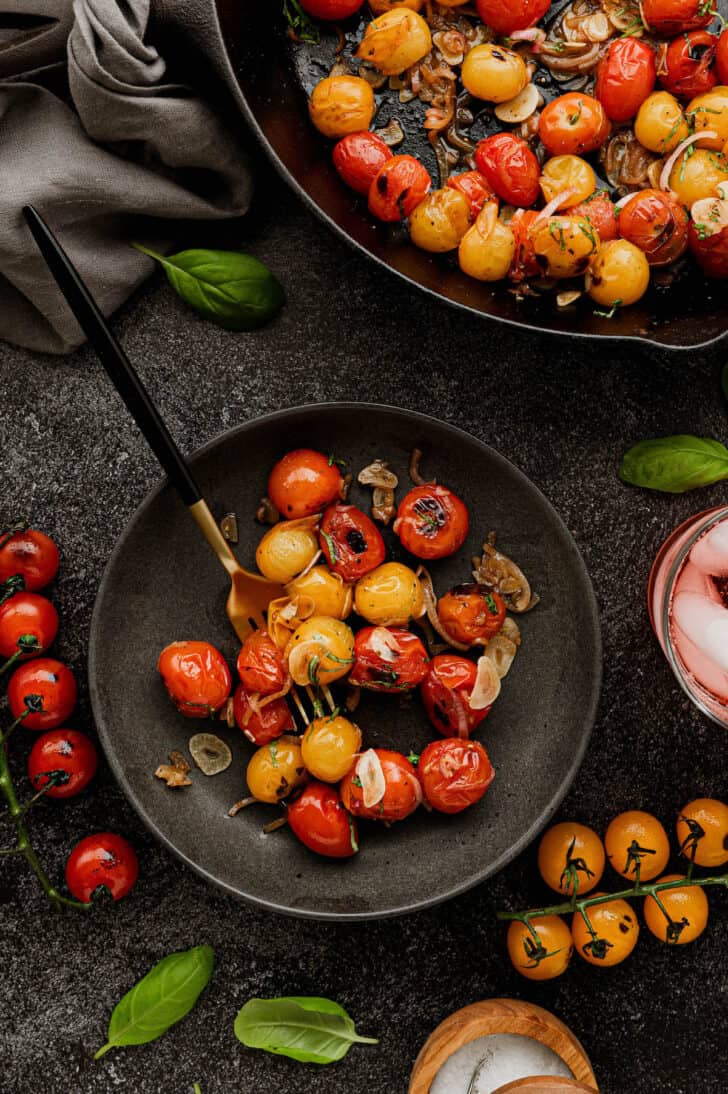 How to blister tomatoes:
Blistering tomatoes takes less than 5 minutes, so make sure you have all of your ingredients prepped and ready before you begin.
Start by heating the oil in a skillet. When it's nice and hot, add the tomatoes. Let them cook for 2 minutes, and don't stir them during this time!
Just like with my fajita veggies, sometimes less stirring is critical to achieve a nice brownness. After 2 minutes, stir the blistered cherry tomatoes once and let them cook another minute without disturbing them during that time.
Then, you'll be stirring garlic and shallots into the sauteed tomatoes! Cook for just 30 seconds longer, and stir constantly. Watch very carefully, because nothing is worse than burnt garlic.
As soon as the garlic and shallots become fragrant, turn off the heat! Stir in the lemon juice, salt and pepper, and then sprinkle the blistered tomatoes with basil. You're done!
One quick but important tip about blistering cherry tomatoes:
It turns out that blistering tomatoes on the stove can sometimes get a little smoky.
If you don't want to hear your smoke detector beeping at you, I recommend opening a kitchen window before you begin blistering tomatoes.
Or better yet, if your grill has a side burner on it, cook the blistered tomatoes outside (and make some grilled buttermilk chicken while you're out there)!
How to serve sauteed tomatoes:
I make blistered tomatoes so often in the summer that I feel like I've served them just about every which way.
While I enjoy sauteed tomatoes as a side dish all on their own, I also love them spooned over a grilled flat iron steak.
Blistered cherry tomatoes are also amazing served with toasted bread, either alongside some baked lemon ricotta cheese or as part of a pizza crostini bar. Or, slather your crostini in a bit of roasted garlic dip and then top with the tomatoes.
I also love blistering cherry tomatoes and tossing them with pasta dressed with olive oil and garlic, or added to lemon caper pasta or salmon pasta.
More recipes that use grape and cherry tomatoes:
If you're a tomato lover like I am, one of these recipes might just become your new favorite.
Blistered Tomatoes
Blistered tomatoes add a special touch to just about any meal. In less than 10 minutes, turn cherry or grape tomatoes into something extra delicious with garlic, shallots and basil.
Ingredients
2 tablespoons olive oil
2 pints cherry or grape tomatoes
3 garlic cloves, thinly sliced
1 large shallot, thinly sliced
1 tablespoon fresh lemon juice
1/4 teaspoon kosher salt
Pinch ground black pepper
2 tablespoons finely chopped fresh basil
Instructions
Heat oil in large cast iron or other heavy skillet over medium-high heat. Add tomatoes and allow them to cook, undisturbed, for 2 minutes or until they start to blister.
Stir once and allow to cook, undisturbed, for 1 more minute.
Stir in garlic and shallot and cook for 30 seconds or just until fragrant, stirring constantly and being careful not to let garlic burn.
Remove from heat. Stir in lemon juice, salt and pepper. Serve sprinkled with basil.
Recommended Products
Foxes Love Lemons, LLC is a participant in the Amazon Services LLC Associates Program, an affiliate advertising program designed to provide a means for sites to earn advertising fees by advertising and links to Amazon.com. There is no additional cost to you.
Nutrition Information:
Yield:

4
Serving Size:

1
Amount Per Serving:
Calories:

98
Total Fat:

7g
Saturated Fat:

1g
Trans Fat:

0g
Unsaturated Fat:

6g
Cholesterol:

0mg
Sodium:

89mg
Carbohydrates:

9g
Fiber:

2g
Sugar:

5g
Protein:

2g
This website provides estimated nutrition information as a courtesy only. You should calculate the nutritional information with the actual ingredients used in your recipe using your preferred nutrition calculator.