Roasted Grapes (Great for Cheese Boards)
Roasted grapes are the easiest, most delicious addition to cheese and charcuterie boards, salads, pork chops and roasted chicken. Use up extra grapes (any variety) with this simple recipe.
Sometimes coming up with new charcuterie board ideas is about more than just the theme. Sure, I love everything from a Halloween charcuterie board to a football charcuterie board to a huge platter of Valentine's snacks, but sometimes you don't need any theme other than this food is delicious.
Grapes seem to be ubiquitous on a lot of cheese boards, and for good reason. Their sweet, juicy flavor profile pair well with salty cheese and charcuterie.
Just like a quick trip in a cast iron skillet turns ordinary tomatoes into truly wondrous blistered tomatoes that can be spread on bread, roasted grapes turn in a whole different thing than raw grapes.
Warm and so soft and jammy you can spread them onto a cracker with a knife, roasted grapes will elevate your next cheese board by approximately 200%. And they couldn't be easier to make.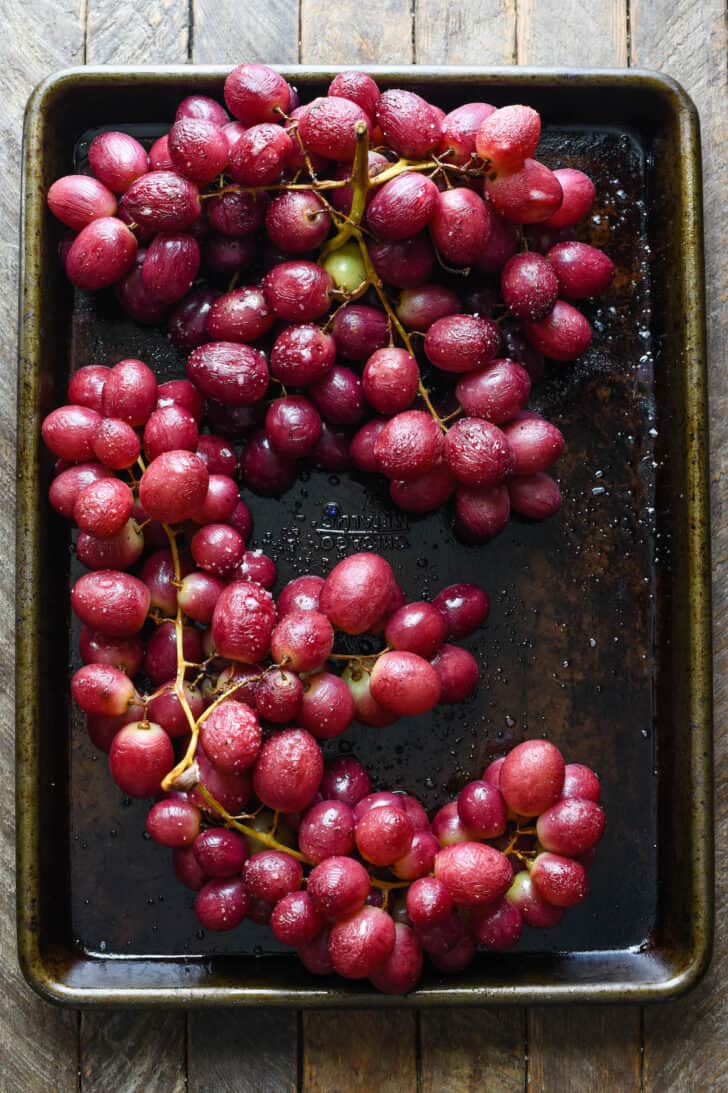 What grapes should I use for roasted grapes?
You can roast any type of grape! My personal favorite is the classic red seedless grapes that you'd also buy for lunchboxes.
I've also roasted seedless green grapes with great results (these are pretty on an Easter charcuterie board). And Concord grapes, the kind often used to make jams and jellies, are truly special when roasted. They get super jammy, of course!
This guide to 15 types of grapes showed me that there are way more types of grapes than I ever knew existed.
How to roast grapes:
Start by preheating your oven to 450 degrees F. Grab a rimmed baking pan and lightly brush it with olive oil.
Make sure your grapes are rinsed and dried, but you do NOT need to take the grapes off of their stems (although you can if you want to). Arrange the grape clusters on the pan in a single layer.
Drizzle the grapes with olive oil and sprinkle them generously with salt and pepper. Transfer them to the oven and roast about 16 to 18 minutes or until the grapes are slightly softened, and some of them have started to burst. Make yourself a grapefruit mule while you wait!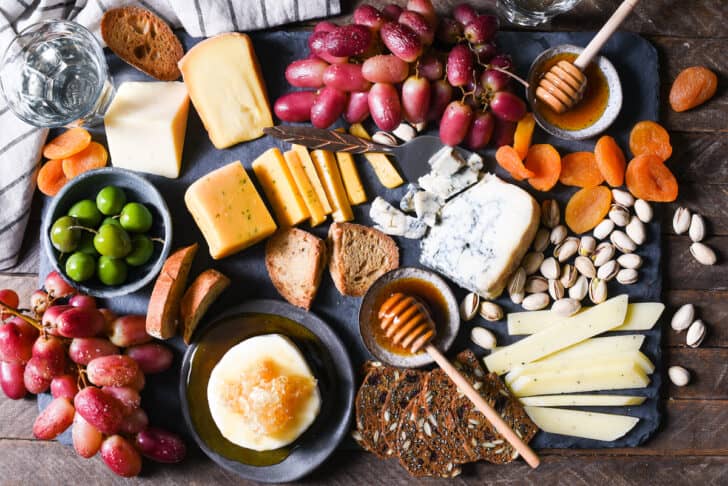 What I included in this simple cheese board with roasted grapes:
Just about any cheese or charcuterie board combination you can think of would be improved with this roasted grape recipe. Here's what I used to create the simple cheese board you see in these photos:
assorted cheeses – here I've used Gorgonzola, Cotswold, aged Gouda, goat cheese (also amazing in my cranberry appetizer), and Parmigiano Reggiano.
dried apricots – I love dried fruit on a cheese board. Dried cranberries or cherries work great, too.
honey – a small bowl of honey or a hunk of honeycomb is perfect on any board. Whip up a batch of honey lemonade while you have the honey out!
olives – similar in shape to the grapes, but a whole different flavor experience! I love their saltiness and brininess, and they're always included in my New Year's Eve food spread.
pistachios – or any nut you like best.
toasted bread and/or crackers – spread the roasted grapes onto bread or crackers for maximum enjoyment.
Besides a cheese board, what else can I use roasted grapes for?
So, it's still cheese, but the combination of roasted grapes and a savory herb like rosemary or thyme are amazing to create a sweet and savory baked brie.
But this roasted grape recipe isn't ONLY for cheese. These are also amazing served with roasted chicken and grilled pork chops (think pork chops and applesauce, but with grapes instead). I love the sweet and savory combination of the meat with the warm, juicy fruit.
Can I make them in advance?
Personally, I think roasted grapes are always going to best when made right before serving. But, if you wanted to make them a few hours in advance and leave them at room temperature until serving, that would be fine too.
I don't personally recommend making them too far in advance, refrigerating and reheating – they just get SUPER mushy that way.
Roasted Grapes
Roasted grapes are the easiest, most delicious addition to cheese and charcuterie boards, salads, pork chops and roasted chicken. Use up extra grapes (any variety) with this simple recipe.
Ingredients
3 tablespoons olive oil, divided
1-1/2 pounds grape clusters
1/2 teaspoon kosher salt
1/4 teaspoon ground black pepper
Instructions
Preheat oven to 450 degrees F. Brush rimmed baking pan with 1 tablespoon oil. Arrange grape clusters in single layer; drizzle with remaining 2 tablespoons oil and sprinkle with salt and pepper.
Transfer to oven and roast 16 to 18 minutes or until grapes are slightly softened and some grapes have started to burst.
Recommended Products
Foxes Love Lemons, LLC is a participant in the Amazon Services LLC Associates Program, an affiliate advertising program designed to provide a means for sites to earn advertising fees by advertising and links to Amazon.com. There is no additional cost to you.
Nutrition Information:
Yield:

8
Serving Size:

1
Amount Per Serving:
Calories:

104
Total Fat:

5g
Saturated Fat:

1g
Trans Fat:

0g
Unsaturated Fat:

4g
Cholesterol:

0mg
Sodium:

80mg
Carbohydrates:

15g
Fiber:

1g
Sugar:

13g
Protein:

1g
This website provides estimated nutrition information as a courtesy only. You should calculate the nutritional information with the actual ingredients used in your recipe using your preferred nutrition calculator.