Turkey Burger Salad (Ground Turkey Salad)
Looking for a ground turkey salad? This turkey burger salad with creamy sun dried tomato dressing is for you. It's a deluxe bunless burger in a bowl!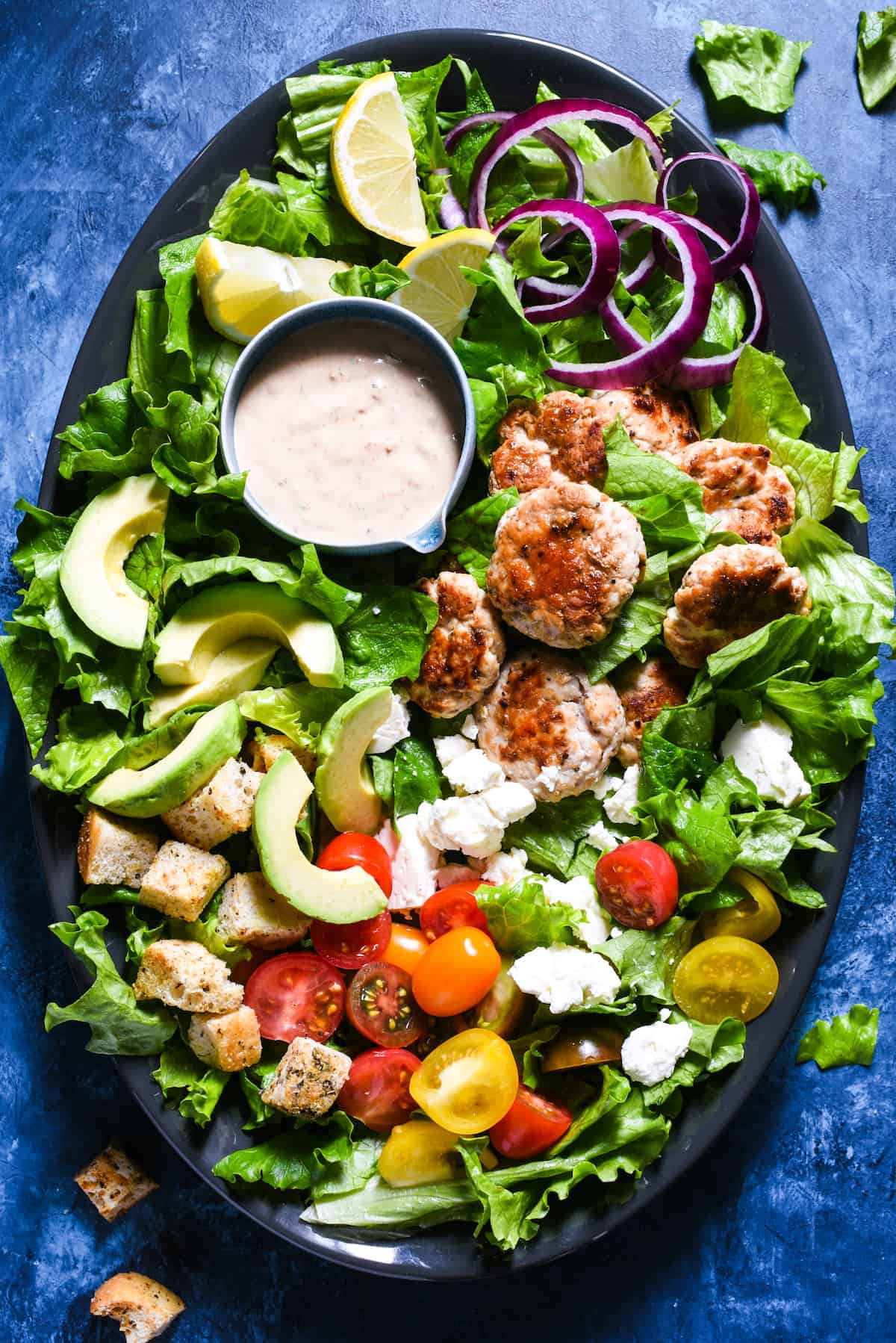 If you're like me, you're trying to plan a healthful cottage cheese breakfast, a light shrimp wonton soup for lunch, and work some afternoon exercise into your busy schedule.
But also, not beating yourself up and not expecting perfection. Right? Let's work on making good choices at dinner, too, but still have fun with it.
Ground turkey has always been a meal planning staple for me, dating back to college. I used to make Asian sloppy joes and cheeseburger pizza using turkey, for myself and my roommates.
It's a simple way to create a healthful meal, any day of the week. This turkey burger salad bowl with sun dried tomato dressing will hopefully fit right into your "realistic healthy" goals.
This ground turkey salad is like the best bunless turkey burger!
This ground turkey salad is my jazzed-up version of a healthy eating standard – the bunless turkey burger.
Honestly, isn't that just the most depressing menu item ever? It's always listed under "lighter choices" and it always sounds so, so bland (although I do enjoy my very flavorful steak lettuce wraps).
So instead of simply wrapping my turkey burgers recipe in big ol' lettuce leave and calling it a day, I wanted to turn the idea of a bunless burger into one of those meal-in-itself chopped salads that I love.
Mini burgers served over a bed of lettuce, along with some tomatoes, onions, avocado, croutons and feta cheese. What could be bland about any of that?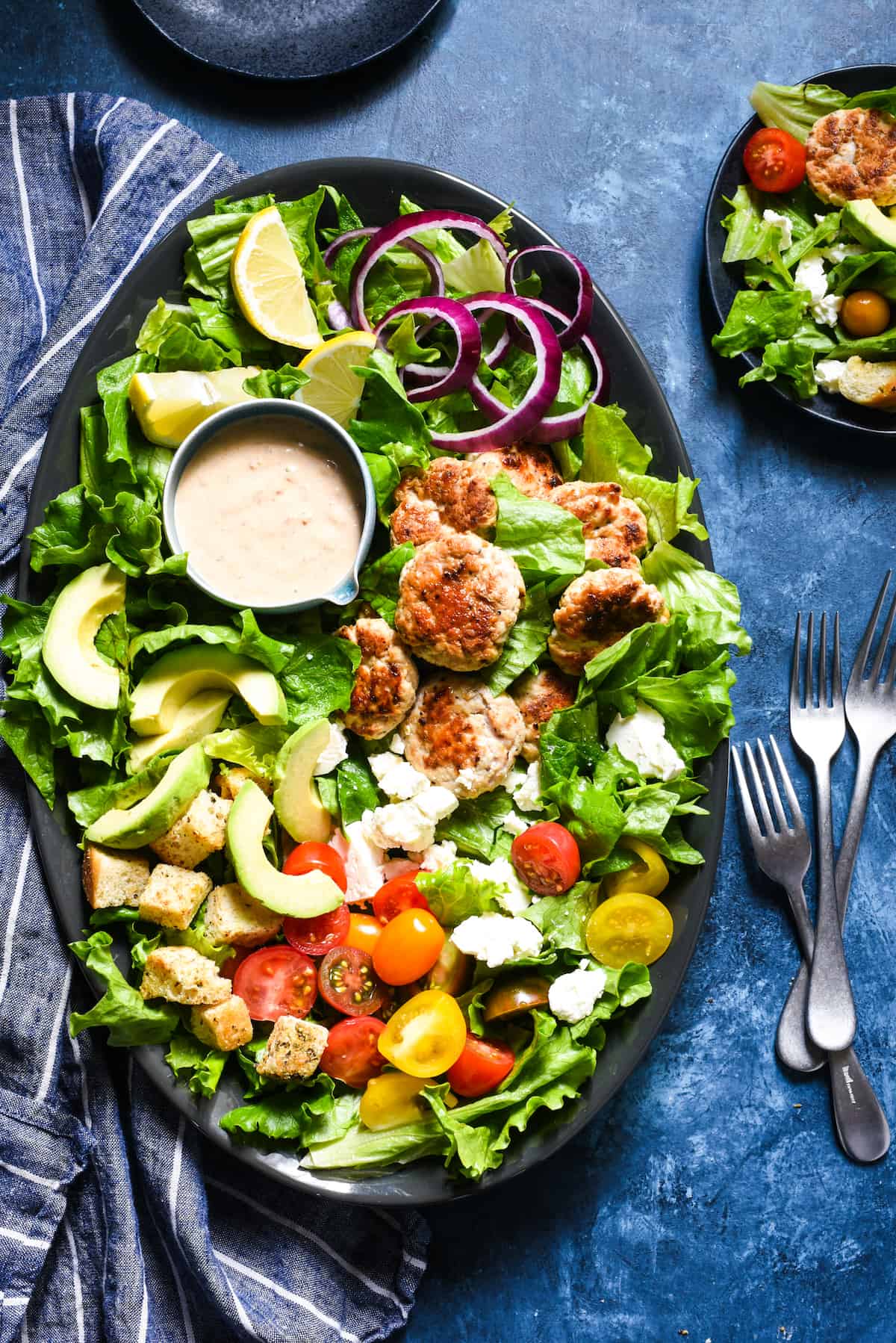 The sun dried tomato dressing is my favorite part of this burger salad.
This creamy sun dried tomato salad dressing is inspired by the sauce served with the awesome turkey burgers at one of my favorite local restaurants.
I always get it on my burger, and then get an extra side of the sauce to dip my fries in, too! Sometimes I'll even dip buttermilk chicken tenders into it!
The creaminess from the buttermilk, mayonnaise and sour cream in this dressing add a richness to the salad, and the sun dried tomatoes add a whole bunch of umami to this ground turkey salad recipe.
Use any extra buttermilk for my buttermilk chicken marinade, Black Forest cupcakes or buttermilk blueberry muffins later in the week! And as for the rest of the jar of sundried tomatoes? Try a vegetarian quiche!
Don't forget the lemon zest and juice – the acid brightens all of the flavors even more.
Heads up: if you don't have a food processor, don't sweat it. Simply chop the sun dried tomatoes very finely and stir together all of the ingredients for this sun dried tomato dressing.
But, there are other dressings you can use for this turkey salad recipe.
The ingredients in this salad pair well with a variety of different dressings. So, if sun dried tomatoes aren't up your alley, try one of the following dressings:
Or, if you're in a time crunch, I get it. Use your favorite high-quality bottled salad dressing, or simply drizzle everything with some olive oil and balsamic vinegar. Been there, done that, still delicious.
About the burgers in this turkey burger salad bowl:
I used ground turkey to make these miniature "burgers." Feel free to use whatever ground turkey you prefer for this turkey burger salad bowl, whether it is extra lean turkey breast, or a mixture of light and dark meat.
My favorite is an 85% lean mixture of light and dark ground turkey. I think this is the most flavorful type of ground turkey for a bunless turkey burger, and I also use it for my air fryer turkey meatballs.
I seasoned these little burgers with steak seasoning (you could also use a little pork rib rub), and then seared them in a hot skillet. Be sure not to crowd the skillet, so they have plenty of room to brown, rather than steam.
I finished them off in the oven to make sure they reached 165 degrees F, the minimum temperature for food safety recommended by the USDA.
You can also cook the mini burgers in an air fryer!
In an air fryer set at 400 degrees F, these little turkey burgers should take about 10 minutes. This may vary slightly based on your model of air fryer, how spaced out the burgers are in the basket, etc.
Try air frying them for about 10 minutes, turning once, and then use an instant read thermometer to check that they've reached an internal temperature of 165 degrees F.
More great hearty salads:
Side salads of mixed greens are fine, but when I'm eating a salad for dinner, I like it to be fully loaded, like these hearty salads below.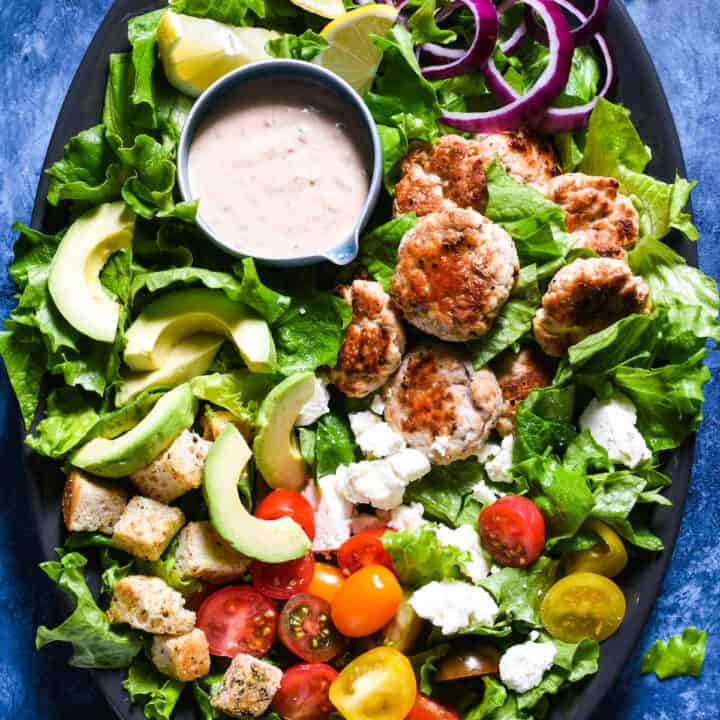 Turkey Burger Salad (Ground Turkey Salad)
Looking for a ground turkey salad? This turkey burger salad with creamy sun dried tomato dressing is for you. It's a deluxe bunless burger in a bowl!
Ingredients
For the Sun Dried Tomato Dressing:
5 tablespoons buttermilk
1/4 cup mayonnaise
2 tablespoons drained sun dried tomatoes in oil
2 tablespoons sour cream
1 tablespoon fresh lemon juice
2 teaspoon chopped chives
1 teaspoon minced garlic
1/2 teaspoon grated lemon zest
For the Turkey Burger Salad
1 pound ground turkey
1 tablespoon Montreal steak seasoning
1 tablespoon olive oil
1 large head green leaf lettuce, torn into bite-sized pieces
1 avocado, peeled, pitted and sliced
3/4 cup grape or cherry tomatoes, halved if large
1/2 cup croutons
1/2 cup crumbled feta cheese
1/2 cup sliced red onion
Instructions
Make the Sun Dried Tomato Dressing: In food processor, blend buttermilk, mayonnaise, sun dried tomatoes, sour cream, lemon juice, chives, garlic and lemon zest until smooth.
Make the Turkey Burger Salad: Preheat oven to 350 degrees F. In medium bowl (or just using container turkey comes in), sprinkle turkey with steak seasoning and mix with hands until well combined. Form turkey into golf ball-sized meatballs, then flatten into patties. Place on plate.
Heat oil in large nonstick skillet over medium heat. In batches if necessary, cook turkey patties 3 minutes per side or until golden brown.
Transfer patties to rimmed baking pan and transfer to oven. Bake 4 to 6 minutes or until internal temperature of patties reaches 165 degrees F.
Arrange lettuce on large platter. Top with avocado, grape tomatoes, croutons, cheese, onion, and turkey patties. Serve with Sun Dried Tomato Dressing.
Recommended Products
Foxes Love Lemons, LLC is a participant in the Amazon Services LLC Associates Program, an affiliate advertising program designed to provide a means for sites to earn advertising fees by advertising and links to Amazon.com. There is no additional cost to you.
Nutrition Information:
Yield:

4
Serving Size:

1
Amount Per Serving:
Calories:

638
Total Fat:

48g
Saturated Fat:

12g
Trans Fat:

0g
Unsaturated Fat:

32g
Cholesterol:

148mg
Sodium:

827mg
Carbohydrates:

20g
Fiber:

5g
Sugar:

9g
Protein:

35g