Turkey Burgers Recipe
Indulge in the ultimate Turkey Burger experience by seasoning your ground turkey with four simple ingredients. These juicy burgers will satisfy your cravings!
This is the Best Turkey Burger Recipe!
A great turkey burger has been one of my most requested recipes, and after experimenting and perfecting this recipe for YEARS, I'm finally ready to publish it. It's perfect!
Ground turkey can often be seen as a bland, boring, sometimes dry alternative to ground beef, that only super healthy eaters love.
Yes and no. If you simply make patties out of plain ground turkey and don't season it, your burgers WILL be bland and dry.
But we're not gonna do that. We're going to add four simple ingredients that make these turkey burgers juicy and flavorful.
Why you will love this Turkey Burger
Can be customized with a variety of toppings, or even made into a salad or bowl.
From fridge to plate, these burgers can be ready in about 20 minutes.
An alternative to beef that doesn't skimp on flavor.
Turkey Burger Recipe ingredients
ground turkey – you'll need 1-1/3 pounds ground turkey for this recipe, which seems to be a common package size at grocery stores. You can use lean ground turkey breast, or a mix of light and dark meat.
mayonnaise – yes, it does add some fat to the burgers, but that's a good thing. It adds an incredible amount of moisture and ensures the burgers remain juicy. And it's only 3 tablespoons of mayonnaise for 4 burgers, so it's not really a ton of added fat, either.
Worcestershire sauce – this enhances the taste of the burgers by adding a savory and tangy umami flavor. Our taste buds often associate Worcestershire sauce with beef, so it makes sense to add it to any type of burger!
salt and pepper – seasoning is absolutely essential for the best turkey burger recipe. Don't skip it!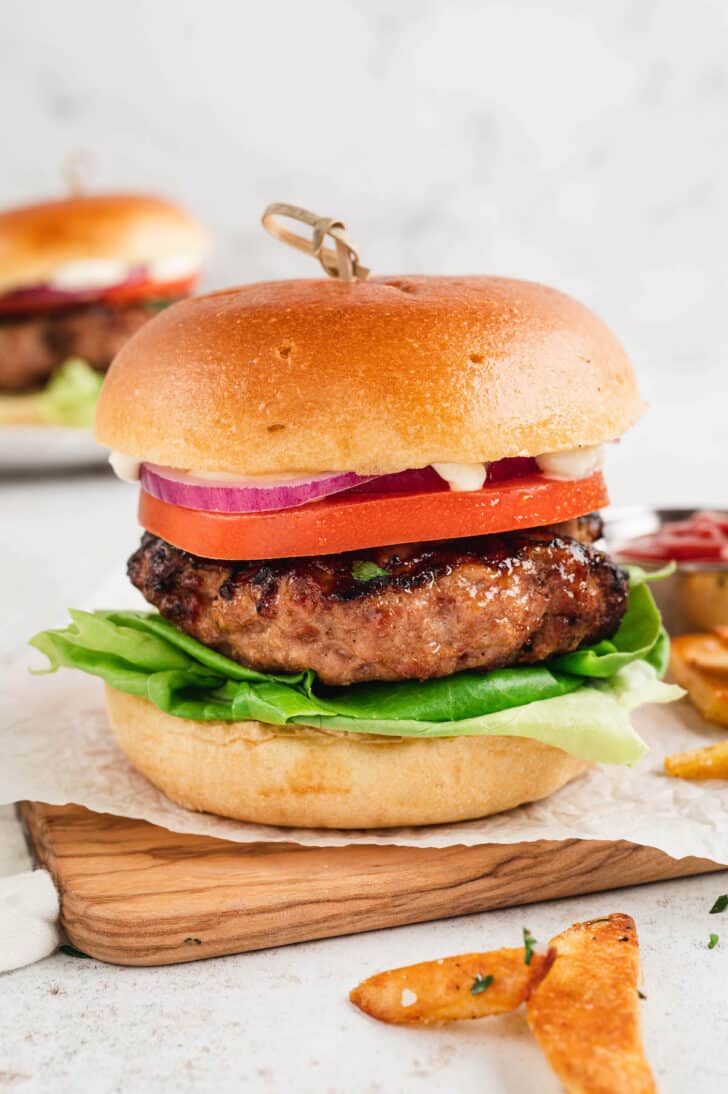 Best Turkey Burger variations
MAKE IT SPICY – Add a few dashes of hot sauce to the meat mixture, and top the burger with things like chipotle mayo or pickled jalapenos.
GOURMET TOPPINGS – You can go with the classics like lettuce and red onion, or switch it up with interesting condiments and toppings like my grilled turkey burger recipe that also includes blistered tomatoes and pesto ranch sauce.
TURN IT INTO A BURGER SALAD – see my burger salad post for inspiration on how to turn a turkey burger into a great entree salad.
How to make Turkey Burgers
Preheat your grill for medium-high heat.
Use your hands to mix the ground turkey with the mayonnaise, Worcestershire sauce and salt and pepper.
Form the meat mixture into four patties.
Grill the burgers for 10 to 12 minutes or until their internal temperature reaches 165 degrees F.
Serve them however you like!
How to season turkey burgers
The most important part of seasoning turkey burgers is simply salt and pepper, and making sure you have enough of it.
1-1/2 teaspoons of kosher salt seems like a lot, but it is necessary to give the meat great flavor. Don't skimp on it!
How long to cook turkey burgers
Over direct medium-high heat on a outdoor grill, turkey burgers should take about 10 to 12 minutes to reach a safe internal temperature of 165 degrees F, but all grills vary a little bit.
Turkey burger temp when done
The safe internal temperature for any dish made with ground turkey is 165 degrees F (74 degrees C).
Home Chef Tips for the Best Turkey Burger
Avoid overmixing the the ingredients as you are combining the meat and seasonings and forming the patties. Overmixing means a tough burger. Do your best to use a light touch.
Invest in an instant read thermometer. The quickest way to make a DRY turkey burger is to overcook it, so you want to be sure to cook your burgers until they reach 165 degrees F but no higher. An instant read thermometer is a crucial kitchen tool that will allow you to check the precise temperature.
How to serve this Turkey Burgers Recipe
I love this turkey burger recipe next to some really simple, really great spicy potato chips, with an ice cold lemon shandy to wash everything down.
Cold summer side dishes like dill pickle pasta salad and bacon potato salad are also yummy choices.
Best Turkey Burger toppings
Anything you love on a beef burger can go on a turkey burger. Some of my favorites are fresh lettuce, ripe tomato slices, crisp rings of red onion, and condiments like ketchup, mustard and mayonnaise. I also love avocado like I have on my avocado burger.
Turkey Burger Recipe storage
If you have any leftover turkey burgers, store them in an airtight container in the refrigerator for up to 3 days. Reheat in the oven or in a skillet until warmed through.
Turkey Burger FAQs
What keeps turkey burgers from falling apart?
The addition of a bit of moisture, like mayonnaise and Worcestershire sauce, as well as handling the mixture gently when forming patties, will help prevent your turkey burgers from falling apart.
How to add flavor to ground turkey?
You can add various seasonings and mix-ins to add flavor, even above and beyond the recipe below. Feel free to add a bit of minced garlic or onion, fresh herbs, spices or even grated cheese to the turkey mixture to infuse it with even more flavor.
Are turkey burgers healthier than beef?
"Healthy" looks different to everybody, but ground turkey is generally lower in saturated fat than beef.
More Foxes Love Lemons Favorites
Turkey Burger
Indulge in the ultimate Turkey Burger experience by seasoning your ground turkey with four simple ingredients. These juicy burgers will satisfy your cravings!
Ingredients
3 tablespoons mayonnaise
4 teaspoons Worcestershire sauce
1-1/2 teaspoons kosher salt
1/2 teaspoon ground black pepper
1-1/3 pounds ground turkey
Instructions
Preheat outdoor grill for direct grilling over medium-high heat. In medium bowl, whisk mayonnaise, Worcestershire, salt and pepper until smooth. Add turkey to bowl. Using hands, mix until well combined. Form mixture into four patties, being careful not to overwork the meat.
Place burgers on hot grill. Cook 10 to 12 minutes or until internal temperature reaches 165 degrees F, turning once.
Serve burgers on buns, topped with desired condiments.
Recommended Products
Foxes Love Lemons, LLC is a participant in the Amazon Services LLC Associates Program, an affiliate advertising program designed to provide a means for sites to earn advertising fees by advertising and links to Amazon.com. There is no additional cost to you.
Nutrition Information:
Yield:

4
Serving Size:

1
Amount Per Serving:
Calories:

303
Total Fat:

12g
Saturated Fat:

2g
Trans Fat:

0g
Unsaturated Fat:

9g
Cholesterol:

111mg
Sodium:

685mg
Carbohydrates:

1g
Fiber:

0g
Sugar:

1g
Protein:

48g
This website provides estimated nutrition information as a courtesy only. Nutrition information does not include any optional ingredients or toppings. You should calculate the nutrition information with the actual ingredients used in your recipe using your preferred nutrition calculator.