Blistered Shishito Peppers & Dipping Sauce
Blistered Shishito Peppers and Dipping Sauce are a summer treat that can be served as a snack or side dish. Stir up the sweet, sour, salty and savory condiment in just a minute.
One of my favorite things to grow in my garden is shishito peppers. I buy seedlings from a garden center for just $2 or $3 each, and plant them in pots on my deck.
Just like jalapeno plants (which I always turn into pickled jalapenos for lamb tacos), they need very little care other than plenty of sun and watering.
These easy plants are prolific once they start getting going. Usually by mid-July, we can harvest peppers from them every few days.
These mild peppers are one of my daughter's favorite foods, so the more we can get, the better!
Sometimes we'll have so many peppers that we'll include them in a batch of fajita veggies and serve them with my shrimp fajitas recipe.
But most of the time, we simply blister them in a pan and sprinkle them with salt. We'll often eat them just like that, but occasionally we'll make this shishito peppers dipping sauce.
With flavors inspired by nuoc cham (a Vietnamese condiment), this creamy dipping sauce for shishito peppers is sweet, sour, salty and savory.
What are shishito peppers?
Shishito peppers are long, about finger-length peppers that have a thin skin. They originated in Japan but, like Brussels sprouts, they have become popular on restaurant menus in the United States in the last decade.
Shishitos are usually harvested when green for a savory snack that blisters or roasts quickly. Most shishitos are mild, but it's been said that about 1 in every 10 to 20 shishito peppers is spicy.
Personally, I've eaten hundreds (maybe thousands) of these peppers and have never had one that was spicy enough to burn my mouth (nowhere near as hot as my spicy coconut risotto).
My 3-year-old daughter has also eaten hundreds of shishito peppers!
To eat, simply grab a pepper by the stem, pop the pepper portion into your mouth and bite it off, and then discard the stem.
How to make blistered shishito peppers:
Start by heating a tablespoon of vegetable oil in a cast iron skillet. When it's nice and hot, add the peppers. Let them cook for 3 minutes, and don't stir them during this time!
Just like with my vegetarian fajitas and lamb lollipops, sometimes less stirring and flipping is critical to achieve a nice brownness. After 3 minutes, stir the peppers once and let them cook another 2 minutes without disturbing them during that time.
Once the peppers are browned and blistered on all sides, remove them from the heat, sprinkle them with salt (preferably flaky sea salt like Maldon), grab your shishito peppers dipping sauce, and they're done!
What kind of skillet should I use to blister shishito peppers?
If you have a cast iron skillet, making blistered shishito peppers is absolutely the time to break it out (I also recommend orange glazed chicken in cast iron). The even, intense heat that cast iron provides blisters the peppers so, so well.
If you're new to cast iron cooking, be sure to brush up on how to clean and care for cast iron cookware after you're done blistering the shishitos.
But if you don't have cast iron, no worries at all. A large, heavy stainless steel skillet will also work quite well for blistering shishito peppers (and making Dr. Pepper baked beans).
One quick but important tip about blistering shishito peppers:
Just like I found out with my blistered tomatoes, it turns out that blistering shishito peppers on the stove can sometimes get a little smoky, too
If you don't want to hear your smoke detector beeping at you, I recommend opening a kitchen window before you begin blistering the peppers.
Or better yet, if your grill has a side burner on it, cook the blistered shishito peppers outside (and make some grilled buttermilk chicken or Sonoran hot dogs while you're out there)!
What you'll need to make shishito peppers dipping sauce:
mayonnaise – a good quality mayonnaise like Hellman's or Duke's is best here!
lime juice – skip the bottled stuff, please. You only need 2 teaspoons for shishito pepper sauce, so one fresh lime will do the trick.
sesame oil – I love the nutty flavor that toasted sesame oil brings to this shishito peppers dipping sauce. It's also key for my miso ginger dressing.
fish sauce – don't worry, the finished sauce won't taste fishy. Fish sauce just adds an epic amount of umami to any recipe it's used in (including shrimp wonton soup). Red Boat is my preferred brand.
honey – this will add a little sweetness to the sauce, and balance out the heat of the red pepper flakes.
garlic – because what isn't better with a little garlic, really? Garlic lovers – don't miss my roasted garlic spread!
red pepper flakes – I use just 1/4 teaspoon for a little kick of heat for my dipping sauce for shishito peppers, but feel free to use more if you'd like a spicier sauce.
Why this is the best dipping sauce for shishito peppers:
It's really all about the balance of flavors in this shishito peppers dipping sauce. It's tangy, creamy, nutty, salty, sweet, spicy and savory all at once!
Not only is it the best dipping sauce for shishito peppers, but it's the best dipping sauce for just about ANY roasted, grilled or sauteed vegetable. Once you have a few bites, you'll see why it's irresistible!
Can I make this shishito peppers dipping sauce in advance?
This shishito peppers dipping sauce can be made and stored in a covered container in the fridge for up to 3 days. In fact, just like with lasagna with cottage cheese and vegetable lasagna, I think the flavor actually improves if it's made in advance and refrigerated.
Blistered shishito peppers are best eaten immediately after they are cooked, so make those fresh!
More recipes using fresh summer produce:
If you're a gardener or just love farmer's markets in the summer, the recipes below might be perfect for your next meal plan.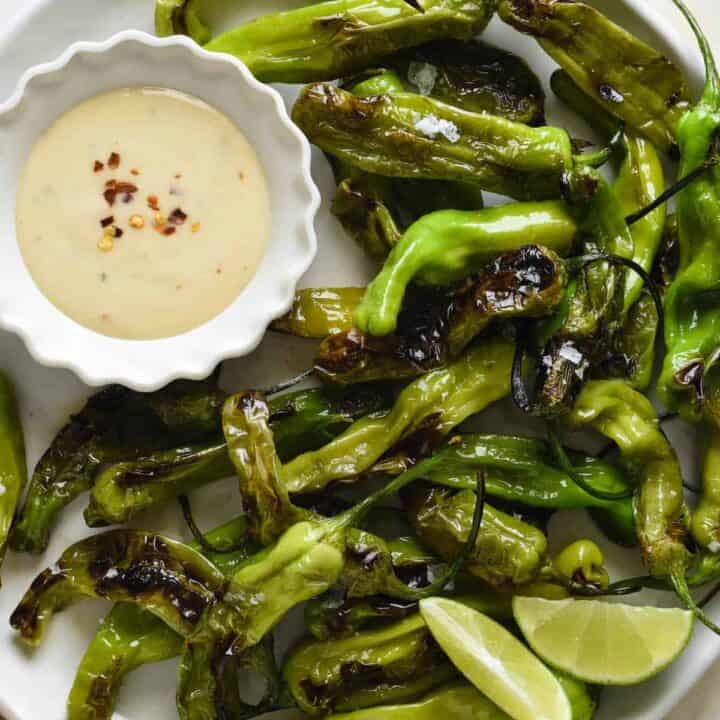 Shishito Peppers Dipping Sauce
Blistered Shishito Peppers and Dipping Sauce are a summer treat that can be served as a snack or side dish. Stir up the sweet, sour, salty and savory condiment in just a minute.
Ingredients
1 garlic clove, minced
1/2 cup mayonnaise
2 teaspoons fish sauce
2 teaspoons fresh lime juice
2 teaspoons toasted sesame oil
1 teaspoon honey
1/4 teaspoon red pepper flakes
1 tablespoon vegetable oil
12 ounces shishito peppers
1 teaspoon flaky sea salt
Instructions
In medium bowl, whisk garlic, mayonnaise, fish sauce, lime juice, sesame oil, honey and red pepper flakes until smooth.
Heat vegetable oil in large cast iron or other heavy skillet over medium-high heat. Add peppers and allow them to cook, undisturbed, for 3 minutes or until they start to blister.
Stir once and allow to cook, undisturbed, for 2 more minutes or until blistered on all sides.
Remove peppers from heat and sprinkle with salt. Serve immediately with dipping sauce.
Recommended Products
Foxes Love Lemons, LLC is a participant in the Amazon Services LLC Associates Program, an affiliate advertising program designed to provide a means for sites to earn advertising fees by advertising and links to Amazon.com. There is no additional cost to you.
Nutrition Information:
Yield:

4
Serving Size:

1
Amount Per Serving:
Calories:

273
Total Fat:

27g
Saturated Fat:

4g
Trans Fat:

0g
Unsaturated Fat:

22g
Cholesterol:

12mg
Sodium:

948mg
Carbohydrates:

8g
Fiber:

3g
Sugar:

5g
Protein:

2g
This website provides estimated nutrition information as a courtesy only. You should calculate the nutritional information with the actual ingredients used in your recipe using your preferred nutrition calculator.