Colcannon Soup (Cabbage Potato Soup)
Inspired by a traditional Irish dish, Colcannon Soup is a comforting potato and cabbage soup that's hearty enough to eat as a meal.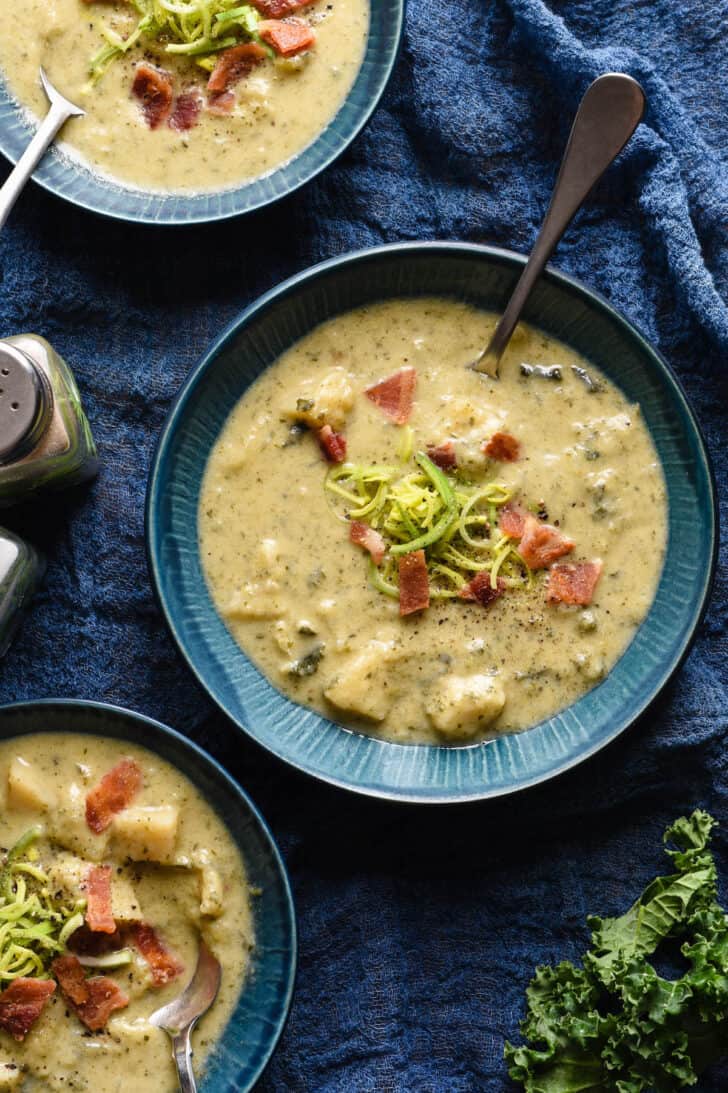 When you've been blogging for as long as I have (10 years, if you remember from my lemon curd cake post!), it's easy to think you have just about every recipe possible in your archive.
But one thing that I very much come up short on is Irish-inspired recipes for St. Patrick's Day, other than my mini shepherds pies and Baileys brownies.
But watching The Banshees of Inisherin apparently has me inspired, so I have a few new ones planned for this year, including corned beef egg rolls, and this Colcannon Soup recipe.
This soup is inspired by a traditional Irish dish that I was lucky enough to taste while working as a food stylist years ago. The combination of potatoes and cabbage may seem a little boring, but I can promise you that the flavor of the finished cabbage potato soup is anything but!
What is colcannon?
Colannon is a traditional Irish dish made from a combination of mashed potatoes and cabbage (or sometimes kale).
It most commonly contains only four ingredients: potatoes, milk, butter and cabbage or kale. However, some regional or family recipes will include scallions, leeks, chives or onions.
This staple side dish is a budget-friendly year-round food, and it goes great with corned beef.
When I was working on a photo shoot set years ago, one of the recipes we were shooting was a traditional colcannon.
Just from the description of it, I wasn't super excited, but when I snuck a few bites of it after the shoot, I was amazed at how tasty it was! It reminds me of my balsamic green beans, where simple ingredients come together to just really impress you.
My colcannon soup recipe thins the dish into a rich and creamy potato-based soup, seasoned to perfection. This cabbage potato soup can be eaten as an entree or alongside a corned beef sandwich!
What you'll need for this colcannon soup recipe:
potatoes – colannon is sometimes made with yellow potatoes, but I think russet potatoes work best for soup, including my curry potato soup, and mashed potatoes like blue cheese mashed potatoes. But, if you have baby potatoes on hand after making mini Hasselback potatoes, they'll be just fine here.
cabbage and/or kale – you'll need 4 cups (packed) total cabbage and/or kale for this soup. I like to use a combination, but then you'll likely have leftovers of either one. Extra cabbage can be used on top of lamb tacos and I love kale in shrimp wonton soup as well. Or, you can simply use one or the other for your Irish colcannon soup.
leeks – I love the subtle onion flavor that leeks add, and they make a pretty garnish, too. Also so good in my acini de pepe recipe.
olive oil and butter – I like to use a combination of the two for best flavor in this cabbage potato soup, but all one or the other would also be fine.
chicken stock – you will need a 1 quart container of chicken stock for this soup. Broth would also be OK, but won't be quite as flavorful.
thyme sprigs – I like to use a couple of fresh thyme sprigs (and I happened to have some left over after making salmon piccata and baked sockeye salmon). I throw them in whole and then fish them out and discard them when the soup is done simmering. You could also use a pinch of dried thyme (no need to fish it out, obviously).
bay leaf – because we all put bay leaves in all our soups because . . . we just do.
half and half – I finish my cabbage and potato soup with a little bit of half and half to make it nice and creamy. You can also use whole milk (less creamy) or heavy cream (more creamy).
lemon juice – I often season my soups with a splash of fresh lemon juice. It adds a bright, acidic note, and is especially welcome in heavier, creamier soups like this one.
salt – it's super important to add the salt at the same time you add the potatoes to the potato cabbage soup so that the potatoes will be seasoned as they cook. Otherwise, they'll be bland!
ground white pepper – I love the earthy flavor of white pepper paired with potatoes, and I'll often season my Greek yogurt mashed potatoes and mashed potatoes cakes with it, as well. If you don't have white pepper, an equal amount of ground black pepper is great.
nutmeg – just a pinch of ground nutmeg is a trick I learned in culinary school for seasoning mashed potatoes, and it works for potato soups too!
bacon – this is totally optional, but I love crispy, salty bacon as a garnish to just about any potato soup, this one included! I just make bacon in the oven or turkey bacon in the oven and use that! Save your bacon grease to make my bacon gravy recipe if you're so inclined.
Can I make vegetarian colcannon soup?
Sure, just like my savory steel cut oats, it's super easy to make this colcannon soup recipe vegetarian! Just change the chicken stock to vegetable stock or broth, and of course, omit the bacon garnish on this cabbage and potato soup.
What to serve with Irish colcannon soup:
Soup and sandwich is a classic combination for a reason. A batch of ham and turkey sliders would go perfectly with a pot of Irish colcannon soup. Or, try a salmon sandwich.
If a salad is more your speed next to a bowl of soup, I recommend my Spring salad or a hearty roasted radicchio wedge salad next to this cabbage potato soup.
More Foxes Love Lemons Favorites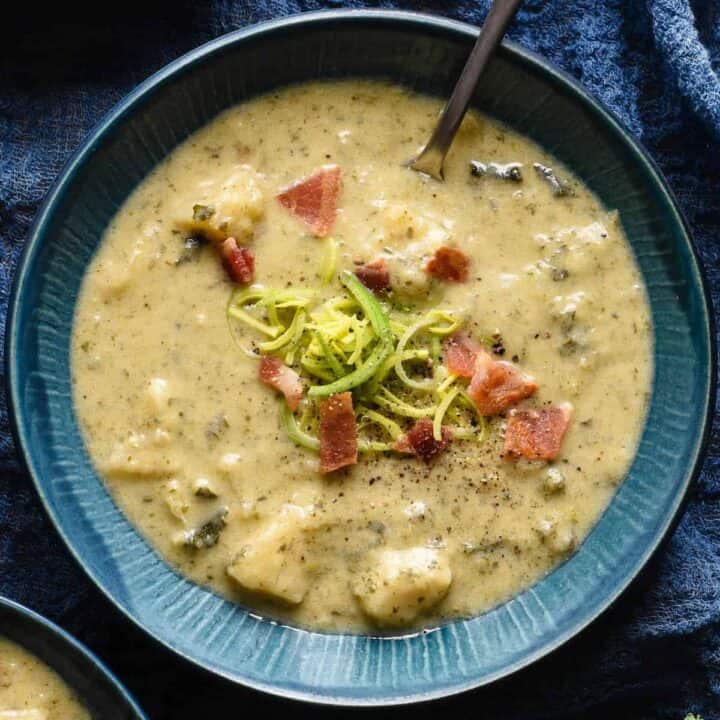 Colcannon Soup
Yield:
4 (main dish) servings
Inspired by a traditional Irish dish, Colcannon Soup is a comforting potato and cabbage soup that's hearty enough to eat as a meal.
Ingredients
2 tablespoons olive oil
2 tablespoons unsalted butter
4 cups total (packed) finely chopped green cabbage and/or kale
1 cup thinly sliced leeks, white and light green parts only (about 3-4 small leeks), plus additional for garnish (optional)
1-1/2 pounds Russet potatoes, peeled and cut into 3/4-inch cubes (about 4 cups)
2 thyme sprigs
1 bay leaf
4 cups chicken stock
2 teaspoons kosher salt
1/2 cup half and half
2 teaspoons fresh lemon juice
1/4 teaspoon ground white pepper
Pinch ground nutmeg
4 slices oven baked bacon, crumbled, for garnish (optional)
Instructions
Heat oil and butter in large pot over medium heat. Add cabbage and/or kale, and leeks, to pot and stir until well combined. Cover pot and cook 8 to 10 minutes or until greens are tender, stirring occasionally.
Stir in potatoes, thyme sprigs, bay leaf, stock and salt. Heat to boiling over medium-high heat, then reduce heat to medium-low, cover and cook 14 to 16 minutes or until potatoes are very tender. Remove thyme sprigs and bay leaf and discard.
If desired, remove from heat and use an immersion blender to puree some of the soup while still leaving a lot of it chunky (you can also do this by transferring about half of the soup to a blender or food processor).
Return soup to medium-low heat and stir in half and half, lemon juice, pepper and nutmeg. Serve immediately, garnished with bacon and sliced leeks, if desired.
Recommended Products
Foxes Love Lemons, LLC is a participant in the Amazon Services LLC Associates Program, an affiliate advertising program designed to provide a means for sites to earn advertising fees by advertising and links to Amazon.com. There is no additional cost to you.
Nutrition Information:
Yield:

4
Serving Size:

1
Amount Per Serving:
Calories:

442
Total Fat:

19g
Saturated Fat:

7g
Trans Fat:

0g
Unsaturated Fat:

11g
Cholesterol:

33mg
Sodium:

1031mg
Carbohydrates:

57g
Fiber:

7g
Sugar:

12g
Protein:

14g
Nutritional information does not include optional garnishes. This website provides estimated nutrition information as a courtesy only. You should calculate the nutritional information with the actual ingredients used in your recipe using your preferred nutrition calculator.