Everything Bagel Cottage Cheese Power Bowls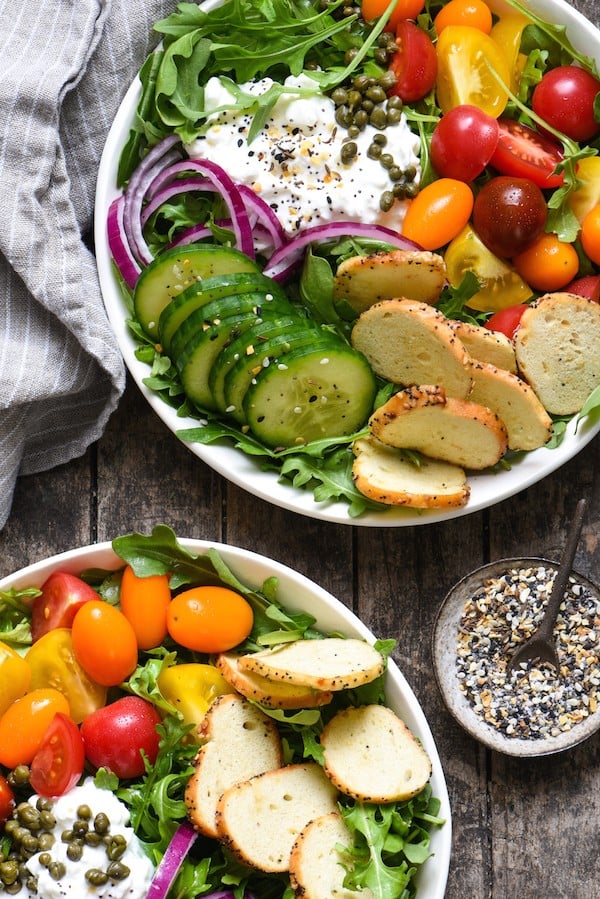 You guys, I'll get to the recipe in a hot second, but let's just take a moment to process what's going on under the bowls.
I think I'm developing a reputation in the city-wide Facebook buy/sell/trade group I'm in as that woman that keeps buying rickety old tables.
This isn't the first rickety old table I've purchased, but it's the best. It's actually more of a rolling cart than a table, really – you can see the full thing on Instagram.
The previous owners had found it at an antique store. They didn't know much history about it other than that it's about one hundred years old, and was used in a factory at some point.
It didn't fit in with the current decorating scheme of their home, so I basically (safely) sped my car over to their house, cash in hand, loaded it lovingly into my trunk, and brought it home to be with it's new family.
It's dirty and rustic and weathered and I'm in love.
So, what's that on top of my new forever love? The most epic Everything Bagel Cottage Cheese Power Bowls.
February is National Lactose Intolerance Awareness Month, and through my partnership with Milk Means More, I'm bringing you another recipe that showcase how dairy can still fit into a well-rounded meal plan, even for those who have issues digesting milk sugar.
My very favorite recipe to use cottage cheese for is my mom's lasagna made with cottage cheese, followed by my savory cottage cheese breakfast bowls, because it's a very versatile ingredient. It can even be used to make a sweetened, whipped fruit dip for Easter fruit salad.
Lactose-free cottage cheese is pretty easy to find in any major grocery store, and it's a big part of the "power" of this power bowl.
The rest of the goodness is made up of arugula, grape tomatoes, cucumber, red onion, capers (see also: lemon caper pasta), bagel chips and homemade everything bagel seasoning.
This bowl will power you through a long afternoon!
Everything Bagel Cottage Cheese Power Bowls
Ingredients
4 cups arugula
1 cup cottage cheese
1 cup grape tomatoes, halved or quartered if large
1 cup sliced cucumber
1/2 cup thinly sliced red onion
2 tablespoons capers
2 ounces everything-flavored bagel chips
1 tablespoon Everything Bagel Seasoning
Instructions
Divide arugula between two salad bowls or plates. Top with cottage cheese, tomatoes, cucumber, onion, capers and bagel chips. Sprinkle with seasoning and serve.
Notes
Home Chef Tip: Is the flavor of raw red onions too strong for you? Soak chopped onion in ice water for 5 minutes, then drain and serve. The cold water will temper the "bite" of the onion.
Disclosure: As a Milk Means More Ambassador, this post was sponsored by The United Dairy Industry of Michigan. Posts like this help me pay for the costs associated with this blog (groceries … lots of groceries), and help support me as I pursue a career in recipe development and food photography. All opinions are 100% my own.