Everything But The Bagel Seasoning Recipe
Make your own Everything Bagel Seasoning for less than half the price of pre-mixed seasoning from the store. Sprinkle on salads, veggies, eggs, cottage cheese . . . everything!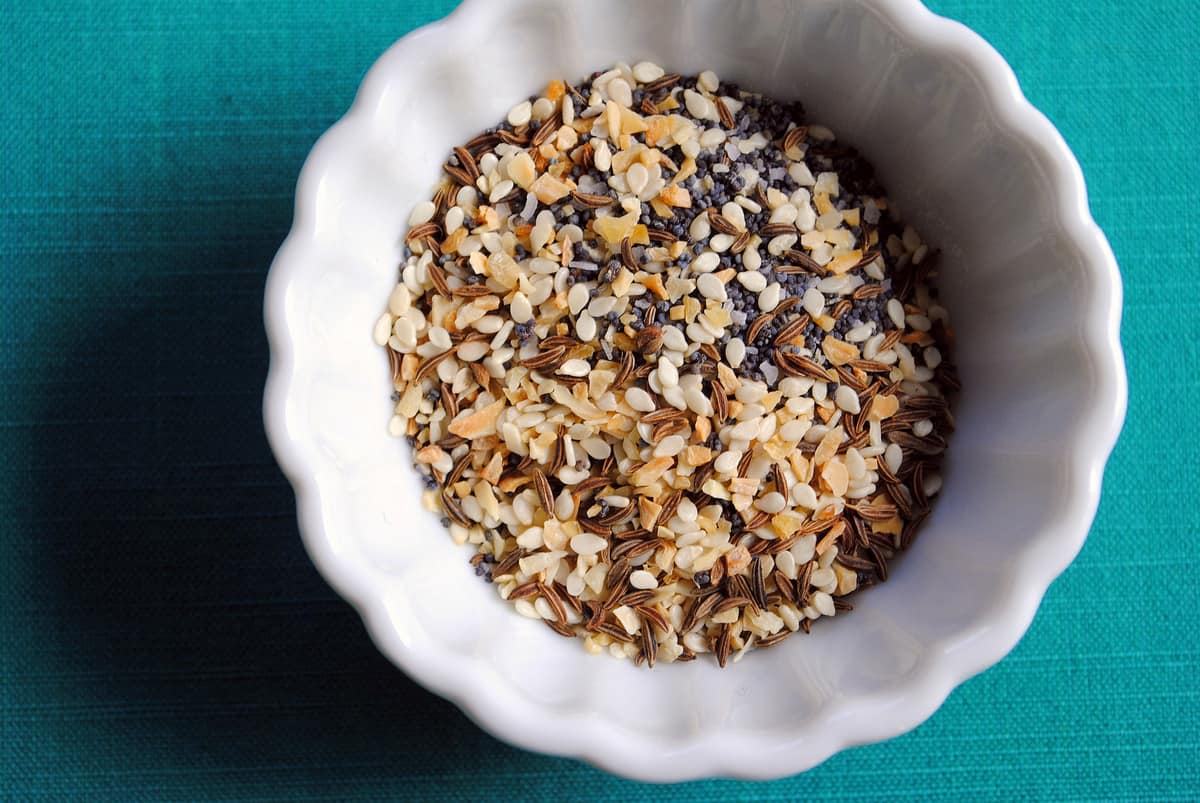 This Homemade Everything Bagel Seasoning is….everything!
If there's one thing that is an absolute constant in my kitchen (beyond the usuals like butter, flour, lemons, etc.) it would be everything bagel seasoning, AKA the seasoning mix that bagel shops use to top their "everything" bagels.
I have been obsessed with this stuff since 2013 – long before grocery stores sold it pre-mixed (sometimes called "Everything BUT The Bagel") and it started showing up on restaurant menus everywhere.
I started making it at home because I had a wicked bagel craving just about every morning when I was in culinary school (and I love making homemade seasonings, like my bbq seasoning for chips).
My classes would often start at 5 or 6 am, and by the time I got out of class late morning, a bagel always sounded good.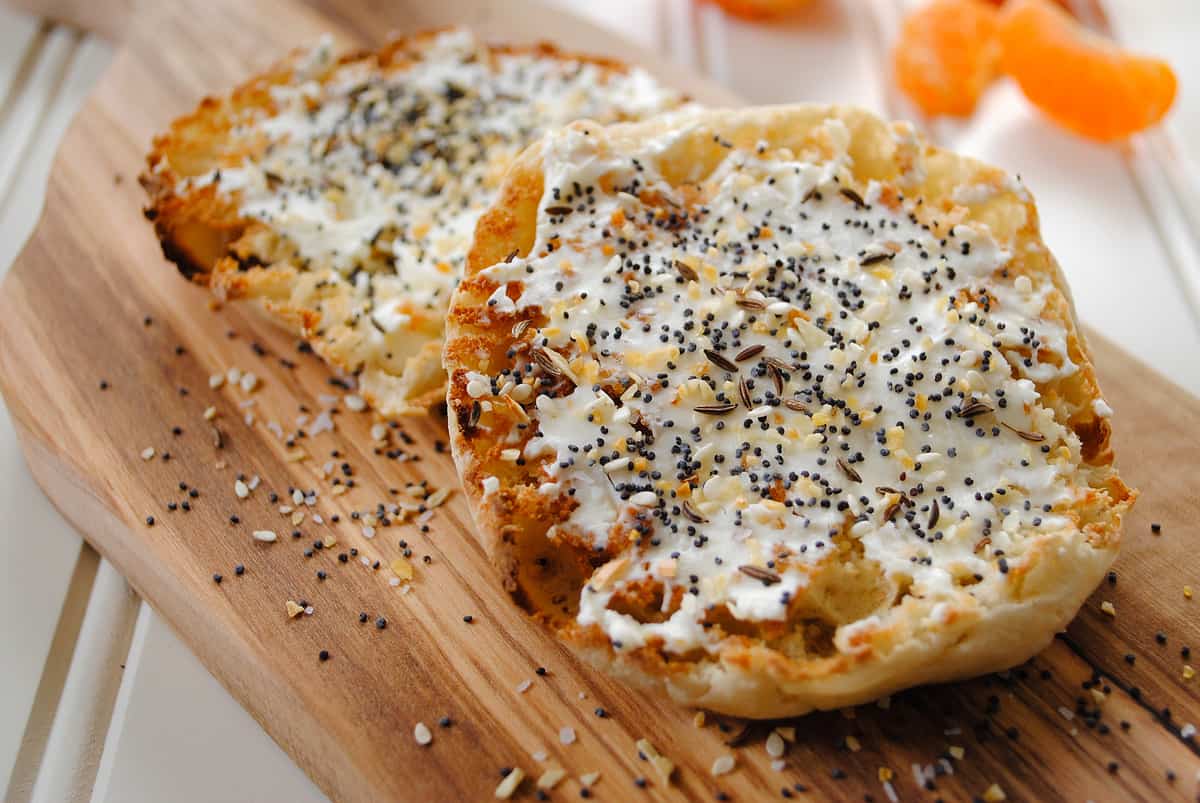 But since everything bagels aren't exactly known for their low calorie status, I wanted an alternative that was a little more waistline friendly.
That's when I invented the Everything Bagel English Muffin using homemade everything bagel seasoning.
While many, MANY recipes that include everything bagel seasoning have shown up on this website in the six years since I published that english muffin idea, I wanted to create an easy-to-bookmark post dedicated to just the spice/seed mix itself. So here we are.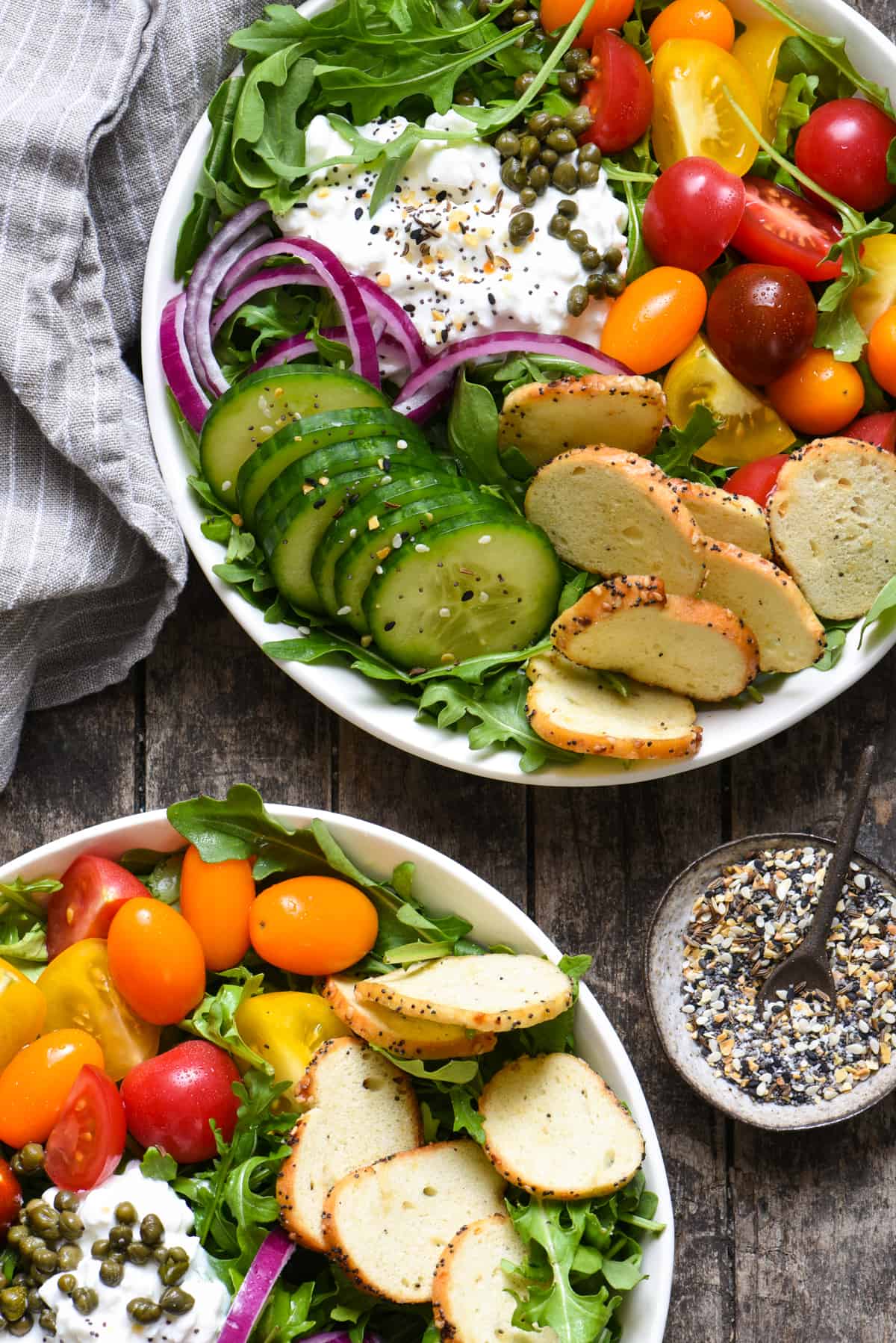 Why I love this Everything Seasoning Recipe
I choose to make my own for a few reasons:
I can control what goes in it! If I want to use all organic seeds and spices, I can. If I'm trying to cut back on salt, I can lessen or eliminate the salt in my mix. Additionally, I prefer caraway seeds in my seasoning mix (more on that later), but most commercially prepared mixes do not include caraway.
It's way cheaper! My family goes through a TON of this seasoning mix – we put it on, well, everything! Just like with my best dry rub for ribs, making a big batch of it at home is much cheaper than buying it pre-mixed. More on this later, as well.
How much is Everything But The Bagel Seasoning?
Currently (August 2019), Everything But The Bagel seasoning costs $1.99 for a 2.3 ounce jar at the grocery chain most famous for selling it.
By making it at home using bulk spices, I can make the same amount for 93 cents. So, less than half the price! Save your extra cash for some bacon in the oven.
Now, in order to make this seasoning so cheaply, as I mentioned, I used bulk spices.
I have a store nearby that sells spices, seeds and herbs by weight, and you can buy as little or as much as you like. Do some research in your area to see if a nearby store sells spices this way.
If you can find one, it's obviously a very economical way to purchase spices!
Everything But The Bagel Seasoning Ingredients
dried minced garlic
poppy seeds
sesame seeds
caraway seeds
kosher salt
Does Everything Bagels Seasoning contain caraway seeds?
I tried to research this, but couldn't come up with a definitive answer. Here in the Detroit area, most locally-owned bagel shops include caraway seeds in their seasoning blends.
However, most commercially prepared everything bagel seasoning does not contain caraway seeds.
Perhaps it's a regional thing, because when I buy bagels in other parts of the country while traveling, I generally do NOT see caraway seeds on top.
Caraway seeds have a distinctive mild anise (licorice) flavor that I really enjoy, so I include it in my mix. If you don't prefer caraway, simple leave it out.
How to make Homemade Everything Bagel Seasoning
Stir together all of the ingredients, then store it in an airtight container at room temperature. That's it! You're done!
What is this Everything Bagel Seasoning Recipe best on?
Is this Everything Seasoning Recipe safe for keto / whole 30 / gluten free / vegan*?
keto: according to my research, this seasoning mix is considered low carb and keto friendly.
whole30: according to my research, this seasoning mix is considered whole30 compliant.
gluten free: if you buy it pre-mixed, it is often NOT gluten free, because it's processed in the same factory as other gluten-containing products. If you make the seasoning mix at home using certified gluten-free herbs and spices, it is!
vegan: no animal products here! It's vegan.
*disclaimer: I am not a doctor or expert on any of these diets.
More Foxes Love Lemons Favorites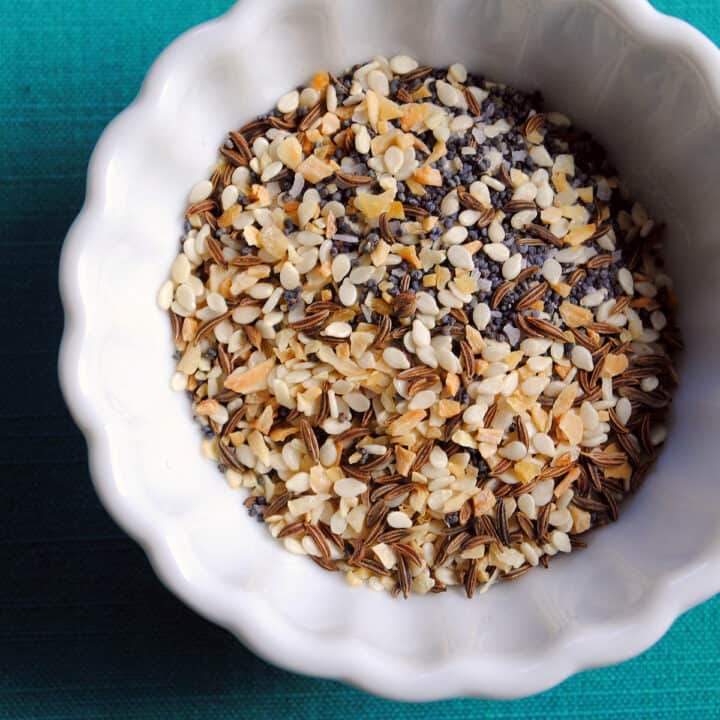 Everything Bagels Seasoning
Make your own Everything Bagel Seasoning for less than half the price of pre-mixed seasoning from the store. Sprinkle on salads, veggies, eggs, cottage cheese . . .  everything!
Ingredients
2 tablespoons dried minced garlic
2 tablespoons poppy seeds
2 tablespoons white sesame seeds
1 tablespoon caraway seeds
1 tablespoon kosher salt
Instructions
In small bowl, stir together all ingredients. Store at room temperature in an airtight container for up to 3 months.
Recommended Products
Foxes Love Lemons, LLC is a participant in the Amazon Services LLC Associates Program, an affiliate advertising program designed to provide a means for sites to earn advertising fees by advertising and links to Amazon.com. There is no additional cost to you.
Nutrition Information:
Yield:

24
Serving Size:

1 teaspoon
Amount Per Serving:
Calories:

9
Total Fat:

1g
Saturated Fat:

0g
Trans Fat:

0g
Unsaturated Fat:

1g
Cholesterol:

0mg
Sodium:

265mg
Carbohydrates:

1g
Fiber:

0g
Sugar:

0g
Protein:

0g