Roasted Shrimp with Grapefruit & Fennel Salad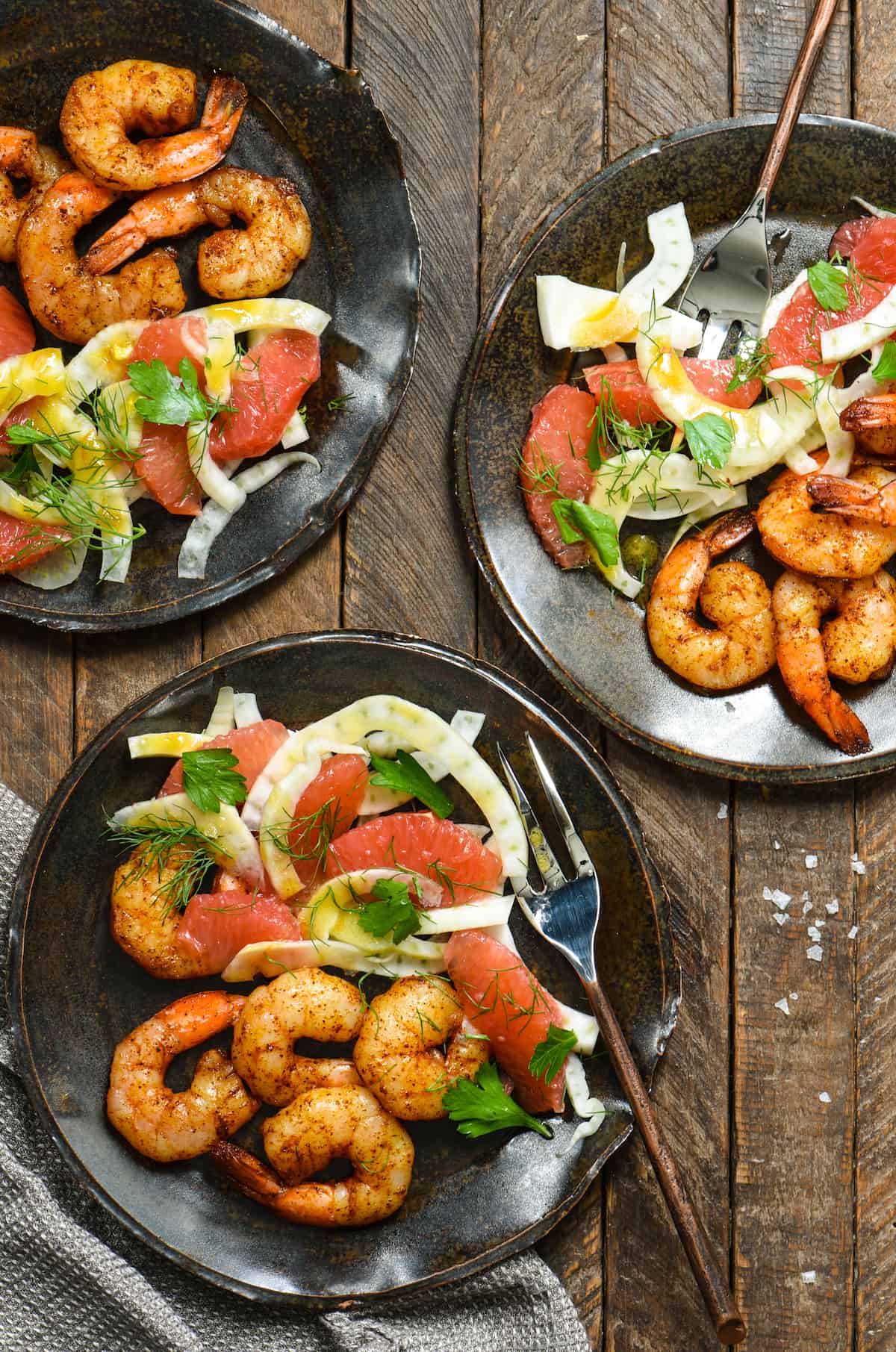 It's been unseasonably warm in most parts of the U.S. these past few weeks, with temperatures even reaching into the 70's here in Detroit last week. Mind you, at the end of February, we're usually bundled in winter coats with two sweaters underneath when we head outside at this time of year.
Most people, myself included, took the opportunity to get outside as much as possible and soak in the sunlight. But, whereas my husband was more than happy to break out the golf clubs and get a round in, I was hesitant to bring my bicycle up from the basement. Biking is by far my favorite summer hobby / pastime / exercise, but I worried that if I took a few rides outside in February, it would be all the more soul-crushing when the weather gets cold and miserable again for another few months. So, I settled for some long walks but held myself back from the bike riding.
I did, however, use the heat wave as an excuse to break away from winter comfort food and enjoy a lighter meal that reflected the outside temperature. I've been absolutely in love with Winter Sweetz grapefruit this year, and the pairing of grapefruit + fennel is one of my very favorite flavor combinations. I tossed the salad in a homemade dressing made with Dijon mustard, honey, white wine vinegar, minced shallot and grapefruit zest (another great homemade salad dressing option for this salad would be my Citrus Salad Dressing.). Then, I plated this light and fresh salad with some simply spiced and roasted shrimp for an easy and delicious dinner. Shrimp and citrus are a natural pairing, which is why shrimp ceviche is such a classic dish!
While many people automatically envision extreme bitterness and mouth-puckering sourness when they think of grapefruit, that isn't the case at all with Winter Sweetz. These Texas-grown grapefruit hit peak sweetness from November to March. Ripening during the winter leads to a sweeter fruit, with bright colors, juicy segments, and an intoxicating aroma. I've found that the best way to eat them is to segment them in order to remove the pith and peel. Once the grapefruit is segmented, you can eat as-is or incorporate into a recipe like this Roasted Shrimp with Grapefruit & Fennel Salad.
For more information about Winter Sweetz grapefruit, please visit WinterSweetz.com and follow them on Facebook, Instagram and Twitter. To learn how to segment grapefruit like a pro, check out this video. It's exactly how I learned to segment citrus in culinary school!
Roasted Shrimp with Grapefruit & Fennel Salad
Craving a lighter dinner? Pull together some fresh ingredients in about 20 minutes with this "home chef" recipe.
Ingredients
1 pound 26-30 count peeled and deveined shrimp, patted dry
3 tablespoons extra virgin olive oil, divided
3/4 teaspoon chili powder
1/2 teaspoon paprika
2 tablespoons white wine vinegar
1 tablespoon Dijon mustard
1 tablespoon honey
1 tablespoon minced shallot
1/2 teaspoon Winter Sweetz grapefruit zest
Pinch of kosher salt and ground black pepper
2 medium fennel bulbs, peeled, cored and thinly sliced (reserve fronds for garnish)
2 Winter Sweetz grapefruit, peeled and segmented
Torn fresh parsley leaves for garnish (optional)
Flaky sea salt for garnish (optional)
Instructions
Preheat oven to 400 degrees F. In medium bowl, toss shrimp with 1 tablespoon oil, chili powder and paprika until shrimp are evenly coated in oil and spices. Spread shrimp on rimmed baking pan in single layer; transfer to oven and bake 5 minutes or until shrimp are cooked through.
Meanwhile, in large bowl, whisk vinegar, mustard, honey, shallot, grapefruit zest, salt and pepper and remaining 2 tablespoons oil until smooth. Add fennel and toss until well combined. Let stand at room temperature 10 minutes.
Add grapefruit to fennel mixture and gently toss until combined.
Serve shrimp with salad. Garnish salad with parsley leaves, sea salt and/or chopped fennel fronds, if desired.
Notes
Home Chef Tip: When choosing a Winter Sweetz grapefruit, don't be afraid of scarring on the peel, AKA "tropical beauty marks." It's just really windy in Texas, and that scarring is caused by the fruit swaying in the trees. The grapefruit inside is just delicious!
Disclosure: This was a sponsored post written by me on behalf of Winter Sweetz. Sponsored posts help me pay for the costs associated with this blog (groceries…lots of groceries), and help support me as I pursue a career in recipe development and food photography. All opinions are 100% my own.