True Mint Ice Cream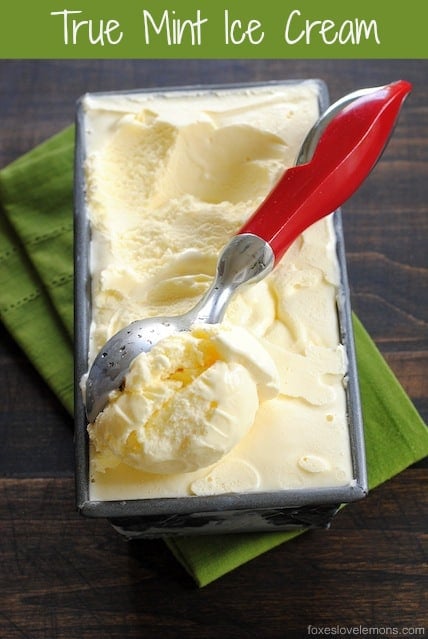 In this monthly series, I commit to cooking whatever is on the cover of Bon Appetit, Saveur or maybe some other food magazine. There's a reason these particular dishes are on the cover – they're usually the best recipes in the magazine.
The August issue of Bon Appetit arrived with a huge scoop of vanilla ice cream on the cover. However, I've found it nearly impossible to locate vanilla beans lately.
I'm not sure if it's due to the vanilla bean shortage of last year or what, but they've been hard to find unless you want to pay $10 for one bean, which I don't. So…I improvised and made my favorite – mint ice cream!
Mint Chocolate Chip (or, as my family calls it, Chocolate Chip Mint) ice cream is my absolute fav of all favorite ice creams. It's been that way since childhood, when my Dad would take me to the local ice cream shop, and I'd mimic his order.
I'm pretty sure it became my favorite flavor because it was his favorite flavor. And it's still my favorite flavor to this day.
I used peppermint oil for this ice cream, but there's a few different mint flavoring options, all of which I've tried. You could infuse the milk/cream mixture with fresh mint leaves, for a subtle but fresh mint flavor.
You can also use peppermint extract – you'll need to use much more of this than the mint oil, and your ice cream will have a more subdued (but still minty fresh) flavor. I like the clean, true flavor of peppermint oil.
You just need to be carefully measure it and add only what is called for. Adding too much can ruin a batch of ice cream (I've also done this, unfortunately).
Green food coloring is unnecessary here. Add it if you want, but one bite of this ice cream and you will know it's mint, no color cues needed. Chocolate chips are optional, I sprinkled them on before serving.
Brownie bowls are another great idea here, as would be using this ice cream in an ice cream cake recipe.
Psst – if you love making homemade ice cream don't miss my banana pancake ice cream and blueberry cheesecake ice cream.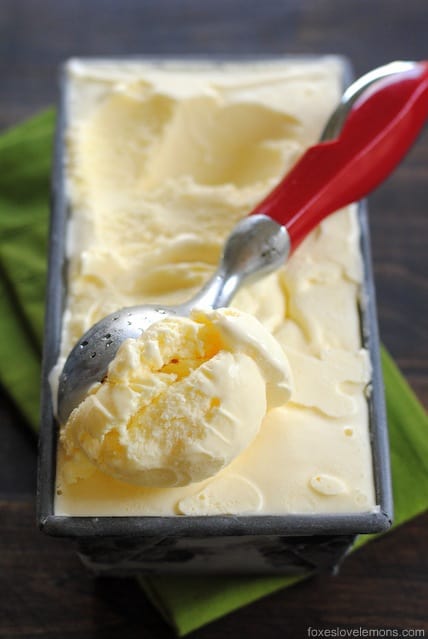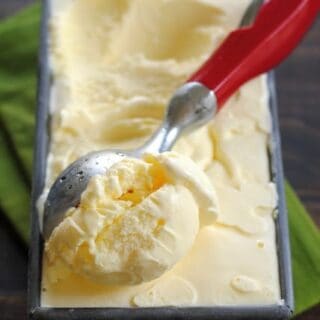 True Mint Ice Cream
Yield:
Makes about 7 cups
Ingredients
3 cups heavy cream
2 cups whole milk
1 cup granulated sugar, divided
Pinch of kosher salt
10 egg yolks
1/4 teaspoon peppermint oil
Instructions
In large saucepan, combine cream, milk, 1/2 cup sugar and salt. Heat just to simmering over medium-high heat, stirring occasionally. Remove from heat.
Place egg yolks and remaining 1/2 cup sugar in mixing bowl. Mix on medium speed 2 minutes or until thick and pale yellow in color. In a slow, steady stream, add 1 cup of warm cream mixture to egg mixture. When combined, pour yolk mixture into saucepan with remaining cream mixture. Cook, stirring constantly, over medium-low heat until mixture is thick enough to coat back of spoon. Strain through fine-mesh strainer set over large bowl. Stir in peppermint oil. Cover with plastic wrap placed directly on custard; chill completely.
Pour custard mixture into your ice cream machine and freeze according to instructions for your machine (mine took about 20 minutes). Transfer ice cream to freezer to harden completely (at least 4 hours).