Funky Good Rice & Shrimp Bowls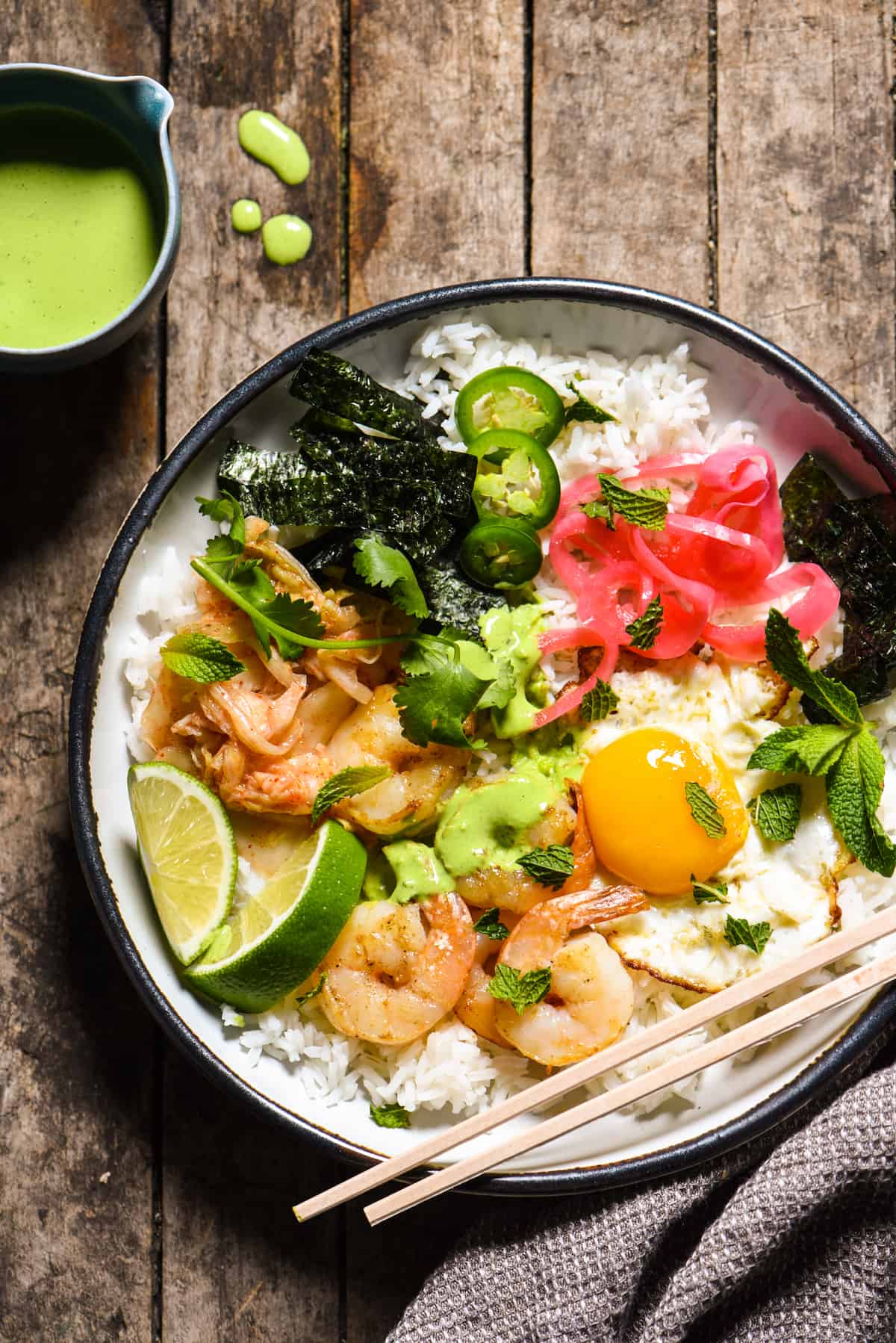 Let's talk about funk, as it pertains to food. In particular, all manner of fermented and pickled things, and anything that packs an umami punch. Umami is a fifth basic taste – alongside sweet, sour, salty, and bitter. The Japanese word translates to "savoriness," and it's sometimes described as "meaty" or "earthy,"  but I most closely associate it with "funky." Umami is naturally present in things like beef, pork, tomatoes, mushrooms, Parmesan cheese, miso, kimchi, soy sauce and edible seaweed.
I've been REALLY into jazzing up my meals with funky, umami-laden ingredients recently. And a few weeks ago, I tried a new restaurant that served the most amazing rice bowls full of kimchi, seaweed and pickled things, and I knew I wanted to create something similar at home. Voila, these Funky Good Rice & Shrimp Bowls were born!
Here's what we have going on in these Funky Good Rice & Shrimp Bowls:
A bed of fluffy basmati rice. I follow these instructions for "perfect white rice," and well, it turns out perfectly every time.
Sautéed shrimp – simply cook them in a little olive oil, and squirt some lime juice on at the end.
A big heap of kimchi. The national dish of Korea, kimchi is a mixture of fermented vegetables like cabbage, onions and radishes. If you want to introduce yourself to the world of umami in one dish, I highly suggest you pick up a jar of kimchi next time you see it at a store!
I'll pickle just about any vegetable I can get my hands on, and pickled red onions are a staple in my fridge. Make a batch of them and use them on sandwiches, hot dogs, salads, and just about anything else you can think of.
I made a quick green chili sauce. I *wanted* to make aji verde (Peruvian green chile sauce), but I couldn't find any Aji amarillo paste in my area, which according to my research, is a key ingredient in aji verde. So, I left out the Aji amarillo paste and just worked with what I had, making a jalapeño-based chili sauce that might not be super authentic to my original inspiration, but is hot and delicious, nonetheless.
A few ribbons of nori – edible dried seaweed that is most commonly used to wrap sushi. The umami flavor was first discovered in seaweed, so I had to include it in this ode-to-umami-in-a-bowl.
Go ahead and put an egg on it, because everything is better with a runny egg on top, don't you agree?
Finish with a sprinkle of fresh cilantro and mint, just to add a bright, fresh counterpoint to all the funk we have going on in this bowl. Homemade pickled jalapeno peppers are a great addition, too!
Funky Good Rice & Shrimp Bowls
Shake up your weeknight dinner routine with a rice bowl loaded with shrimp, pickled veggies and a fried egg, and topped with an easy homemade green chili sauce.
Ingredients
For the Pickled Onions:
1 cup thinly sliced red onion
1/2 cup water
1/4 cup rice vinegar
1/4 cup white vinegar
1 tablespoon granulated sugar
1-1/2 teaspoons kosher salt
For the Green Chili Sauce:
1 jalapeño pepper, including seeds and ribs, roughly chopped
1 small clove garlic, minced
Juice of 1/2 lime
1/2 cup packed cilantro leaves and stems
1 tablespoon grated cotija cheese or Parmesan cheese
1 tablespoon olive oil
1/2 teaspoon rice vinegar
1/4 teaspoon kosher salt
Pinch ground black pepper
1/4 cup mayonnaise
For the Rice & Shrimp Bowls:
2 tablespoons olive oil, divided
1/2 pound 26-30 count peeled and deveined shrimp, patted dry
Juice of 1/2 lime
2 large eggs
1 cup prepared basmati rice
1 sheet nori, cut or torn into small pieces
2/3 cup prepared kimchi
2 tablespoons chopped fresh cilantro leaves
2 tablespoons chopped fresh mint leaves
Sliced jalapeños and lime wedges, for garnish (optional)
Instructions
Make the Pickled Onions: Pack onions into pint-sized mason jar. In small saucepot, stir together water, rice vinegar, white vinegar, sugar and salt. Heat to boiling over medium heat. Pour mixture over onions in jar. Let jar stand at room temperature, uncovered, for one hour. Cover and transfer to refrigerator at least two hours or up to one week.
Make the Green Chili Sauce: Place jalapeño, garlic, lime juice, cilantro, cheese, oil, vinegar, salt and black pepper in blender and blend until finely chopped. Add mayonnaise; blend until smooth. Sauce can be covered and kept refrigerated up to 2 days.
Make the Rice & Shrimp Bowls: In medium nonstick skillet, heat 1 tablespoon oil over medium-high heat. Add shrimp; cook 4 to 6 minutes or until shrimp are cooked through, stirring occasionally. Add lime juice; toss until well combined. Transfer shrimp to small plate and cover to keep warm.
Return skillet to medium-heat. Add remaining 1 tablespoon oil to skillet. Crack eggs into skillet and cook 3 to 5 minutes or until whites are set and golden brown around the edges, but yolks are still soft. Remove from heat.
Divide rice between two shallow bowls. Top with nori, kimchi, cilantro, mint, pickled onions and shrimp. Garnish with sliced jalapeños and lime wedges, if desired. Serve bowls with Green Chili Sauce.
Notes
Home Chef Tip: The Green Chili Sauce can be pretty hot, depending on how hot your jalapeño is. For a milder sauce, start by using just 1/2 of a jalapeño. Taste and assess the sauce, and if you'd like more heat, add the other half of the pepper and re-blend the sauce.