Mushroom Risotto with Lots of Kale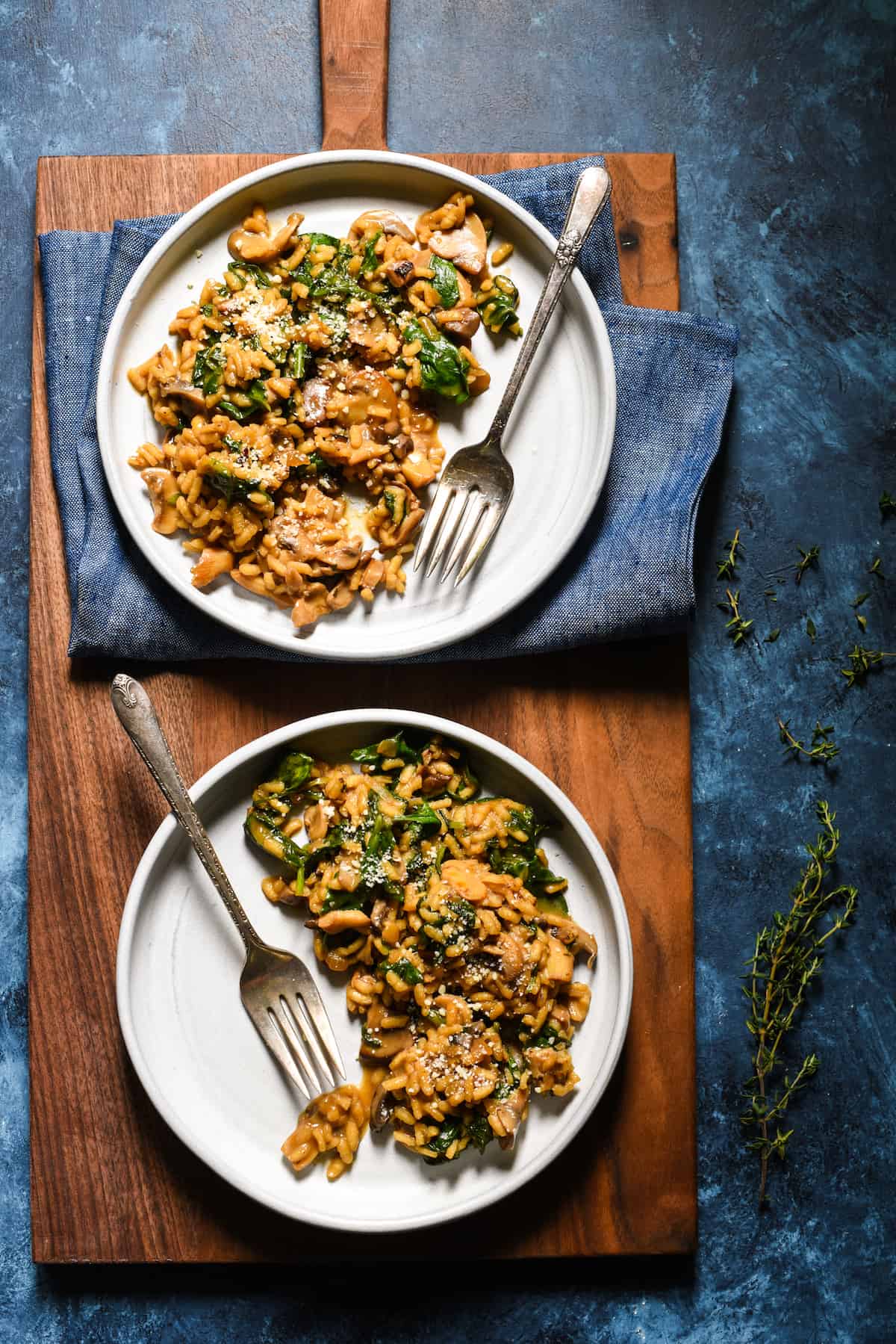 You guys, I am super excited today. This is the first recipe in a year-long collaboration with organicgirl.
I couldn't be more thrilled to be bringing you these recipes, because I'm such a superfan of the brand. You see, as a food stylist, I don't grocery shop like a normal human being.
I take my good sweet time in the produce section, looking over all the offerings and only selecting the very freshest, prettiest, most vibrant foods (for both work, and vegetarian meals I make at home, like lentil pasta sauce).
A famous food stylist once told me that if you shop carefully, half the work is already done for you before you get on set.
Organicgirl has been my go-to brand of greens for years and years, as their greens are always fresher and nicer looking than anything else I see at the store.
On any given day, you will find at least two to three containers of their baby arugula, baby spinach and/or baby spring mix in my fridge.
I stocked up with a container of each for lunch salads this week, and that's not even taking into account any work-related recipes I'm doing. I told you, I'm a superfan.
I'm still working my way through a giant jar of arborio rice that was left over from a client photo shoot at an old recipe testing job I had, so risotto is always a good choice.
Except with coconut risotto, I almost always lean on mushrooms when I make risottos (even risotto ala oatmeal for dinner), because they add a lot of deep, rich flavor while still keeping the dish meatless.
Inspired by a recipe I saw in Bon Appetit, I knew mushroom risotto could hold up to a ridiculous amount of kale while tasting amazing. I threw two entire boxes of organicgirl i heart baby kale at this risotto, and the rice didn't even bat an eye.
This Mushroom Risotto with Lots of Kale is a great way to get your leafy greens in for the day even when you're not quite in the mood for salad. I also love kale in shrimp wonton soup and cabbage potato soup!
Mushroom Risotto with Lots of Kale
A rich, savory rice dinner packed with tons of leafy greens.
Ingredients
5 cups vegetable or chicken broth
2 tablespoons unsalted butter
3 garlic cloves, minced
1/2 small onion, finely chopped
12 ounces button mushrooms, sliced
4 ounces gourmet medley mushrooms or wild mushrooms, sliced
2 teaspoons fresh thyme leaves
1 cup arborio rice
1/2 cup dry white wine
1/2 teaspoon kosher salt
1/4 teaspoon ground black pepper
2 packages (5 ounces each) organicgirl i heart baby kale
1/2 cup grated Parmesan cheese, plus additional for garnish
Instructions
In medium covered saucepot, heat broth over medium heat. When simmering, turn off heat and keep covered.
Meanwhile, in large high-sided skillet, melt butter over medium-high heat. Add garlic and onion. Cook 2 minutes, stirring frequently. Add mushrooms and thyme; cook 8 to 10 minutes or until mushrooms are deep golden brown, stirring frequently.
Reduce heat to medium and add rice; cook 1 to 2 minutes or until rice begins to become translucent at edges of grains, stirring constantly. Add wine, salt and pepper; stir constantly until wine is mostly absorbed.
Add 1/2 cup hot broth; stir frequently until mostly absorbed. Add additional broth in 1/2 cup increments, stirring after each addition and cooking until broth is mostly absorbed before adding more. Cook 18 minutes, then stir in kale and cheese. Continue cooking 2 to 3 minutes longer or until rice is tender, stirring frequently and adding broth as needed (you may not need all of the broth).
Divide risotto between warm plates. Garnish with additional cheese and serve immediately.
Notes
Home Chef Tip: A lot of people think that risotto requires *constant* stirring, but you really don't have to do that (although you can, if you want). Restaurant chefs certainly don't stand over the skillet stirring it constantly. Just stay in the kitchen with it (maybe unload the dishwasher while you're at it). Stir it every 2 to 3 minutes and add more hot broth as soon as it starts to get dry again, and you're all good.
Disclosure: This was a sponsored post written by me on behalf of organicgirl. Sponsored posts help me pay for the costs associated with this blog (groceries…lots of groceries), and help support me as I pursue a career in recipe development and food photography. All opinions are 100% my own.