Roasted Brussels Sprouts with Greek Yogurt & Bacon Jam
We go through a lot of Greek yogurt in this house, but very little of it involves the words granola, breakfast, fruit or sweet. Instead we use tubs and tubs of Greek yogurt to add a creamy element to savory dishes.
Most often, I love using yogurt as a base to roasted vegetable dishes. Not only does the creamy, tangy flavor pair perfectly with deeply earthy roasted veggies, but there's something very "restaurant quality" about getting out a big platter (or even smaller side plates) and doing a "plop and smear" (a very technical term I learned from Top Chef) of yogurt, then topping it with the vegetables.
It's a beautiful presentation, and I like how each diner can sort of drag their fork through the yogurt and vegetables, combining the two as they eat.
March is National Nutrition Month, and through my partnership with Milk Means More, I'll be bringing you recipes that highlight healthy eating through unique flavor combinations.
For these Roasted Brussels Sprouts with Greek Yogurt & Bacon Jam, I'm combining my beloved combo of Greek yogurt and roasted veggies with a few more unique elements that both bring a subtle sweetness to the dish: bacon jam and dried cranberries (I love a pop of sweetness with Brussels sprouts, particularly in my maple Brussels sprouts recipe).
The stovetop bacon jam is made up of ingredients you probably already have on hand, including onions, brown sugar and cider vinegar. Simply cook the bacon, then cook the onions, then combine them and cook again until they take on a jam-like quality.
You'll love this bacon jam, not only on brussels sprouts, but on burgers, sandwiches, steaks and chicken, too!
Psst – if you have an air fryer and want to try Brussels sprouts a different way, check out my Air Fryer Brussels Sprouts recipe!
The dairy products used in this Roasted Brussels Sprouts with Greek Yogurt & Bacon Jam were produced by members of the United Dairy Industry of Michigan. For more information on UDIM and to find out why Milk Means More, please visit their website and connect with them on Facebook, Pinterest, Instagram, YouTube and Twitter.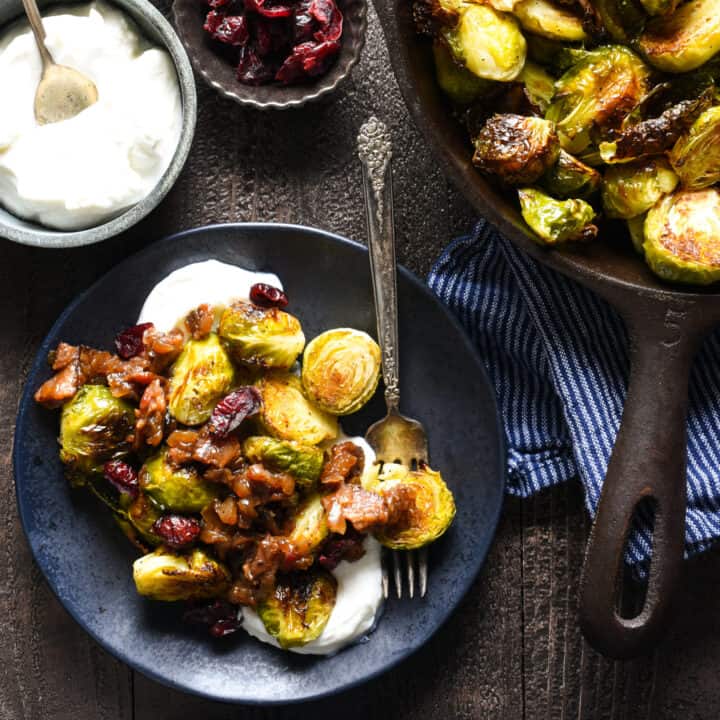 Roasted Brussels Sprouts with Greek Yogurt & Bacon Jam
Ingredients
For the Bacon Jam:
3/4 pound smoked bacon, cut crosswise into 1/2-inch pieces
1 tablespoon unsalted butter
1-1/2 large yellow onions, finely chopped
1/2 teaspoon kosher salt
1/2 cup water
3 tablespoons apple cider vinegar
3 tablespoons light brown sugar
1 teaspoon fresh thyme leaves
1/2 teaspoon ground black pepper
2 teaspoons balsamic vinegar
For the Brussels Sprouts:
1-1/2 pounds brussels sprouts, stems removed, halved
1-1/2 tablespoons extra virgin olive oil
For Serving:
1-1/2 cups Greek yogurt
1/2 cup dried cranberries
Instructions
Make the Bacon Jam: In large skillet over medium heat, cook bacon 8 to 10 minutes or until crisp, stirring frequently. Using slotted spoon, transfer bacon to paper towel-lined plate. Remove and discard all but 2 tablespoons bacon drippings from skillet and return skillet to medium heat.
Add butter, onions and salt to skillet. Cook 7 to 9 minutes until softened and lightly browned. Stir in water, apple cider vinegar, brown sugar, thyme, black pepper and bacon. Cook over medium heat 10 to 12 minutes or until most liquid is evaporated and mixture has a jam-like consistency. Remove from heat and stir in balsamic vinegar.
Meanwhile, make the Brussels Sprouts: Preheat oven to 425 degrees F. Place brussels sprouts on rimmed baking pan; toss with oil. Transfer to oven and roast 22 to 24 minutes or until deep golden brown, stirring and turning occasionally.
To serve, spread yogurt on large platter (or divide between individual plates). Top with brussels sprouts, dried cranberries and Bacon Jam.
Notes
Home Chef Tip: Add your bacon to a cold pan, and THEN turn on the heat. The bacon fat renders slowly this way, leading to super crispy bacon!
Disclosure: As a Milk Means More Ambassador, this post was sponsored by The United Dairy Industry of Michigan. Posts like this help me pay for the costs associated with this blog (groceries … lots of groceries), and help support me as I pursue a career in recipe development and food photography. All opinions are 100% my own.