General Tso's Meatballs (Chinese Meatball Recipe)
These General Tso's Meatballs are the perfect combination of sweet, sour and a little spicy. Keep them warm in a crock pot for your next tailgate or party!
I got an e-mail from a reader last week, telling me how excited she was to have found this blog, because I make so many meatball recipes. I was a little surprised, because I didn't think I make THAT many meatballs.
But, when looking through my archives, I noticed that there's air fryer turkey meatballs and build-your-own meatball subs with toppings.
There's Korean meatballs made with Gochujang, Greek chicken meatballs that my parents love, tomato ramen topped with (what else?) meatballs, and black bean meatballs for the best meatless meal, just to name a few.
OK, so maybe I DO make a lot of meatballs. I can't help it. They're fun to make, and there's endless ways to spice, sauce and serve them.
About these General Tso's meatballs:
While I apparently serve meatballs for lunch, dinner and even breakfast grain bowls, they really shine brightest in a party setting.
I'm always a fan of Asian flavors (hello, banh mi meatballs and crab rangoon pizza), and General Tso's is a standby when I order Chinese carryout.
So today, I'm rolling up some all-pork meatballs and slathering them in a homemade General Tso's sauce.
These General Tso's meatballs stay super succulent, even if you need to keep them warm in a slow cooker for a few hours for serving (more on that later).
The sauce for this Chinese meatball recipe is everything a good General Tso's sauce should be – the perfect combination of sweet, sour and a little spicy.
How to make this Chinese meatball recipe:
These General Tso's meatballs start off as very traditional meatballs. You'll be mixing ground pork (also good in my mustard green soup), eggs, breadcrumbs (I like panko breadcrumbs here), chopped onion, salt and pepper and then forming it into meatballs. Like I said, super traditional.
While the meatballs are in the oven, you'll be making the General Tso's sauce. First, in a small bowl you'll mix together a slurry of chicken broth and cornstarch (which is also – believe it or not – the secret ingredient in my heart thumbprint cookies!).
You'll use this mixture to thicken the sauce later on. I also use a slurry technique to thicken my orange ginger chicken and Instant Pot sweet and sour chicken, as well as the sauce for my baked ham with pineapple sauce.
Add some olive oil to a small pot and cook some garlic and ginger until it's fragrant. Then you'll be adding dried Arbol chiles, hoisin sauce, rice wine vinegar (also useful for shrimp wonton soup), brown sugar, honey, sesame oil and chicken broth.
Bring everything to a boil and then add that broth-cornstarch mixture you stirred up earlier. The sauce should thicken right up almost immediately.
The meatballs should be just about ready to come out of the oven. Once they do, put the meatballs in your biggest bowl and pour the sauce over them. Toss everything together until all the meatballs are slathered in sauce.
Serve this Chinese meatball recipe garnished with chopped green onions and sesame seeds for a special touch.
Do I have to use dried Arbol chiles?
Great question. Traditional General Tso's sauce always contains dried red chile peppers, and I can usually find dried Arbols at the better grocery stores in my area.
If you can't find Arbol chiles or simply don't want to buy them for just this General Tso's pork meatball recipe (I totally understand), I have a General Tso's cauliflower recipe that also has a homemade General Tso's sauce, but uses sambal oelek hot sauce for spice and tomato paste for color.
It's certainly not traditional but is delicious. In a pinch, you can substitute sriracha for sambal oelek, but it will change the flavor of this Chinese meatball recipe a little bit.
If you DO buy Arbol chiles for these General Tso's meatballs and want to use the rest of them up, Masterclass has a (free!) article about how to cook with chile de arbol, with a variety of ideas to use them, including making salsa and homemade chili powder.
Can I use a different type of meat for these General Tso's meatballs?
Absolutely. You are not required to make these General Tso's PORK meatballs!
Feel free to use to make these General Tso's ground BEEF meatballs, or use ground chicken or ground turkey.
You could even use a combination of several different types of meat in this Chinese meatball recipe. Whatever you prefer is what you should use for these meatballs.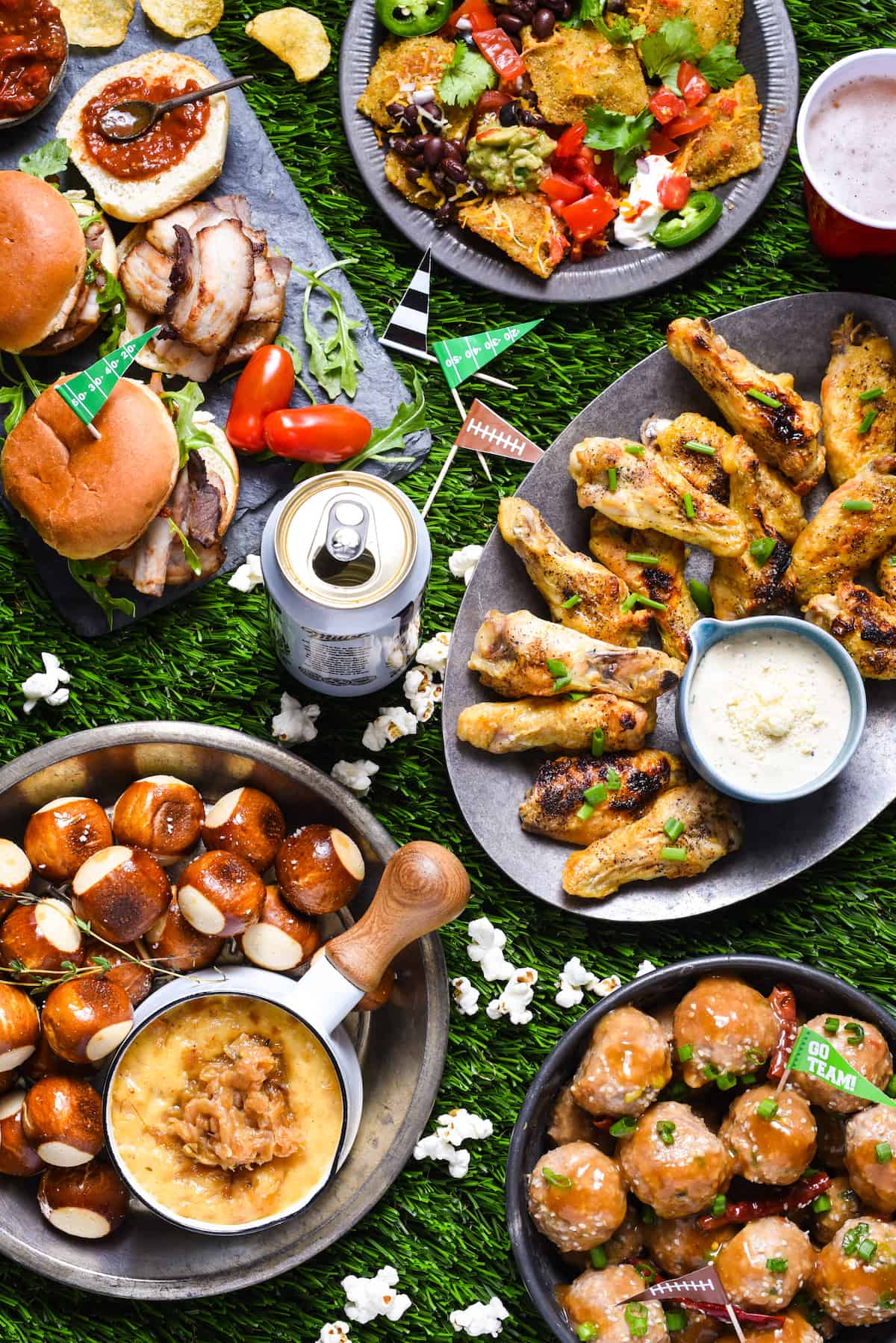 These General Tso's Meatballs are part of my Epic Game Day menu!
My Epic Game Day menu is simply my favorite tailgating and watch party recipes, all in one place. These are the dishes I make on repeat all football season. I hope they also become staples of your tailgates, get togethers, or casual nights at home.
Along with these meatballs, there's also:
These General Tso's pork meatballs can be kept warm in a crock pot:
These General Tso's pork meatballs can be made in advance and then served at a tailgate or party in a crock pot (as long as your slow cooker isn't already full of crock pot ribs)!
I recommend following the recipe below just before you head out, and then transferring the still-warm General Tso's meatballs to a crock pot set to LOW or WARM. They'll keep in the slow cooker for 2 to 3 hours.
If you'd like to make these meatballs the night before, that's fine too! Follow the recipe as written below, then transfer the meatballs to the refrigerator.
When you want to serve the meatballs, place 1/2 cup chicken broth in the bottom of the crock pot, then add the meatballs. Cover and cook on HIGH for 1 to 1-1/2 hours or until meatballs are warmed through, stirring occasionally.
Once the meatballs are warm, keep them on a LOW or WARM setting for 2 to 3 hours.
More Foxes Love Lemons Favorites
General Tso's Meatballs
These General Tso's Meatballs are the perfect combination of sweet, sour and a little spicy. Keep them warm in a crock pot for your next tailgate or party!
Ingredients
For The Meatballs
Nonstick cooking spray
2 eggs
2 pounds ground pork
1/2 cup panko breadcrumbs
1/4 cup finely chopped green onion
1 teaspoon salt
1/2 teaspoon ground white pepper
For the General Tso's Sauce
1-1/2 cups low sodium chicken broth, divided
2 tablespoons cornstarch
1 tablespoon olive oil
2 tablespoons minced garlic
4 teaspoons minced ginger
6 dried Arbol chiles
1/2 cup hoisin sauce
1/4 cup rice wine vinegar
3 tablespoons light brown sugar
2 tablespoons honey
1 teaspoon sesame oil
Garnish
Green onions
Sesame seeds (optional)
Instructions
Make the Meatballs: Preheat oven to 350 degrees F. Spray rimmed baking pan with cooking spray. Place eggs in large bowl and beat. Add pork, breadcrumbs, onion, salt and pepper. Stir (or mix with hands) until just combined. Do not overmix. Using hands, gently form into golf-ball sized meatballs and place on prepared pan.
Transfer to oven and bake 18 to 20 minutes or until internal temperature of meatballs reaches 160 degrees F.
Meanwhile, make the General Tso's Sauce: In small bowl, whisk together 1/2 cup broth and cornstarch; set aside. Heat olive oil in small pot over medium heat. Add garlic and ginger and cook 1 minute, stirring constantly. Add chiles, hoisin, vinegar, sugar, honey, sesame oil and remaining 1 cup broth. Heat to boiling over medium-high heat. Whisk in broth-cornstarch mixture. Cook 2 to 3 minutes or until sauce has thickened, whisking constantly. Remove from heat.
Place meatballs in large bowl. Pour General Tso's Sauce over meatballs and toss until meatballs are coated in sauce. Transfer meatballs to serving dish and serve garnished with green onions and sesame seeds.
Recommended Products
Foxes Love Lemons, LLC is a participant in the Amazon Services LLC Associates Program, an affiliate advertising program designed to provide a means for sites to earn advertising fees by advertising and links to Amazon.com. There is no additional cost to you.
Nutrition Information:
Yield:

8
Serving Size:

4 meatballs
Amount Per Serving:
Calories:

506
Total Fat:

28g
Saturated Fat:

10g
Trans Fat:

0g
Unsaturated Fat:

16g
Cholesterol:

154mg
Sodium:

696mg
Carbohydrates:

27g
Fiber:

1g
Sugar:

15g
Protein:

34g