Steak-Quinoa Salad with Avocado-Lime Ranch Dressing
This post should really be titled "how I actually learned to LOVE quinoa." To say it's trendy would be a huge understatement (90% of Pinterest seems to be things you can make with quinoa). And I know it's good for you, because I can still recite the spiel I learned from when I worked at a salad bar for three months: "Quinoa is a superfood.
It is very high in protein, and gluten-free. It is a complete protein, because it contains all of the amino acids." I robotically repeated this about 20 times a day when customers would ask "what's keen-owe-ahh?" or "queen-oh-weee, what's that?"
I was always OK with quinoa – it was a fine side dish that was something different than brown rice. I'd been cooking it in a method similar to how I would cook rice – bring some water to a boil, add the quinoa, put a lid on, reduce the heat, and simmer until it was tender. It turned out fine – soft and nutty-flavored – but there was nothing about it that made me all like "YES. I want to eat this all the time."
That all changed when I tried this method of quinoa cookery. There are a few big differences between this method and how I had been doing it all along. First, it turns out that maybe I wasn't rinsing my quinoa long enough previously (there's a bitter coating on the outside that can be removed by rinsing). I had always given it a quick rinse, but I had never washed it for 2 full minutes while rubbing the grains between my fingers.
Second, I had never toasted the grains to first dry them out before adding the water. This is a method that I typically use for risotto, but I hadn't thought to try it for quinoa. And third, I believe I was cooking my quinoa for too long before, based on some bad advice I had read elsewhere on the interwebs (I was cooking it 30 – 40 minutes, while this new method reduces that cooking time to just 15 minutes).
I think these three changes made a HUGE difference in the end result – this quinoa was light and fluffy. While it was tender, it still had a bit of a chew to it (in a good way). It was excellent on it's own, and also added to a salad.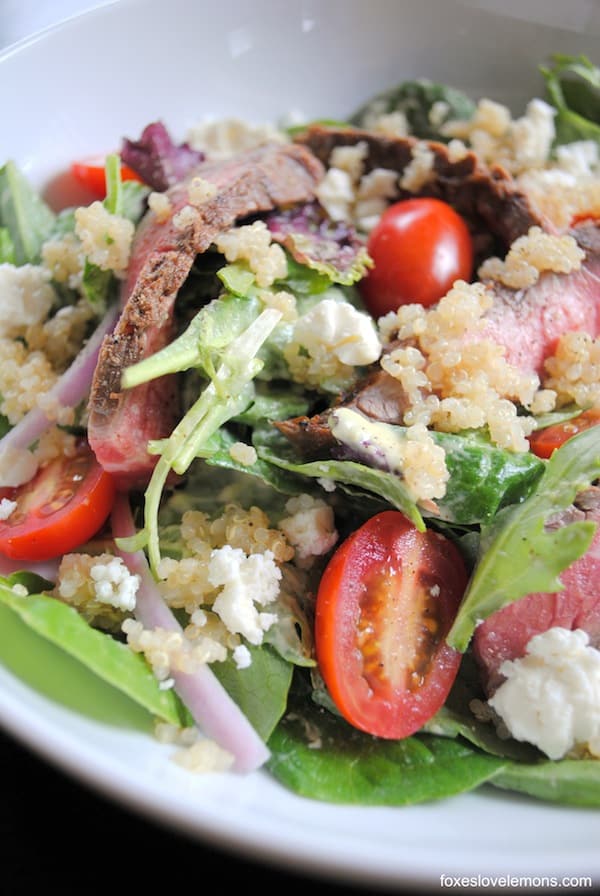 This steak and quinoa salad couldn't be easier, and it's great all year round if you have an indoor grill pan, or if you don't mind grilling outside in the cold weather (I don't). It uses a basic marinade that lends a bit of flavor to the meat without overpowering it.
I chose to make an avocado-lime ranch dressing for this, but this salad would also be good with a basic balsamic vinaigrette (you could just slice the avocado and include it in the salad, or just omit the avocado altogether). I love all of the different textures in this salad, and it's a complete meal – you get your vegetables, meat, dairy and grains all in one bowl! Oh, and did I mention that quinoa is very high in protein?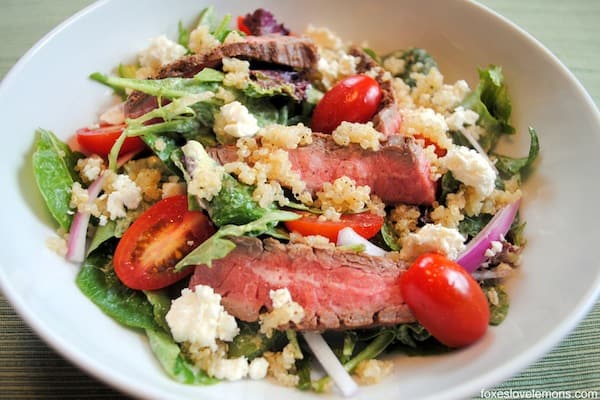 Steak-Quinoa Salad with Avocado-Lime Ranch Dressing
Ingredients
2 garlic cloves, minced
1/4 cup olive oil
3 tablespoons Worcestershire sauce
2 tablespoons fresh lemon juice
2 tablespoons light brown sugar
1/2 teaspoon ground cumin
1/4 teaspoon cayenne pepper
1 lb. flank steak
1 avocado, pitted and peeled
1/3 cup prepared ranch dressing
1-1/2 tablespoons fresh lime juice
8 ounces salad greens (whatever you want – I used 1/2 spring mix, 1/2 spinach)
1 cup cooked quinoa
3/4 cup grape tomatoes, halved
1/3 cup crumbled feta cheese
1/4 cup thinly sliced red onion
2 tablespoons chopped fresh basil
Instructions
In a small bowl, whisk together garlic, oil, Worcestershire, lemon juice, brown sugar, cumin and cayenne. Place steak in large ziploc bag; pour marinade over steak. Seal bag and refrigerate at least 1 hour or up to 8 hours.
Meanwhile, in a small bowl, mash together avocado, ranch dressing and lime juice until everything is nicely combined – you can leave the avocado chunky, or keep mashing until the mixture is smooth.
Preheat an outdoor grill for direct grilling over medium-high heat. Remove steak from marinade; discard marinade. Grill steak 8 to 10 minutes or until internal temperature reaches 135 degrees F for medium-rare, flipping once halfway through cooking. Transfer to plate; let rest at least 5 minutes.
To serve, divide salad greens, quinoa, tomatoes, feta, onion and basil between 4 plates. Thinly slice steak across the grain, and divide between plates. Serve with dressing.