Citrus Salad Dressing (Citrus Vinaigrette)
Forget bottled vinaigrettes full of preservatives. This homemade citrus salad dressing takes just 5 minutes to whip up and will be healthier, fresher and more delicious.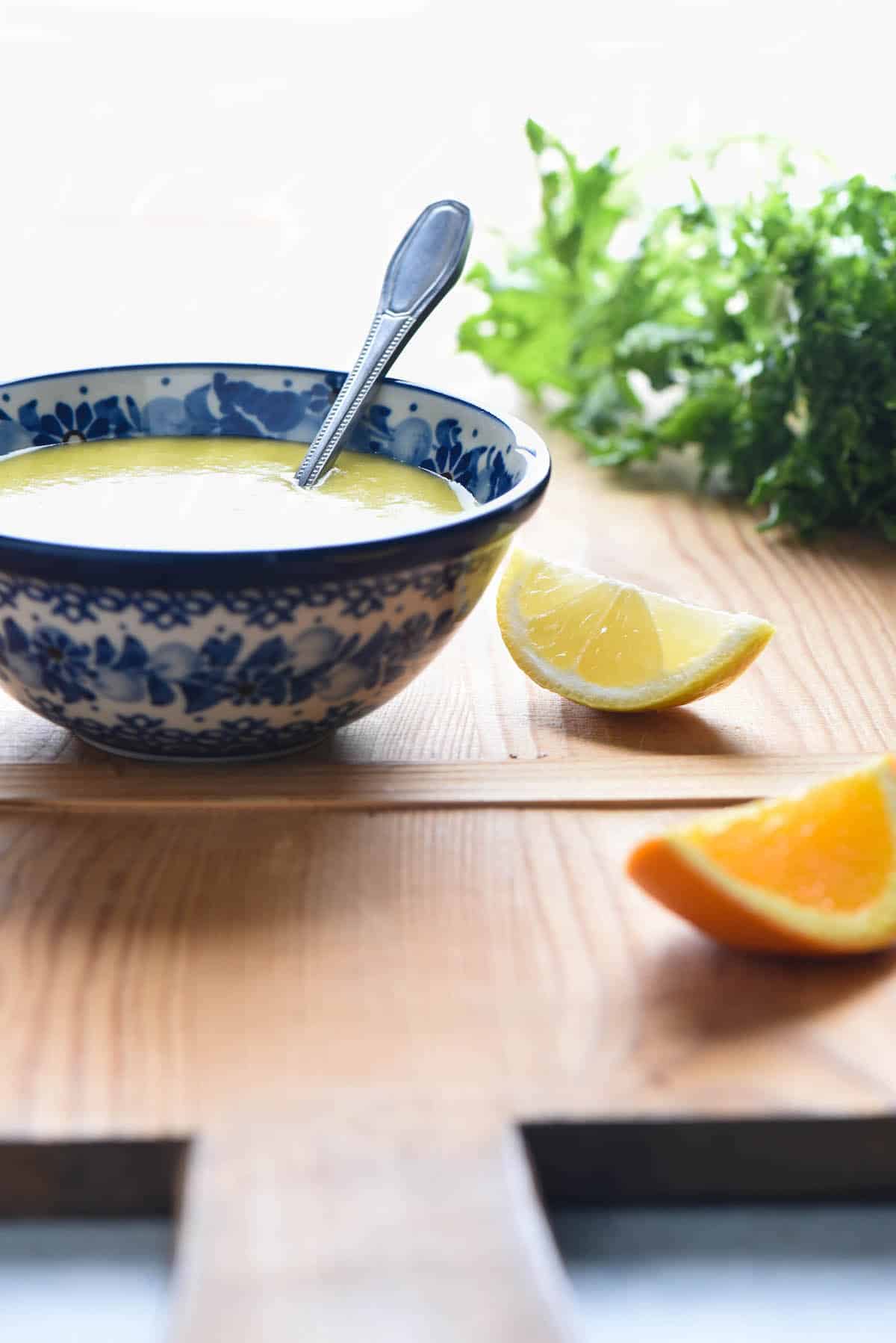 One thing about my cooking philosophy is that I don't buy salad dressing. I MAKE salad dressing. It's one of the very easiest ways to feel like a chef at home, with surprisingly little effort on your part.
Homemade salad dressings like miso dressing and just about any other variety you can imagine are almost always healthier than store bought, as you control what goes into them.
And they are 100% ALWAYS more fresh and delicious.
I'm actually surprised that I haven't already shared my basic recipe for a citrus vinaigrette salad dressing until now. It's one that I've been making for years to drizzle over my summer beet salad recipe.
And since I want to make this website all about sharing well-loved dishes without fussy ingredients (like fettuccine bolognese and pasta with capers), here we are. Please enjoy my favorite-ever citrus vinaigrette recipe.
I especially love mixed greens tossed with this citrus salad dressing alongside cottage cheese lasagna, lamb lollipops or pasta with salmon. The acidity from the dressing is such a nice counterpoint to the heavier flavors in a hearty entree.
What you'll need for this citrus vinaigrette recipe:
orange – You'll need one fresh orange for this citrus salad dressing recipe, and we'll be using almost the whole thing. Everything except the peel. More on this below. If you do want to utilize the peel (zest) before you segment the orange, try a batch of cranberry sauce muffins or blackberry muffins! Or, buy several extra oranges and make a orange bundt cake.
lemon – You'll need two tablespoons of fresh lemon juice, which should be just about the juice of 1 large lemon. Buy an extra lemon for a lemon smoothie!
shallot – this will add a subtle onion-y note to the citrus dressing without overwhelming the other flavors.
olive oil – you will be able to taste the oil in the finished dressing, so choose a high-quality oil (use what you'd use for chocolate cake with cream cheese frosting).
white wine vinegar – this is one of my favorite vinegars for making homemade salad dressings, but cider vinegar or white balsamic would be great in this citrus vinaigrette dressing as well.
honey – this will sweeten the dressing. If you want to keep the dressing vegan, I discuss substitutions below. Leave the honey out for some roasted glazed carrots for dinner, too!
salt and pepper – it's imperative to season homemade dressings to make them taste great.
This citrus salad dressing uses almost an entire orange!
My very favorite thing about this citrus vinaigrette recipe is that it uses an entire orange (well, everything except the peel).
That's right – just peel an orange, pull it into segments (as best you can) and throw it in the blender with the rest of the ingredients for this citrus dressing. Kind of fun, right?
And no worrying about a random half of an orange just sitting in the fridge, never to be used again. And if you want to use a grapefruit instead of using all your grapefruit for grapefruit mules, be my guest!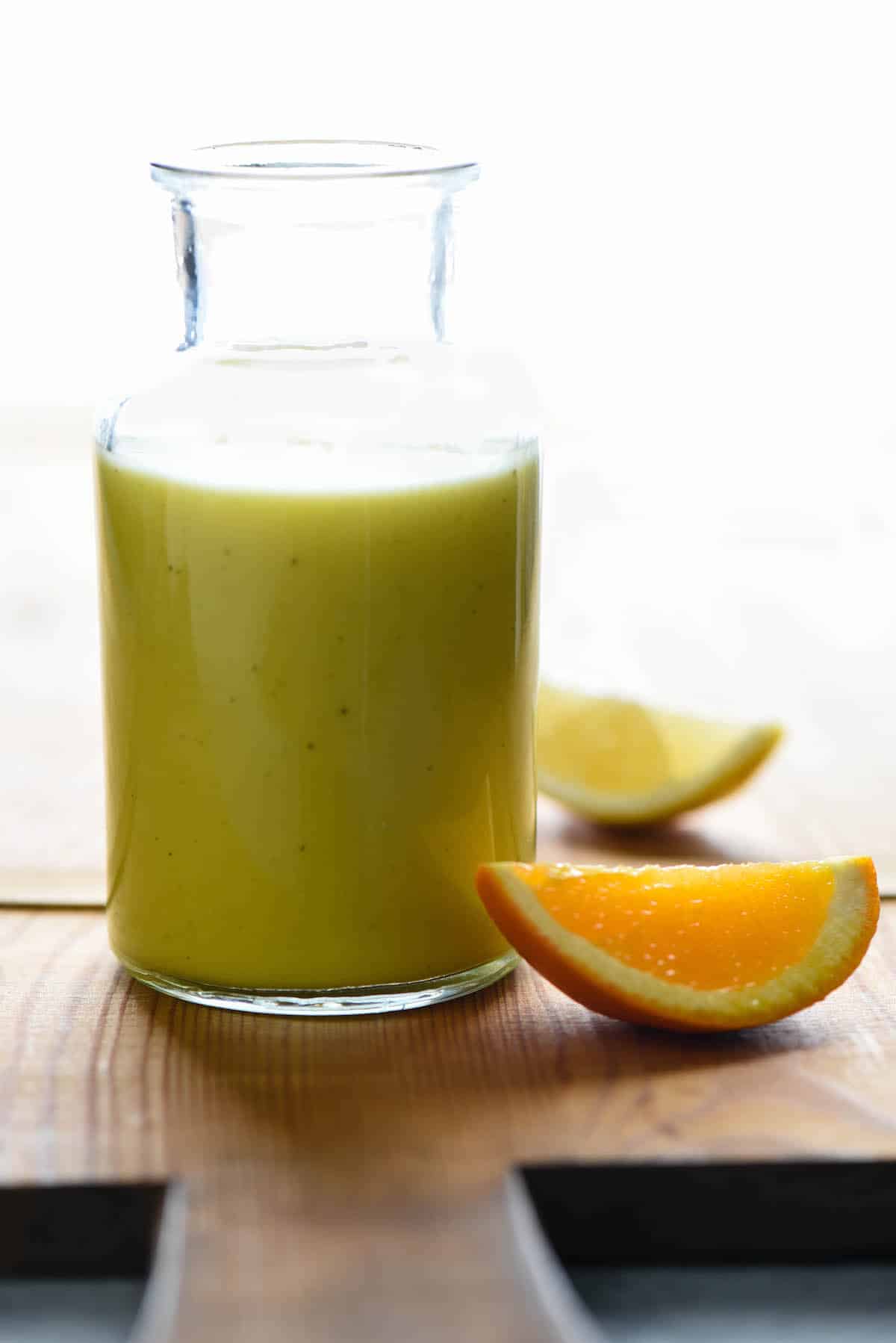 How to make this citrus dressing recipe vegan:
This citrus vinaigrette recipe is super super simple to make vegan. The only ingredient in the citrus dressing that isn't vegan is the honey.
So, if you use agave or maple syrup instead of honey in this citrus vinaigrette dressing, it'll be vegan! I love those sweeteners in agave lemonade and lemon maple Brussels sprouts, too.
What kind of salad should I make to go with this citrus vinaigrette dressing?
I've found that this citrus vinaigrette recipe is a great pairing for almost any salad you can dream up, including my ground turkey salad and Thanksgiving salad (or even to dress blistered tomatoes before serving with toasty bread), but my very favorite one would include:
arugula and/or spinach
blood oranges
avocado
pecans
Can I make a smaller batch?
Absolutely. I wrote the citrus vinaigrette recipe below to include one whole orange, because that just seemed easiest. That means that this recipe makes 1-1/2 cups (24 tablespoons) of dressing.
If you consider a serving of salad dressing to be the standard 2 tablespoons, that means this recipe is 12 servings. Not going to lie, sometimes I want more than 2 tablespoons of this delicious citrus vinaigrette dressing on my salad, though!
Now, this citrus salad dressing can be kept in the fridge for up to one week. And my family eats a side salad MOST nights for dinner, so I tend to make the whole batch and use it throughout the week. It will last the 3 of us about two to three meals.
I'll also use this citrus dressing drizzled over sockeye salmon or roasted vegetables. It's so multi-purpose! Heck it's even good on Halloween salad.
However, if you'd prefer to make a smaller batch of this citrus vinaigrette salad dressing, feel free use a half of an orange and cut all of the other ingredient amounts in half, as well.
You will end up with 3/4 cup of dressing (6 servings). This amount would be perfect for Easter salad or Christmas salad.
Citrus Salad Dressing
Forget bottled vinaigrettes full of preservatives. This homemade citrus salad dressing takes just 5 minutes to whip up and will be healthier, fresher and more delicious.
Ingredients
1 orange, peeled and segmented
1/2 shallot, peeled and roughly chopped
1 cup extra virgin olive oil
2 tablespoons fresh lemon juice
2 tablespoons white wine vinegar
1 tablespoon honey
1/2 teaspoon kosher salt
1/4 teaspoon ground black pepper
Instructions
Place all ingredients in blender and blend until smooth. Dressing can be covered and kept in refrigerator up to one week. Allow to stand at room temperature for 20 minutes, and shake well or whisk before serving.
Recommended Products
Foxes Love Lemons, LLC is a participant in the Amazon Services LLC Associates Program, an affiliate advertising program designed to provide a means for sites to earn advertising fees by advertising and links to Amazon.com. There is no additional cost to you.
Nutrition Information:
Yield:

12
Serving Size:

2 tablespoons
Amount Per Serving:
Calories:

167
Total Fat:

18g
Saturated Fat:

2g
Trans Fat:

0g
Unsaturated Fat:

15g
Cholesterol:

0mg
Sodium:

53mg
Carbohydrates:

2g
Fiber:

0g
Sugar:

2g
Protein:

0g
This website provides estimated nutrition information as a courtesy only. You should calculate the nutritional information with the actual ingredients used in your recipe using your preferred nutrition calculator.