Black Bean Meatballs
Black Bean Meatballs are a meatless marvel packed with protein, fiber and flavor. Serve them Italian-style with marinara and spaghetti, or in a Southwestern-style salad.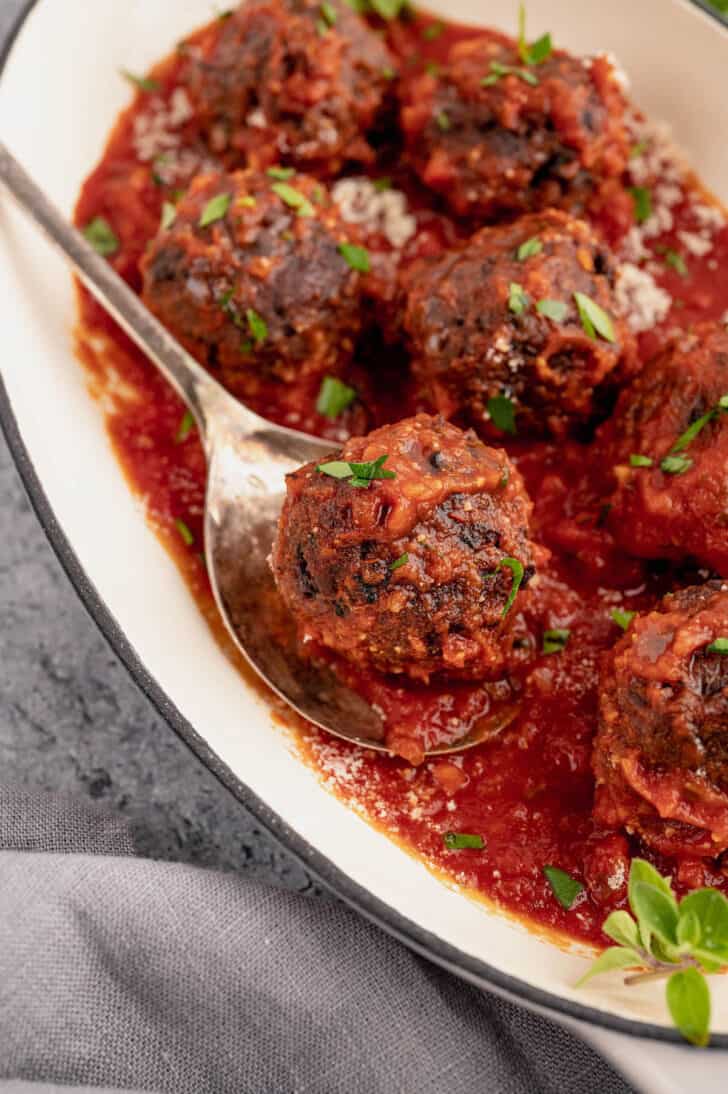 My first foray into eating meatless meals was when I was in culinary school. But not actually in class, I mean when I was at home.
As I had quit my full time job to pursue a culinary education, my husband and I didn't exactly have a lot of disposable income at the time (no crab stuffed salmon recipe for us, unless I made it at school and got to bring it home!).
So, we started eating vegetarian meals as a way to save money during those years, because meat is expensive!
But over time, we got so used to eating these mostly bean-centric meals, that it didn't really feel like we were giving up anything, or trying to eat cheaply. It just tasted good (oatmeal for dinner and vegetables lasagna are surprisingly craveable meals). And, it's a habit we've continued ever since.
For us, the key to a delicious and filling vegetarian meal is loading up on fiber, usually from lentils or beans. With lentils, we love vegan lentil curry and lentil ragu over spaghetti noodles.
For beans, we usually grab black beans and make vegetarian fajitas. The other black bean recipe that we make time and time again are these Black Bean Meatballs.
With a simple list of ingredients and a quick prep time, these black bean balls can be eaten on their own, tossed with marinara sauce and served over noodles, or even incorporated into a salad.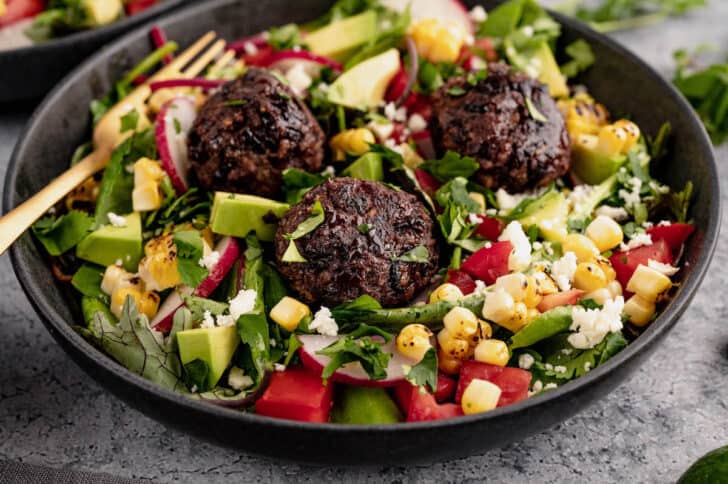 Why I love these black bean meatballs:
Black beans are my favorite ingredient for meatless meals, because they have so much flavor on their own, and take really well to being jazzed up with herbs and spices, too.
Their dark color kind of fools your brain into thinking you might be eating meat, and they're really sturdy, so they make for good "meatballs" and "burgers" and the like.
I find these black bean meatballs just as satisfying as something meaty, like General Tso meatballs, Greek chicken meatballs, or air fryer turkey meatballs.
These black bean balls could lean either Italian or Southwestern thanks to the oregano! Drench them in marinara and serve them as a party appetizer, or put them over spaghetti for a weeknight meal. But I also love them just as much paired with avocado, corn and tomato in a Southwest-style dinner salad.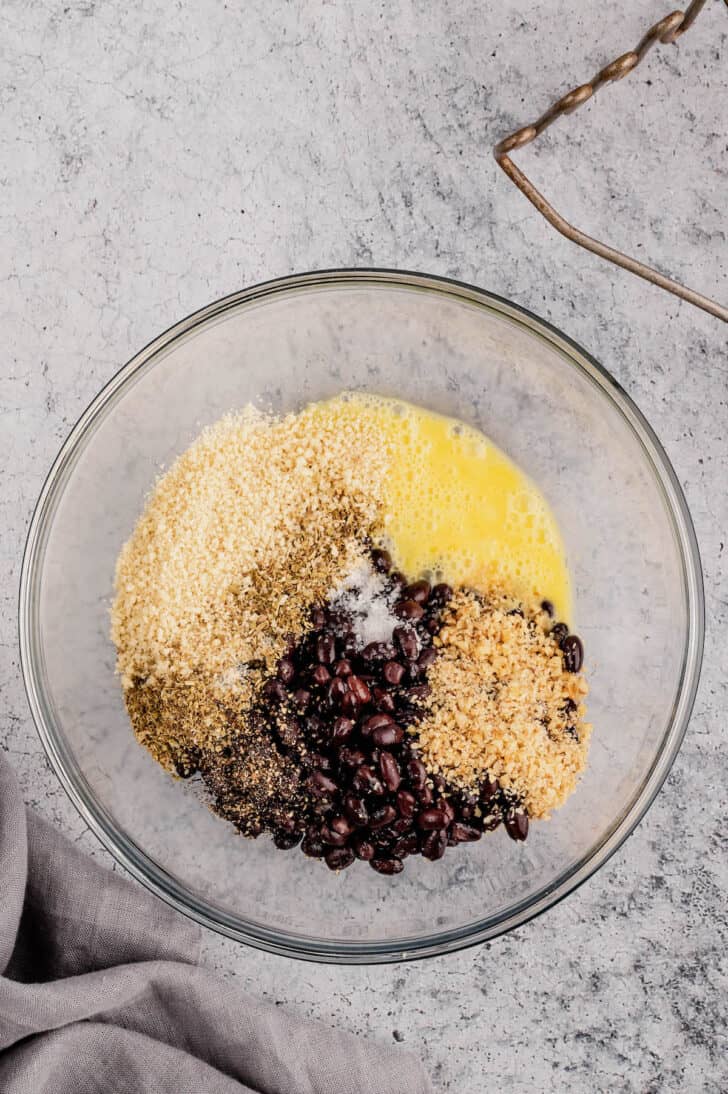 What you'll need for black bean meatballs:
black beans – you'll need one 15-ounce can of black beans for this recipe. Drain them and rinse them before you start. Buy an extra can for a cornbread breakfast casserole.
egg – this acts as the binder for the meatballs. If you'd like to keep this recipe vegan, it's possible that you could substitute vegan egg replacement, but I haven't tested them this way.
breadcrumbs – I use panko breadcrumbs because it's what I keep on hand, but plain or Italian-style breadcrumbs work great, too.
walnuts – I used finely chopped walnuts (because I had some left over after making melomakarona) to add extra texture and flavor to these bean balls. You could also use pecans, almonds or pepitas.
oregano – dried oregano lends a nice flavor to these black bean meatballs. You could even add a dash of my rib rub recipe for an extra flavor boost.
salt and pepper – seasoning is key to making these black bean balls super tasty.
olive oil – for pan frying the meatballs and getting them nice and brown.
How to make bean balls:
I make these black bean meatballs by adding all of the ingredients (except the olive oil) to a bowl and then using a potato masher to mash everything until it forms a chunky but mashed consistency.
If you don't have a potato masher or aren't strong enough to mash everything manually, you can also use a food processor for this step. Just pulse the food processor until again, you get a chunky but mashed consistency.
Next, you'll be forming the mixture into golf ball-sized black bean balls. I usually get about 10 meatballs.
Pan fry the meatballs in a little olive oil in a large nonstick skillet. Turn them occasionally so that they get browned on all sides. This should take about 6 to 8 minutes. Then, it's time to figure out how you want to serve them!
Serve them Italian-style!
Grab a jar of good marinara sauce or make a batch of my quick culinary school marinara sauce. Warm it up and then transfer the meatballs to the sauce and turn until all the balls are covered in sauce.
You can serve these on their own with some side dishes like butternut squash noodles and balsamic asparagus.
Or, grab a box of spaghetti, fettuccine or even a short style of noodle and serve the black bean meatballs and marinara over pasta. Even egg noodles, like I use for chicken stroganoff, would work! Spaghetti and meatballs can be plant-based AND so delicious.
Or serve them Southwestern-style!
My other favorite way to serve black bean meatballs is in a Southwestern-style salad.
I start with a base of mixed greens, and then add some corn (usually grilled corn in the summer but I'll just use frozen corn in the winter), diced avocado, chopped tomato, sliced radishes and Cotija cheese.
I usually serve this salad with salsa and homemade ranch dressing, and maybe a side of pimento mac and cheese.
Or sometimes I'll simply serve these black bean balls with a big helping of my Mexican street corn salad recipe.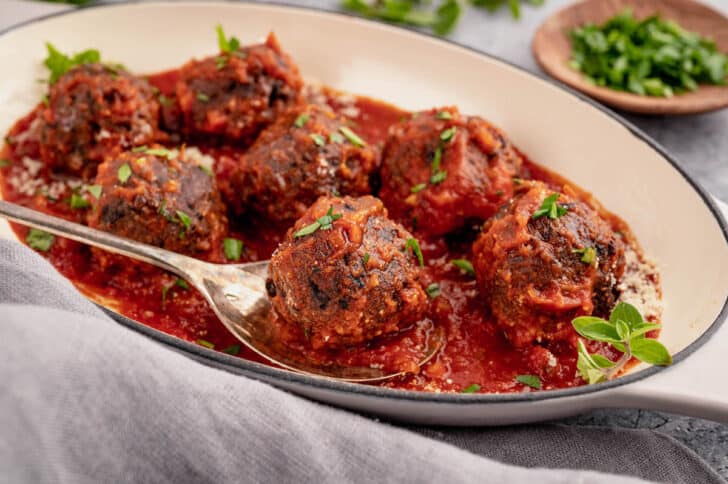 Black Bean Meatballs
Black Bean Meatballs are a meatless marvel packed with protein, fiber and flavor. Serve them Italian-style with marinara and spaghetti, or in a Southwestern-style salad.
Ingredients
1 large egg
1 can (15 ounces) black beans, rinsed and drained
1/3 cup panko breadcrumbs
1-1/2 tablespoons finely chopped walnuts
3/4 teaspoon dried oregano leaves
1/4 teaspoon kosher salt
1/8 teaspoon ground black pepper
2 tablespoons olive oil
Instructions
In medium bowl, beat egg until smooth. Add beans, breadcrumbs, walnuts, oregano, salt and pepper. Use potato masher to mash mixture until it is a chunky but mashed consistency (you can also pulse ingredients in a food processor for this step). Form mixture into 10 golf ball-sized balls.
Heat oil in large nonstick skillet over medium heat. Transfer meatballs to skillet; cook 6 to 8 minutes or until browned on all sides and warmed through, turning occasionally.
Recommended Products
Foxes Love Lemons, LLC is a participant in the Amazon Services LLC Associates Program, an affiliate advertising program designed to provide a means for sites to earn advertising fees by advertising and links to Amazon.com. There is no additional cost to you.
Nutrition Information:
Yield:

2
Serving Size:

1
Amount Per Serving:
Calories:

540
Total Fat:

21g
Saturated Fat:

3g
Trans Fat:

0g
Unsaturated Fat:

17g
Cholesterol:

93mg
Sodium:

326mg
Carbohydrates:

65g
Fiber:

20g
Sugar:

2g
Protein:

25g
This website provides estimated nutrition information as a courtesy only. You should calculate the nutritional information with the actual ingredients used in your recipe using your preferred nutrition calculator.