Beef Stroganoff Stuffed Shells
Along with my trip to potato country, I also got to visit a different type of farm last month: a dairy farm right here in Michigan. Milk Means More hosted a group of local bloggers to tour the Prairie Farms milk processing plant, as well as Crandall Dairy Farm.
As I've mentioned, during my kitchen remodel, I've been basically jumping at the chance to get away from my house and breathe in some fresh air out in the country. Yes, the air on a farm filled with cows is fresher than the air in my house right now. Plus, I just really like learning as much as I can about where our food comes from – I always find it interesting!
At the Prairie Farms plant, we learned about the (very fast) journey fresh milk takes from the trucks it is delivered to the plant in, to processing, to final packaging, to delivery to it's final destination. It's all done with precision, and the utmost attention to food safety.
The plant keeps small sample viles of each product produced for a full year, in case any issue comes up. They even store and test their products at temperatures above the recommended refrigeration temperature, because they know that refrigerators in many school cafeterias are opened and closed frequently, meaning that it's harder to maintain the optimal temperature.
We also learned how the fifth generation farmers at Crandall Dairy Farms care for their animals and land. Long story short, nearly everything they do is done with the comfort of their 300+ dairy cows in mind.
Mark Crandall told us a story about how is so in tune to the needs of the cows that he can hear the sound of an injured cow from his living room, and immediately go tend to it.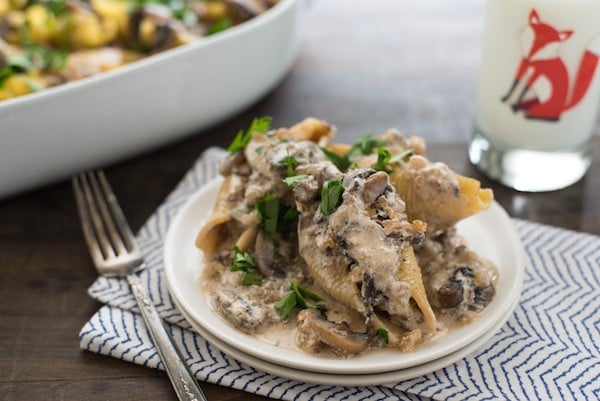 Now that I had some insight as to how dairy products go from cow to my refrigerator, it was time to put them to use. Milk Means More is hosting a virtual pasta party this month, and I wanted to contribute these Beef Stroganoff Stuffed Shells.
If for no other reason than to combine two of my favorite comfort food meals. Beef Stroganoff + Stuffed Shells = win. Just like with my slow cooker beef stroganoff and chicken stroganoff, it may not be the most visually beautiful dish I've ever made, but the flavor makes up for anything it lacks in appearance.
A creamy beef and mushroom mixture is stuffed into jumbo pasta shells, then topped with even more creamy mushroom stroganoff sauce. This meal takes a little bit of effort (like all stuffed shells, including my turkey alfredo stuffed shells), but it'd be perfect for a Sunday dinner. Serve these with a side salad and enjoy!
The dairy products used in these Beef Stroganoff Stuffed Shells were produced by members of the United Dairy Industry of Michigan. For more information on UDIM and to find out why Milk Means More, please visit their website and connect with them on Facebook, Pinterest, Instagram, YouTube and Twitter.
Beef Stroganoff Stuffed Shells
Ingredients
2/3 of a 12 ounce box (about 28 pieces) jumbo shells pasta
1/2 large onion, finely chopped
1 pound ground beef
4 ounces button mushrooms, finely chopped
2 tablespoons olive oil
12 ounces button mushrooms, sliced
2 tablespoons red wine
4 cups less-sodium beef broth, divided
1 tablespoon Worcestershire sauce
1/4 teaspoon kosher salt
1/4 teaspoon ground black pepper
Pinch of ground nutmeg
3 tablespoons cornstarch
1 cup sour cream
1/4 cup heavy cream
Nonstick cooking spray
Chopped fresh parsley, for garnish
Instructions
In large pot of boiling salted water, cook pasta according to package instructions; drain.
Meanwhile, in large high-sided skillet, cook onion, beef and chopped mushrooms over medium-high heat 6 to 8 minutes or until meat is cooked through, breaking up meat with side of spoon. Transfer to large bowl.
Return skillet to heat; add oil and sliced mushrooms. Cook 6 to 7 minutes or until mushrooms are deeply browned, stirring occasionally.
Add wine; cook 1 minute, stirring constantly. Add all but 3 tablespoons broth, Worcestershire sauce, salt, pepper and nutmeg. Heat to boiling, then reduce heat to medium-low and simmer 6 to 8 minutes or until liquid is reduced by half.
In small bowl, whisk together cornstarch and remaining 3 tablespoons broth. While whisking, add cornstarch mixture to skillet; heat to boiling over medium-high heat. Cook 2 to 3 minutes or until mixture is thickened; whisking constantly. Remove from heat; whisk in sour cream and heavy cream.
Preheat oven to 350 degrees F. Lightly spray 2 quart baking dish with cooking spray. Add 1 cup of sauce to beef mixture; stir until well combined. Fill pasta shells with beef mixture and place in prepared dish. Top shells with remaining sauce.
Transfer to oven and bake 20 minutes or until edges are bubbly. Let stand 5 minutes; serve garnished with parsley.
Disclosure: As a Milk Means More Ambassador, this post was sponsored by The United Dairy Industry of Michigan. Posts like this help me pay for the costs associated with this blog (groceries … lots of groceries), and help support me as I pursue a career in recipe development and food photography. All opinions are 100% my own.