Homemade Pizza Dough Recipe
This classic homemade pizza dough recipe yields reliable, tasty results each and every time. Dough can be made and frozen for future use!
I always joke that this blog should be named "Foxes Love Pizza," since I'm so often publishing pizza recipes. My cheeseburger pizza and chicken pizza recipes are some of the most popular recipes on this site.
Which is why it's all the more surprising that I haven't published my recipe for homemade pizza dough!
Yes, there are 100,000 recipes (probably more) on the internet for homemade dough, and I'm not going to lie to you and tell you mine is anything groundbreaking. It's not. It's a classic homemade pizza dough.
But what I CAN tell you is that it's easy, it's fun (if you think kneading dough is fun and/or stress-relieving), it's flavorful, and it will work for you, every single time, without fail. Deal?
How to make homemade pizza dough:
Homemade pizza dough is not HARD, but you do need the luxury of a bit of TIME. If you're pressed for time and don't have a few hours to make this homemade pizza dough recipe happen, I suggest my no yeast flatbread or even just slicing up some baguette for a crostini pizza bar.
Or, my other favorite lazy shortcut – making flatbread "pizzas" with naan bread, like I've done with my cobb pizza and eggplant flatbread recipes.
But, if you've got the time to make homemade dough, let's get to it. You'll be preparing the yeast, adding some oil, stirring in the flour, kneading, and then letting it rise.
Start by blooming the yeast:
"Blooming" is the process of preparing active dry yeast for a recipe. I like to think of it as waking the yeast up.
You'll be waking the yeast up in two ways – with warmth, from warm water, and with food for the yeast to eat (sometimes sugar, in this case honey, which is just a different type of sugar)
Simply stir together warm water (about 105 to 110 degrees F, check with an instant read thermometer) and the honey in a bowl (I usually use a 4 cup glass measuring cup) until the honey is dissolved. Sprinkle the yeast over the top and let it sit 10 minutes.
If your yeast is active, it will get foamy on top of the water (see the photo above for reference). If nothing foams, your yeast is dead and you need to buy new yeast before you make this homemade pizza dough recipe.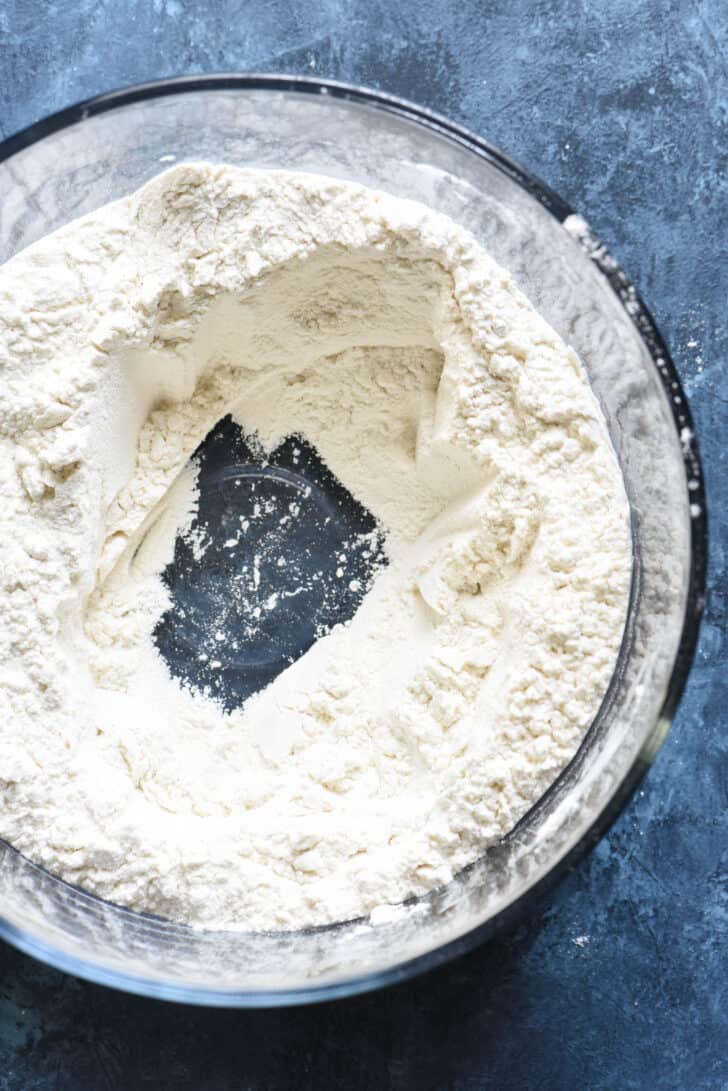 Don't forget to stir in some olive oil!
This is the step I'm most likely to forget when making homemade pizza dough. You need to stir a bit of olive oil into the water/honey/yeast mixture before moving on to the next step, AFTER the yeast has foamed.
It's so easy to forget, so try to leave some type of reminder for yourself. A post-it note, or even simply putting the bottle of olive oil right in front of the blooming yeast so you have a visual cue so you don't forget.
Then comes the flour and salt for this homemade pizza dough recipe:
You'll need a big bowl for this step. Stir together the flour and the salt in this big bowl. I add a bit more salt to my dough than some other dough recipes you might found around the internet. I like a well seasoned dough.
Make a well in the flour mixture and then pour the water/honey/yeast/olive oil (you didn't forget the oil, right?) mixture into the well.
Use a wooden spoon to stir it all together. You'll be left with a shaggy dough that just holds together.
Kneading pizza dough is fun and stress relieving!
The magic of most pizza dough happens in the kneading, with the one exception being the dough for my Detroit style pizza recipe, which, per the style, is more along the lines of a fluffy focaccia bread.
But for traditional pizza crust like this one, the dough is kneaded to develop the gluten protein in the flour. The developing gluten causes the mixture to become stretchy and elastic, giving the pizza dough it's hallmark chewy texture.
However, you want to be careful not to develop the gluten too much, as then the dough will become tough. Set a timer and knead for 5 minutes.
This tutorial about how to knead dough is the exact way I do it myself.
Homemade pizza dough needs to rise at room temp:
Once the kneading is done, it's time for the homemade pizza dough to rise! Cut your dough into 2 equal portions (a small kitchen scale is great for this, as it's surprisingly hard to eyeball even portions of dough).
Oil 2 large bowls and place 1 ball of dough in each bowl. Cover tightly with plastic wrap and let rise until doubled in size, about 90 minutes.
Room temperature should be fine for rising this homemade pizza dough recipe, unless your house is very cold or drafty, in which case you may want to pop the dough into a 100 degree oven (better yet, if your oven is newer, check to see if it has a PROOF setting and use that).
If you can, use a pizza stone to make your pizza!
Then, it's time to make the pizza! Press your dough out into a 12 to 14-inch circle on a round pan or pizza stone.
I highly recommend a stone. Pizza stones are a wonderful tool to have if you're a pizza lover because they help to achieve a crispy crust on pizzas without shelling out a few thousand dollars for an actual pizza oven.
You simply throw the pizza stone in the oven as it preheats and once the oven comes up to temp you put the freshly stretched dough down on the stone and stick the stone back in the oven to crisp up the crust.
P.S. Make sure you brush up on how to clean a pizza stone to ensure it lasts a long time!
How long to cook pizza?
I cook almost all of my homemade pizzas at 400 degrees F.
At this temperature, on a pizza stone, a 12- to 14-inch round pizza takes around 14 minutes to fully cook through and get crisp around the edges.
However, I usually break that 14 minutes up into a "blind bake" (where I'm baking just the crust, no toppings on it yet) and then a bake to warm any toppings and melt cheese.
For a classic pepperonni/onion/green pepper/mushroom pizza (my all time fav) and even a crab rangoon pizza, I do a 6 minute blind bake, then add sauce, cheese and toppings and bake another 8 minutes.
Other pizzas, like my brussels sprouts pizza and potato pizza, there is no blind bake, because the brussels sprouts and potatoes cook directly on top of the pizza dough, and the whole bake time is needed for the veggies to become tender.
And remember, these estimates are for round pizzas. Rectangle pizzas like my smoked salmon pizza may take less time, because the dough is stretched thinner. Also, if you use a thin pizza pan instead of a pizza stone, your cooking time may vary.
All of the pizza recipes on this blog will give you exact bake times, so you don't need to worry!
Can you freeze homemade pizza dough?
Yes! This recipe makes 2 balls of dough (about 1 pound each, enough for a 12- to 14-inch round pizza) because I wanted to use an entire packet of active dry yeast (who wants to save half an open packet?).
Because you end up with 2 balls, you'll need to either make 2 pizzas right away, or simply freeze 1 ball for later.
After the 90 minute rise time, simply place the ball of dough in a freezer bag and freeze until needed. Thaw the dough overnight the night before you plan to use it.
If you love freezer friendly recipes, try my lemon creme brulee or vanilla bean creme brulee for dessert!
Homemade Pizza Dough Recipe
Yield:
2 (1 lb.) balls of pizza dough
Additional Time:
1 hour
30 minutes
Total Time:
1 hour
50 minutes
This classic homemade pizza dough recipe yields reliable, tasty results each and every time. Dough can be made and frozen for future use!
Ingredients
1-1/3 cups warm water (105 to 110 degrees F)
1 tablespoon honey
1-1/4 ounce packet (2-1/2 teaspoons) active dry yeast
3 tablespoons olive oil, plus more for brushing bowls
3-3/4 cups all-purpose flour, plus more for work surface
2 teaspoons kosher salt
Instructions
In 4-cup glass measuring cup or medium bowl, stir water and honey until honey is dissolved. Sprinkle yeast on top and set aside 10 minutes or until foamy.
Stir olive oil into yeast mixture.
In large bowl, whisk flour and salt until well combined. Make a well in center of mixture and pour yeast mixture into well. Stir with a wooden spoon until a shaggy dough just comes together.
Turn dough out onto lightly floured worked surface. Using floured hands, knead dough 5 minutes or until smooth and elastic, adding additional flour to hands and surface as needed.
Cut dough into 2 even portions (a kitchen scale helps with this step). Form each portion into a ball.
Brush 2 large bowls with olive oil and place 1 ball of dough into each bowl. Turn dough to coat in oil. Cover bowls tightly with plastic wrap and allow to sit at room temperature 90 minutes or until dough has doubled in size.
Use dough to make pizza(s) right away, or transfer to a freezer bag to freeze for future use. Allow frozen dough to thaw in refrigerator overnight before using.
Recommended Products
Foxes Love Lemons, LLC is a participant in the Amazon Services LLC Associates Program, an affiliate advertising program designed to provide a means for sites to earn advertising fees by advertising and links to Amazon.com. There is no additional cost to you.
Nutrition Information:
Yield:

8
Serving Size:

1
Amount Per Serving:
Calories:

285
Total Fat:

7g
Saturated Fat:

1g
Trans Fat:

0g
Unsaturated Fat:

6g
Cholesterol:

0mg
Sodium:

317mg
Carbohydrates:

47g
Fiber:

2g
Sugar:

2g
Protein:

7g