Roasted Cauliflower and Garlic Pizza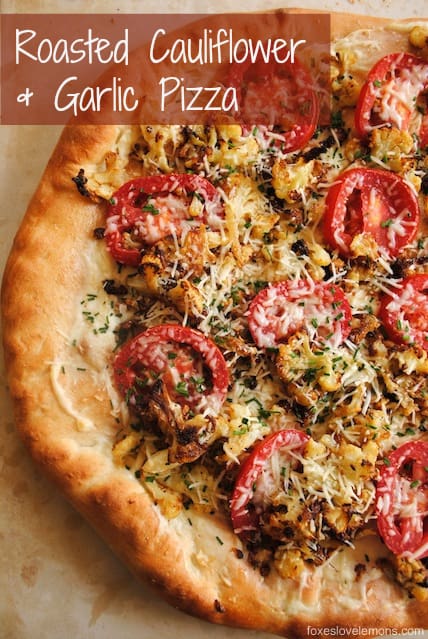 I know I've mentioned it before, but my husband and I try to eat at least a couple of vegetarian dinners each week. One of the easiest and best ways I've found to make this happen is with PIZZA.
I mean seriously, everybody loves pizza, and given the right toppings, nobody will miss the meat at all.
Also, any veggie pizza is automatically 500% less greasy than a pie with pepperoni on it, so you won't be doing the old blot-this-awkwardly-with-a-napkin-before-I-eat-it trick.
This roasted cauliflower and garlic pizza isn't exactly a 10-minute pizza recipe, but it's also not very hard at all. In fact, there are basically just three steps:
1.) roast some cauliflower and a head of garlic (this can be done up to 3 days in advance)
2.) make the roasted garlic cream cheese (this can also be done early), and
3.) assemble and bake your pizza (on a pizza stone if you've been lucky enough to have a friend buy you one for Christmas!)
 My relationship with cauliflower is simple: I don't spend any time thinking about it, and it returns the favor. I've never understood why RAW cauliflower is offered on veggie trays, and I've always steered clear.
I decided to try working it into my diet a little more. Just like with broccoli and asparagus and sweet dumpling squash soup, I knew it would be good roasted. You want to get it nice and brown, so roast it for about 50 minutes.
You can put your head of garlic, wrapped in foil, on the same pan. That will take just 10 minutes longer than the cauliflower does.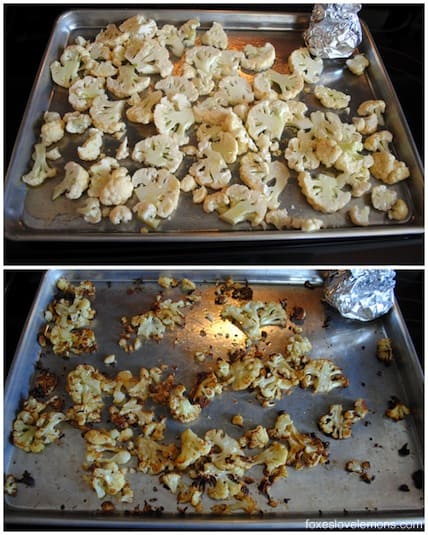 Now, I made a big mistake here. I only roasted one head of garlic (the amount needed for this pizza). That means I had to resist the urge to slather it on bread and eat it before it got the chance to fufill it's pizza destiny.
Take it from me, always roast 2 heads (or even 3, if you're making roasted garlic dip). One for whatever recipe you're making, and one for general snacking purposes (or to make a second pizza using roasted garlic, like my recipe for chicken pizza).
You'll be happier that way. Really, who could resist this?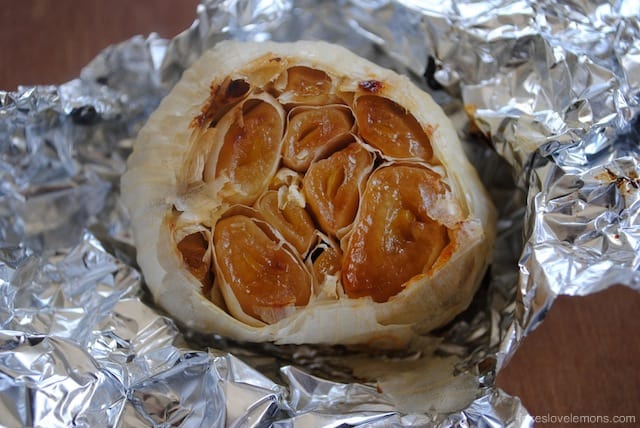 Once you've had a quick cook's snack, mash your second head of garlic into some cream cheese (cream cheese is also the secret ingredient in my slow cooker beef stroganoff and chicken stroganoff). That will function as the "sauce" for this pie. Throw on the roasted cauliflower, chives, and shredded Parmesan.
Because I still wanted a bit of tomato flavor even without the traditional sauce, I also sliced up some Roma tomatoes and put those on there, too.
MORE GREAT PIZZA RECIPES:
Roasted Cauliflower and Garlic Pizza
Cook Time:
1 hour
12 minutes
Total Time:
1 hour
32 minutes
Ingredients
1 head cauliflower, florets separated and thinly sliced
Olive oil
Kosher salt and ground black pepper, to taste
1 head garlic, top of bulb trimmed off until tops of cloves are exposed
1 ball (1 pound) of homemade pizza dough, or store-bought
Nonstick cooking spray
1/2 cup cream cheese
2 Roma tomatoes, sliced into 1/4-inch thick slices
1/4 cup shredded Parmesan cheese
1-1/2 tablespoons chopped fresh chives
Instructions
Preheat oven to 400 degrees F. Place cauliflower on rimmed baking pan. Drizzle with oil and sprinkle with salt and pepper. Place garlic on piece of foil; drizzle with a small amount of oil and tightly wrap foil around bulb. Place garlic on same pan as cauliflower.
Roast cauliflower until very brown, about 50 minutes, stirring occasionally. Transfer cauliflower to bowl, then return pan with garlic to oven. Roast garlic until it is dark golden brown and very soft, about 10 minutes longer. Let garlic stand for 5 minutes or until cool enough to touch.
Place pizza stone in oven (leave at 400 degrees F).
Toss and stretch pizza dough into a 14-inch circle. Once oven is preheated, carefully remove pizza stone from oven and spray with cooking spray. Carefully place dough on stone. Transfer to oven and bake 6 minutes.
Meanwhile, squeeze garlic from it's cloves into a small bowl. Add cream cheese and mash together with a fork.
Remove crust from oven. Spread with cream cheese mixture, then top with cauliflower, tomatoes, cheese and chives. Bake 8 minutes longer, or until crust is cooked through and toppings are hot.
Recommended Products
Foxes Love Lemons, LLC is a participant in the Amazon Services LLC Associates Program, an affiliate advertising program designed to provide a means for sites to earn advertising fees by advertising and links to Amazon.com. There is no additional cost to you.