Spicy Peanut Chicken Skewers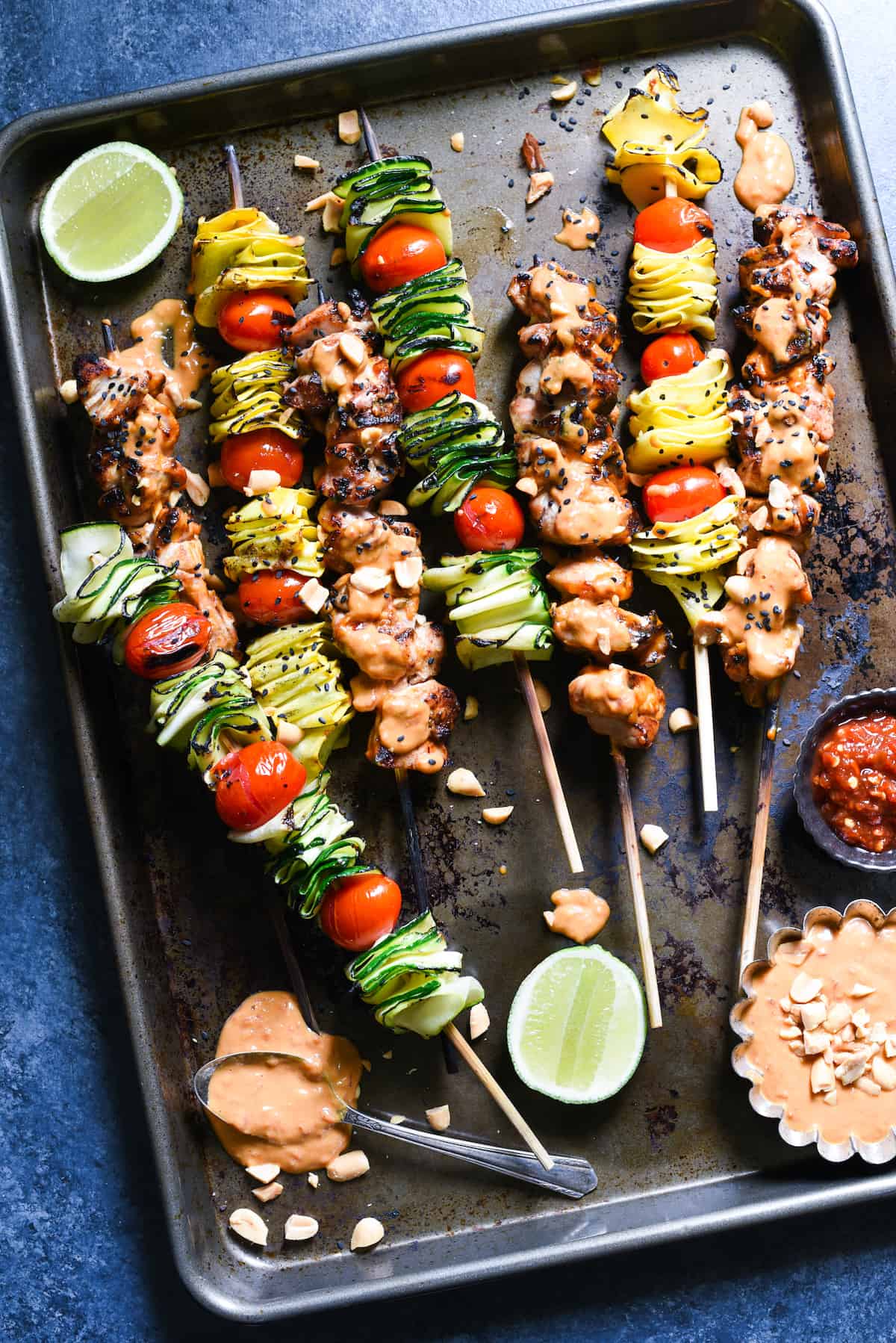 Through my partnership with Milk Means More, I had a chance to interview a local farmer last month as part of the Meet #MIFarmFamilies campaign. I was able to have a nice chat with Gertie van den Goor, a farmer who moved with her husband and three children from the Netherlands to Marlette, Michigan in 1999 and established Goma Dairy Farm, LLC. Gertie describes her farm, where they milk 2800 Holstein cows, as a modern, clean dairy that is proud of producing a safe and nutritious product.
Gertie and I discovered that we each take care of our "office days" (doing bills, payroll, and other computer tasks) on Mondays, except her days start much, much earlier than mine. Her mornings start at 5:45 am, when she takes care of the newborn calves by feeding and vaccinating them. When she's not doing office work, Gertie helps out wherever an extra hand is needed on the farm, doing chores and errands. In just my brief time speaking with her, it was very apparent that for Gertie, her family and her employees, the welfare of the farm's cows is the #1 priority.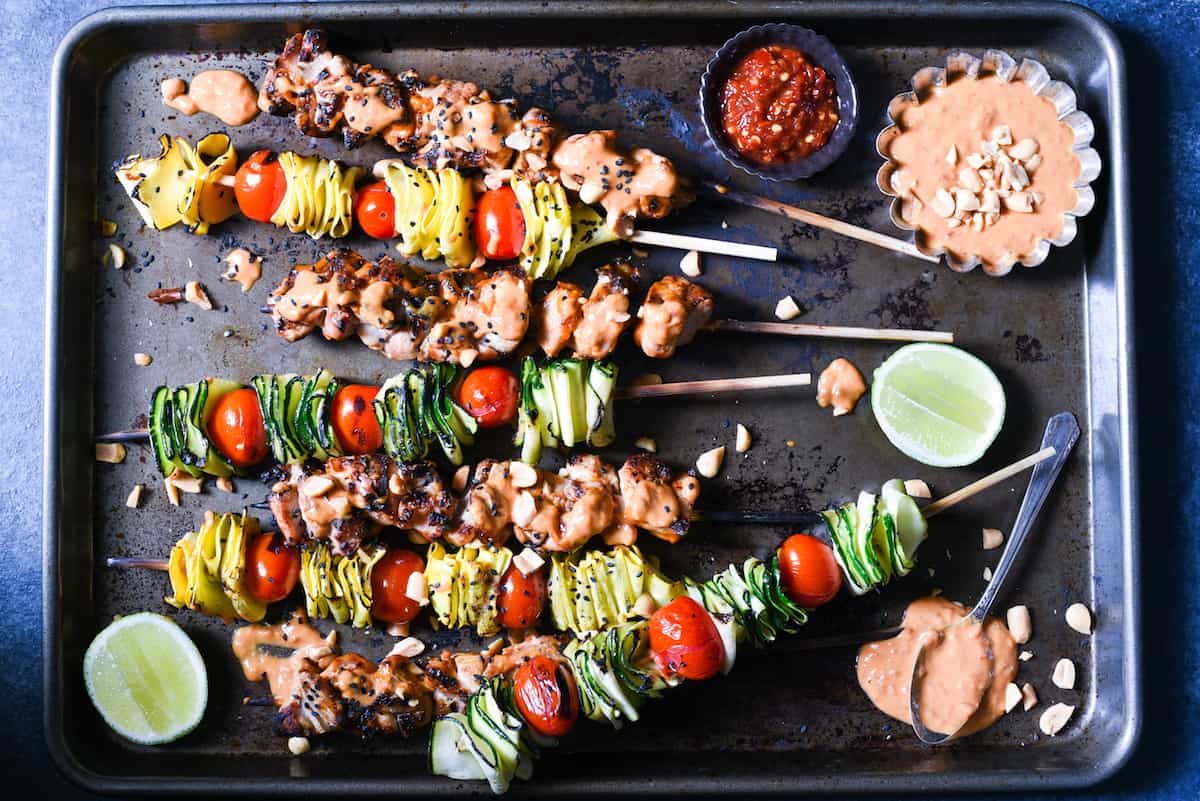 Gertie told me that her family is obsessed with food, eating at least one meal a day together, trying out new recipes and spending endless hours at the dining room table. One of her family's favorite recipes  – peanut butter chicken satay – is born from Gertie's heritage in the Netherlands. For a time, the Dutch occupied Indonesia, and many people who worked for the Dutch government brought Indonesian food home to the Netherlands for them. While satay is traditionally made with coconut milk, Gertie says she uses regular milk (because of course, it's always in her fridge!) with just as delicious results.
The recipe for Spicy Peanut Chicken Skewers that follows is my take on Gertie's family favorite. I used chicken thighs because they are my personal choice for grilling (and roasting, and sautéing, and everything). The chicken takes a dip in an easy marinade made with milk (milk is an awesome tenderizer for meat!), soy sauce, olive oil, rice vinegar and garlic. The chicken is skewered and grilled, then brushed with a spicy sauce made with peanut butter, more milk and sambal oelek (Asian chili sauce). While I was at it, I made some veggie skewers as a side dish, because who wants to mess around with a side dish on the stove when you can just grill it instead, right?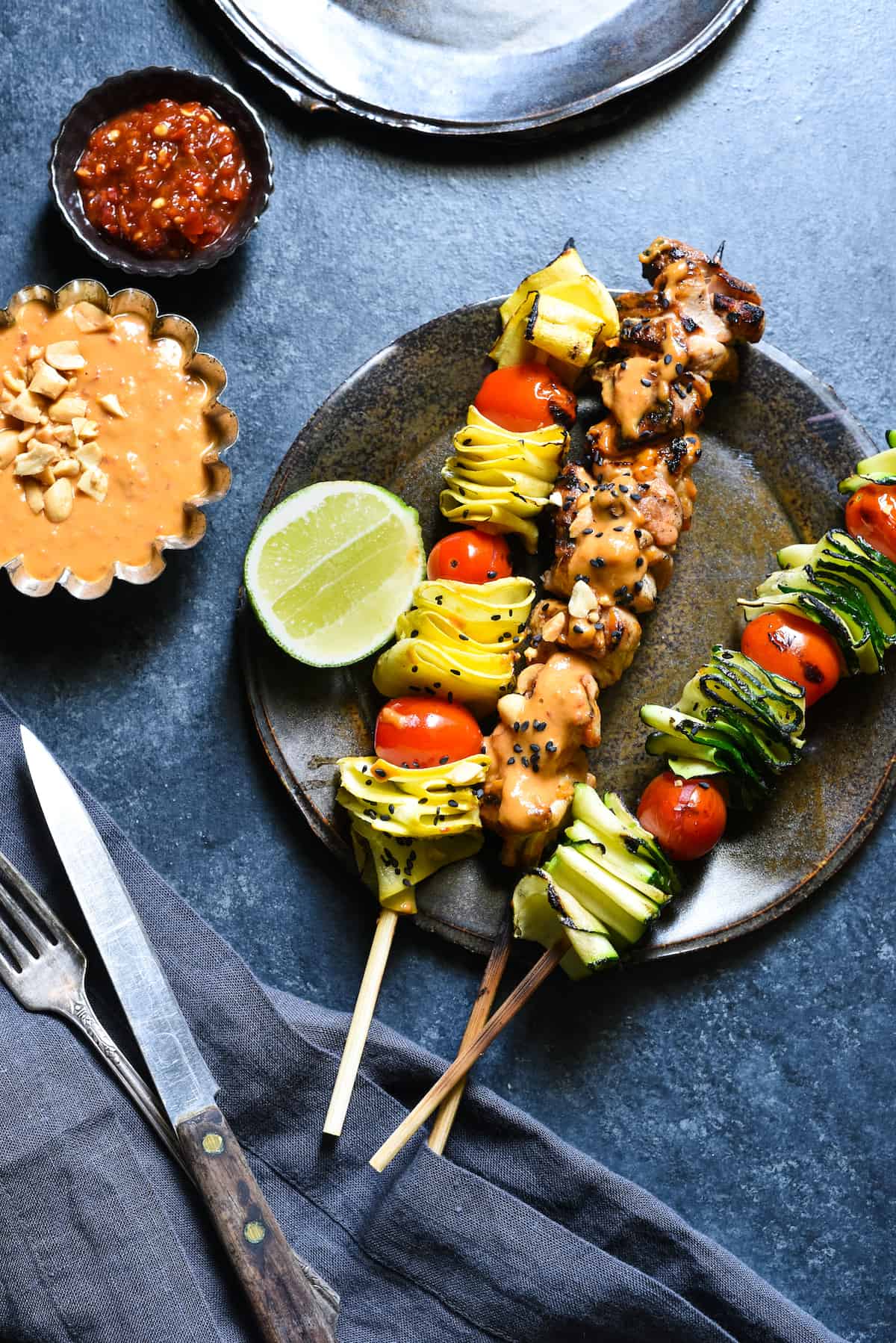 The dairy products used in these Spicy Peanut Chicken Skewers were produced by members of the United Dairy Industry of Michigan. For more information on UDIM and to find out why Milk Means More, please visit their website and connect with them on Facebook, Pinterest, Instagram, YouTube and Twitter.
Spicy Peanut Chicken Skewers
Ingredients
3 garlic cloves, minced
1/3 cup olive oil
6 tablespoons soy sauce, divided
6 tablespoons whole milk, divided
5 tablespoons rice vinegar, divided
1-1/4 pounds boneless, skinless chicken thighs, cut into 1-1/2-inch pieces
12 bamboo skewers
1/2 cup peanut butter
1/4 cup sambal oelek
18 grape tomatoes
2 medium yellow squash, very thinly sliced
2 medium zucchini, very thinly sliced
Black sesame seeds, for garnish (optional)
Chopped peanuts, for garnish (optional)
Lime wedges, for serving (optional)
Instructions
In small bowl, whisk together garlic, oil, 3 tablespoons soy sauce, 3 tablespoons milk and 1 tablespoon vinegar. Place chicken in large zip-top bag; pour soy sauce mixture over chicken. Seal bag and refrigerate 2 hours or up to overnight. Place skewers in large dish and cover with water. Let stand at least 15 minutes.
Meanwhile, in small bowl, whisk together peanut butter, sambal oelek, and remaining 3 tablespoons soy sauce, 3 tablespoons milk and 4 tablespoons rice vinegar.
Preheat grill for direct grilling over medium-high heat. Remove chicken from marinade; discard marinade. Thread chicken pieces onto 6 skewers. Thread tomatoes, squash and zucchini onto remaining 6 skewers.
Transfer chicken skewers to grill. Cook, turning occasionally, 8 to 10 minutes or until internal temperature of chicken reaches 165 degrees F. During last minute of cooking, brush chicken skewers with about half of peanut butter mixture. Transfer skewers to plate; cover with foil and let stand 5 minutes.
Meanwhile, transfer vegetable skewers to grill and cook 2 to 3 minutes or until vegetables are tender-crisp. To serve, sprinkle skewers with sesame seeds and peanuts, if desired. Serve chicken skewers and vegetable skewers with remaining peanut sauce and lime wedges, if desired.
Notes
Home Chef Tip: If you have a mandoline, you can use it to very thinly slice the zucchini and squash. I don't have a mandoline, so I just used a vegetable peeler!
Disclosure: As a Milk Means More Ambassador, this post was sponsored by The United Dairy Industry of Michigan. Posts like this help me pay for the costs associated with this blog (groceries … lots of groceries), and help support me as I pursue a career in recipe development and food photography. All opinions are 100% my own.