Dill Pickle Pasta Salad
This Dill Pickle Pasta Salad recipe uses a simple technique to guarantee a perfectly dressed salad every time – never dry or bland! Plenty of zesty pickles and cubes of cheese will make this a hit at your next gathering!
This dill pickle pasta salad uses an easy technique to ensure it is perfectly dressed when you serve it.
You may remember this technique from my potato salad with bacon, and it works just as well with pasta salads of all kinds as it does with potato salad.
This pickle pasta salad uses a technique I've been relying on for years – dividing the dressing in half and adding it at two different stages.
Have you ever stirred together your pasta and dressing, refrigerated your salad, and then wondered why all of your dressing has disappeared? Sometimes it seems so dry after you get it back out of the fridge, right?
With this technique, you toss freshly cooked pasta with half of the dressing, then chill the salad to allow the pasta to absorb all of that flavorful dressing.
Then, once it's chilled, just before serving, you add the rest of the dressing and toss again.
This technique ensures that the pasta is seasoned by absorbing some of the dressing, but there's also more dressing for the surface of the pasta. It also won't be a gloppy mayo-laden mess from accidentally over-dressing. It's just a perfectly dressed pasta salad.
Why you will love this pickle pasta salad
You can make it in advance but it will taste like it's freshly made, thanks to the two-step dressing technique.
It's a versatile dish that pairs well with a wide variety of main courses.
It's customizable for what you have on hand. Use a different pasta shape or cheese!
Dill pasta salad ingredients
elbow macaroni – this is the base of the salad. There are lots of options as far as pasta shape, though. More on this below.
mayonnaise – this binds the salad together while adding richness and creaminess.
sour cream – adds a nice tangy flavor to the dressing.
pickles and their juice – the star ingredient. Not only are we adding chopped dill pickles to the salad, but some of the juice from their jar goes into the dressing, too!
cheddar cheese – cubed cheddar adds a creamy, slightly salty element that complements the tangy flavors going on in this pasta salad with dill pickles. Use whatever cheese you happen to have on hand – Monterey Jack and even mozzarella will work!
fresh dill – this adds a vibrant herb flavor that complement the pickles.
onion powder – this adds a subtle onion flavor to the dish without adding raw onions that may overpower the pickles.
Tabasco sauce – I love the little bit of zing that hot sauce adds to this dish. It doesn't have to be Tabasco – any type of hot sauce will work. You're only using a dash.
salt and pepper – crucial for seasoning any savory recipe. You will also need salt to season the pasta cooking water.
What pasta is best for this dill pickle pasta salad recipe?
For this dill pickle pasta salad recipe, I recommend using elbow macaroni. Its small, tube-like shape holds creamy dressing exceptionally well.
However, feel free to experiment with something else you might have on hand already. Rotini, penne, bowtie and fusilli are all great here.
How to make dill pickle macaroni salad
Boil the pasta until it's al dente. Drain it, rinse it with cold water to stop the cooking, then drain it again.
While the pasta is cooking, stir together the dressing ingredients and then divide the mixture in half. Place half in a covered container and set it aside in the refrigerator.
Add the pasta to the remaining half of the dressing and toss together. Transfer to the refrigerator for at least two hours.
Just before serving, add the remaining reserved dressing, along with the cheese, chopped pickles and dill, to the salad and toss again.
How to serve this pasta salad with dill pickles
This dish is best served chilled, making it the best addition to any summer meal, barbecue or gathering.
The tangy and creamy flavors of pickle pasta salad pair well with a variety of entrees, including the suggestions below.
What pairs best with dill pickle pasta salad
Home Chef Tips
A full tablespoon of salt seems like a lot when you are boiling the pasta, but you want the water to be as salty as the ocean so that the seasoning gets inside the noodles.
Try this recipe with pepper jack cheese for a spicier take on macaroni salad with pickles.
For an extra burst of onion flavor, try adding diced white onion or thinly sliced green onions.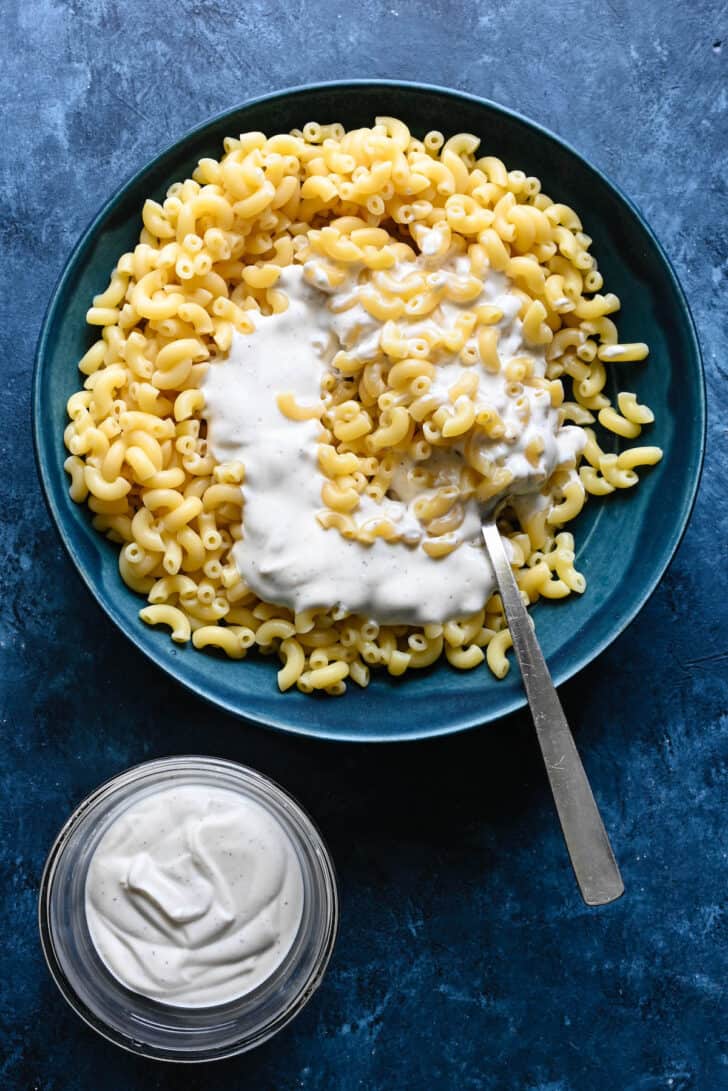 Macaroni salad with pickles storage
Pasta salad with pickles can be stored in the fridge for up to 3 days, in either state of dressing (with half the dressing on it, or once all of it is added).
Give it a good stir before serving if it's been in the fridge for awhile.
Pasta Salad with pickles FAQ
Can I use sweet pickles instead of dill pickles?
While the tangy flavor of dill pickles balance the other flavors in this dill pasta salad really well, you can experiment with sweet pickles if you prefer. Just keep in mind that the sweetness will alter the overall flavor profile of the dish.
Can I used dried dill instead of fresh dill?
Yes. If using dried dill, reduce amount to 1-1/2 teaspoons.
Can I use onion salt instead of onion powder?
Yes. In this case, reduce the amount of kosher salt added to the dill pickle pasta salad dressing to 1/4 teaspoon.
More Foxes Love Lemons Favorites:
Dill Pickle Pasta Salad Recipe
This Dill Pickle Pasta Salad recipe uses a simple technique to guarantee a perfectly dressed salad every time - never dry or bland! Plenty of zesty pickles and cubes of cheese will make this a hit at your next gathering!
Ingredients
1 tablespoon plus 1/2 teaspoon kosher salt
1/2 pound elbow macaroni
1/2 cup mayonnaise
1/2 cup sour cream
1 tablespoon pickle juice from the jar
1/2 teaspoon onion powder
1/4 teaspoon ground black pepper
Dash Tabasco sauce
4 ounces cheddar cheese, cubed
3/4 cup chopped dill pickles
1 tablespoon chopped fresh dill
Instructions
Heat large pot of water to boiling over high heat. Add macaroni and 1 tablespoon salt and cook according to package directions for al dente. Drain pasta, rinse with cold water, and drain again.
Meanwhile, in large bowl, whisk mayonnaise, sour cream, pickle juice, onion powder, black pepper, Tabasco sauce and remaining 1/2 teaspoon salt until smooth. Place half of dressing in small covered bowl and refrigerate until ready to serve salad.
Add macaroni to remaining dressing in large bowl and toss until well combined. For best flavor, cover and refrigerate at least 2 hours or up to 2 days before serving.
Just before serving, add cheese, chopped pickles, dill and reserved dressing to macaroni and toss until well combined.
Recommended Products
Foxes Love Lemons, LLC is a participant in the Amazon Services LLC Associates Program, an affiliate advertising program designed to provide a means for sites to earn advertising fees by advertising and links to Amazon.com. There is no additional cost to you.
Nutrition Information:
Yield:

6
Serving Size:

1
Amount Per Serving:
Calories:

304
Total Fat:

24g
Saturated Fat:

8g
Trans Fat:

0g
Unsaturated Fat:

15g
Cholesterol:

38mg
Sodium:

680mg
Carbohydrates:

14g
Fiber:

1g
Sugar:

2g
Protein:

7g
This website provides estimated nutrition information as a courtesy only. Nutrition information does not include any optional ingredients or toppings. You should calculate the nutrition information with the actual ingredients used in your recipe using your preferred nutrition calculator.