Shrimp Deviled Eggs
Shrimp Deviled Eggs are a decadent but easy twist on a classic. With just mayo, mustard, Old Bay seasoning and shrimp, hard boiled eggs are transformed into a finger food perfect for brunch, Easter or Mother's Day.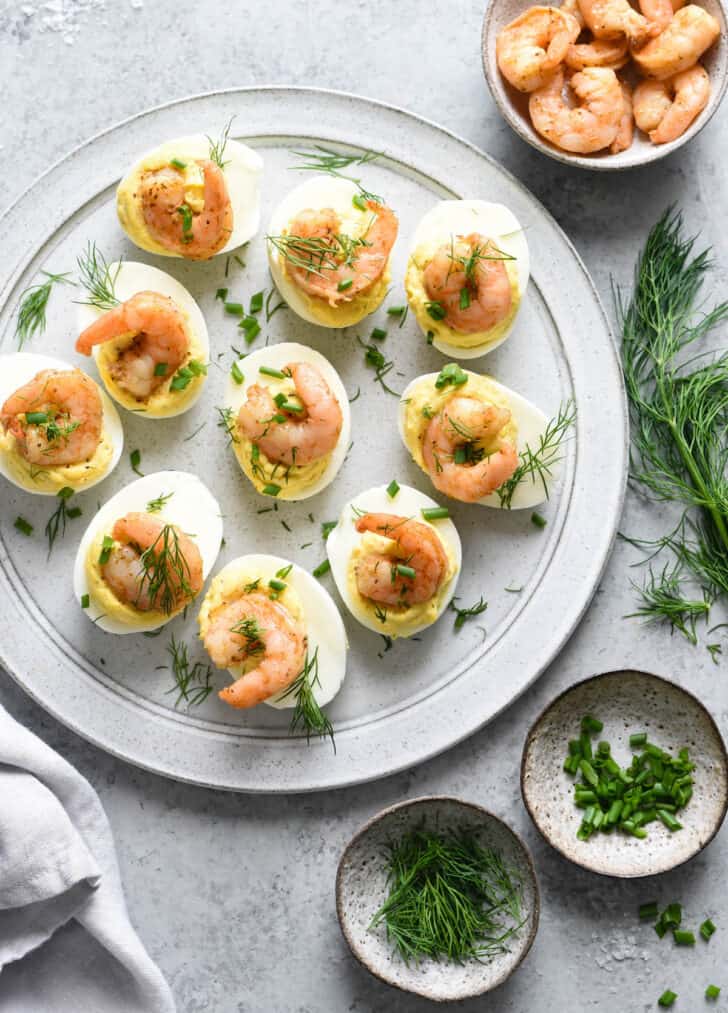 Deviled eggs – you either love them or hate them, right? Actually, I think there are a lot of shades of gray, because there are so many ways to make them.
Some cooks keep it very simple with just mayonnaise, mustard, salt and pepper (which is what I did for Halloween deviled eggs).
My mom's are heavy on the paprika sprinkle. My husband's family makes theirs with horseradish, which isn't my favorite (although oddly I do like horseradish in the deviled egg dressing for my Easter salad!).
You can even make no mayo deviled eggs, like my recipe inspired by the flavors of Caesar salad.
Today, I'm going in yet another direction by combining two holiday appetizers – roasted shrimp and deviled eggs – to make these shrimp deviled eggs.
Decadent but simple to make, they'll be the star of your appetizer table, especially as part of an Easter charcuterie board!
The ingredients you'll need for shrimp deviled eggs:
shrimp – you will need 1/3 pound raw shrimp for these shrimp deviled eggs. More about how to choose the right shrimp below.
hard boiled eggs – you will need 6 hard boiled eggs to make 12 deviled eggs. Find out my favorite tip for making hard boiled eggs below. Make a few extra so you can make Cobb salad-style grilled naan pizzas later in the week.
olive oil – for roasting the shrimp for these deviled eggs with shrimp.
Old Bay seasoning – the most delicious seasoning for the shrimp! Also so good in my stuffed salmon recipe. If you want, you can even make homemade Old Bay seasoning, but I just buy it. You could also use my rub for ribs if you have that on hand.
mayonnaise – in my opinion, you really cannot beat Hellman's. I always use it for roasted garlic dip, too.
Dijon mustard – I like the classic smooth (not grainy) kind for deviled eggs. Either kind can be used for my maple Brussels sprouts, pretzel bun sliders and honey mustard pork chops.
salt and pepper – to season the filling mixture.
chives and/or dill – I love to sprinkle shrimp deviled eggs with fresh herbs to garnish. You can choose either chives or dill; you don't need to use both unless you want to. Extra herbs can be used to make pimento mac and cheese or sprinkled over mini Hasselback potatoes or blue cheese mashed potatoes.
How to mash egg yolks for deviled eggs with shrimp:
True story: when I was in the Breakfast & Pantry class in culinary school, we made vegetarian quiche AND eggs Benedict AND breakfast fried rice AND deviled eggs every day for the brunch buffet our class served.
And the instructor made us pass the hard boiled egg yolks through a fine mesh sieve to mash them for deviled eggs.
This may have truly been the low point of my culinary school experience. It was messy, smelly, and it took forever.
I do NOT do this at home for shrimp deviled eggs (honestly, I'd need at least four cranberry rosemary cocktails before I'd even consider it). I simply place the hard boiled egg yolks in a shallow bowl and use a fork to mash them.
However, don't rush this step. It takes a good 4 to 5 minutes of mashing to get the egg yolks pulversized into a very fine powder. You really don't want big chunks of yolk in your deviled eggs with shrimp filling.
I mean, no need to get crazy and pass them through a sieve, but just take your time with the fork mashing, OK?
How to choose shrimp for shrimp deviled eggs:
After some trial and error, I found that 50/60 size shrimp (meaning there are 50 to 60 shrimp in 1 pound) were the perfect size for shrimp deviled eggs.
Salad shrimp, like I use in seafood pasta salad were too small to make the dramatic garnish I envisioned, and anything bigger was, well, too big for a garnish!
So, if you are able to find 50/60, peeled, deveined, tail-off shrimp at your store, they are PERFECT for this deviled eggs with shrimp recipe!
One third pound of 50/60 shrimp will give you a shrimp to garnish each of the 12 deviled eggs, and then a handful (about 6) more shrimp to chop up and put in the filling. Use the rest of the bag of shrimp to make shrimp wonton soup or my shrimp fajita recipe!
If you can't find 50/60 shrimp, don't worry. You can use a larger size shrimp for seafood deviled eggs, but I would recommend cutting them into bite-sized chunks for the garnish (use what's left for the filling). It won't be quite as pretty as whole shrimp perched on top, but it will taste just as delicious.
Cook the shrimp with an easy Old Bay shrimp recipe:
Cooking the shrimp for shrimp deviled eggs couldn't be easier. Place the shrimp on a rimmed baking pan and drizzle them with olive oil.
Sprinkle them with Old Bay seasoning, and then toss everything together until the shrimp are evenly coated in oil and seasoning.
Spread the shrimp into an even layer on the pan, and pop them into a 400 degree oven to roast. It should only take 4 to 5 minutes until they are opaque throughout and fulled cooked (145 degrees F internally).
I also use these same Old Bay shrimp on my bloody mary skewers!
Other ways to make seafood deviled eggs:
Shrimp isn't the only seafood that makes a great addition to deviled eggs! There are a variety of ways you can make seafood deviled eggs.
Jumbo lump crab meat could be used in place of the shrimp. You'd also use 1/3 pound of meat for this. Reserve 12 large chunks of crab as garnish, and use the rest of the crab meat in the filling mixture.
I do not recommend imitation crab meat here. It's great on crab rangoon pizza, but spring for real crab meat if you're making deviled eggs with crab.
I also love smoked salmon for things way beyond my smoked salmon platter. Because smoked salmon is so salty, you don't need as much if you're going to use it for deviled eggs.
1/4 pound (4 ounces) or even less smoked salmon is plenty to have some to garnish each egg with, and some to include in the filling. Any extra smoked salmon can be used to make smoked salmon crostini.
Seafood deviled eggs of all kinds make great Memorial Day appetizers, too!
My favorite kitchen gadget for perfect hard boiled eggs for shrimp deviled eggs:
A little shout out to the Cuisinart egg cooker (not sponsored, but affiliate link).
I actually didn't know egg cookers even existed until I took a food styling class a few years back, and the instructor recommended this cooker for perfect, easy-to-peel soft boiled eggs, like in my cottage cheese breakfast bowls and smoked salmon pizza recipes.
I'm not much of a kitchen gadget person, but this appliance spoke to me, because I have NEVER had good luck with hard boiled eggs done the old fashioned way on the stove. I guess it's just not one of my talents.
This little cooker doesn't take up much space in my kitchen (I store it in a deep drawer with other small appliances when not in use), and it's worth it's weight in gold, whether I want just one soft boiled egg on top of my toast or a half dozen hard boiled eggs for egg salad with pickles or a breakfast charcuterie board.
It makes perfect hard boiled and soft boiled eggs EVERY. SINGLE. TIME. I cannot recommend it enough!
Can I prepare these shrimp deviled eggs in advance?
All deviled eggs are best eaten very soon after they are filled. However, that doesn't mean you can't get a lot of the prep work done for these deviled eggs with shrimp in advance!
Earlier in the day, or even the day before you're ready to serve shrimp deviled eggs, you can boil and peel the eggs, roast the shrimp, and make the filling mixture.
Keep the egg whites, filling mixture and garnish shrimp in covered containers in the fridge until just before you're ready to serve these seafood deviled eggs.
Then, fill the eggs with the filling, garnish and serve! These are so quick that you can fill them while you have bacon in the oven for brunch!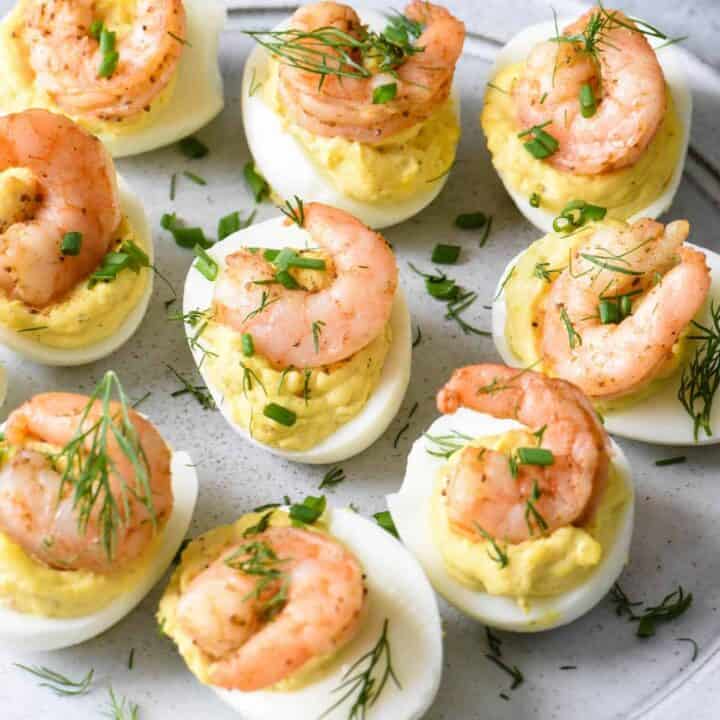 Shrimp Deviled Eggs
Shrimp Deviled Eggs are a decadent but easy twist on a classic. With just mayo, mustard, Old Bay seasoning and shrimp, hard boiled eggs are transformed into a finger food perfect for brunch, Easter or Mother's Day.
Ingredients
1/3 pound 50/60 tail-off peeled and deveined raw shrimp (about 18 shrimp)
1 tablespoon olive oil
1-1/2 teaspoons Old Bay seasoning
6 hard boiled eggs, peeled, halved, whites and yolks separated
1/4 cup mayonnaise
2 teaspoons Dijon mustard
1/8 teaspoon kosher salt
1/8 teaspoon ground black pepper
2 tablespoons chopped fresh chives and/or dill, for garnish
Instructions
Preheat oven to 400 degrees F. Place shrimp on rimmed baking pan. Drizzle shrimp with oil and sprinkle with Old Bay seasoning. Toss until all shrimp is coated in oil and seasoning, and then spread shrimp into single layer on pan. Transfer to oven and cook 4 to 5 minutes or until shrimp are opaque throughout (145 degrees F is the internal temperature when shrimp are done).
Set aside 12 shrimp for garnish; very finely chop remaining shrimp.
Place egg yolks in small bowl and use fork to crush until no large chunks remain. Add mayonnaise, mustard, salt, pepper and chopped shrimp; stir with fork until well combined. Filling can be made up to 1 day in advance. Cover and refrigerate filling, egg white halves and garnish shrimp until ready to serve.
Just before serving, use small spoon or piping bag to divide filling between egg white halves. Garnish each egg with a whole shrimp. Sprinkle with chives and/or dill and serve immediately.
Recommended Products
Foxes Love Lemons, LLC is a participant in the Amazon Services LLC Associates Program, an affiliate advertising program designed to provide a means for sites to earn advertising fees by advertising and links to Amazon.com. There is no additional cost to you.
Nutrition Information:
Yield:

6
Serving Size:

2 deviled eggs
Amount Per Serving:
Calories:

186
Total Fat:

14g
Saturated Fat:

3g
Trans Fat:

0g
Unsaturated Fat:

11g
Cholesterol:

242mg
Sodium:

589mg
Carbohydrates:

1g
Fiber:

0g
Sugar:

0g
Protein:

12g
This website provides estimated nutrition information as a courtesy only. You should calculate the nutritional information with the actual ingredients used in your recipe using your preferred nutrition calculator.